The Chilli Jam Man's New Marinades & Sauces For Huckleberry's Diners
Published On Saturday 1 Apr 2017 by Sticky Beak
See All Recent Reviews
You may recall that The Man Bird and I had a little foray up to the Northern Restaurant and Bar exhibition a couple of weeks ago. Whilst we were there we met loads of great people absolutely passionate about what they do and their produce; none quite matched the enthusiasm of The Chilli Jam Man though, it has to be said!
We've got a few products of the Chilli Jam Mans in our cupboards back at the nest, including Lime Tickle and the Bhut Grinder, so we wanted to know what he'd (figuratively) got cooking. In collaboration with Huckleberry's American Diners (who describe themselves as great man vs food diners), Simon has been producing a range of Marinades and Sauces and kindly let us take some home to try before they were officially launched on his website. Now that they are widely available, I wanted to share the results of our taste test with you all.
There are 5 products in the range: Classic Ketchup, Kickin' Ketchup, Louisiana Hot Sauce, Texan BBQ (Mild), and South West BBQ (Hot) and we took them all to try, with the exception of the Classic Ketchup. We are very lucky to have a couple of great local butchers on our doorstep, one of whom we always get our BBQ packs and racks of ribs from in Summer; so a quick trip to Percy Dawes saw us stocked up with a good meaty rack of Pork ribs and a dozen boneless Chicken thighs.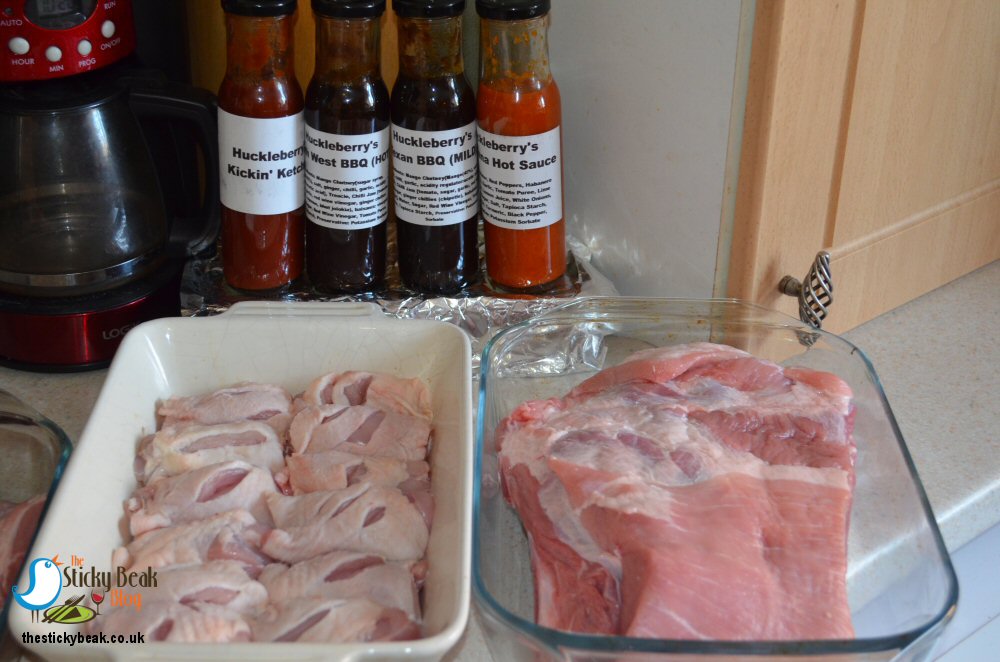 We decided to marinate the Chicken in the Louisiana Hot Sauce so I lovingly rubbed the marinade into them, after lightly scoring the skin to let it penetrate more into the meat. Our Chick had invited her Beau around too, and he was the perfect candidate to try the milder BBQ marinade on as he can't tolerate spicier stuff.
His Nibs halved the rack of ribs and he massaged the mild Texan BBQ sauce into one of the (now) mini racks whilst I thoroughly covered the other half in the hot South West BBQ marinade. We put the ribs into a low oven and left them for 5 hours, before checking on them. When we opened the oven door all manner of mouth-watering smells greeted us; I was bouncing around excitedly, dinner time couldn't come quick enough!
We ramped the oven temperature up to 220 C for the last hour, and put the Chicken thighs in at this point too. An hour has never seemed to go by so slowly and I kept myself busy with preparing the salad and other accompaniments.

At long last the moment of truth had arrived and we all tucked in, eager to see what the result was. De-flippin'-licious was the verdict.


Chickadee and her Boyf were very happy with the Texan BBQ sauce; it had a lovely, sweet-but-smoky flavour to it that is very much synonymous with "Tex/Mex" restaurants in the UK.
The Boy Wonder and I chowed down on the South West BBQ marinated ribs and got a fab burst of heat in our mouths and on our tongues; interestingly, it wasn't a harsh heat but one that had just a hint of sweetness about it. What we really liked was that it didn't have us running for the nearest trough of water despite giving us a "chilli rush", so it will appeal to a wide audience I think.
It was the chicken thighs in the Louisiana marinade that really surprised us all. It is labelled as hot and by golly it lives up to its promise; this sauce is the more "traditional" hot sauce, both in colour and also the tangier notes to its heat. Although not as rounded in flavour as the South West BBQ Hot sauce, it is equally delicious.


The Kickin' Ketchup got slathered all over the fries we'd cooked and this was also very well received. As well as a superbly rich Tomato flavour, after a few seconds you get a wonderful hint of chilli heat; just enough to tingle the taste buds, but not enough to overwhelm them and ruin the flavour of the chips. Full house as far as taste was concerned in this nest; good work Chilli Jam Man!
The meat was all top quality; nothing less than I would expect from Percy Dawes, thanks again ladsJ.
If you want to get your hands on some of these wonderful marinades/sauces then it's really simple, just go to The Chilli Jam Mans website
Thank you for letting us be your "guinea fowl" Simon, we had tremendous fun doing it. Hot Wings well deserved hereJ
No incentive was provided to visit this venue
read more