Back At The Devonshire Arms, Pilsley for Dinner
Published On Monday 27 Mar 2017 by Sticky Beak
See All Recent Reviews
It's been almost two years since The Man Bird and I were last at the Devonshire Arms in Pilsley, one of the gorgeous villages on the Chatsworth Estate. There have been a couple of changes; several dishes on the menu have altered and there is a new manager called Emma in charge.
However, as we stepped inside the door it was pleasing to see that the pub itself was just as I remembered; cosy, welcoming and with a fantastic traditional feel to it. A lovely young man asked if he could help and when we said we had a dining reservation took us around to the eating area, before handing us the menu and taking our drinks order.
Last time we came we were seated at the other side of the Devonshire Arms and this new (to us) area was just as comfortable as our previous seats. All the tables in this section had reserved signs on them, and although we were relatively early diners there was already a family with two young children placing their food orders.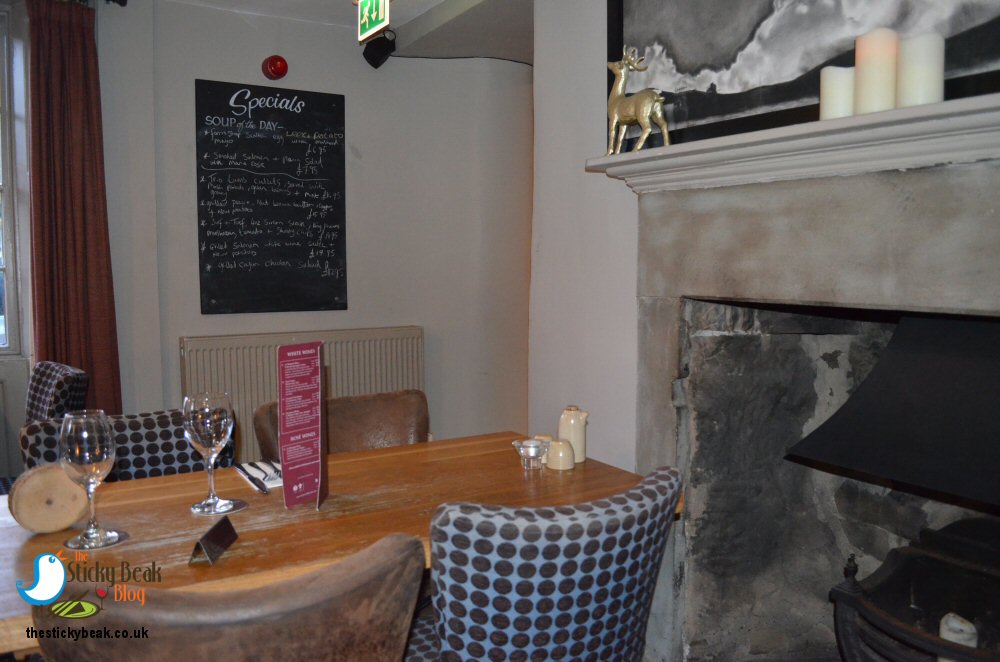 As well as the regular menu there is a specials board to select dishes from too; The Man Birds Chatsworth Scotch Egg with Mustard Mayo was a specials item, my starter of Crab Cake served with Sweet Chilli sauce was on the usual menu.

For our main courses we ordered from the regular menu; Salmon en Croute with warm Tomato Pesto, fine Green beans and Mashed Potato for me (I swapped the mash for salad though), Chatsworth Estate farm shop Burger( with an extra patty) and Smoked Streaky Bacon and Mature Cheddar for His Nibs.
It wasn't long at all before our beautifully presented starters were brought out to us and we greedily tucked in. The Scotch Eggs had the most stunningly deep yellow yolks I've seen aside from our own hens 'eggs and The Boy Wonder said that they had an incredibly rich, sweet flavour to them.

A lovely thick layer of seasoned Sausage meat surrounded them and a superb, crispy breadcrumb coating encased it all. The salad garnish comprised several types of leaf and pepper slices and was lovely and fresh. A brilliantly zippy mustard Mayo brought the whole ensemble together nicely, making it a great dish to start off with.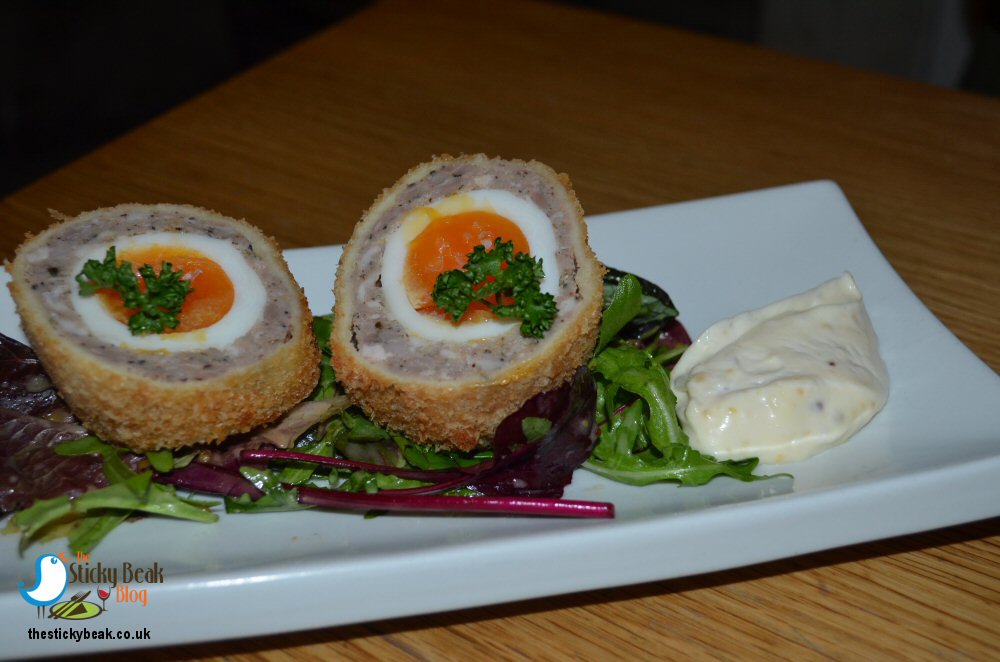 The Crab Cake was something to behold on the plate, accompanied as it was by only a salad garnish and a bowl of Sweet Chilli sauce. Not only was it very ample in proportion but it had lovely colours in it too, presumably from the fresh herbs and finely chopped vegetables contained within.

The sweet, succulent crab meat could be discerned on the palate which was lovely to savour; a lot of the time it gets lost with the potato and other binding ingredients, but the Chef at Pilsley has clearly experimented with ratios, to great effect.

As with His Nibs' salad, mine was super fresh and crunchy so it gave a beautiful textural component to the dish with spiciness coming courtesy of the cheeky Chilli sauce.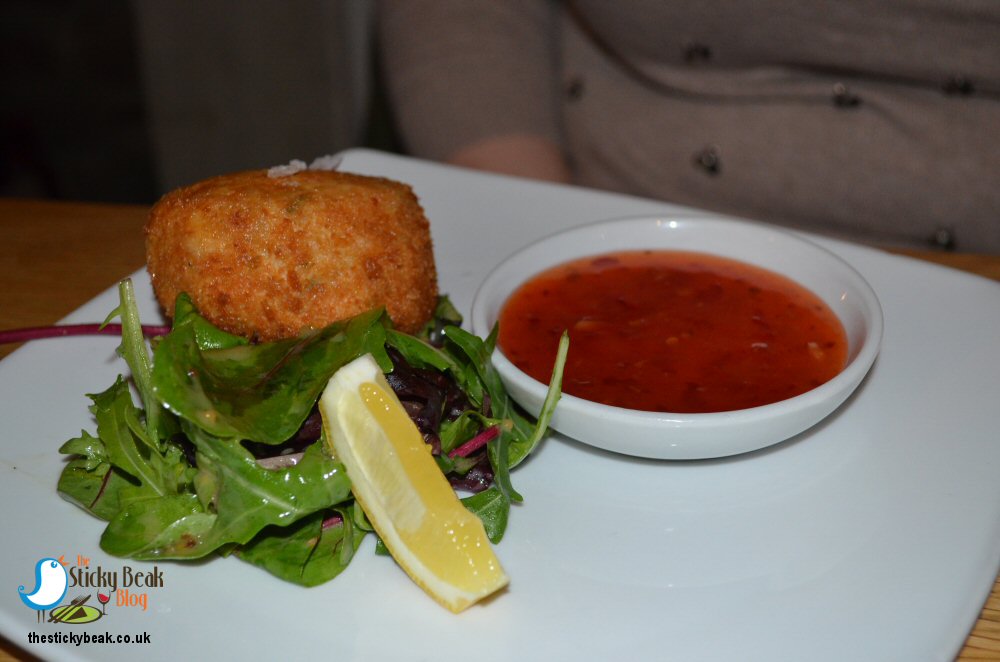 A couple of the team members came through and checked that we were enjoying our food so far and enquired if they could get anything else for us. Our empty plates were taken away and we noticed that another couple of the tables had occupants sitting at them perusing the menu to see what took their fancies.
After only a short interlude our mains were placed in front of us and boy did they look, and smell, marvellous. I had a thick fillet of Salmon encased in a light, flaky lattice-patterned pastry that just yielded instantly to pressure from the knife.

As you know, I'm a fussy little bird when it comes to fish so I'm pleased to report that the salmon was wonderfully moist in the mouth. Another peeve of mine is soggy, over-cooked vegetables; again the Devonshire Arms team delivered up wonderfully crunchy green beans that were bursting with texture and flavour. I was smitten with the warm Tomato Pesto; it provided a vibrant, crisp taste note to the dish that seemed to bring it all alive.

The salad I had requested instead of Mashed Potato had a great selection of colours and flavours thanks to the crisp red Onion, and Red and Green Pepper slices in it. Firm, sweet, juicy Tomatoes joined in the party alongside various kinds of Lettuce leaves and the whole ensemble had been lightly dressed with a spritely vinaigrette.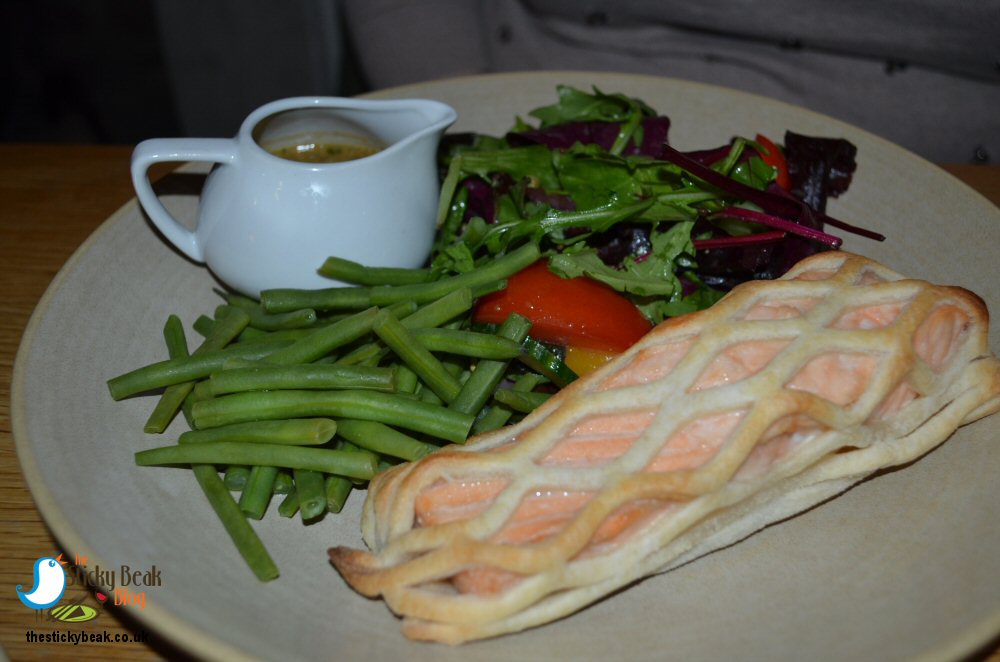 I had cautioned His Nibs about the size his Burger would be in light of him ordering an extra beef patty and it turned out to be a good call on my part. Fully assembled the dish must've been a good 7-8" high and probably 4" wide!
It did look very tempting though and the meat patties had been expertly cooked to retain all their natural juiciness and meaty flavour. A light seasoning brought that flavour to the fore without detracting from its natural taste at all and thick slices of streaky Bacon added their smoked notes to the palate.

The melted mature Cheddar was oozing seductively down the side of the burger, encouraging The Man Bird to scoop it up with his fingers with a grin on his face. It was all the lightly toasted Chatsworth farm shop bun could do to contain all the deliciousness and My Man endeavoured to give it all the help he could by putting it in his tummy :)


Nice crispy fries were getting enthusiastically dunked into the tangy burger relish, and he even chowed down on the salad garnish. Our server came over to check on us and we told him how tasty our food was, which made him bestow the widest smile of happiness on us that I've seen for a while.
For pudding His Nibs and I swapped our usual roles so I was the one who ordered the White Chocolate Cheesecake with Raspberry Coulis and The Man had the Vanilla Crème Brulee with two Homemade Shortbread biscuits.

The cheesecake had a fantastic thick layer of decadently rich chocolate topping that sat on a gorgeously buttery biscuit base. It was garnished with fresh Raspberries and a sprig of fresh Mint and looked almost too nice to eat. Almost. I dipped a small piece into the pot of Raspberry Coulis and just drank in its totally vibrant taste; it was so incredibly good. I was a very good wifey and shared a little bit with The Boy Wonder, who agreed that it was a superb cheesecake.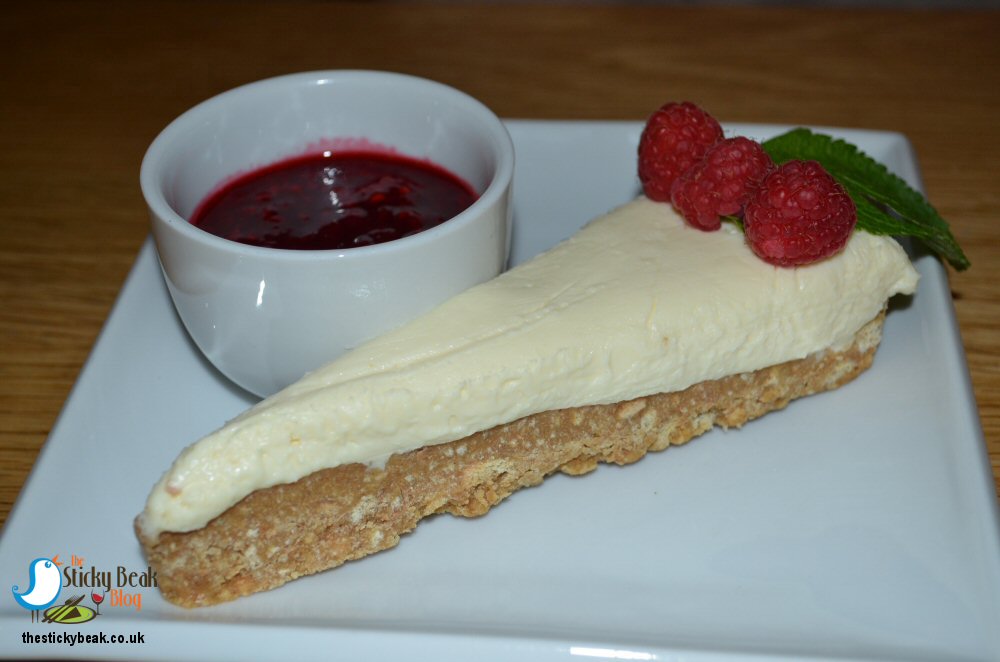 The one thing that is an absolute must in a Creme Brulee is a thwackable sugar top and the offering from the Devonshire Arms team at Pilsley was magnificent in its thwackability :)

It was served in a larger, shallower bowl than usual and I think this was the secret to getting a thick, hard sugar crust on top of the soft Vanilla custard. You would think that this would that this would be magnificence enough, but no, there was even more deliciousness to come.
The accompanying Shortbread rounds were quite possibly THE crumbliest, buttery things that the Man Bird has eaten. There's only one thing to say about them; wow. A powder fine, shimmering sugar coating adorned them, making these superb morsels just exquisite.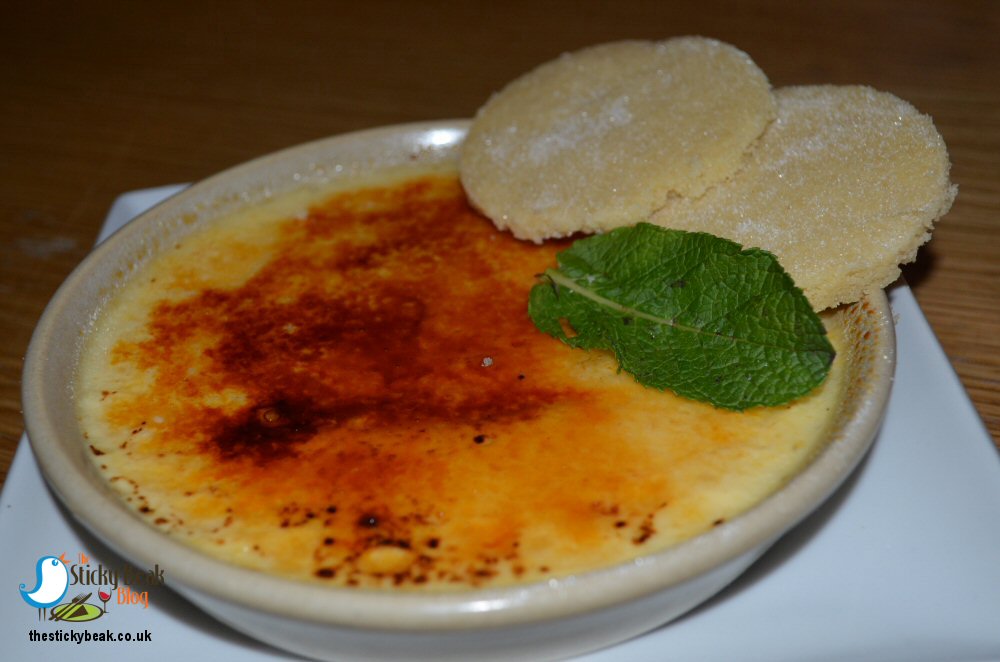 We finished off the meal with our usual coffees and reflected on what a fab evening it had been. Emma and her team had one final surprise for us though. Our lovely server, whose name I shamefully forgot to ask, gave us a packet of Chatsworth Estates Belgian Chocolate biscuits to take back to the nest.

Our Chick was hanging around, hopping from foot to foot, just waiting for us to open the packet so that she could grab one! Being the wonderful parents that we are, we duly opened the pack and dove in, sharing them around. They were brilliantly rich and had a fantastic crumbly texture. A plethora of chocolate chunks were scattered throughout the rounds and gave a lovely consistency to them.
It is safe to say that the standards at the Devonshire Arms pub at Pilsley are just as high now as they were nearly two years ago, so if you haven't been before I would definitely recommend that you pay them a visit. Hot Wings well deserved here :)
Some form of incentive was provided to visit this venue
read more