Dinner At The Greyhound Pub in Derby
Published On Sunday 19 Mar 2017 by Sticky Beak
See All Recent Reviews
Although I haven't visited The Greyhound before, I knew I'd heard the name and spent ages racking my little brain as to where I'd heard of it before. Eventually it came to me; they were winners of the Best Pub category at Marketing Derbys Food and Drink awards 2016, with the judges praising them for their great drinks selection, well executed, great food and enthusiastic staff all set in a historic, 18th century ,grade 2 listed pub building.
The Boy Wonder and I have visited another of Derby Brewing Companies venues, the wonderful Kedleston Country House where Joe Wood is Head Chef. Having had such a great experience at Kedleston and knowing that The Greyhound team were award winners, the Man and I were very much looking forward to our evening out. The Greyhound has recently installed a wood fired Pizza Oven and now offers a brilliant range of homemade Pizzas (more on those later).
From the outside The Greyhound looks pretty much like any other small traditional pub but when you step inside you get a very different perspective! For a start it is surprisingly spacious and it can certainly be described as characterful; everywhere you look there is something to entertain the eye whether it's the stripped wood floor, oak beams, or exposed original brickwork.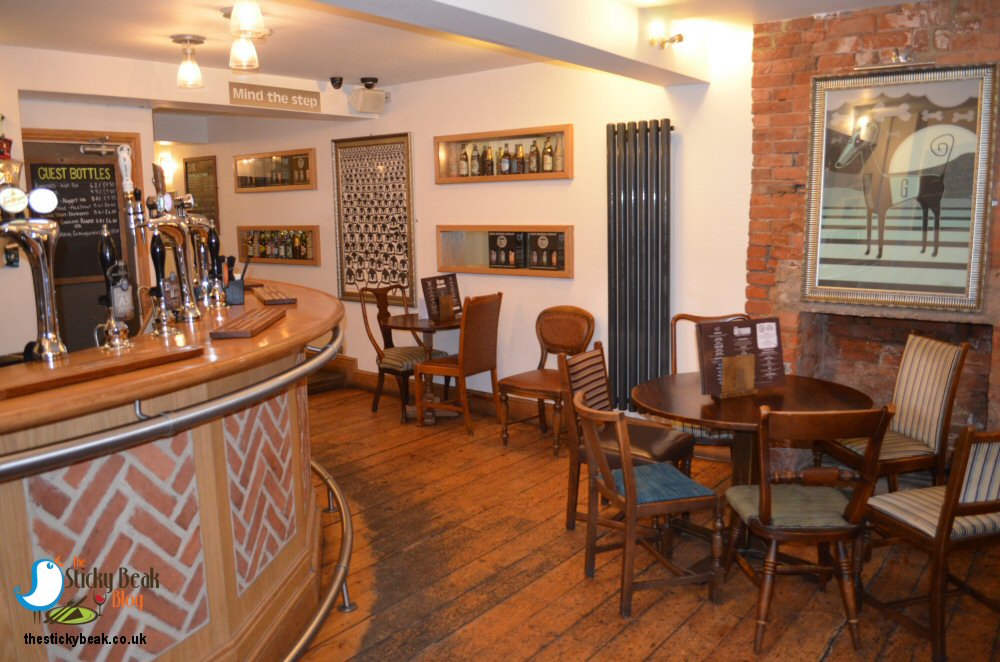 As well as having an ultra modern European Oak Bar with herringbone brick front there is some very quirky artwork to admire, including "The Dead Good Kids" by Martin Hyde. Neutral paint on the walls stops the plethora of features looking messy and the relaxed vibe exuded by the staff is carried on with the background music played at a sociable volume.
One of the team members showed us to our table, and they had thoughtfully positioned us with a great view of the main eating area and also of the outside walled garden. The chairs are very comfy, which I know I always bang on about, but if you have an ample derriere like moi then it's important to be well seated.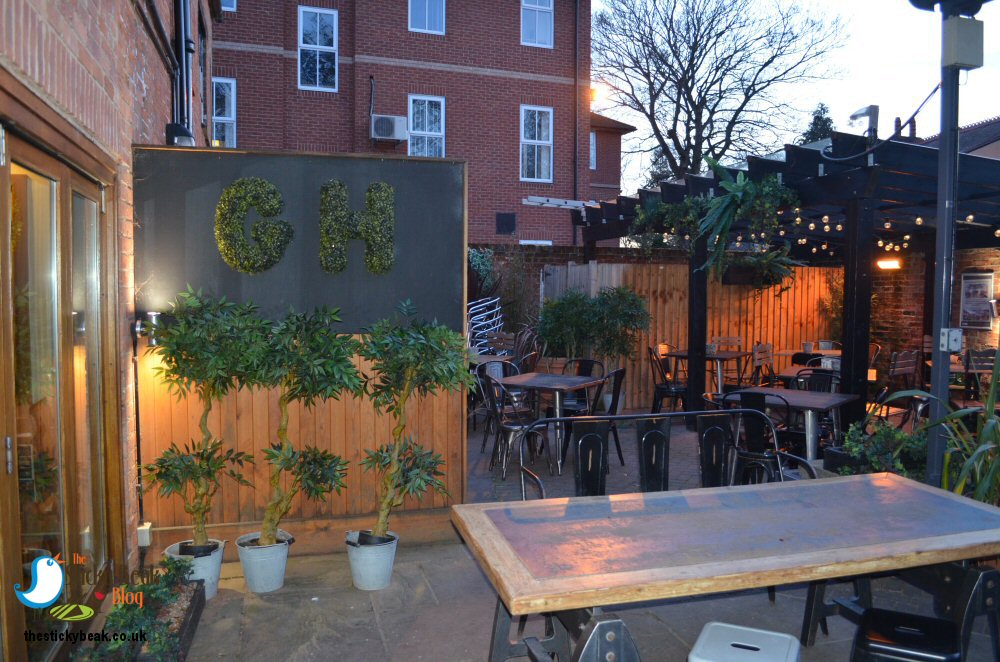 We made a note of our table number before deciding what we wanted to eat and drink and then pootled up to the bar to place our order. The Greyhound kitchen team cook all the food fresh to order using locally sourced produce, so please bear in mind that it might take a smidge longer for your food to arrive, especially at peak times. If you're like me though you'd rather wait and have something delicious and piping hot cooked fresh for you, rather than a micro waved meal that can be with you in 3 minutes.
As well as an extensive Smokehouse and Burger Menu there are the temptations of the Pizza Menu and weekly Specials Board to choose from too, so it took us a while to decide what we were going to have; luckily the glass of Sauvignon Blanc and pint of Poretti made the process even more pleasurable :)


At The Greyhound they don't do starters as such although you can have nibbles from the Pizza menu, so we ploughed straight into main courses; a full rack of Ribs (I had Cider Apple Glaze, but you can also have Carolina Mustard or DBC Beer BBQ glazes) and the Smoked Beef Brisket, both of which were from the Smokehouse Menu. Both dishes come with a choice of either 2 regular sides or 1 choice form the Prime Snacks section, so we chose the Pulled Pork and Cheddar Won Tons (prime snack) and Sweet Potato fries and Beer Battered Onion rings to go with our meat.
My Ribs were absolutely amazing; there was loads of meat on them and the glaze was really thick and sticky which made them finger lickingly fab! I initially used a knife to portion them into more manageable dimensions then just got stuck in to prise the meat off the bone with my mouth and fingers. Refined and elegant I wasn't but in total food heaven I most certainly wasJ. Nice portions of sliced Jalapenos and fresh Gherkins gave lovely sharp, clean flavour notes to the dish and the meal was most enjoyable.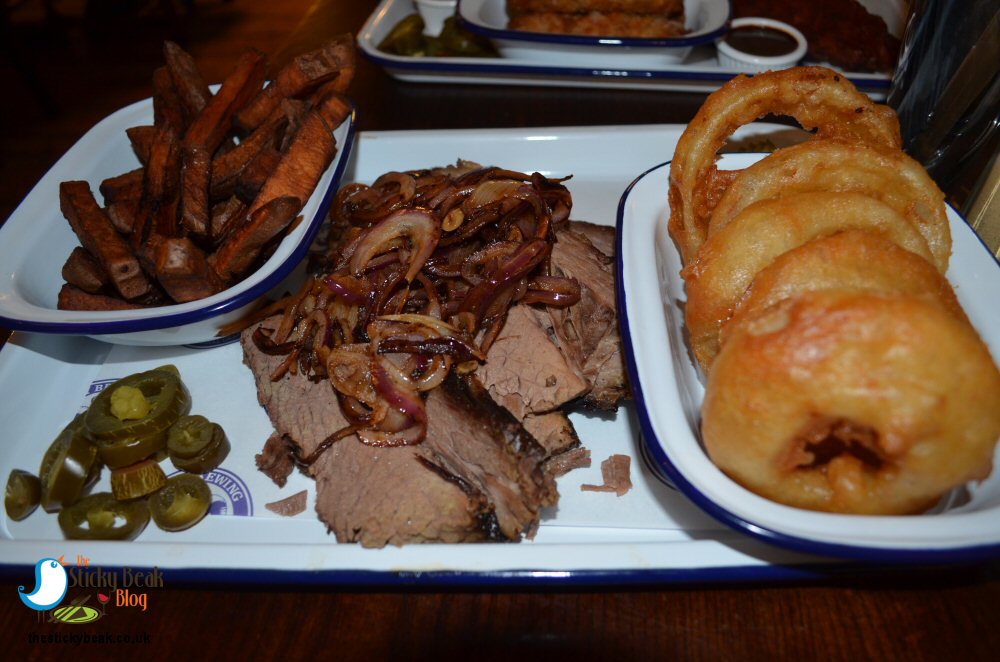 His Nibs' Beef Brisket was equally impressive. It had been cut into good thick slices for presentation and honestly and truthfully the knife was purely there for decorative value; the long, slow cooking process had rendered the meat so tender that it was falling apart as he went to cut it into bite size pieces. A nice seasoning had been given to the meat so that it was detectable but didn't mask the natural rich flavour of the beef at all. Lovely slices of Onion had been fried to gently caramelise them and these crowned the meat beautifully presentation-wise, and when eaten they were deliciously sweet on the tongue.
Not only were the Pulled Pork and Cheddar Won Tons a cracking idea, they tasted gorgeous too. The sweet Pork had been shredded and combined with the Cheddar cheese and then wrapped in Won Ton pastry before being fried to crispy perfection. They weren't at all greasy and really did have a fab taste to them with a perfect balance of both flavours being achieved.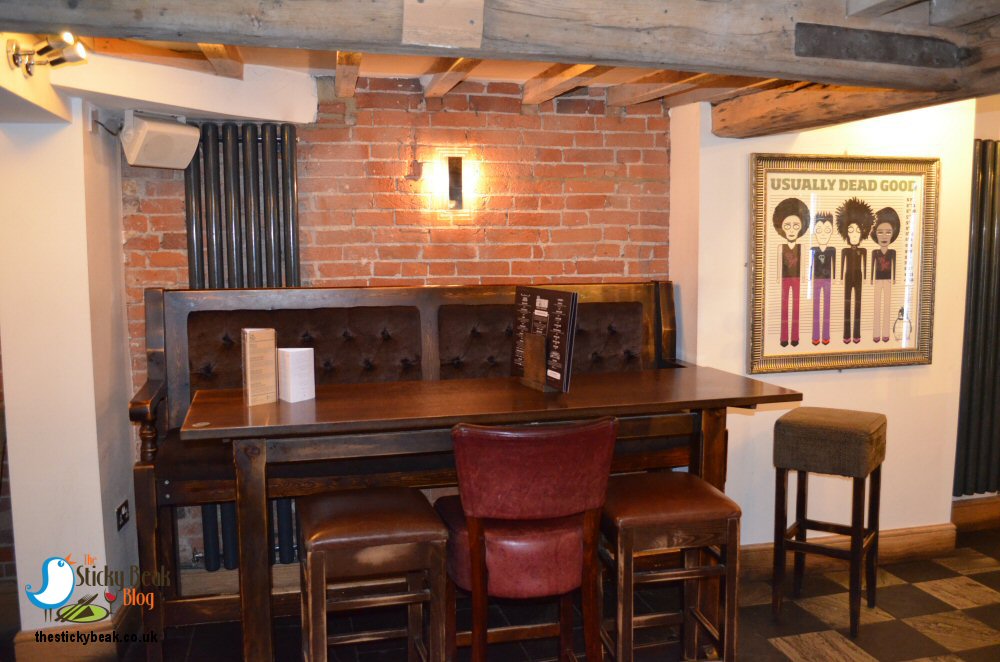 The Sweet Potato fries had clearly been hand cut from fresh spuds and were far more substantial than most of the Sweet Potato fries we've tried; in fact I would call them chips, not fries. Anyhow, they were very tasty, not soggy and greasy and had a proper "home cooked" hue to them i.e. not uniform, and darker than a lot of places would cook them. If The Greyhound did a chippy with these beauts it'd be like that lager advert; probably the best in the world!
Our final side was the Beer battered Onion rings and these came pretty close to knocking Fahrenheit Bar and Grill's off top place in the Man Birds opinion. They had a nice light, crispy batter that covered the chunky onion slices very nicely and were a great accompaniment to the Smokehouse meat dishes.


The dessert selection at The Greyhound is also pretty awesome, but we had got it in our minds that we were going to share one of the Sweet Pizzas for pudding. Well, it would've been rude not to let the team show their new pizza oven off wouldn't it?
The savoury Pizza selection definitely has the "great food with a twist" stamp on it that The Greyhound team pride themselves on; in fact, this was one of the things that the Marketing Derby Judging panel mentioned when awarding the prize to the team. I can categorically say that you won't be stuck for choice if you choose to have Pizza for dinner one night. Pizzas are available from 5pm on Wednesdays and from Noon Thursday-Sunday.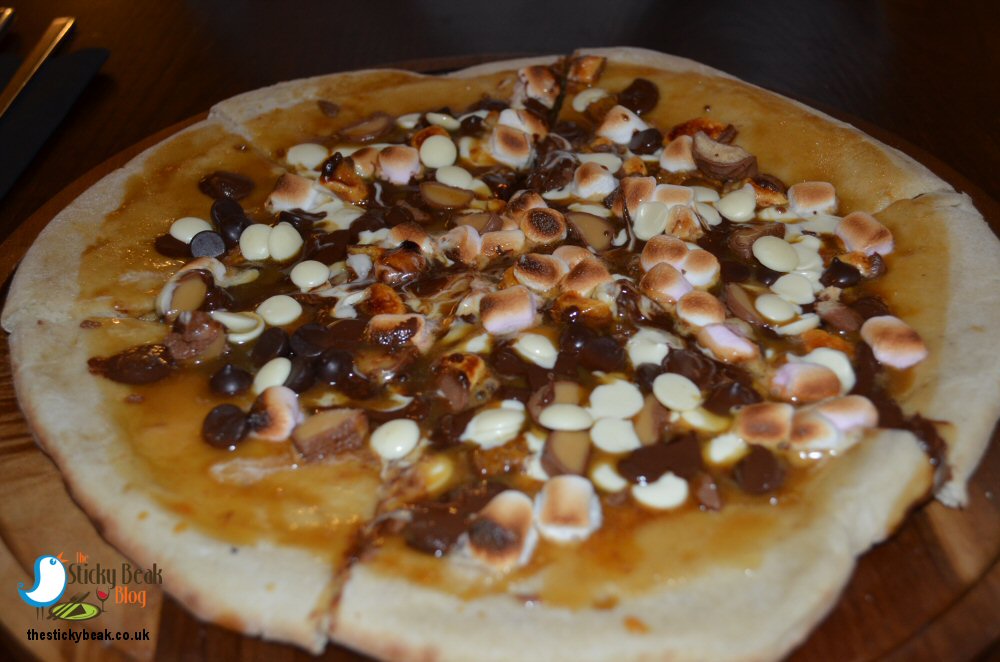 Anyhow, back to the subject; our Salted Caramel sweet Pizza. This little minx comprises a traditional shape Pizza base which is then slathered in a magnificent Salted Caramel sauce before having everything chocolatey wanged at it. OK, maybe I got a bit carried away there; it actually has Honeycomb pieces, Mini Marshmallows, milk, white and dark Chocolate pieces, and Fudge slices on. But, whatever, the net result is a Chocoholics dream! Bizarrely though, given the sheer amount of sweet stuff on it, it wasn't the least bit cloying or sickly; and given the abandonment with which the Pizzaiolo had chucked all the toppings on this was astonishing, trust me! Yes, I understand there will be those of you wrinkling your noses and thinking "eewww, Pizza for pud? No way", and all I can say is that it is an odd concept to get your head around, but it works. It was a brilliant end to what was a triumph of a meal.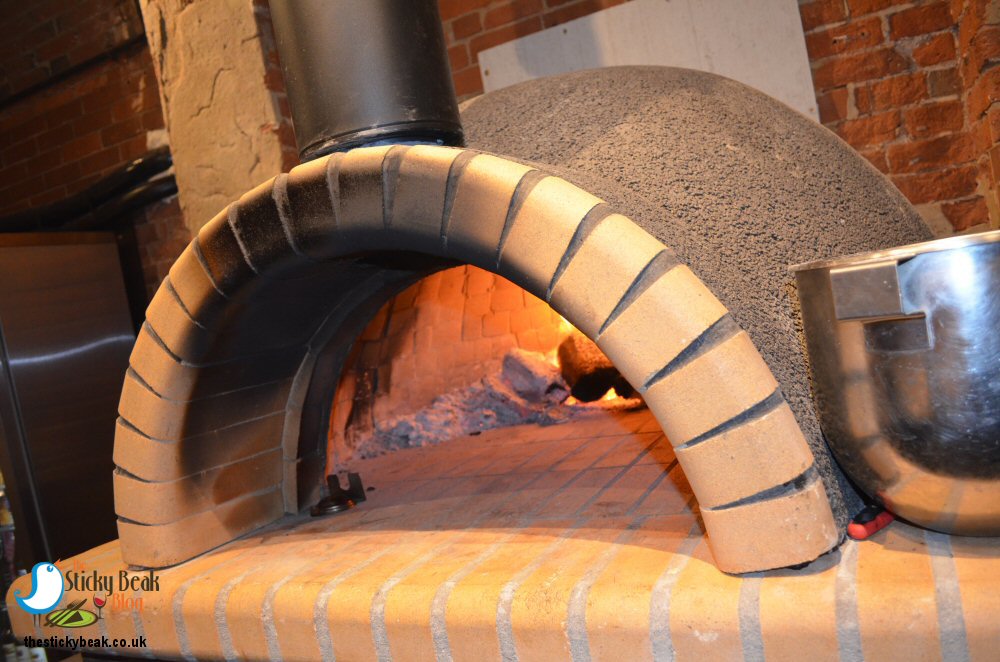 We rounded things off with a couple of coffees and couldn't resist a chuckle as one of the team was offering slices of freshly baked Pizza to the rest of the pubs customers; delicious as it looked and smelled, we couldn't have managed another bite and that thought amused us immensely.
Hot Wings most definitely awarded to The Greyhound team and you really do need to go and try the food out for yourselves dear reader :)
Some form of incentive was provided to visit this venue
read more