Lunch At The Denby Lodge, Denby
Published On Wednesday 8 Mar 2017 by Sticky Beak
See All Recent Reviews
Geordie Bird decided to grace us with her presence, so it was all hands on deck to get the nest de-fluffed and up to her standard. This meant we didn't have time to get any shopping in for the weekend, so being the *ahem* brilliant, thoughtful birdies that we are, we said that we would take her out for lunch.
Cue a bit of a brainstorm to see where we fancied, and eventually Denby Lodge was the front-runner. His Nibs rang and booked a table for the four of us and off we tootled with Geordie Bird chirruping away about what a lovely treat this would be and wasn't her boy just the best.
We pulled up in the car park and I was quietly impressed by the kerb appeal the Denby Lodge has. When you go inside there is a lovely atmosphere and we got a pleasant smile to greet us from the bar man. We ordered our drinks and put them on the table bill and then we shown round the corner to the restaurant area. It was already throng with fellow diners, some of whom had just popped in for an informal lunch and others who were celebrating family milestone birthdays.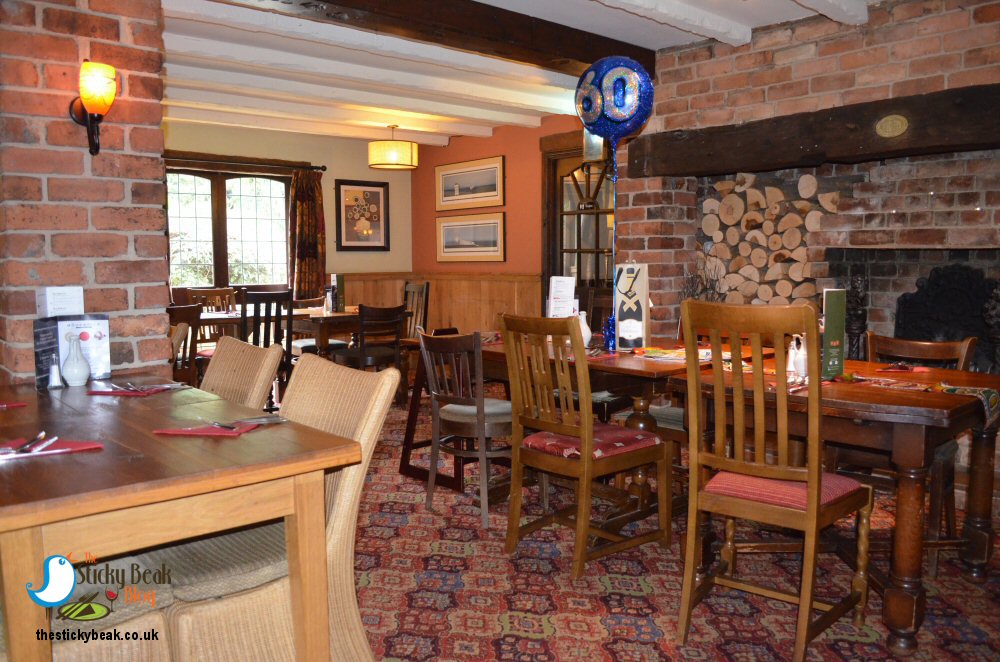 Monday-Saturday Noon-2.30pm and Monday-Friday 5-6.30pm they have an offer on their Traditional Pub Favourites menu; 2 meals for £12 and the menu is very extensive; as well as hot meals there are sandwiches and omelettes included.
I had the Wild Rice, Spinach and Honey Roast Vegetables served with Garlic Bread and dressed mixed leaf salad, His Nibs had the Denby House Burger and Chips, Geordie Bird had Fish and Chips with Garden Peas and The Chick had the crispy Chicken Burger with chunky Chips and Coleslaw.


It really wasn't long at all before our four meals were being served to us and pillows of steam were billowing forth from them so we knew they were freshly cooked and hot. My meal was cooked in a small lasagne bowl and had a lovely flavour to it thanks to the addition of rich Ruby Port and Mixed nuts in it. Size wise the portion was more than plenty, especially when you factored in the Garlic bread slices and side salad.
Geordie Birds Fish and Chips was a very generous size too and she didn't manage to eat all her chips. The fish had a great crisp batter on the outside and was nice and chunky inside, so she was more than pleased with her choice of meal.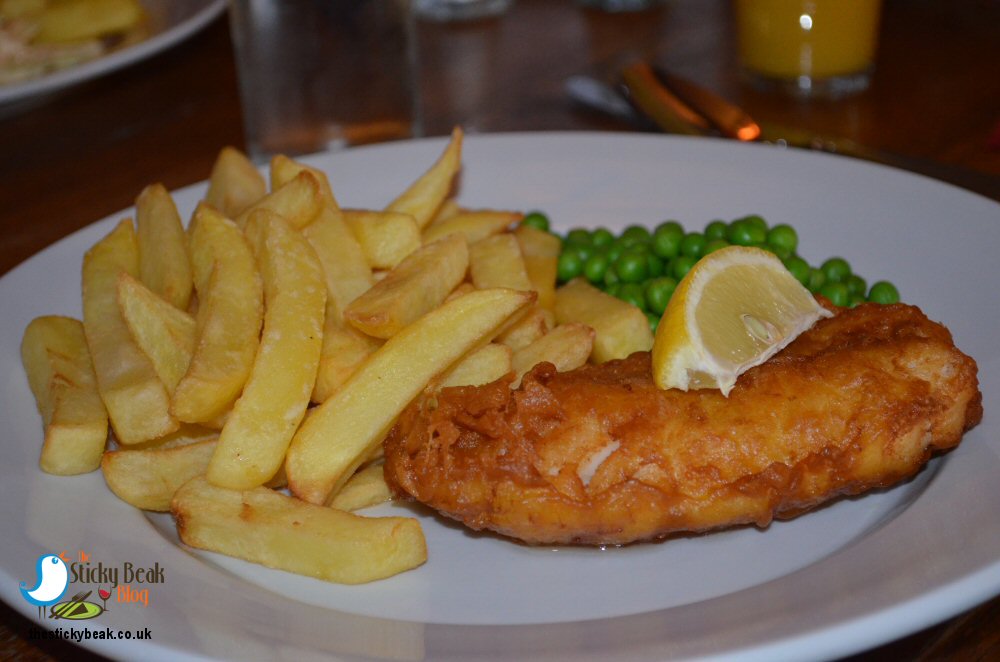 A lovely young lady came and checked that we were happy with our meals, and we replied that we were indeed.
The Chick was chowing down enthusiastically on her Chicken Burger encased rather nicely in a buttery Brioche bun then topped with creamy Mayo and crisp salad and a good portion of chunky Coleslaw on the side. Her verdict was very complimentary as she finished off the last mouthful with a smile.


His Nibs was well chuffed with his 6oz beef burger also in a Brioche bun and topped with shredded Lettuce and sliced Tomato. The chunky chips were deemed to be a great partner for the meaty beast of a burger patty that was about an inch thick, easily. There's nothing worse than a bland burger I don't think and luckily the one at Denby Lodge has been nicely seasoned to give it a great flavour that you can really enjoy. The Boy Wonder made sure that every last crumb was gone from his plate, so our server didn't have much surplus weight to take back into the kitchen aside from the crockery.


As well as the Traditional Pub Favourites menu there is also an a la carte menu that you can choose from should you prefer this. We were tempted to have pudding but held back seeing as it was only lunchtime and we planned to have a takeaway later in the evening back at the nest.
Denby Lodge does a cracking meal and for the price we paid you definitely can't go wrong. If you haven't been before it is well worth going and seeing for yourself what's on offer. Hot Wings awarded to the Denby Lodge team :)
No incentive was provided to visit this venue
read more