Dinner At The Refurbished Hollybrook, Littleover, Derby
Published On Sunday 5 Mar 2017 by Sticky Beak
See All Recent Reviews
No doubt many of you will know that The Hollybrook at Littleover had a massive refurbishment and opened again in January 2017, and perhaps some of you will already have been; for those who haven't been before, allow me to share my thoughts with you.
The Man Bird and I were kindly invited to go and experience the Holly Brook hospitality and arranged to go along a couple of weeks later. I have to say that the building itself has great kerb appeal as you approach it from the road, and it also has a massive car park.
We found a spot that His Nibs deemed suitable; honestly, I have never known a bloke be so picky about a car parking spot, for me if it's empty it'll do. Anyhow, having parked the jalopy we wandered up to the doors taking in several landscaped areas with seating outside that I think will be fantastic in summer.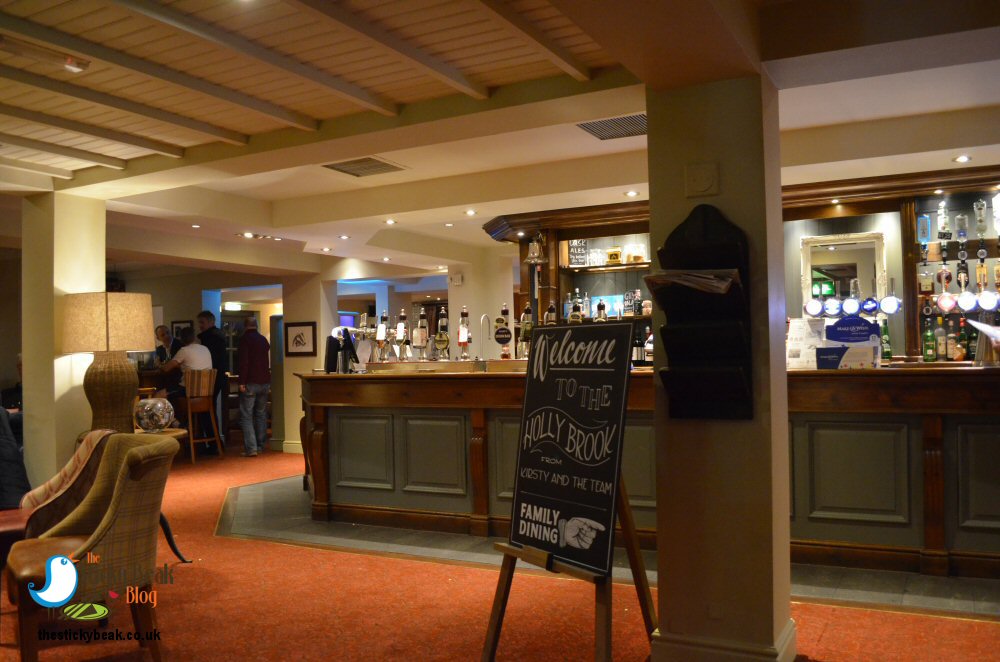 When we walked inside we were greeted warmly by a lovely young chap behind the bar, and a young lady showed us over to our table (which Manager, Kirsty had kindly reserved for us). We made a note of its number (21) and went back up to the bar to order our drinks and our starter and main course dishes.
I decided to have Bread, Oil and Olives to start followed by Cornish Kiln Smoked Pork Ribs with an extra side Salad and The Man Bird had Potted Chicken liver, Pork and Mushroom Pate to begin, and the Wild Boar and Chorizo Burger with Lattice Fries (upgrade) and Beer Battered Onion rings for his main course.
As we waited for our starters we sat back and began to take in the beautiful surroundings. Each end of the main Family Dining area has a large fireplace and they were both roaring away. The colour scheme is based around warm tones of red, russet browns and terracotta; these are lifted by sage green and cream accents and the inviting ambience is further enhanced by a nice level of lighting.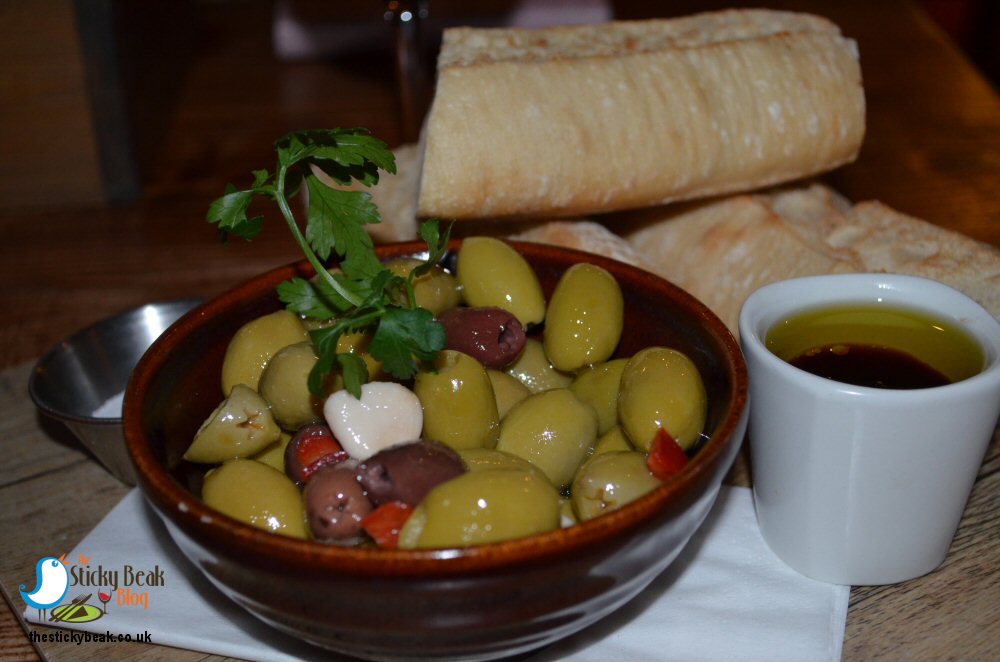 There is a rather squashy, cosy looking sofa, table and low seats located off to one side of the door near the fire and this was already occupied by a group of older men, perhaps having their weekly pow-wow and pint of sanity! I liked the mix of round and square tables as it broke up the lines of the room and stopped it becoming too regimented and formal; the wooden tables at Holly Brook Inn had a variety of chair styles partnered with them to accentuate this relaxed vibe.
Before long our starters were being placed in front of us and we eagerly tucked in. I had three hearty lengths of Ciabatta to dip into the light, fruity Extra Virgin Olive Oil and Aspalls Apple Balsamic Vinegar; dunking bread into oil and vinegar is one of those things that I just love.

There was a great mix of marinated olives to enjoy, as well as cloves of Garlic and pepper slices and my mouth was soon filled with fresh flavours from them all. The Maldon Sea Salt had thoughtfully been placed in a separate little dish so you could add or omit it according to your tastes and dietary needs.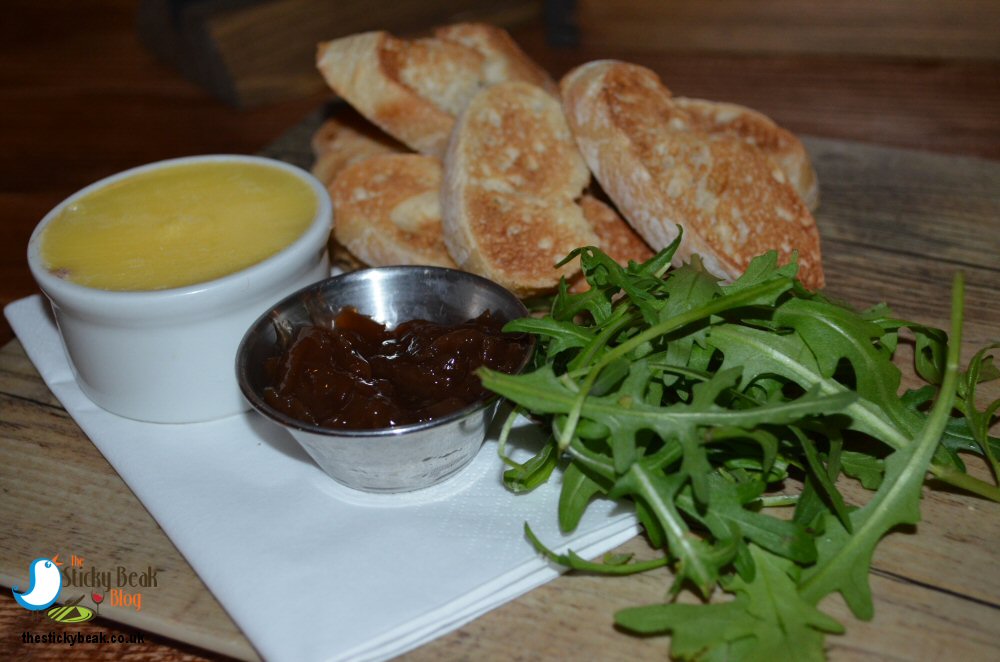 His Nibs had individual slices of toasted Ciabatta on which to spread his pate. The Pate itself had a nice clarified butter seal on its top which when broken into revealed a lovely smooth textured morsel. It yielded a really rich, deep flavour when eaten and this paired brilliantly with the Ballymaloe country relish. Fresh Rocket leaves brought their peppery notes to the dish so that this was a nicely layered starter to get the juices flowing.
Both starters were nicely presented and were generous sized portions, and we said how happy we were with them when a member of the serving team came over. There was a steady stream of customers coming through the doors ranging from groups of female friends, mixed groups of friends and families with children of all ages. The Holly Brook Inn has wooden high chairs for younger family members so that they can dine in comfort and take in the atmosphere too.


Our main courses were soon coming out of the kitchen and boy did they look and smell goodJ The Boy Wonders burger was a proper meaty beast and the melted Monterey Jack cheese was oozing out over it. When he bit into it he said that there was a fab kick from the Chorizo but that the deeper flavour of the Boar partners it well. A sweet note came from the Caramelised Red Onion chutney that sat atop of the gooey cheese layer and a toasted Brioche Bun encased it all.
The Man fancied trying the lattice fries and upgraded these from ordinary chips for £1 extra. He said they had a lovely texture to them and a nice crunch in the mouth; just a bit different to normal chips. His Beer Battered Onion rings came in a separate bowl and there were plenty of them; they were hot, crispy and crunchy and not greasy at all, perfect.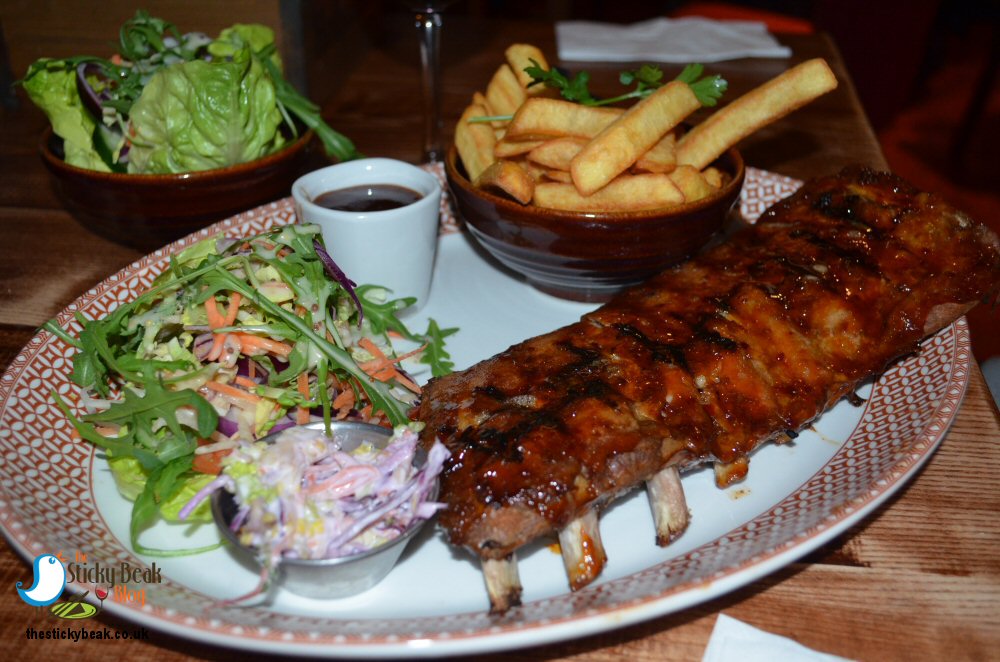 My rack of Cornish Kiln Smoked Pork Ribs had plenty of meat on them and weren't swimming in sauce either. Having said that, there was a nice amount of the smoky, sweet tasting Chipotle and Honey glaze on them, and there was more of it in a side bowl if you wanted to add more or dip your fries in it. The seasoned chips aren't homemade, but they are a good quality pre-pared variety and had been cooked so that they were hot and crispy, not soggy.
I was also enjoying the house 'slaw because it wasn't overly slathered in Mayonnaise, meaning that you could taste the crunchy vegetable in it and discern their taste too. Sometimes you get coleslaw that is basically Mayonnaise with a cursory slice or two of cabbage in it that serves no other purpose than to clag your mouth up. Bleurgh. Luckily the one at the Hollybrook isn't like this.
The extra side salad that I ordered had a great mix of leaves and vegetables in it so that it was colourful to the eye and crunchy in the mouth. It is served with a honey and mustard dressing and again there wasn't an excess of this so that the flavour of the salad could be properly enjoyed.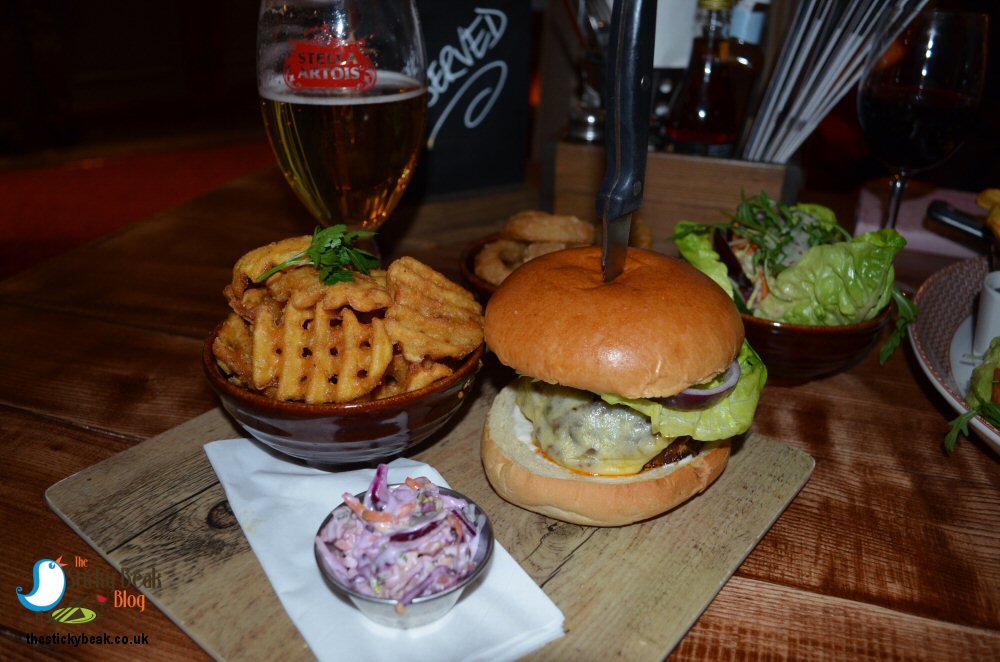 Our server had been to check that our meals were to our liking and gave a smile when she came back later to clear away two empty plates. Our tummies were pretty full at this point so we had a little pause before going up to the bar to order desserts.
As I had a nosey through the menu I was pleasantly surprised at how many offers The Hollybrook has for its customers. They do set menus in the daytime and evenings, both Monday- Thursday; the day offer is Noon-5pm, the evening menu runs from 5pm onwards. This menu is priced between £4.99- £8.99 in the day dependant on the amount of courses you have and from £9.29 -£11.29 in the evenings.
There is a Sunday lunch menu that you can choose to have 1, 2 or 3 courses at, prices range from £8.49, £10.49 and £12.49 respectively; the childrens version costs £4.99, £5.99 and £6.99.
Children also have their own separate menu to eat from, with two distinct age ranges. Smaller appetites is for those aged 7 and under and costs from £3.99 -£5.99 depending how many courses you want; Larger appetites is aimed at children between 8 and 11 years old and prices range from £4.99 - £6.99.
For pudding I just fancied the Chocolate and Baileys Sundae and His Nibs wanted the Sticky Toffee Pudding with Vanilla Pod Ice Cream, so off he strolled to the bar to place our order. At this point, Kirsty managed to grab a free 5 minutes and came to have a chat with us which I thought was a lovely touch. We commented on how well her team were working together, never sticking to one area, just floating to see what needed doing and getting on with it. All evening they worked tirelessly to keep waiting to a minimum and were always out on the floor cleaning tables and replenishing cutlery etc.
My Sundae was amazing! The Chocolate Ice Cream in it was so rich that when it melted in the mouth you could really taste the cocoa in it, yummyJ. There were plenty of chunks of gooey Belgian chocolate Brownie in it to satisfy even the most gung-ho chocoholic and chocolate sauce was flowing over everything in sight. Bailey's Irish Cream Liqueur had been poured over the top so that it also coated everything and its flavour left that lovely warmth on the back of the throat as it was swallowed. Yep, I was feeling pretty smug in my fantastic choice of dessert, and looking over at The Boy Wonder I could see he was equally smitten with his choice.


The Man Birds Sticky Toffee Pudding was exactly that; sticky and gooey with a fab Toffee taste to it. The sponge had a moist, light texture with the richness coming from the Muscovado sugar and Dates in it. This had been partnered with an exceptionally creamy Vanilla Pod Ice Cream that had begun to melt and ooze over the warm Toffee Pudding. Not a single crumb was left from either of us, testament to the deliciousness of both desserts.
We rounded things off with our usual Latte coffees; The Hollybrook use sustainably sourced "Brood" coffee, which is a very mellow bean that should have wide appeal.
Both of us had a very pleasant evening at the Hollybrook at Littleover; if you haven't been before it is definitely worth going and taking advantage of their offers. In fact, I ought to just mention that if you sign up to their club you get complimentary bubbles on your birthday as well as other exclusive offers throughout the year.
Hot Wings certainly earned by Kirsty and her team :)
Some form of incentive was provided to visit this venue
read more