Dinner At The Matlock Gurkha Inn, Tansley
Published On Friday 3 Mar 2017 by Sticky Beak
See All Recent Reviews
Sometimes you think of a place to visit and never quite get round to actually going there. The Man Bird and I have had the Matlock Ghurkha Inn at Tansley on our radar for ages, so after a busy day shopping for Prom Shoes and Bag, Mummy Bird and my little flock were more than ready for a bite to eat. Daddy Bird had ducked out of the shopping trip as it really isn't his thing to spend a day in a big retail centre and I have to say my throbbing feet thought he'd made the sensible decision!
Anyhow, we pulled up in the car park and made our way to the front door. We thought the restaurant wasn't open as we couldn't open the door; turns out it is just incredibly hard to open but luckily a member of staff came to our rescue. Throughout the evening the other diners had the same problem so it wasn't a case of our arms being weak after carrying lots of bags round for hours.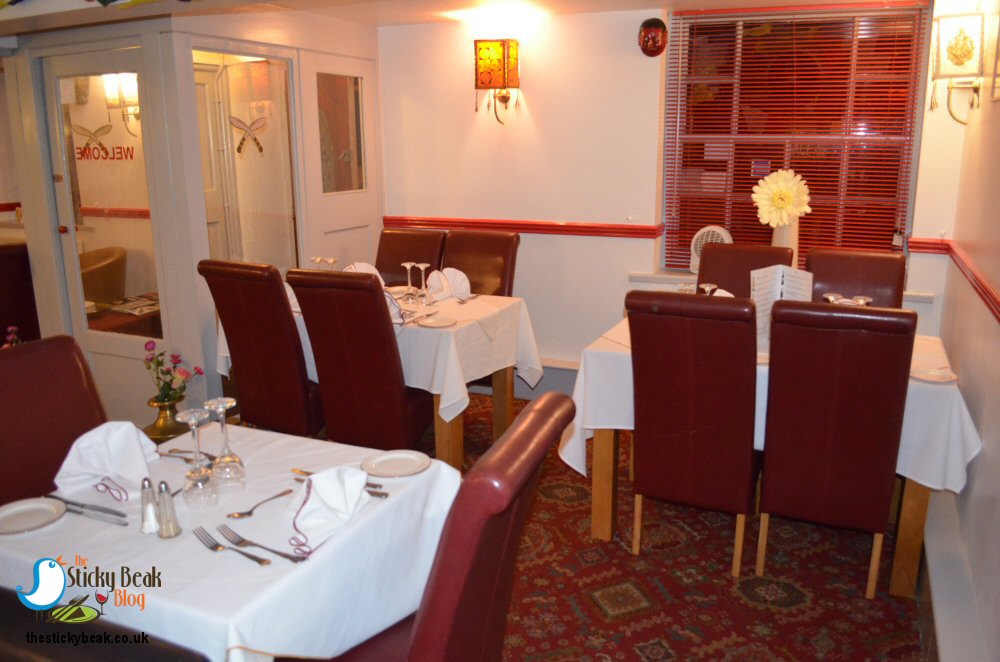 The Matlock Ghurkha Inn is fairly neutrally decorated which allows the fantastic Nepalese mural on one wall to take centre stage. The dining chairs were lovely and comfy; I could've sat in them all night long. First thing on the agenda was to get some drinks ordered; a pint of Everest Gold Lager for His Nibs, water for Chickadee and a cheeky bottle of Sancerre for Mummy Bird and I. The Wine List is pretty impressive for a Nepalese/ Indian restaurant in fairness; actually scrap that, it's pretty impressive compared to a lot of restaurants full stop. My beady eyes had also spied a Malbec and I was sorely tempted to select that instead but I haven't had a Sancerre for ages and just fancied it.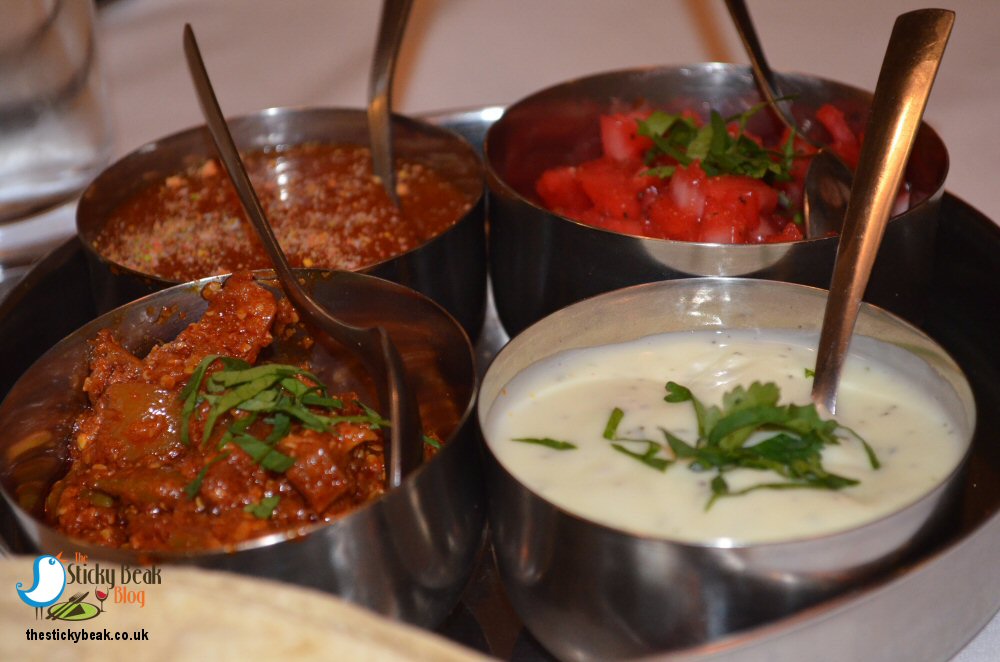 We kicked the meal off with Poppadoms and the Pickle Tray and were soon breaking bits off the crispy Poppadoms and dipping them into the Lime Pickle, Mango Chutney, Raita and Onion Relish. The trays soon got cleared, we were ravenous.
For starters we had selected Mushroom Pakora (Mummy), Prawn Puree (Chick), Chicken Choila (Man Bird) and Chicken Momo (me). My dumplings were going to take about 20 minutes to cook as they are freshly prepared to order, but we weren't in a hurry now that the initial edge had been taken off our hunger.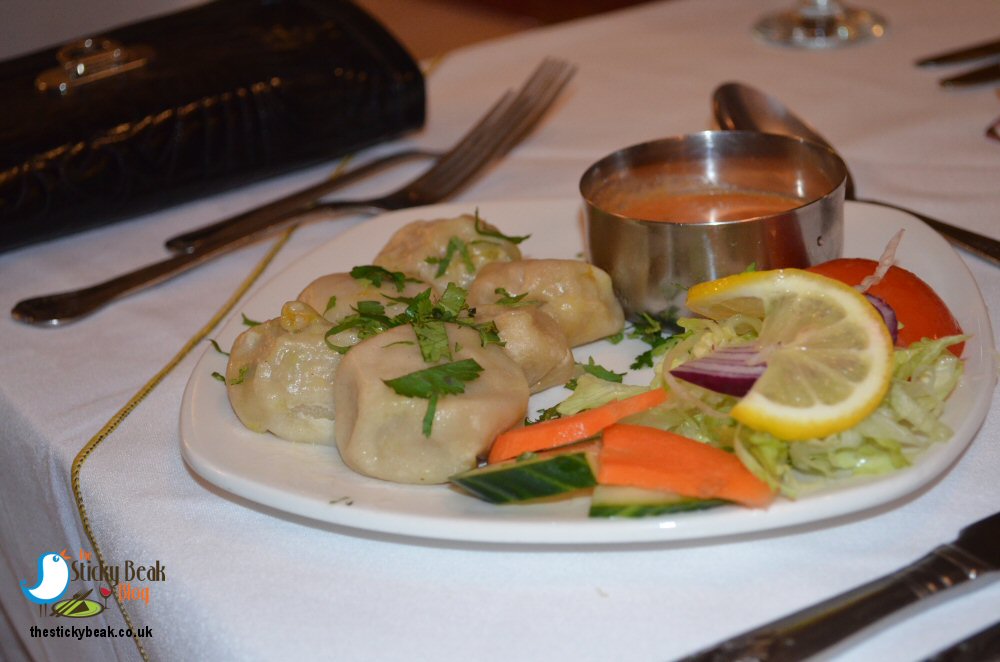 When they arrived, the Chicken Momo were delicious; there was plenty of filling in them and the dumpling case itself was nice and light, not claggy and soggy. My Mummy Bird was eagerly tucking into her Pakoras and again they were deemed to be rather tasty with plenty of filling to them and not overly spicy. His Nibs had selected the Chicken Choila, a medium hot dish consisting of chicken pieces cooked with Garlic, Green Chilli, Ginger, Onion and Spices. He said that it had a great kick to it without leaving you reaching for the water jug and not being able to feel your lips.
Our Chick always has the Prawn Puree as her starter; she just loves it and as she cut into the puree bread and took her first mouthful a little smile crept across her face. A couple of further mouthfuls confirmed the Matlock Ghurkha Inn's Puree to be the best one she's had; high praise indeed from the Professor of Puree dishes!


A lovely member of staff came to check that we were happy with our food and we replied that we were.
For our main courses three of us chose Nepalese dishes and one had an Indian dish. The Indian dish was Prawn Biryani, no prizes for guessing who had that with their Prawn obsession (Chick)! Mummy Bird had the Lekali Mazza, I selected Janter Manter and The Man decided to have the Lasun Kukhura Khursani; don't panic I'll translate what they were for you :)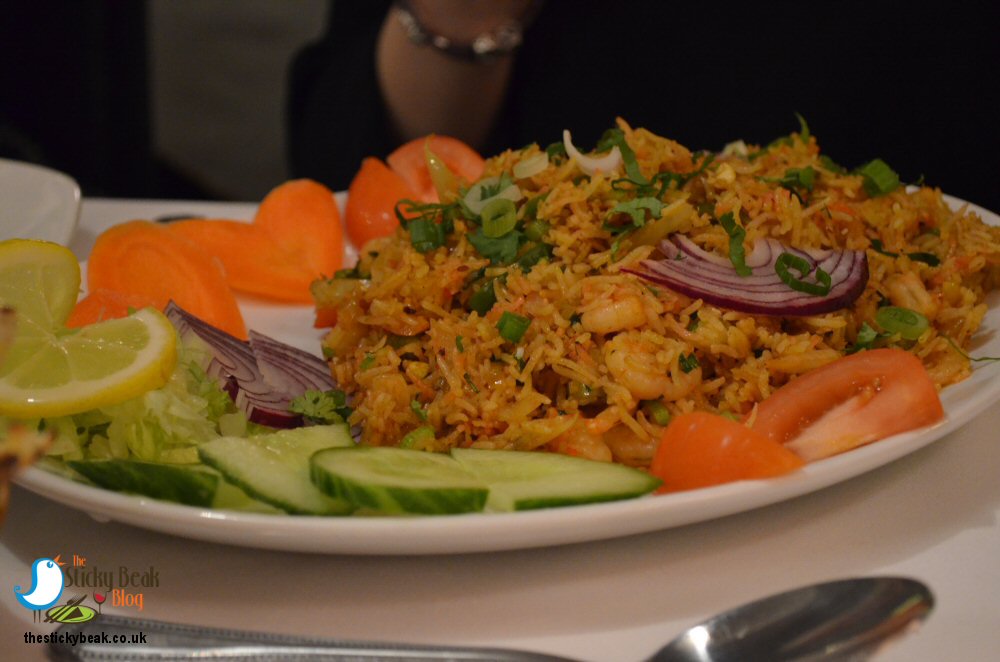 Prawn Biryani is a dish most people are familiar with because it's a fairly straight forward dish on most Indian restaurant menus. The Prawns are cooked with Mushrooms, Peppers, Onion and dried Fenugreek seeds and combined with Saffron rice and it was served with a lovely fresh salad; the Masala sauce was in a separate dish to be added at your desired amount. My Girl said it was cooked beautifully and that there was a fantastic amount of prawns in the dish. All the flavours were well balanced within the dish and she said how much she was enjoying it.
Mummy Birds dish was composed of tender chicken pieces cooked in a special sauce, Lemon juice and Cream and topped with cheese that formed a gooey, melted layer that she dived through with a chunk of the Peshwari Naan that we'd ordered. Although it is a fairly mild dish, don't let that fool you into thinking it isn't going to be packed with taste; there were plenty of flavours to keep the palate occupied. I served some Pilau rice onto her plate too to soak up some of the sauce.


My own Janter Manter is Chicken Tikka that has been cooked in a clay oven before being prepared with Green Peppers, Onion, Pineapple and Mushroom to produce a medium/slightly hot dish. Personally I would say that it is more medium as I didn't have any "tingle" factor at all. I spooned on some of the Pilau rice that we had also requested to go with our mains and it was lovely and fluffy with all the grains separate from one another. There were Cumin seeds in among the rice and whole Cardamom pods that had fragranced it delicately.
The Boy Wonders dish had a chilli symbol next to it, denoting that this is a slightly hotter dish and not for those who aren't used to spicy food. It consists of slices of Chicken Tikka cooked with chopped Garlic, Green Chillies and special Masala sauce and spices. All the dishes had been very generous in their portion size (especially Chickadees Biryani), so be sure to take a hearty appetite with you when you visit Matlock Ghurkha Inn. His Nibs was cutting through the chunky slabs of chicken and swirling them in the rich looking sauce; it certainly did have a substantial kick to it thanks to the numerous Chillies in it, but it wasn't at all burning in the mouth.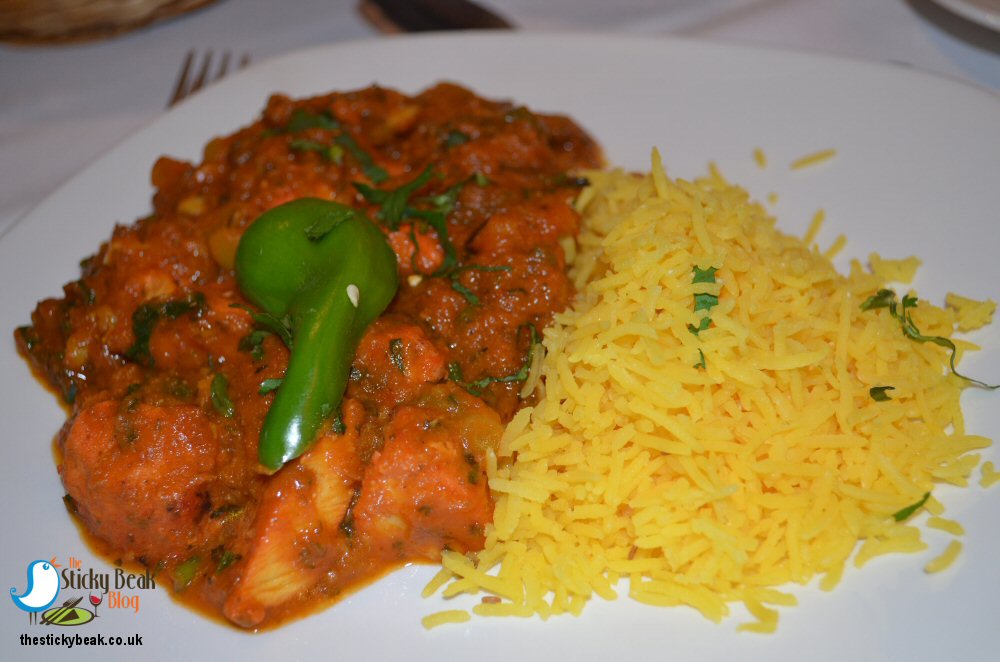 Another server came to check that we were enjoying our food and to see if we were ok for drinks.
We had a little rest before we ordered desserts and coffees; only The Man and I had puds, Caramel Fantastica for Him and a multi flavoured Kulfi ice cream Terrine for me called the Matlock Ghurkha Inn Special.


My Ice Cream Terrine had Mango, Pistachio and Malai Kulfi varieties in; the Malai type was delicately flavoured by Cardamom and was refreshing on the palate. Mango is a wonderfully fragrant fruit and its taste was truly superb in the Kulfi; Pistachio nuts had been finely chopped and gave a nice texture to that layer of the Terrine.


I don't think I know of a single Indian restaurant that doesn't have the Tarta Fantastica on its dessert menu and there is something fab about the Caramel and Vanilla ice cream concoction with its Chocolate balls and Caramel ripple topping that appeals to a large audience. The Boy Wonder certainly likes it as he normally has it whenever we visit an Indian restaurant, and it soon got eaten in double-jig time at Matlock Ghurkha Inn.


Mummy Bird joined the two of us in a coffee to bring the meal to a close, and it was a rather nice bean I must say. We were very pleased to meet the owner at the end of our meal and he was telling us about his plans to extend the opening hours of Matlock Ghurkha Inn between March and October 2017 to try and entice tourists to the area to come in and have a meal. Thankfully the extra opening between 1pm-4.30 pm will also help a lot of people who fancy a flavoursome lunch or tea that won't break the bank. They also do a Happy Hour promotion Monday-Thursday between 5-6pm where you can have 2-4-1 meals; all you need to do is arrive before 6pm.
Our little flock really enjoyed our first experience of Matlock Ghurkha Inn, so if you haven't been before I can recommend it to you. Hot Wings awarded here :)
No incentive was provided to visit this venue
read more