Trying The New Menu At Revolucion de Cuba, Derby
Published On Tuesday 21 Feb 2017 by Sticky Beak
See All Recent Reviews
It's been a while since The Man Bird and I were over at Revolucion de Cuba in Derby and it was really good to be invited back to sample their new menu items. Sarah the Manager showed us over to our table and left us in the very capable hands of Eliska, our server for the evening.
The first thing to do was order a couple of cocktails; a Caribbean Island Iced Tea for His Nibs and a Tiki Royale for yours truly. Eliska then went through the menu changes for us and very kindly gave us her personal favourites and recommendations. We had a bit of a conflab as to what dishes were floating our boat before deciding on the Grilled Lamb Chops and Lime and Chilli King Prawns from the new Primo Tapas section and some Fire Pigs and Halloumi Fries as well.
As you know, Revolucion de Cuba do a brilliant "3 for £13" on their tapas Monday-Saturday and the Primo Tapas can be included in this offer for a small additional supplement of £2.50. I should just point out that the Primo Tapas aren't included in Sundays 2-4-1 offer.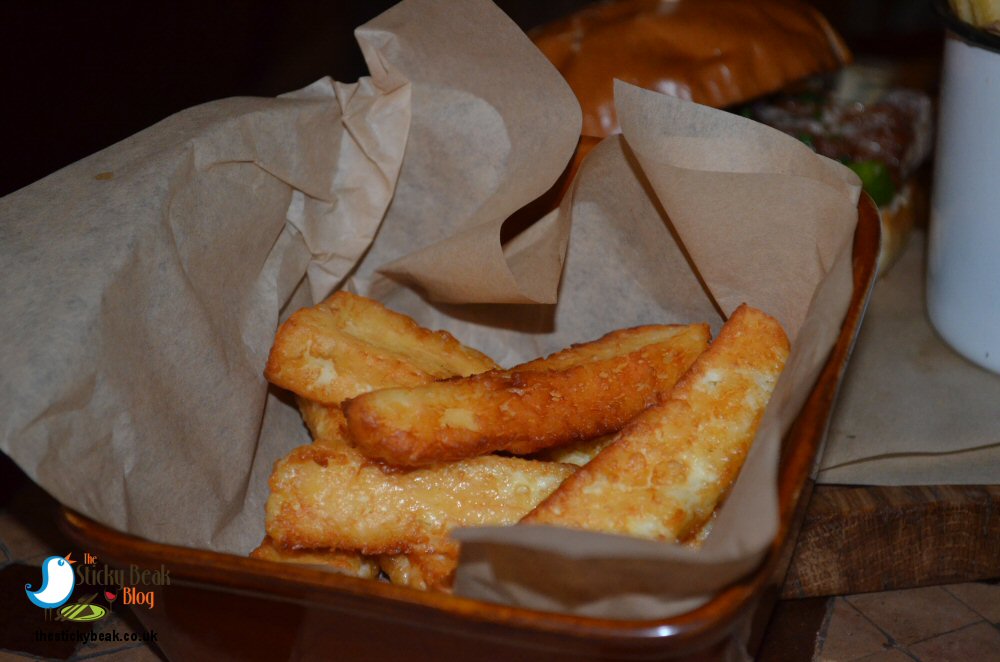 The Halloumi fries were fab; thick sticks of Halloumi cheese dusted in a seasoned coating before being fried. They had a great vibrant flavour with the unmistakeable salty tang of the Halloumi; delicious.
Next we tucked into the great sounding Fire Pigs which are fiery Jalapenos stuffed with cheese and crispy bacon. The Jalapeno halves themselves weren't ridiculously hot but for those that like to ramp up the tingle factor you could easily pile on the red chilli slices that were on the plate. We dipped our Jalapenos into the sour cream dip and savoured the dish as a whole with all its flavours and textures hitting our palates at once.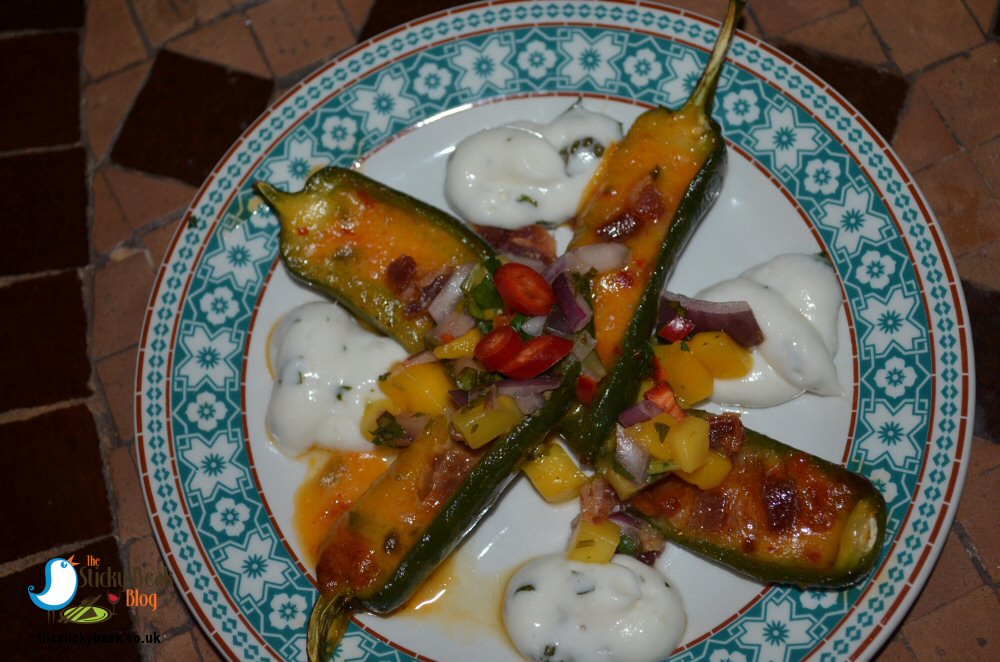 The grilled Lamb Chops were lovely and juicy with a gorgeous flavour to them. On top of them was a fresh, herby Chimichurri dressing that just burst into song on the tongue; combine the two elements and you have a marvellously tasty morsel. Be warned though you just have to get hold of these chops and eat them with your hands to get every last shred of meat off them, and with them tasting so good you really do want to get even the most miniscule sliver from the bone!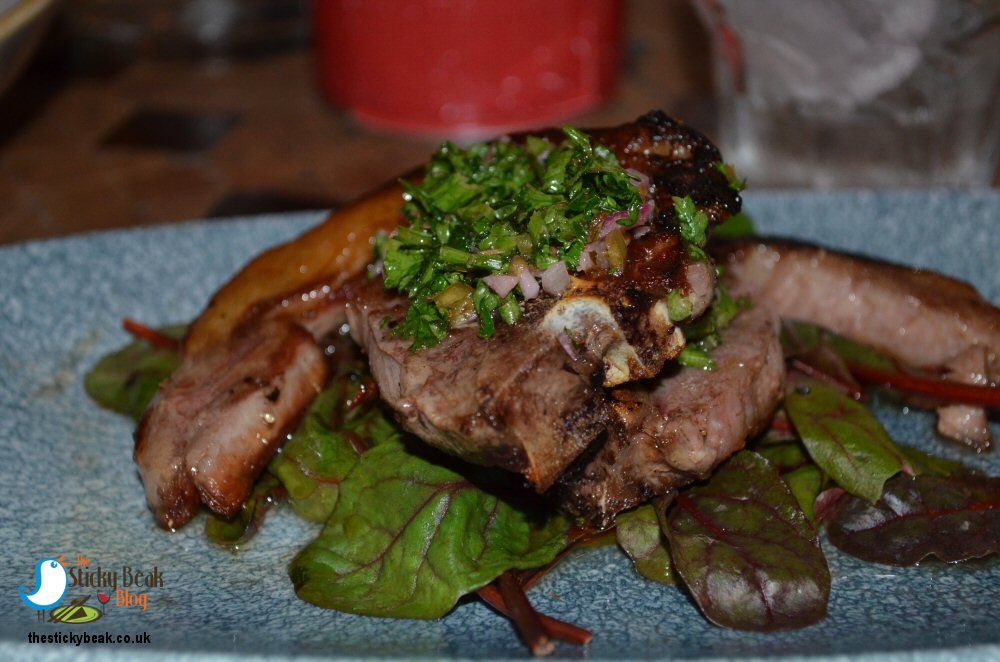 Last up was the Lime and Chilli King Prawns and the colourful sweet Mango Salsa it is served with. The Prawns themselves were massive and all the kitchen team do is marinate them and leave them in their shell to pan fry them. This means that the flesh is still wonderfully moist when you bite into it. I loved the crunch from the salsa; Mango, Red Onion and Coriander all combined superbly with each other and really brought the flavour of the Lime and Chilli marinade out.


Eliska and Sarah popped over to make sure we were enjoying the dishes so far and to see what our initial favourites were before Eliska took our next order and cleared the dishes away. From the Burgers, Burritos and Sandwiches section of the menu we chose the Chimichurri Steak sandwich and the Cuban Hot Burger.
The steak sandwich is exactly as described with its perfectly medium-rare meat simply topped with the zesty Chimichurri and served in a garlic buttered bun with skinny fries on the side. You get a very generous sized bit of steak too, so every mouthful is meaty and filling. I liked the skinny fries very much because they had a great crispiness to them and a rounded flavour from the potato itself. His Nibs was equally impressed with the steak sandwich as he heartily tucked into his half of it.


Eliska came over to check that we were ok for drinks so we took the opportunity to have a couple of classic Mojitos. There is something special about the mintiness of this drink when you have it with the vibrant Cuban cuisine served at Revolucion de Cuba, and it was going down rather nicely!
As you would expect from its description the Cuban Hot Burger was going to pack a real punch thanks to the Jalapenos and spicy Rum sauce that topped the beef patty. It didn't disappoint either; we got a brilliant "whoosh" of heat on the tongue that satisfied the heat-seeking part of our characters but we weren't calling out for pints of water to cool us down, so a great balance had been achieved.

The burger itself had a lovely rich flavour to it and the Manchego and Cheddar cheeses were oozing gorgeously over it. We were licking our fingers in delight as cheese and sauce were dripping from the toasted bun, desperate not to let a single thing escape our lips.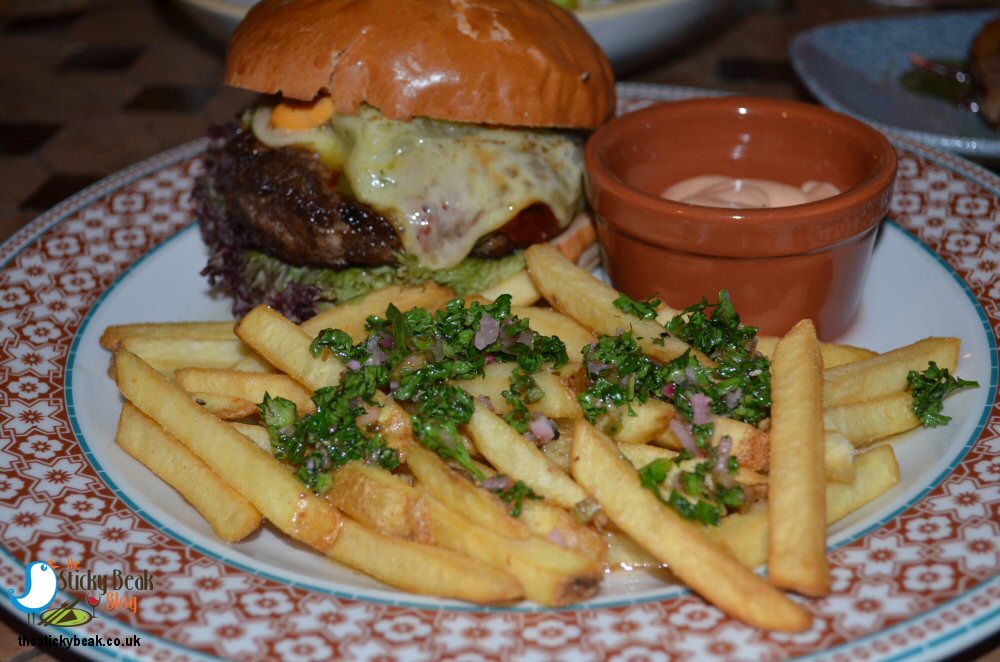 The Man Bird had upgraded the fries with this dish from the skinny fries to the Chimichurri fries and it was a good call I have to say. The zingy Rum sauce in the burger partnered the fresh herby Chimichurri superbly and the flavour combination was amazing in the mouth when eaten togetherJ
From the Large Plates bit of the menu we had opted for the Cuban BBQ glazed Chicken and this comes with skinny fries and a Sweetcorn salsa. The roasted half chicken was served on a wooden platter with salad leaves and fresh Lime wedges, and had been lovingly covered with the most amazing sticky, sweet, smoky glaze.

I squeezed the juice from the Limes over the chicken then we both dived in with our hands to tear chunks of chicken away from the bones. This is the kind of dish that really taps into that part of your psyche that doesn't give two-hoots about decorum; it just begs to be relished with pure abandonment.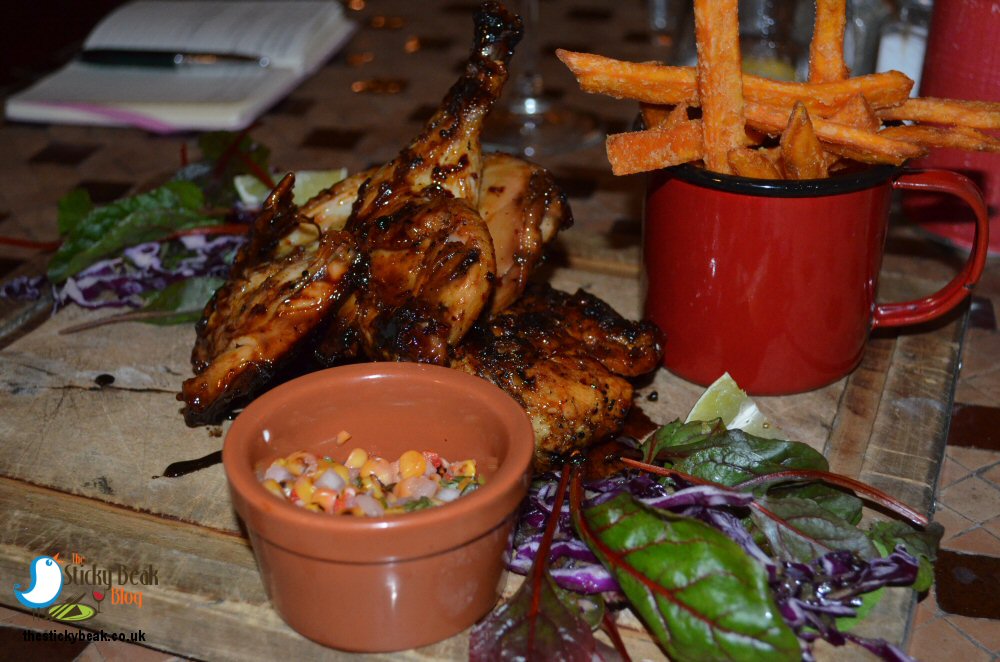 Eliska was laughing as she came to check we were satisfied with the food because we had the glaze around our mouths like toddlers and kept sucking the glaze off our fingers as we desperately tried to give her an adult response. All we managed were huge grins of appreciation and murmurs of delight!
We had decided to try the Sweet Potato fries with this dish and wowsers they were good; lovely and crispy outside with delicious sweet potato yumminess hitting the taste buds bang on centre. His Nibs doesn't like Sweetcorn so I had to have the Sweetcorn salsa all to myself; sometimes this job is just too hard.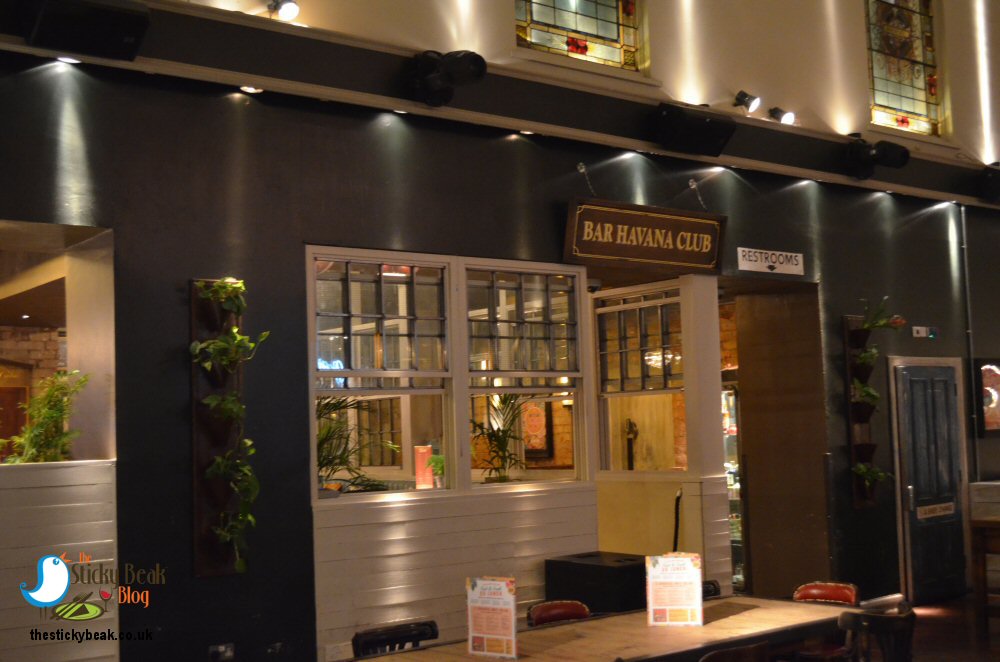 I really enjoyed the salsa, not only for its textural element but also for the different flavours in it, such as chopped onion and herbs; it was light and fresh on the palate and just brightened up the dish nicely.
One of the Christmas additions to the dessert menu at Revolucion de Cuba was the Toffee Nut Cheesecake and it had been so popular they decided to let it remain for a little while. Now, I love nuts and I love Toffee and I love Cheesecake so this beauty had got my name written all over it. The Boy Wonder was instantly fixated on the Chocolate Praline Cake, described as a light, layered Chocolate Mousse cake.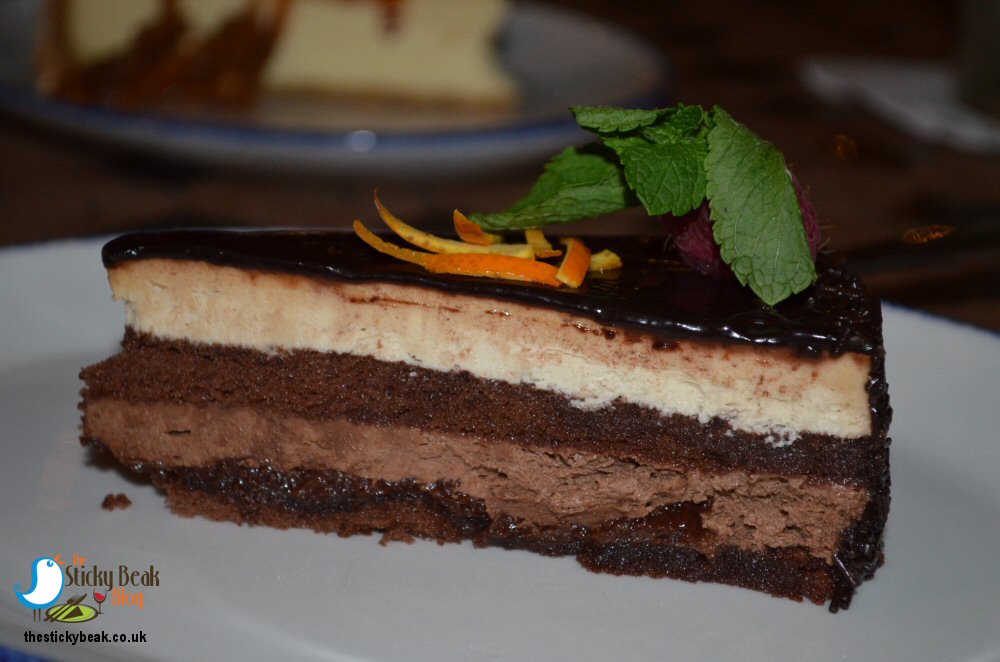 Before long Eliska was bringing our sweet treats over and we tucked in enthusiastically. His Nibs' praline cake had a wonderful texture to it and was composed of lovely tonal layers. A decadently rich dark chocolate layer topped it all off, making it a superbly delicious chocolatey dessert. Slivers of Orange zest on the top gave it a great "pop" in the mouth as a final triumphant note.
My own Cheesecake was everything I could've wanted in a cheesecake; great biscuit base, tick; gorgeous baked cream cheese layer, tick; crunchy, sweet caramelised nuts, tick. The fabulously sticky nut concoction was fab to crunch on and had a really, really rich flavour to it. In short, it was a marvellous pud :)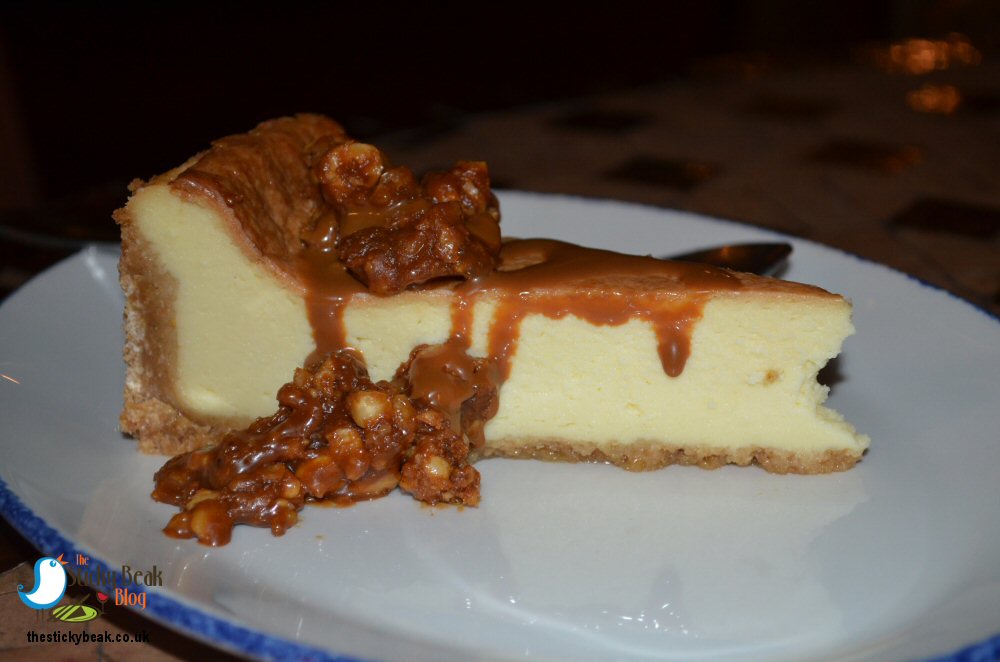 At the end of our feast we couldn't even muster up space in our tums for a latte we were so stuffed. It had been a fantastic meal and the service was excellent all evening. I have to mention the kitchen team who were responsible for the meals we had; Matic and Kiba you did an excellent job of giving us a taste of Cuba, thank you both.
I have mentioned some of the offers that you can experience at Revolucion de Cuba, Derby but they also do a "fast and fresh" lunch menu for £6 Monday-Friday until 3pm, then from 3pm-7pm Monday-Friday they run a 2 courses for £9.95 deal (to which you can add a third course for just £3 extra). Every Tuesday is Taco Tuesday, all day and you can grab 4 tasty tacos for a fiver in their four of a kind deal.
There is always a lovely vibe in Revolucion de Cuba and the premises themselves are stunning, so if you haven't been before next time you're in Derby go along and experience it for yourself. Hot (Cuban) Wings definitely still deserved here for Sarah and the team :)
Some form of incentive was provided to visit this venue
read more