Dinner At Harpur's of Melbourne
Published On Saturday 18 Feb 2017 by Sticky Beak
See All Recent Reviews
The Man Bird and I love gadding about our wonderful county to see what culinary delights the talented chefs are cooking up, and this time it was the two rosette winning Harpur's of Melbourne that we were visiting. Rosettes are awarded for culinary excellence, so with two of them residing in Harpurs Kitchen we were intrigued as to what we could expect from their team.
Conveniently, there is a pay and display car park right next door to it, so no faffing about on accessibility. I like the fact that there are separate bar and restaurant areas, although you can have a quiet drink in the restaurant if you wish. The decor has been kept fairly neutral on the walls with a sort of grey/green hue that really creates a calm ambience to the room. Dark grey and brown leather chairs provide seating at the dark wood tables, and subtle lighting is imparted via several lamps and wall mounted fittings.
We were greeted warmly by Hayley the Manager, who then introduced to us our server for the evening, Ashleigh. Our table was nestled cosily in the corner and we soon settled ourselves back with drinks in hand to fully appreciate our surroundings; I have to say my Malbec was a cheeky glass of grape juice, very pleasant indeed.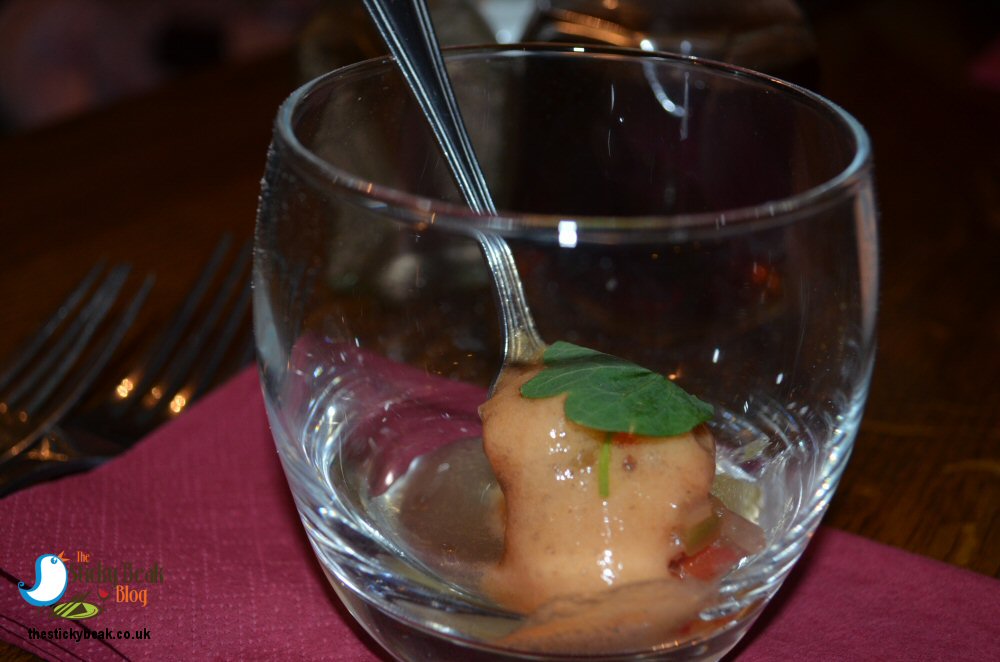 As we gave the menu our full concentration Ashleigh brought over a small glass containing an Amuse Bouche for us. The combination of Red Pepper salsa, Bloody Mary foam and Nasturtium leaf was just the thing to get the juices flowing, with its vibrant, spicy flavour. Ashleigh was pleased to hear that we liked the Amuse Bouche as she came to take our starter and main course orders.
Not many minutes had passed before another little treat was winging its way over to us, lovely warm slices of homemade breads; Sourdough bread and an Onion and Black Cumin number, served on a wooden platter with softened butter. Both breads were delicious. The Sourdough had that slight tang to it that gives it its distinctive taste and the texture of it was nice and light too. We both really enjoyed the contrast between the sweetness of the onion and the smoky, earthy note of the Cumin too in the other bread.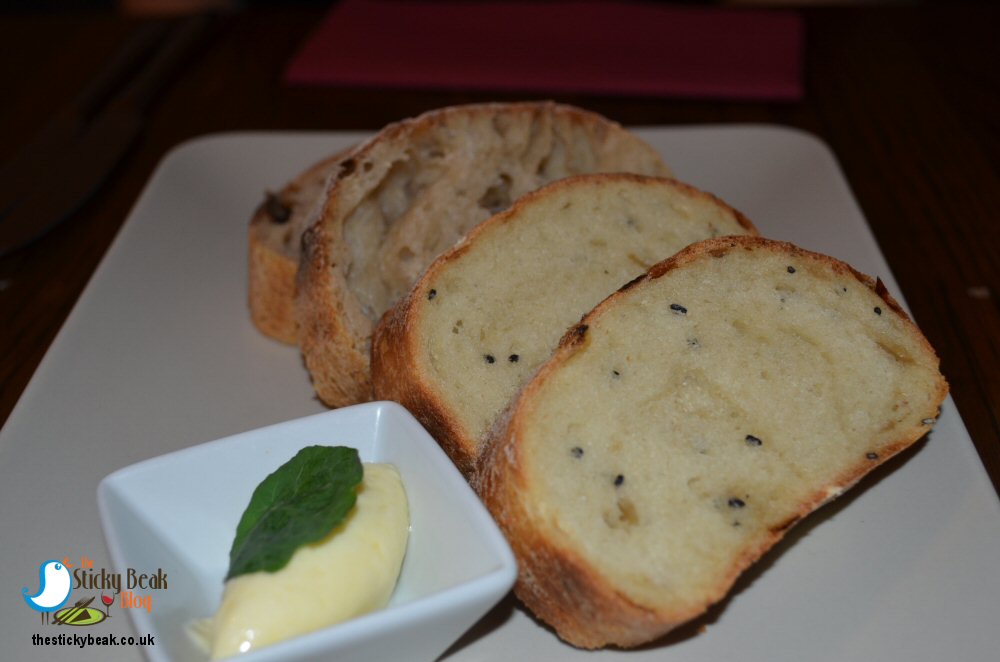 However it was when our starters arrived that we got more than a little excited. Presentation-wise the dishes were the nicest I've seen for quite some time and they didn't disappoint in their flavours either. I had chosen the Mackerel Tartare with Cornish Crab, Dill, Apple, Cucumber and Rye Bread for my starter and The Man Bird had the Venison Carpaccio with Parsnip, Chocolate, Pomegranate and Molasses. You can see from the photos just how artfully they had been arranged on the plates, nothing was there by accident.
His Nibs' Venison Carpaccio just melted on the tongue as he bit into it with its gently gamey flavour working in harmony with the rich molasses. Bright, tart notes were provided courtesy of the Ruby-hued Pomegranate seeds with the chocolate providing a wonderful roundedness to the whole thing. Crunchy texture was the Parsnip crisps' forte which it brought perfectly to the plate. The Boy Wonder said that the entire dish was a superb mix of tastes and textures and he had enjoyed every mouthful.


My Mackerel Tartare was equally superb; lovely fresh Mackerel was paired with gorgeously sweet, fragrant Cornish Crab flesh to give the palate a real treat. Combined with crisp julienned Apple for a textural element, fresh Cucumber and delicate Dill notes and you can appreciate why my mouth was alight with flames of delirium. It isn't often that I would describe a starter as magnificent, but this one really was. Simple; yes, and certainly not huge in the size of portion; but this was definitely a case of quality over quantity. Every morsel sang its own praises from the rafters, and rightly so.
Ashleigh and Hayley had both come over to check we were enjoying our first courses and were both pleased to hear that we were thrilled with them.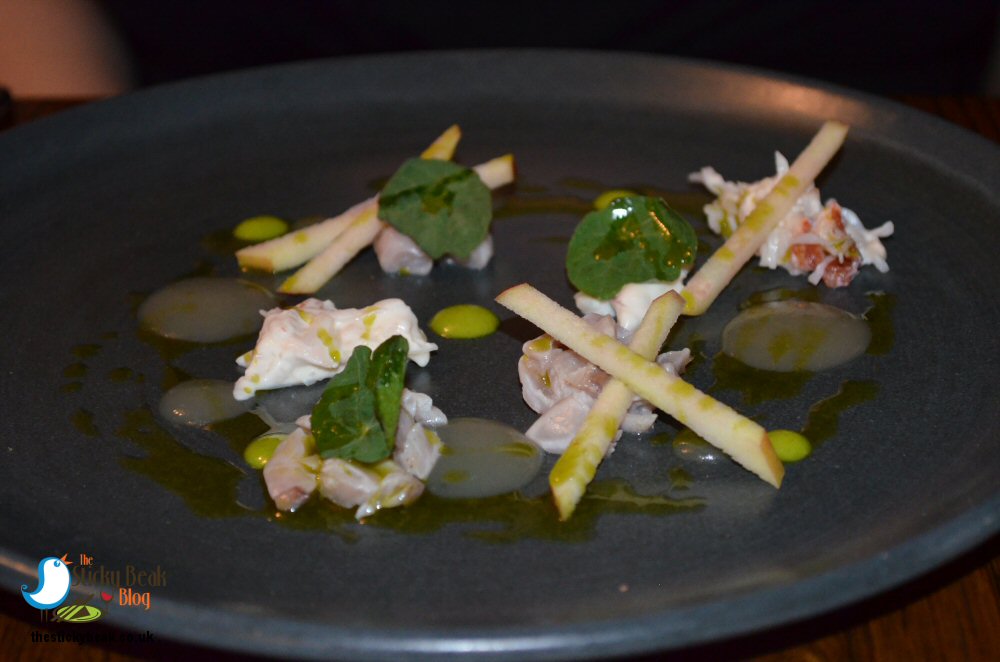 As we waited for our main course dishes to come out The Boy Wonder and I sat at the table babbling away about how fab the starters had been and excitedly wondering if this standard could be equalled by the Duck and Pork we had selected. I had chosen the Duck Breast with Lavender spice, Fennel, Peach, Sauternes and Honey and His Nibs fancied the Braised Pork Collar with Mustard, Sweet Potato, Almond crumb, Plum, and Orange oil.
Again, both dishes looked resplendent on the plates as Ashleigh carefully placed them before us. We had ordered some seasonal Buttered Greens, Chunky chips and a seasonal house Salad to accompany the meat and Ashleigh brought these over straight after the meat had been served to us. Even the sides were lovely to look at!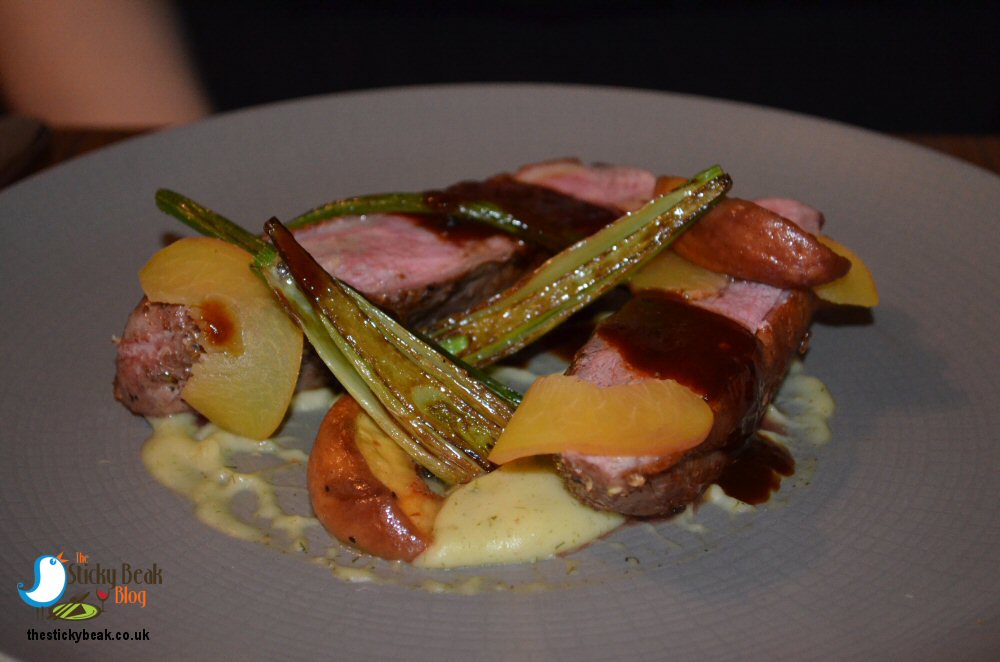 My Duck breast was wonderfully tender and juicy and the skin had been rendered down to a crisp, so only a thin layer of fat remained between it and the breast meat. The taste of the Duck just burst into life on my tongue as I bit into it and I got the sweet notes from the Honey and Sauternes wine glaze too. Peach slices imparted their own character to the dish with delicate baby Fennel stalks and Lavender hints joining in harmoniously with the flavoursome choir.

I was equally smitten with the Leeks, fine Green beans, Kale and Broccoli florets that had all been cooked perfectly to unleash their individual flavours yet retain their natural crunch. The Man Bird also happily partook of them, and as you know dear reader he can be somewhat averse to greens. I didn't manage to get him to sample the delicious salad though, but I was happy to keep the mixed leaves, Olives, peppers and croutons all to myself :)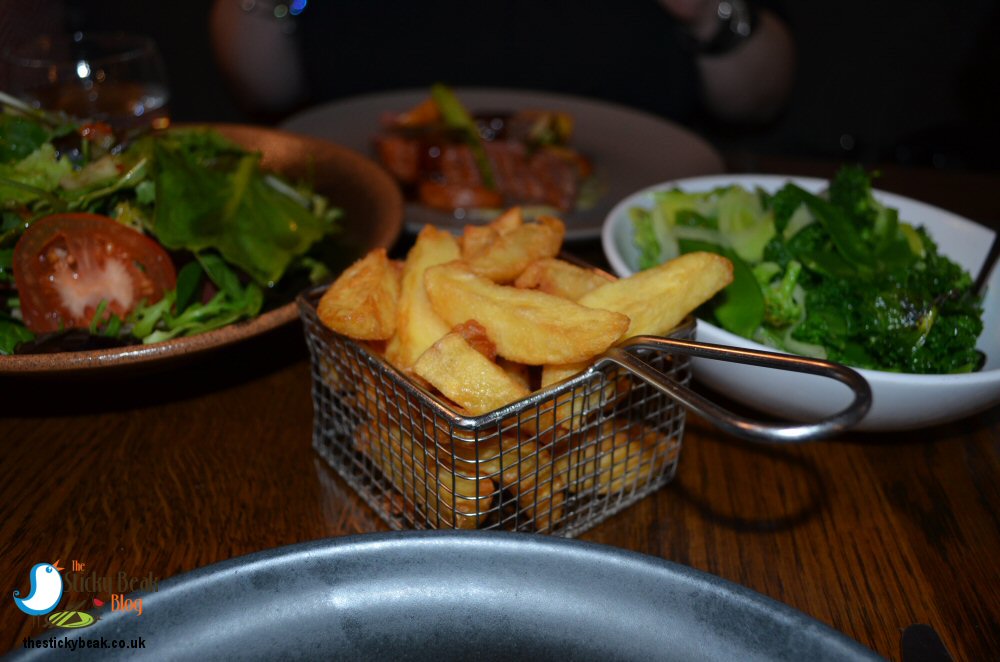 Across the table, The Man was tucking onto a rather fine looking piece of Pork that was so tender it fell apart as he cut into it. It had a wonderfully creamy flavour that was scoring a full "douze points" from the English one man panel, but it was the incredible smell from the Orange oil that really set the senses alight.

Along with the Plum and Almond elements this was a brilliantly complex dish that had the mouth pirouetting with pleasure. The Mustard seeds were curiously mellow and surrendered pleasant warmth to the dish without any hint of harshness; combined with the delicate Sweet Potato in the dish this also managed to be a stunning meal. Unsurprisingly, the chunky chips were perfect in their execution and their delicious crisp outers revealed pillowy soft inners.


Ashleigh discreetly kept an eye on our progress through the food and chose her moment to come and check that things were satisfactory after she judged that we had sampled everything on our plates. Hayley also popped over to get our feedback on the main courses and was pleased to hear how delicious we thought they were.
We did manage to save a little room for puddings, although our tummies were very happy at this point in the evening. The Man Bird chose to have the Egg Custard Tart with Nutmeg, Orange, and a Milk Sorbet and I opted for Vanilla Rice Pudding with golden Honey, Caramelised Pineapple and Coconut. Such straight-forward desserts are trickier to make pop, visually but Harpurs team didn't disappoint here either.
My Vanilla Rice Pudding (which is the Chefs' Grans recipe) was nestled in a centrally hollowed out bowl and the disc of honeyed "skin" was placed on top and garnished with a Pansy flower, cubes of Pineapple and quenelle of Coconut ice cream.

The rice pudding itself was phenomenal, there is no other word. It had a lovely substantial texture to it, not thin and runny in the slightest; in fact my Nana would describe it as a real "stick-to-your-ribs" affair, no doubt with an additional remark of "that'll put hairs on your chest" (the highest compliment for food in her household).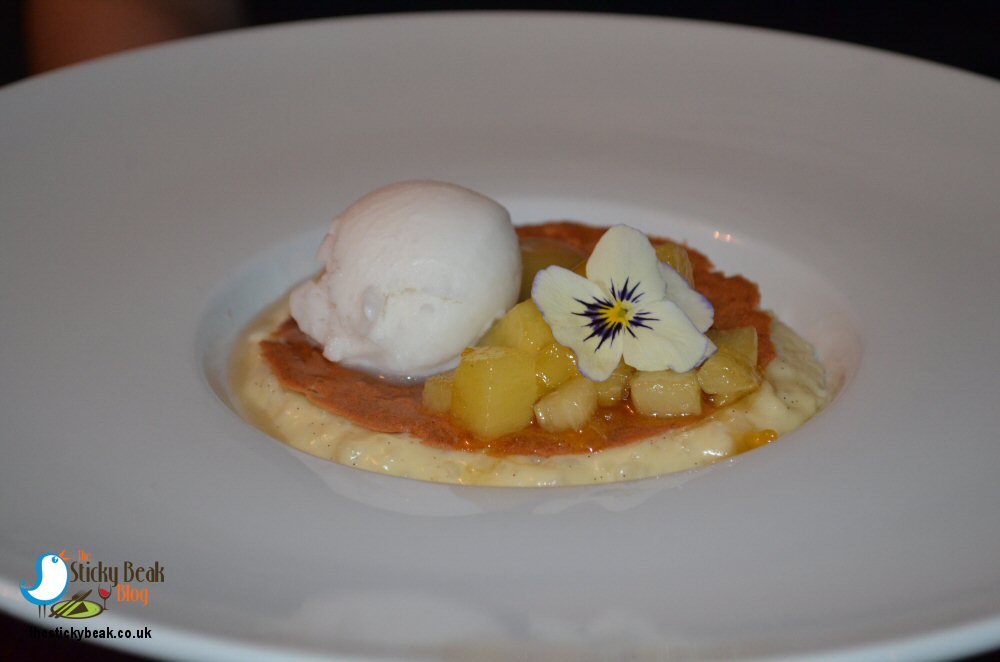 The creamy rice was juxtaposed brilliantly by the sharp pineapple notes and the cold temperature of the Coconut ice cream. Again, this was a very cleverly thought out dish full of contrasts that stimulated all the senses.
The Boy Wonder hasn't had Egg Custard in an absolute age he said, but this one awakened all those wonderful emotions that classic, comforting food elicits. Nutmeg is one of those warming, feel good spices that just have a hint of sweetness about it that pairs superbly with Orange in this egg custard. The pastry base was wafer thin so that it was still detectable in its butteriness but was substantial enough to contain the rich custard within it; which brings me to the custard itself.

Custards should be creamy, but light enough to be swirled around in the mouth and thick enough to coat the tongue but not that thick that they stick around and outstay their welcome. Harpurs' Chef has got this fine balance down to a fine art, let me tell you. The final element, Milk Sorbet, was the perfect counterpoint to all the richness with its light texture and taste and it wasn't long before the bowl was spotlessly clean.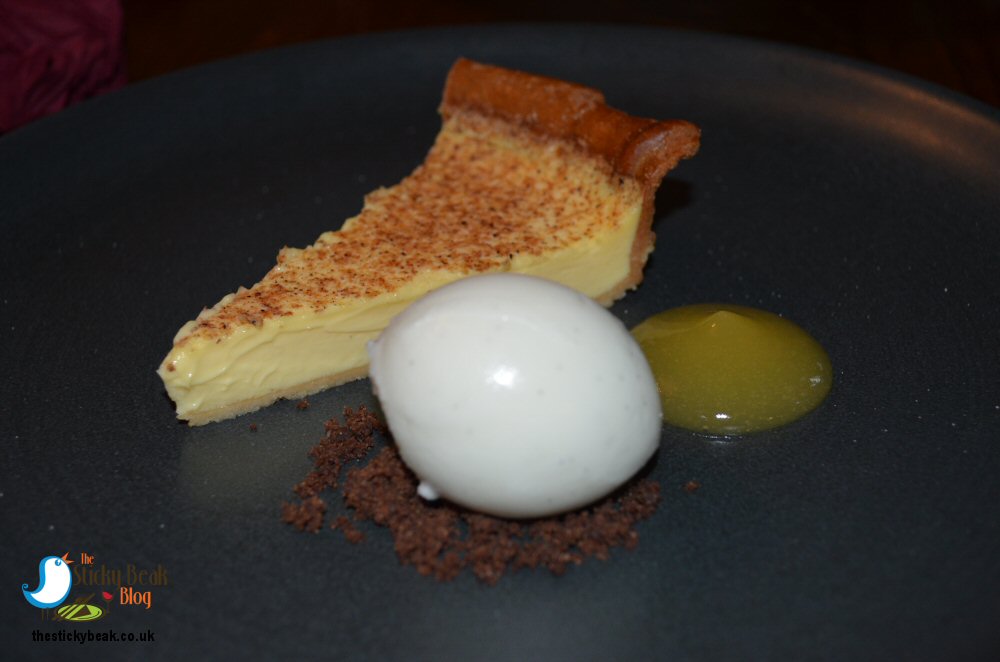 When Hayley came over to enquire how the desserts were I had to tell her that I had some bad news. Unfortunately, due to being kidnapped (by yours truly) Chef would not be returning to work in the foreseeable future due to making unending rice puds and egg custards!
You may have gathered that our experience in the two rosette awarded Harpurs of Melbourne was fantastic, but the good news doesn't end there dear reader. All too often amazing food comes with a rather hefty price tag that necessitates second mortgages being taken out; luckily the team at Harpurs have the philosophy that outstanding cuisine should be experienced by all and have set their prices accordingly.

Starters range from £5.95 - £7.95, mains from £11.50 - £18.95 and puddings from £4.50 - £12.95 (cheese board for two), all quite easily doable for a night out. The wine list is very extensive, but again there is a variety to choose from price-wise; £15.50 for entry level wines through to £40/50 for top notch ones in each type and Sparkling wines and Champagnes from £20.95 - £189.95 (vintage Dom Perignon).
If you haven't been to Harpurs of Melbourne before I can thoroughly recommend it to you. The staff are all so incredibly friendly and knowledgeable, even able to describe cuts of meat to you if you don't know what to expect from a dish. There is no pretence or ceremony stood on to make you feel out of your depth, just great food in great surroundings with a (you guessed it) great team. Hot Wings definitely deserved here :)
Some form of incentive was provided to visit this venue
read more