Dinner At Blu Bistro & Coffee House, Chesterfield
Published On Sunday 12 Feb 2017 by Sticky Beak
See All Recent Reviews
Yet again, The Man Bird and I were facing an evening a deux seeing as The Chick had other plans. Luckily an invite came through from the team at Blu Bistro and Coffee House in Chesterfield asking if we would like to sample their food.
We booked an early table for 6.30pmand managed to get parked on Chatsworth Road no problem. As you walk in the door you see a very nice open plan room with nicely spaced tables that aren't going to make you feel like a sardine.

The decor has been kept fairly neutral so that accent colours from fresh floral arrangements can really make their mark; seeing as this is Valentines week the scheme was deep red and white, beautifully shown off by large Amaryllis plants in the window. I loved how the square glass chandeliers were casting a multitude of shimmers on the ceiling; their diffuse light was creating the perfect relaxed atmosphere in which to dine.


There were heart shaped helium balloons on each table, to further enhance the Valentines theme for the week commencing 11th February until Saturday 18th February 2017. This week also features a dedicated Valentines Week Menu in the evenings (Blu will also be open on Tuesday evening, Valentine's Day, just this once, in addition to its regular Weds-Sat opening) priced at £35 per person.
Our server, Ruby, came over to take our drinks order and set a trio of Nibbles on the table for us to enjoy as we studied the menu. We tucked into the warm Brie Arancini first, and they were delicious; the creamy Brie hadn't been tampered with and seasoned unnecessarily, the rice still had a nice amount of bite to it and the outer was beautifully crispy with no hint of greasiness to it at all.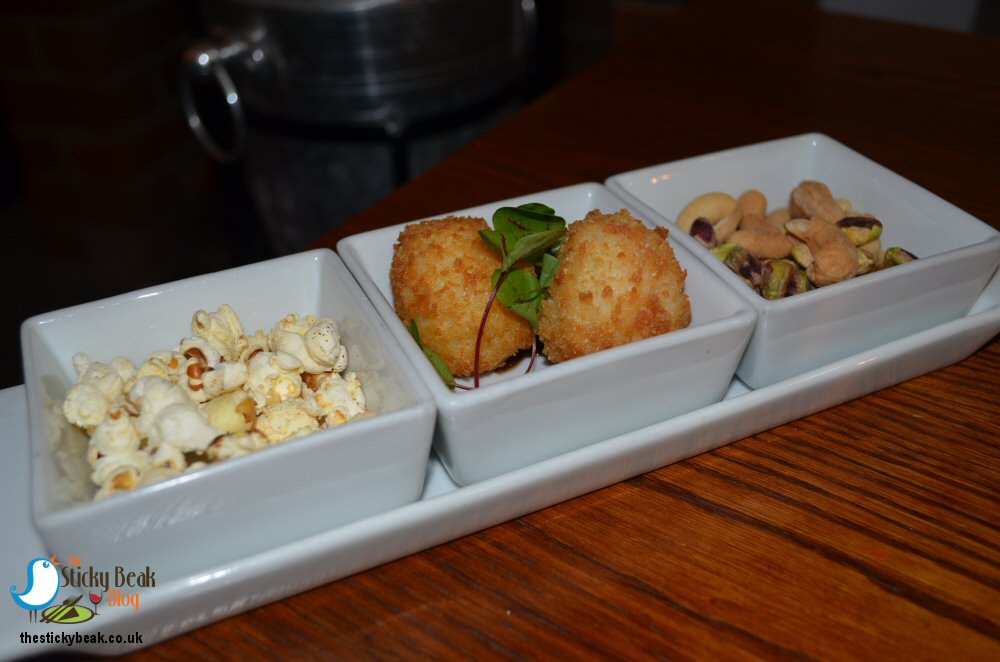 I shall confess to munching the lion's share of the mixed nuts, but His Nibs isn't a huge fan of nuts and I absolutely love them! The third nibble dish contained some rather cheeky sounding Cajun Popcorn and The Boy Wonder was soon chomping merrily away on this. I have to say that it had a lovely heat to it from the Cajun spice, but not too much that it was going to sit in your mouth all night and cloud the other flavours.
Another lovely member of the team, Charlotte, brought our bottle of wine over to the table and placed it in a bucket of iced water that sat in its own stand. After a few minutes our starters were brought to us and they had both been presented nicely on the plates to show them off. I had chosen the Pan fried Scallops with Pork Belly and Apple; His Nibs had the Chicken and Gammon Terrine with fried Duck egg and Pickles.


My Scallops had been cooked perfectly so that they weren't at all tough and rubbery and I thoroughly enjoyed every morsel of them. The Pork Belly was gorgeously creamy in flavour, set off superbly with cooked apple rings and a delicate seasoning.
The Man Bird was relishing his chunky, meaty terrine and all its flavours, saying how filling it was. He loved the rich duck egg and slathered a slab of the terrine in its molten yolk before devouring it. The tartness of the pickled vegetables was a great contrast on the palate and all the components worked really well together when eaten simultaneously.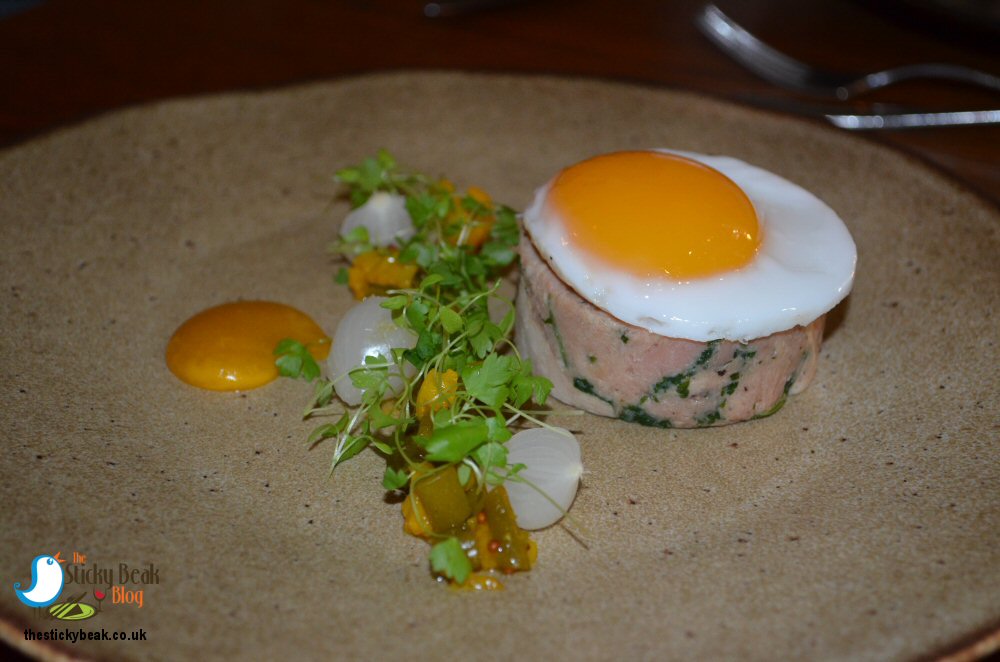 Ruby was happy to hear that we were really impressed by our starters when she came over to ask how things were. We asked her a few questions about the kitchen and were quietly impressed by her knowledge and her enthusiasm for her industry.
There is a choice of four main course dishes on the special menu and we both said that all four sounded delicious. The Boy nearly chose the Chicken Supreme and I was going to have the pan fried Salmon Fillet but then we changed our minds and went for the Taste of Lamb, which has been specially designed for two diners.
The Taste of Lamb came presented on a wooden platter with the meat resting on a bed of buttered greens and an assortment of baby vegetables placed around this. Two towers of Fondant Potato also accompanied the Rack, Rump and Slow cooked Leg of Lamb, with a mouth-wateringly gorgeous smelling pot of gravy on the side.


All the lamb was served pink and all the cuts were so tasty. The cutlets from the Rack were very juicy with just a ridge of fat on their outside and we were grinning like idiots at each other as we munched away on them. You can't beat a good wodge of meat to tuck into and the Rump had been cut into lovely inch-thick slices for presentation purposes. The flavour of this was something really special in the mouth and it hardly needed any pressure from the knife to cut into it.
Like all meats, different cuts have their own tastes and textures and the slow cooked Leg was simply divine in the depth and richness of its flavour. I have said before that when an animal has lived a good, happy life that it shows in the resulting meat, and this little lamb had definitely had a fab life, which I was later told about after our meal had ended; but more of that later.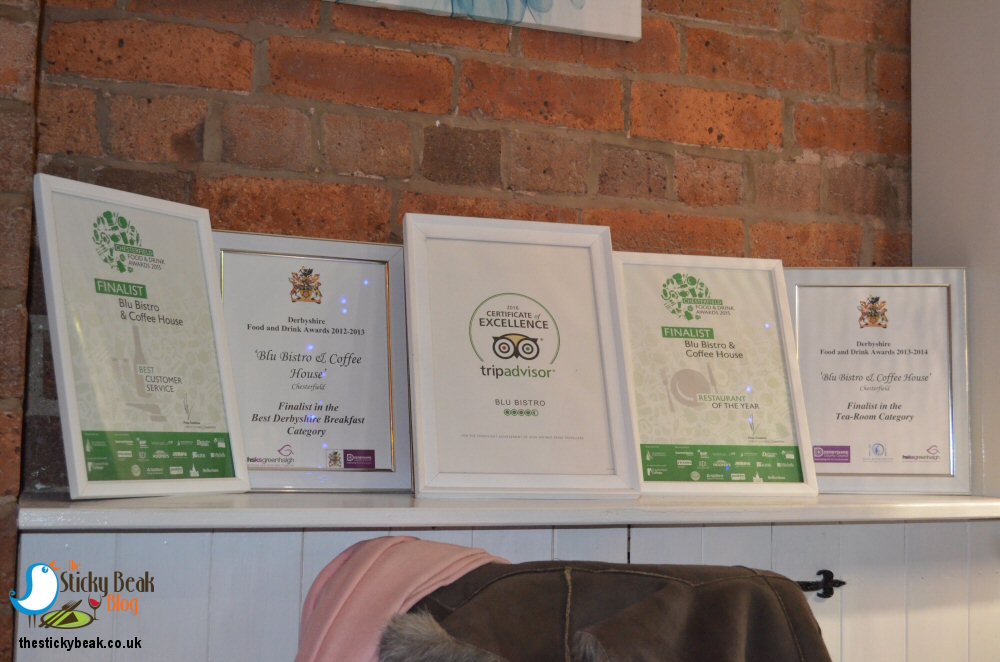 The Man Bird, as you know dear reader, is a bit of a salad dodger and can be fussy when it comes to vegetables generally, so I was more than a tad gob-smacked to see him polishing off all manner of green hued items. I have to say though that all the vegetables were cooked wonderfully well to retain a hint of their natural crunch and to showcase all their natural nuances of flavour. The contrast of the verdant collards and sunset hued carrots really did look stunning on the platter and their artful arrangement meant that the entire dish looked every bit as good as it tasted.
Several other tables of diners had by now begun to come through Blu's doors; some went straight to their tables, others headed to the downstairs bar for pre-dinner drinkies. Ruby and Charlotte greeted everyone with a warm smile and enquired if they could take coats for anyone. All throughout the evening, these young ladies did a sterling job of looking after all the guests; topping up drinks as needed, asking if diners were satisfied with their meals and generally making people feel valued.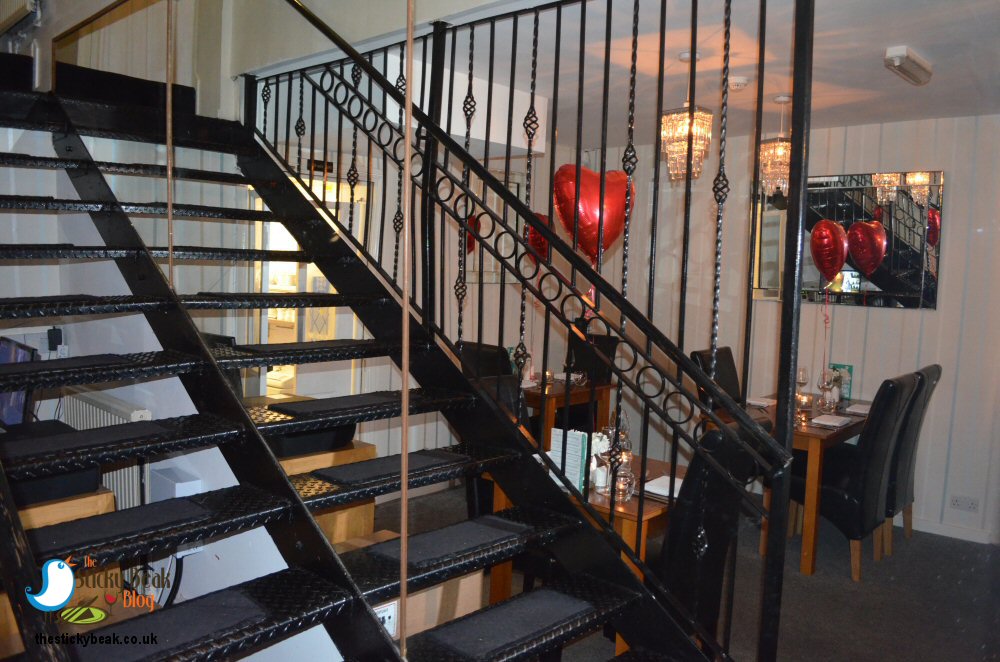 My beady eyes had spotted the intriguingly titled Lime Plate for two people for dessert, but the inclusion of Meringue thwarted those plans. It is one of natures' cruel jokes at my expense that something I totally adore (Meringue) makes me hideously ill if I eat it, despite the fact that I am not allergic to anything in it. Go figure.
So, I chose the Cheeseboard for my pudding with accompanying Chutney, Grapes and Crackers. The Boy Wonder (unsurprisingly) went for the Chocolate Parfait with Orange, Honeycomb and Candied Walnut.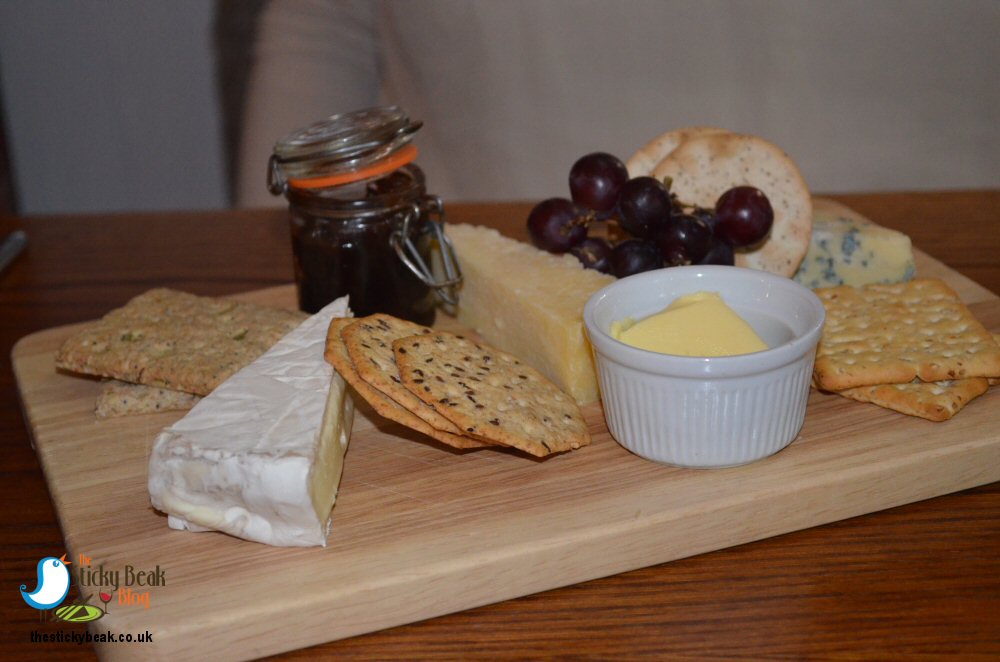 As before, both desserts were carefully presented for maximum visual impact and looked delightful to say the least. His Nibs said that the parfait was absolutely gorgeous; rich, dark and sumptuous but not at all heavy on the tummy. An incredibly rich ice cream just danced on the tongue alongside the parfait and an intense Orange puree lifted things marvellously well. Crunchy Honeycomb added another textural element to the dish, topped off by a sprinkle of popping candy in the candied Walnut. Genius.
My cheeseboard had the Holy Trinity on it; a Continental cheese, a Blue Veined Cheese and a Mature Cheddar. It ticked all my cheese-loving boxes I must say, and there was a good size portion of each one too. Thoughtfully, the cracker selection had the whole gamut of textures within it, from coarse Oats to finely milled flours and also different seeds; I could see Pumpkin seeds in one cracker and Poppy seeds in another. The fruity chutney provided a great savoury accompaniment to the cheese with Red grapes giving them a sweet partner.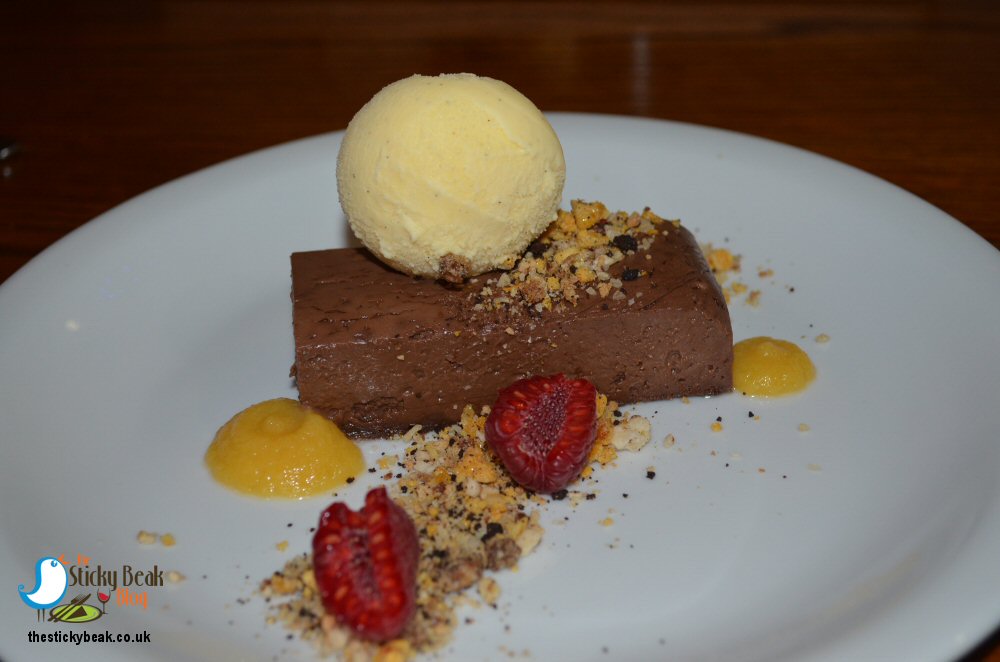 Ruby was again pleased to hear that we were enjoying our food as she came to enquire if she could help with anything for us. When she came back to clear our dessert plates away she asked if we would like coffees or teas. As is our usual habit, we partook of a couple of Latte coffees to conclude our meal.
Blu Bistro and Coffee House source their hot beverages from our friend James Pogson at Northern Tea Merchants just further down the Chatsworth Road in Chesterfield. As Ruby was about to place our coffees down we asked if it was "Tiger Stripes" coffee blend. I think the odd question surprised her as she hesitated a second before answering that yes it was. We then regaled her with our wonderful tea and coffee tour tales, saying that we had seen a batch of Tiger Stripes beans being roasted.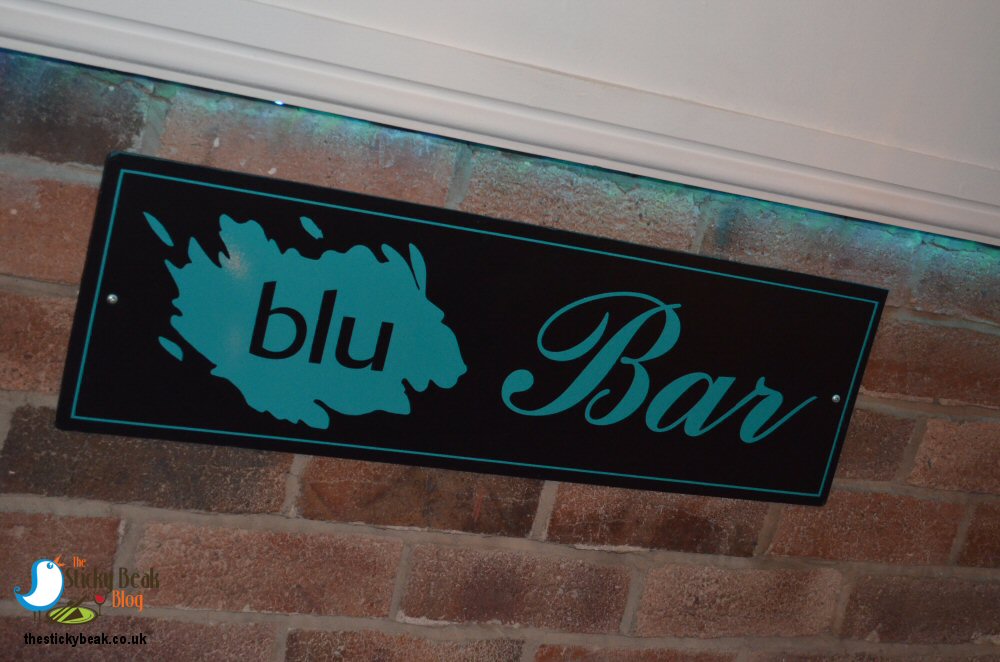 During the day, on every day except Monday, Blu is open as a coffee house and alongside the fantastic teas and coffees; it serves cakes from none other than Smiggle Kitchen! You may recall my rapturous review of said cakes from our visit late in 2016 to the Pekoe Cafe at the Northern Tea Merchants. Not that you need an excuse to indulge in a treat at Blu, but offering Smiggle cakes is a huge plus point (Ruby chose the Sticky Toffee Pudding cake as she is a massive Smiggle fan too).
Owner Debbie and her husband came over to say hello at the end of our meal and as we got talking the tale of "The lamb" came out. A personal friend of theirs has a small holding at Holmfirth where they rear two breeds of sheep, and Chefs Adam and Josh visited the small holding on a "team building" day.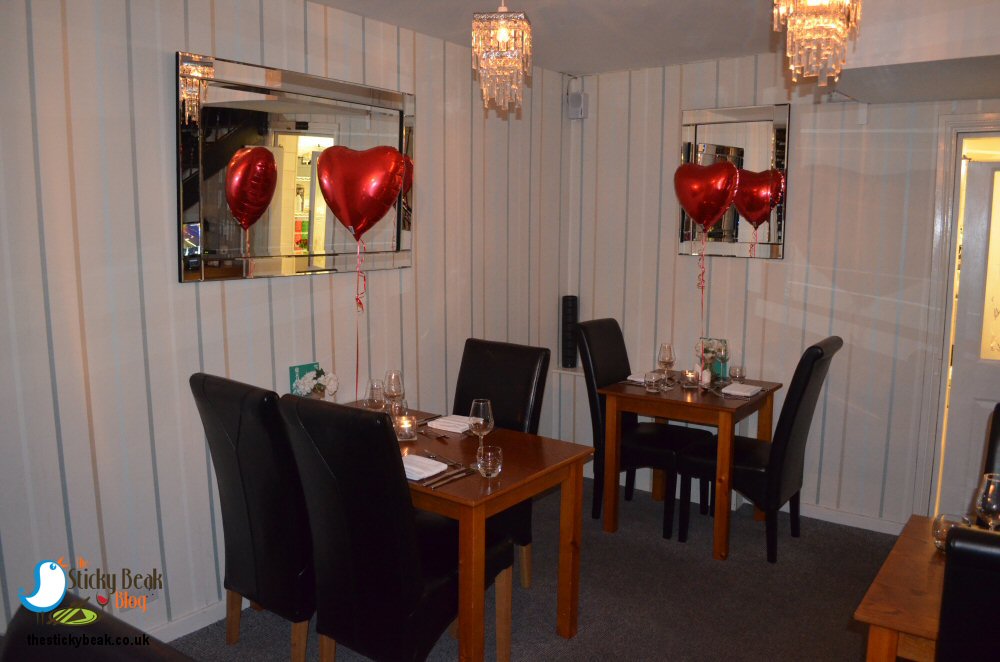 At the end of their day they chose a couple of lambs for inclusion on the Blu menu, the meat of whom we had heartily tucked into. These lambs lived an idyllic life with all the love and care in the world bestowed upon them, which just goes to prove my theory that happy livestock yield the best meat :)
Obviously the menu we had will only be available for this Valentines week, but the regular menu looks every bit as yummy, so why not pay the team at Blu Bistro and Coffee House a visit and sample their food for yourselves. Hot Wings definitely deserved here :)
Some form of incentive was provided to visit this venue
read more