Dinner At The Manners Hotel, Bakewell
---
Published On Tuesday 7 Feb 2017 by Sticky Beak
See Recent Dining Out Reviews | See All Recent Reviews


The Man Bird, Chickadee and I had dropped the Tribal Elders off at The Cavendish Hotel in Baslow to enjoy their Chefs Kitchen Table experience, which was their surprise present at Christmas. Obviously, we wanted to go somewhere to dine too, but not overly far away so that we could quickly be around to collect them after their meal.
After a quick bit of research we decided to pay The Manners Pub in Bakewell a visit as we'd heard their food was pretty tasty. The Boy Wonder reserved a table just to make sure we were accommodated with it being a Saturday evening.

We pulled into their rather bijou car park, admiring the "creative" parking displayed by some drivers before deciding to go and park a bit further up the road. Bakewell town council, I am pleased to report, have a very sensible approach of charging for parking between 9am-6pm, so we didn't have to cough up for that.
Anyhow, we walked through the door and it was all a hustle-and-bustle with avid Rugby watchers. Happily, England was ahead of France with only a few minutes to go, and managed to keep ahead until the final whistle. We had arrived a bit earlier than we originally anticipated, but decided to go straight to the table and enjoy our drink comfortably seated.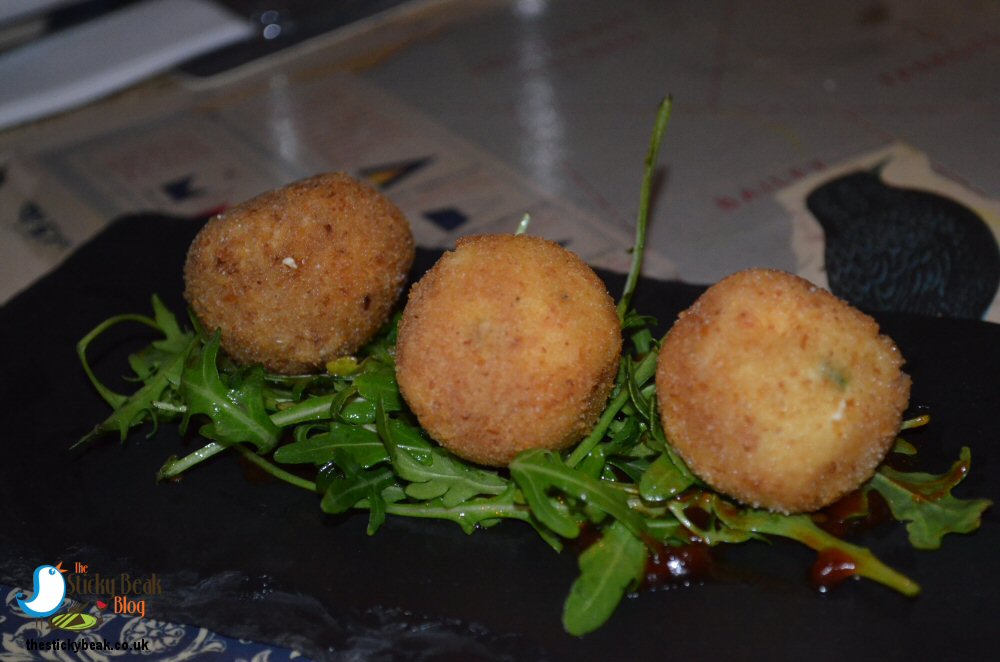 The Manners pub itself is nice and traditional, not flashy at all and the staff were lovely and friendly as they took our drinks order and handed us the menus to read through.
For my starter I chose the wonderful sounding Feta, Orange and Coriander bombs with Homemade Chilli jam; Chickadee wanted the slow roast Sweet and Spicy Pork ribs with Homemade 'slaw and His Nibs opted for Tempura of Calamari with a Honey and Lime dipping sauce.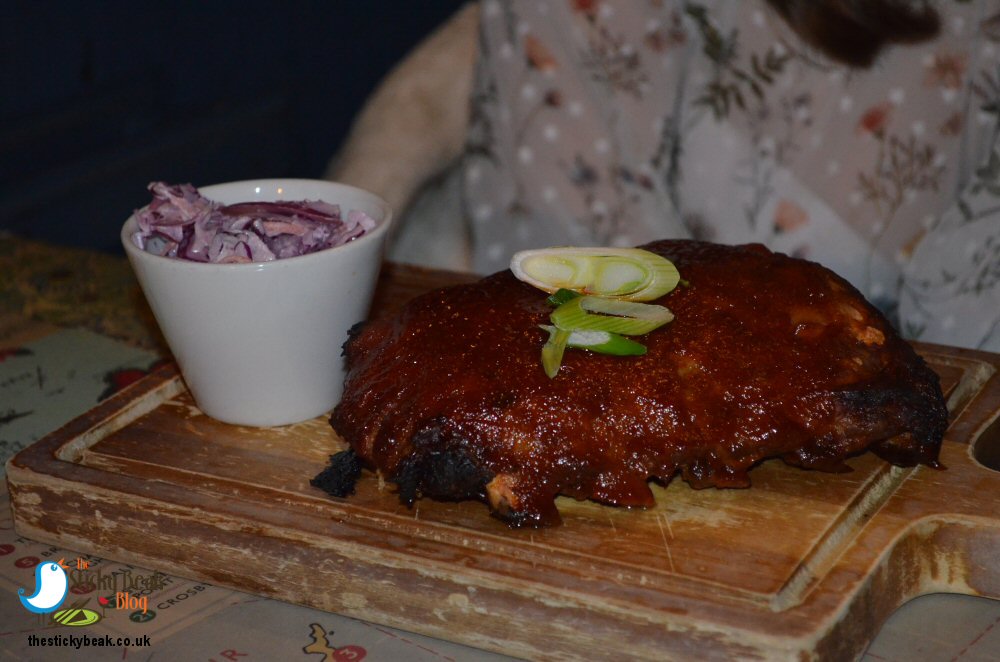 They were all superbly presented and we tucked in with much gusto. My bombs had a nice crumb coating on them that was filled with sharp Feta and it had a super hint of Orange to it, added to with a whisper of Coriander. In no time at all the trio of bombs were in my tummy, and I wished that there had just been one more to enjoy and dip into the zingy Chilli jam.
Across the table, our Chick was happily chowing down on her pork ribs. The ample amount of meat was simply falling away from the bone and it had a fantastically sticky, sweet but spicy glaze on it that just begged to be licked off her fingers. Chickadee enjoyed the crunchy 'slaw too, especially the fact that it wasn't overly drowned in Mayonnaise, allowing the vegetable taste to shine through.


To my right sat the Man Bird and he was "oohing" and "aahing" in happiness as he ate the Calamari rings that were nice and tender, having been cooked wonderfully well. The Tempura batter was as it should be; light and incredibly crispy without any hint of greasiness. He said the dipping sauce was amazing with its perfect balance of sweet Honey and zippy Lime. A fresh Lime wedge was also on the plate so you could increase the sharpness on your palate if so desired.
Our lovely young server came and asked if we were enjoying our starters and we happily reported that we were.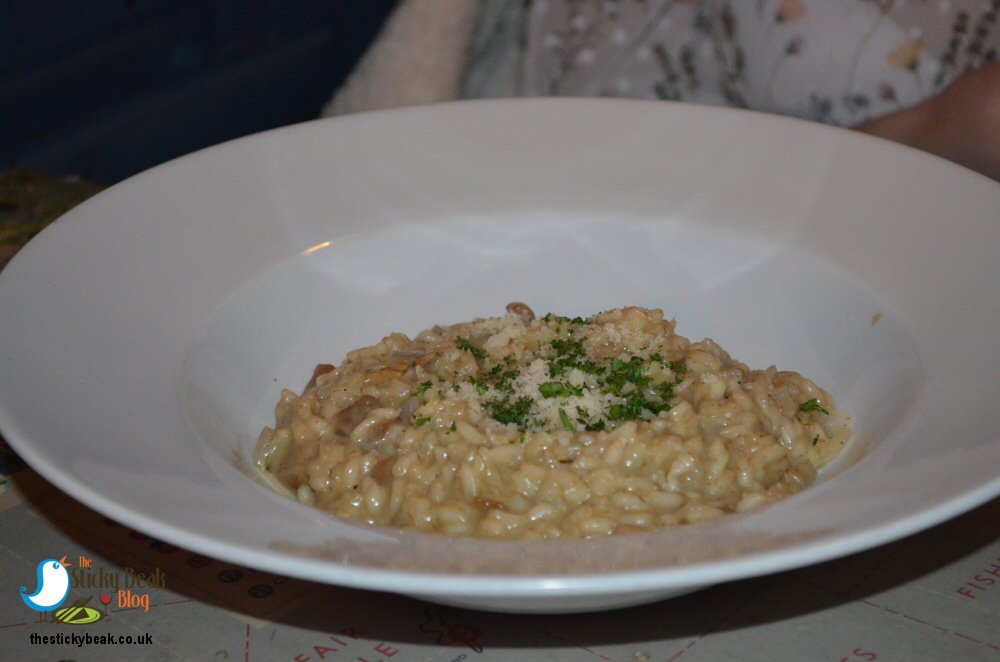 For her main course Chickadee had ordered the Porcini Mushroom Risotto with Taleggio cheese, fresh Herbs and Parmesan shavings, I chose the Pan roast Cod fillet with Fennel and Green Beans in a Lemon and Cream sauce and His Nibs had the Round Green Farm Venison burger with Jalapeno salsa, homemade ketchup and fries. This burger can be topped with either Blue Cheese or Cheddar, depending on your personal preference; my Man decided to have Cheddar.
Again, the food was all nicely presented. The Chick really enjoyed the creaminess of her Risotto and was pleased that the rice still had a bit of firmness to it. A nice balance of Mushroom flavour was in evidence; there can sometimes be a tendency to overload on them at the expense of other tastes in the dish, but on this occasion this was avoided. The Taleggio cheese had melted pleasingly into the creamy rice, pairing with the Porcini flavour just nicely. Although it was a generous size portion our Chick was enjoying it so much that the bowl got cleaned very efficiently.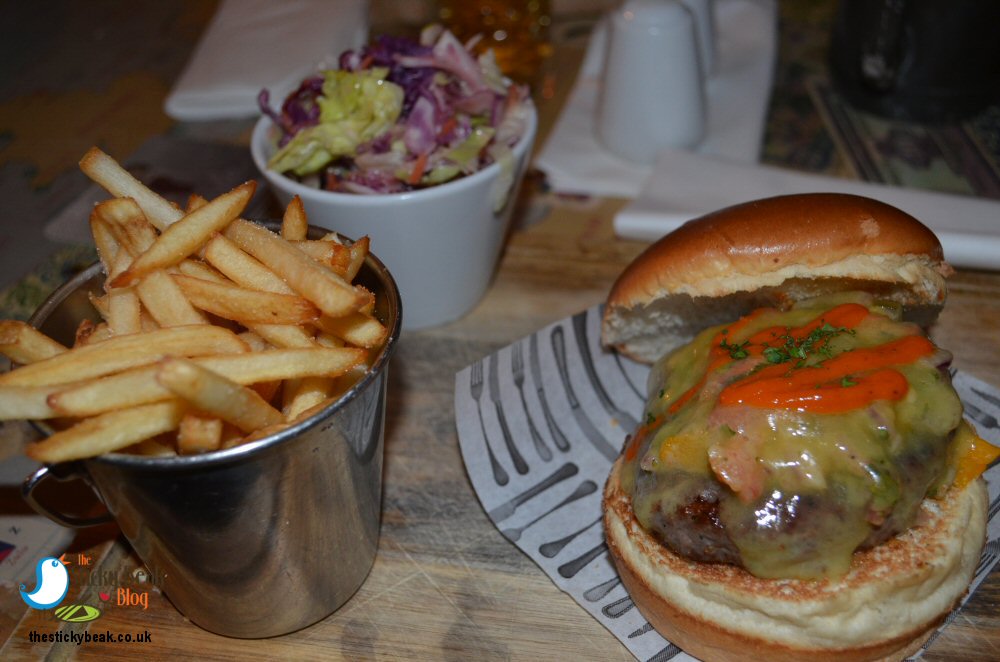 My main course was very simply presented; on a bed of Fennel and Green Beans sat a Ham -wrapped Cod fillet, then a delicately hued Lemon and Cream sauce surrounded it all. At first glance it actually looked a fairly manageable sized portion, but when I began to tuck in I realised that it was in fact going to be a real belly buster!

The thick, juicy Cod fillet had a fantastically crisp Ham blanket around it, which had a great salty tang to it; pair this with the natural sweetness of the fish and it danced on the palate brilliantly. Cooking the Fennel allowed its naturally strong anise note to mellow somewhat so that this wasn't permitted to dominate the dish.

I was pleased that the Green Beans still had some of their crunch left as this gave a different textural element in the mouth. The gentle citrus flavour of the Lemon was the final component in a wonderfully balanced dish, and I told our server how great it was when they came to check back on us again.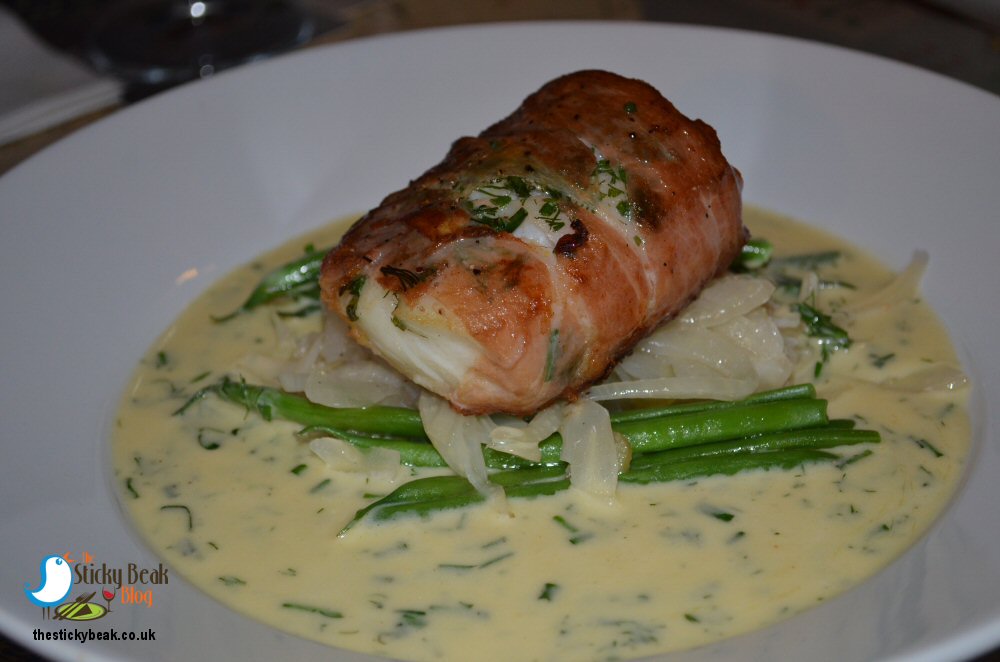 His Nibs was working his way steadily through the meaty venison burger patty, pleased that it was still pink in the middle. Nothing kills quality meat than overcooking it; luckily the Chef at The Manners pub in Bakewell knows his craft very well and avoided this pitfall very skilfully.

The lively Jalapeno salsa and gutsy homemade ketchup more than held their own against the deep flavour of the game meat. A nice crisp, fresh bun housed all this deliciousness perfectly. Rounding things off nicely in this much appreciated ensemble was a lovely shredded salad with a zingy dressing and some wickedly crunchy fries.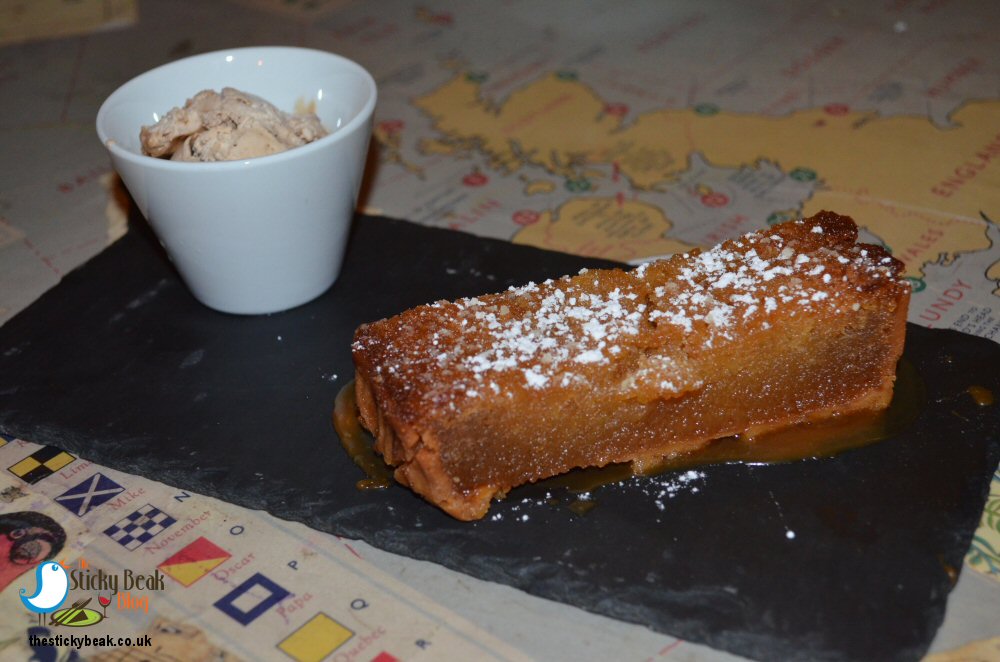 Another staff member came to enquire whether we would like desserts. Too right we would! I just fancied the warm Treacle Tart with Hazelnut Ice Cream, my Chick liked the sound of the warm Chocolate Pecan Brownie with chocolate sauce and Pistachio Ice Cream and The Boy Wonder was in the market for the Rich Chocolate Mousse with Peanut Brittle.
Without much ado, our puddings were placed before us and we merrily dived in. The Chocolate and Pecan brownie was apparently wonderfully gooey, with the Pecan nuts and the Pistachio from the ice cream both adding some crunch. Judging by the cleanliness of the dish I think it safe to say that this was a winner in The Chicks opinion :)


The Man Bird demolished his Chocolate Mousse in double jig time, thoroughly enjoying its light texture and rich, deep chocolate flavour. He doesn't mind a nutty taste, as long as it isn't too strong and the Peanut brittle had just a hint of peanut to it, with the main focus on the sweet brittle note. His verdict was that it was a very enjoyable dessert.
Without stating the obvious my Treacle tart was wonderfully treacly, if you know what I mean. It had me swirling it around in my mouth, wanting to get the most from its unctuousness and savouring the "comfort food" memories it evoked. The Hazelnut ice cream was sweet and rounded, partnering the warm tart brilliantly.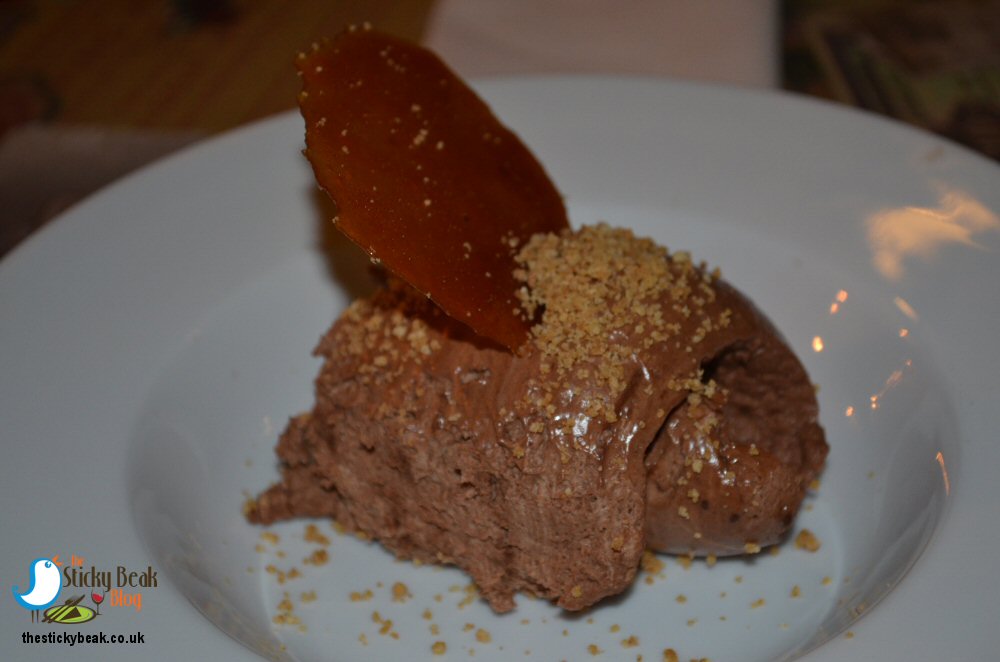 Unusually, we skipped coffee here, knowing that we would be enjoying one in the luxurious lounge at The Cavendish Hotel as we waited for The Tribal Elders.
The standard of food at The Manners was very high, both in terms of quality and quantity; if you haven't been, it is definitely worth stopping by next time you're in Bakewell. Hot Wings definitely on their way here.
No incentive was provided to visit this venue
read more