Dinner At The Junction Bar & Restaurant, Sutton-In-Ashfield
---
Published On Saturday 28 Jan 2017 by Sticky Beak
See Recent Dining Out Reviews | See All Recent Reviews


Daddy Bird was away, Chickadee was out with the fella; so Mummy Bird, The Boy Wonder and me thought "diddle this for a game of soldiers, we're going out too!". The weather was dismal to say the least, so we didn't want to go too far, and the Junction at Sutton-in-Ashfield ticked all the boxes.
A mere ten minutes later we were shown to a lovely corner table in the dining area, which is separated from the bar area very cleverly. A lovely young lady came and took our drinks order as she handed us the menus to look at.
Mummy Bird chose the Chicken Liver Pate to start and this comes with sweet onion and tomato chutney, fresh leaf salad and Ciabatta fingers. His Nibs fancied the Sesame Chicken Goujons with their garlic and soy marinade, fresh salad leaves and sweet chilli dipping sauce and I had the Goats Cheese Crème Brulee infused with Horseradish and topped with sweet onion chutney, with Ciabatta fingers and Apple and Walnut salad.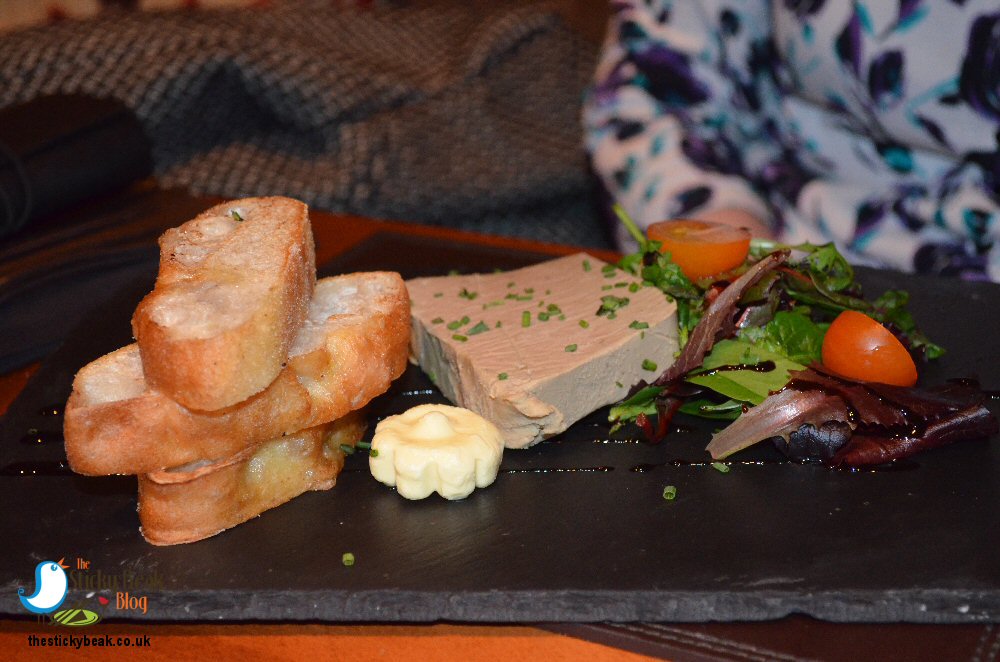 The Pate came nicely presented on a slate platter and there was a generous slice of it too. It had a superb rich, deep taste to it, and a wonderfully smooth texture which was a perfect contrast to the crunchy Ciabatta bread she spread it on. The dressed mixed leaves were the perfect accompaniment to a great starter.
The Man Birds Goujons were very meaty and of a generous size; they had a nice zingy, crispy coating on them that gave a pleasant crunch when bitten into. Again, the verdict was that the salad was just enough to compliment the main focus of the starter and the sweet chilli dip had lovely warmth to it without it being overpowering.


I can only describe my Goats Cheese Creme Brulee as feather furlingly good to eat. Its texture was silky smooth, but lightly aerated to give it lightness on the palate that opposed the salty cheese brilliantly. Plenty of crunchiness was provided by the Ciabatta as well as the Apple slices and Walnut pieces in the fresh salad. In all honesty, a slightly larger version of this would make an absolute corker of a summer main course (paired with a crisp chilled glass of white wine, Sancerre for me if you're buying!).
The gentleman that came over to ask how our starters were was rewarded with a barrage of compliments that no doubt got passed straight back to Head Chef Lee Rodgers. Looking around the room there were plenty of smiling faces, so fellow diners were enjoying their food too.


Before long our trio of mains was being brought over with a smile from the team; Low 'n' Slow Braised Blade of Beef for me, handmade Steak & Real Ale pie for mummy Bird, and craft Cider braised Gammon Joint for The Man.
My dish came with Potato Gnocchi, field mushrooms, crispy Pancetta and soft herbs with a topping of Stilton cheese and Chefs roast braising gravy. The plate was groaning under its bountiful contents and the smell emanating from it was making me drool in anticipation.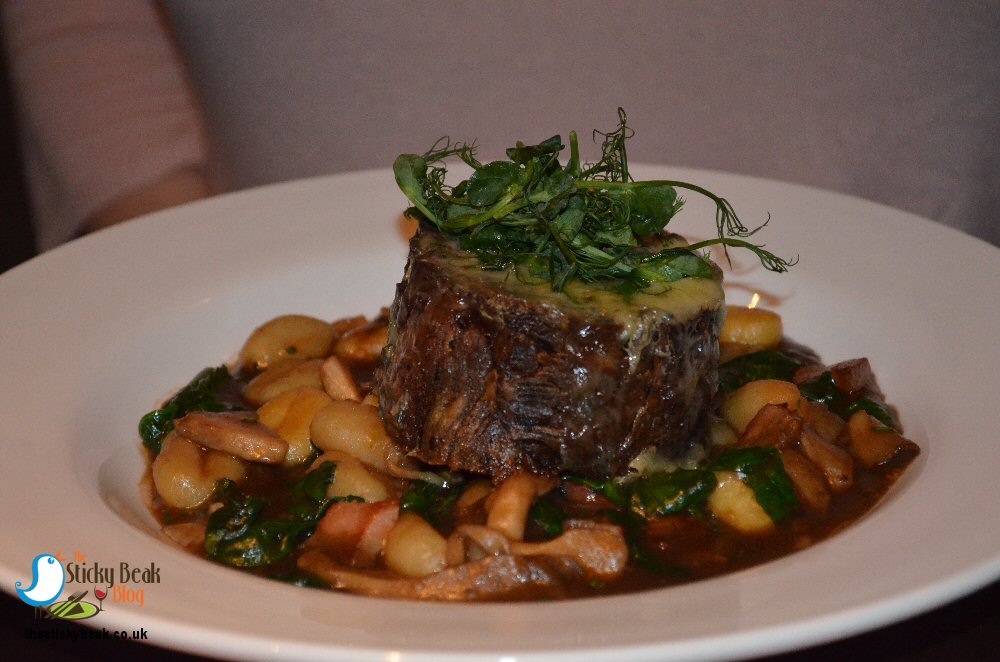 Now, I know I can eat for Britain's first and reserve teams but I think serving me what looked like a whole side of beef was going to be a challenge! The meat was magnificent, both in terms of flavour and in tenderness and the Stilton top was gooey and a nice amount to not overwhelm the beef.

The Gnocchi were great and I loved the various mushrooms that were in the dish too, when you include the wilted greens and the rich gravy you can appreciate what a great, multi layered dish this was.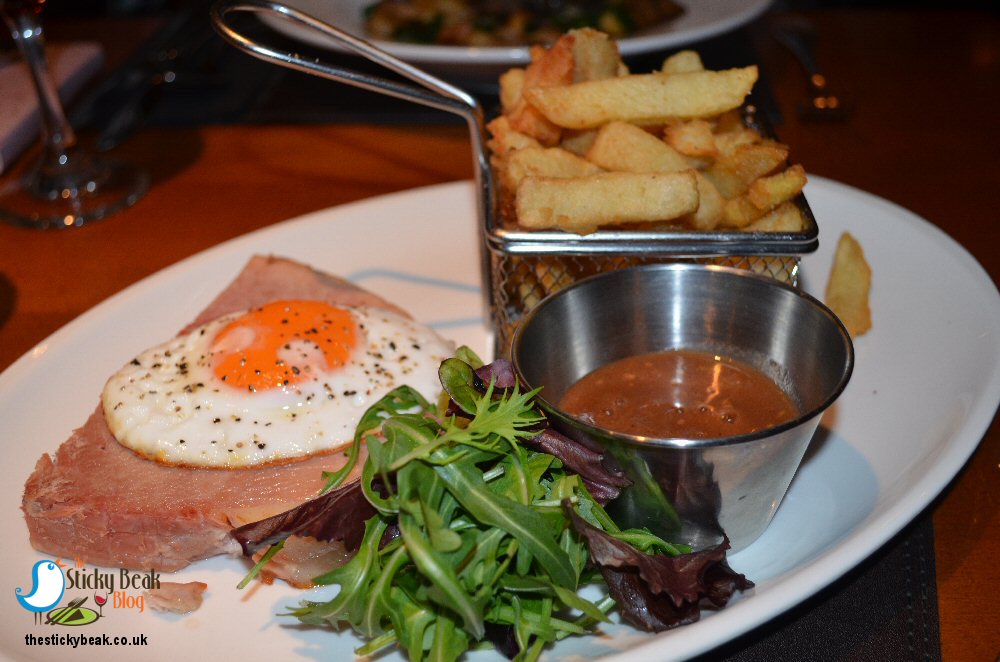 His Nibs was equally thrilled with his Gammon joint; the meat itself was falling apart in ribbons pretty much making the use of cutlery surplus to requirements. It had a nice sweet hint of Cider in the glaze that came through gently in the mouth and then you got the sharp tang from the Gooseberry ketchup that was the polar opposite in terms of taste.

The twice cooked chips were just as you'd expect; superbly crisp on the outside and fluffy inside, and no hint of greasiness to be found anywhere. Now everyone knows that you can't be having Gammon and Chips without an egg, and the free range one at The Junction was fried perfectly to preserve its rich creamy taste from the yolk. Watercress salad provided the last note in this dish, imparting its vibrant flavour in the mouth brilliantly.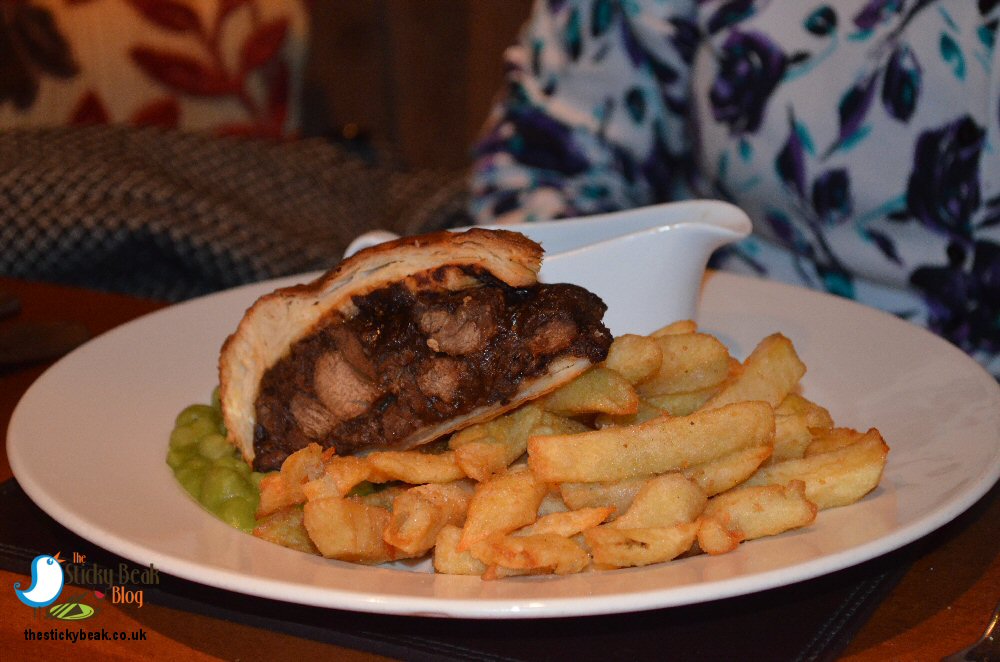 Mummy Bird had chosen the Steak and Ale pie and had it with mushy peas, twice cooked chips and gravy although you can have it with mash, vegetables and gravy too. When it came, the depth of the pie made us all gasp and goggle in amazement at it; seriously, it must've been a good 4" deep. The pastry top was light and flaky, not at all claggy and the pie was rammed to the gunnels with huge chunks of steak that were beautifully tender to eat.

Mummy was a fan of the chips too, won over by their crispiness. Mushy peas are pretty much mushy peas wherever you go, but the gravy was the real McCoy with its rich deep taste.
Two members of the team came over at various points during our demolition of the main courses asking if we were enjoying our food. Watching the team members at work was like watching a well choreographed ballet; they were efficient in their movements but not hurried and everywhere was kept spotless.
As we were perusing the dessert selection one of the Junction team was delivering a gourmet burger to the table next door; all I can say is that not only did it look fab, it could also feed the entire population of Sutton!
Mummy Bird wanted a pudding, but didn't want anything too "heavy", so she opted for the Fruits of the Forest Posset with fruit compote and Shortbread biscuit. I chose the Custard Cream tart with fresh fruit and Vanilla Ice Cream, and The Man Bird went for the Lemon Curd Terrine with fresh Blackberries and Meringue.
Again, the puddings were presented superbly and Mummy's Posset gleamed like a vibrant Amethyst in its attractive glass setting. It was wonderfully vibrant in flavour and very cleansing to the palate and its light texture was just the thing my Mummy Bird had wanted in her dessert choice. The Shortbread biscuit was deliciously buttery and crumbly, so she was more than delighted with her selection.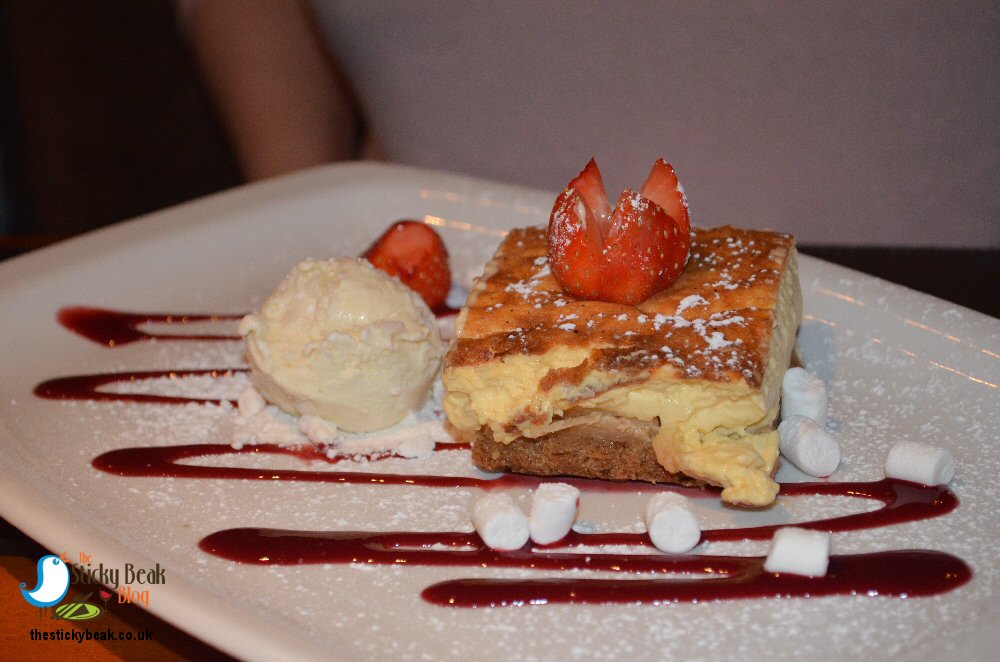 My Custard Cream tart was just like the biscuit in terms of flavour with its wonderful creamy top and superb biscuit base that had a great butteriness to it. Fresh Strawberries accompanied the tart brilliantly, and I thoroughly enjoyed every last morsel of my pudding.
His Nibs' Terrine had a fantastically bright Citrus flavour to it. The terrine itself was smooth and the texture came in the form of a plethora of mini Meringue pieces that crunched nicely before melting like clouds on the tongue. Fresh Blackberries imparted their wonderful summery notes in the dessert, dancing brilliantly with the zingy Lemon sauce that was artfully swirled on the plate.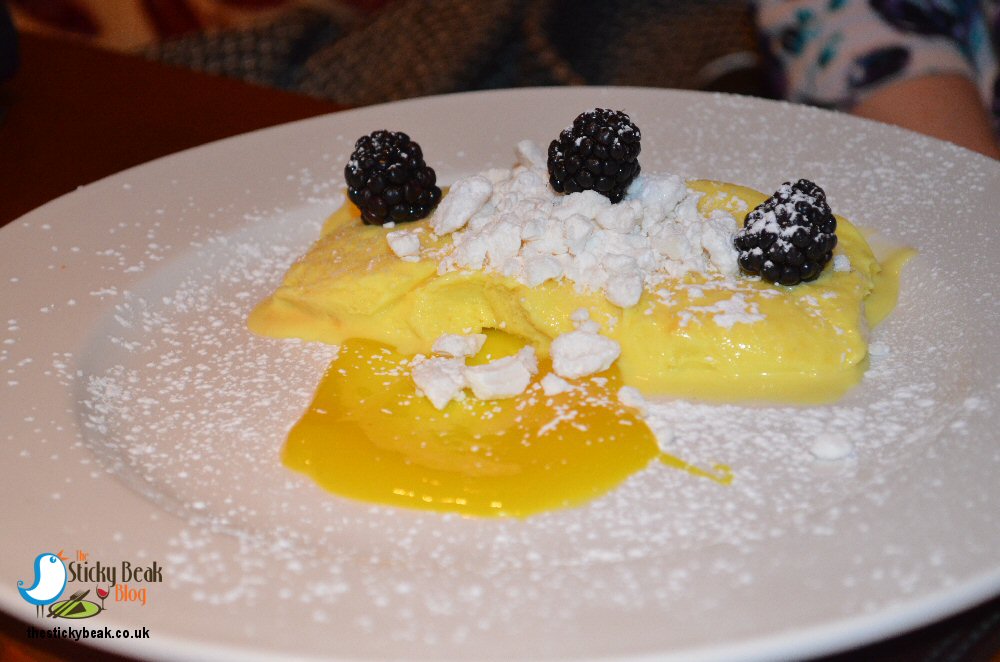 It had had been a great family meal, something that we were all chattering about over Latte coffees, and we didn't stop enthusing about it as we were driving along the A38 back to our nest. Hot Wings making their way over to The Junction at Sutton-In-Ashfield and its very welcoming team :)
No incentive was provided to visit this venue
read more