Dinner At Carluccios, Derby INTU
---
Published On Thursday 22 Dec 2016 by Sticky Beak
See Recent Dining Out Reviews | See All Recent Reviews


This may well be the last review of 2016, and if so then what a great finale to the year it is! Some of you may well have seen Carluccio's Deli and Restaurant in the Derby Intu Centre as it has been open for a couple of months now, roughly. Tuesday night saw The Boy Wonder and myself dashing around doing some last minute Christmas buying before being warmly welcomed into Carluccio's and being seated at our window side table.
The premises themselves are clean, bright and open plan with colourful artwork on the end wall, which makes a striking visual impact. Our server for the evening, Alex, got us settled in with a large glass of Merlot for me and a large bottle of Peroni for His Nibs, and soon came back with a bowl of Olives for us to nibble on whilst we looked through the menu. There was a nice level of background music playing and plenty of lively chatter coming from other tables of diners relaxing over their plates of food.
As well as the regular menu, Carluccio's have also been running a festive menu, and this is what the Man Bird chose his dishes from; I went with the usual menu, although you can mix and match between the two should you wish to. The festive menu is priced at £17.99 for two courses and £19.99 for three courses.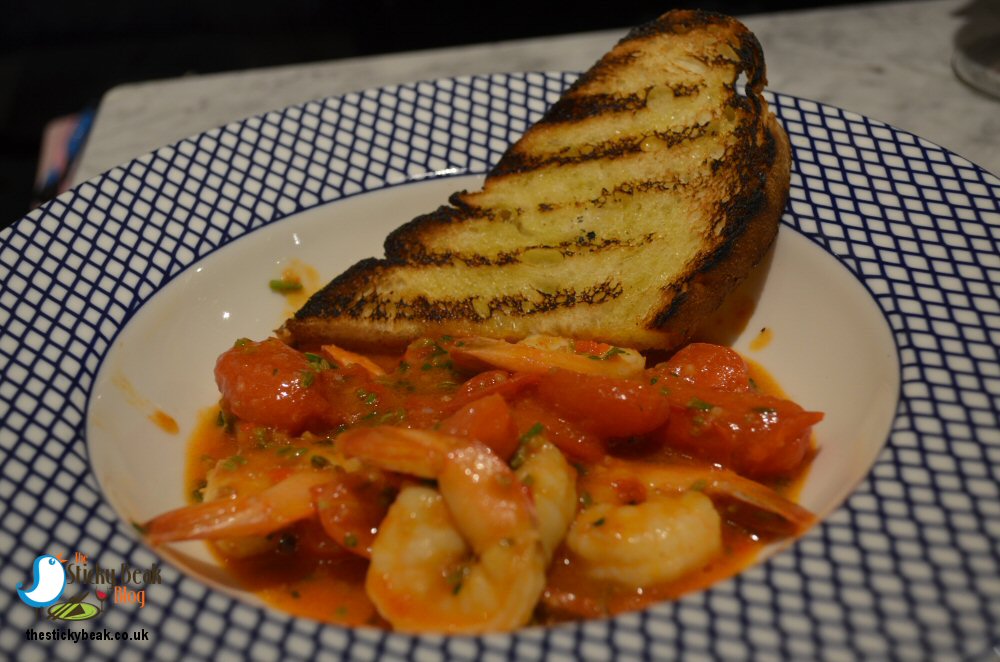 To start I had the Prawns Marinara; marinated prawns sautéed with White wine, baby Plum Tomatoes, Chilli and Fennel seeds in a Tomato and Basil sauce, with grilled Ciabatta for dipping. The sauce was fantastically vibrant and lively on the palate, and I got a great Aniseedy pop from the Fennel seeds; in addition the prawns were lovely and juicy and the portion size was perfect for a starter. I saved the Ciabatta until last to mop up all of the wonderful sauce, savouring the simple pleasure I derived from it.
My Boys festive starter was no less impressive either. The trio of Crostini is made up of crispy Italian Ciabatta bread topped with Antonio Carluccio's Chicken Liver Pâté, baby Plum Tomatoes with Basil and Garlic, and Red Onion marmalade with Goats Cheese. Again, the portion size was very good and the slices of bread were nice and crunchy.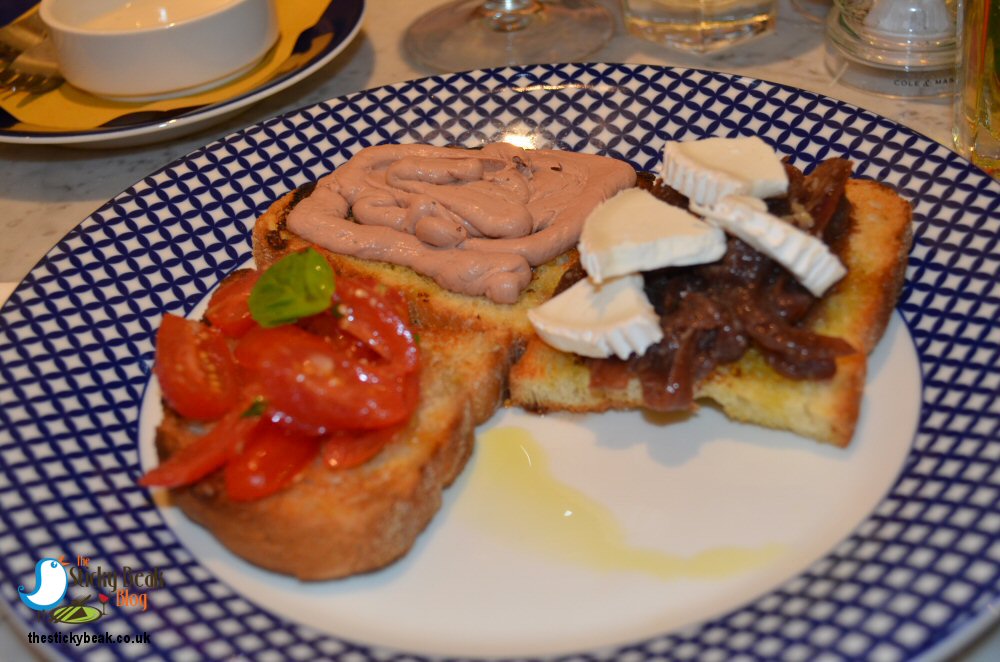 His Nibs really liked the tomato, basil and garlic combo, despite not being a huge fan of raw vegetables and the tangy, salty goats' cheese complimented the rich, sticky marmalade excellently. The Chicken Liver pate was sublimely smooth and indulgent and was the sole partner for the Ciabatta, allowing it to shine in the spotlight.
Alex came to check back that we were enjoying our starters and asked if we wanted anything else in the meantime. When we had cleaned our plates she took them away and returned with fresh cutlery and napkins for us, all done with a warm smile.

For our mains we had chosen Saltimbocca di Pollo al Vin Santo for The Man Bird and Penne Giardiniera for me. In case you aren't fluent in Italian (like me) The Man had a flattened Chicken breast topped with Parma ham with a rich Vin Santo, Sage and Cream sauce and served with Rosemary and Garlic roasted Potatoes.




My dish was originally rustled up by Antonio Carluccio for a friend and was so good that it has featured on the menu ever since! I always say that simple flavours can sometimes be the best and this dish consists of giant Pugliese Penne pasta tubes with Courgette, Chilli and garlic, served with fried Spinach balls and Italian cheese.
The Boy Wonder said his chicken was incredibly tender and just pulled apart as he cut into it, and the Parma ham imparted its unique flavour gently to the dish along with the variety of mushrooms in the sauce. Italians seem to just have a natural flair for creating creamy sauces that are rich but not heavy, and the one in this dish was superb with a beautiful Sage flavour to it that was incredible on the palate.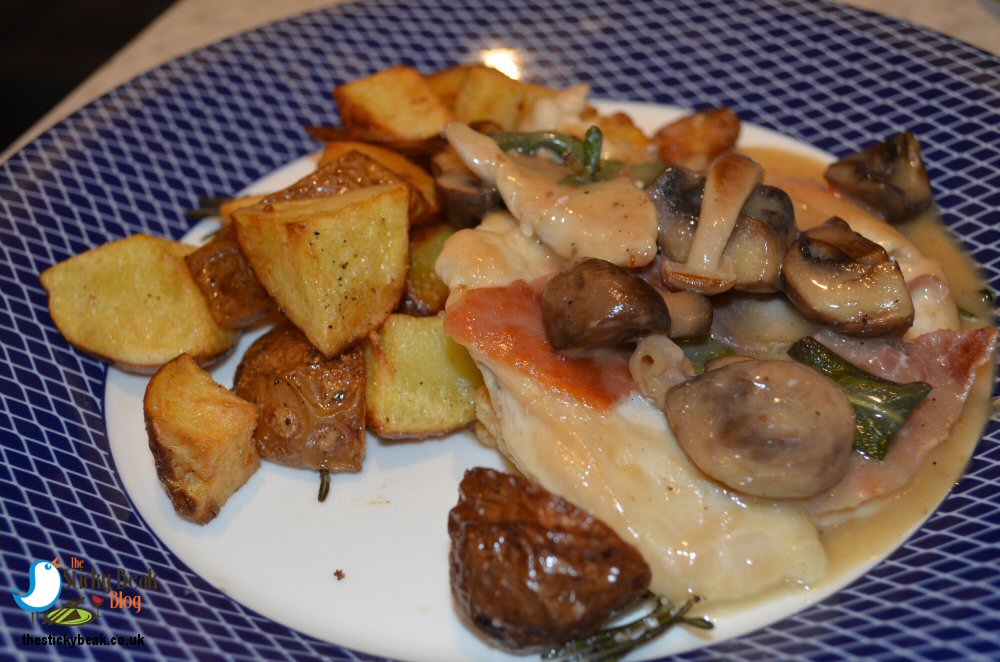 As you know dear reader, His Nibs is a huge fan of all things spud related so he was in Potato paradise as he bit into the delicious herby nuggets accompanying his chicken. Having managed to try a bit for myself I can truly say that they were delicious; there was a fantastic Rosemary taste to them, they had wonderful crispy, skin-on outers and they were lovely and soft (not soggy) inside.
Christina, the restaurant manager, came over to introduce herself and she has got the widest smile I think I've ever seen; it just lit up the premises. We had a quick chat as she didn't want to interrupt our dinner, but said she would come over later when we had finished our meal.
My dish was really nice; full of fresh, uncomplicated flavours and bursting with different textures. I loved the fried Spinach balls having not had them before; they weren't dry or burnt, which I'm sure they would have been if I'd tried to make them myself! The delicate taste of the Spinach came through and they were wonderfully crunchy to bite into.




Julienne Courgette strips were just nicely firm and their fine taste wasn't overpowered by the Chilli and Garlic thanks to their skilful and judicious use by the Chef. The effect was a light, fresh vegetable and herb accompaniment to superbly cooked pasta that left the mouth wanting more.
There is a misconception that pasta can leave you feeling sluggish and in need of a post-prandial nap, but in this case I didn't feel any hint of a "carbohydrate coma". Alex had been over and checked that everything was ok with our main courses and asked if we wanted any more drinks, we didn't as it happened.
One of my favourite things about Christmas is the cake; I also like the German mainstay, Stollen, and the Italians have the rather wonderful Panettone in many guises. Carluccios have an award winning Panettone which they have drizzled with Vin Santo syrup and served with Vanilla Ice Cream for their festive menu.




When His Nibs saw it his little eyes lit up with glee, and he couldn't wait to tuck in. The Panettone itself was lovely and light in texture with plenty of fruit and a gentle hint of citrus to it, but the Vin Santo syrup really elevated it to another level.

The centre of the Panettone was generously moistened with the syrup with further ribbons of it meandering down the sides so that the mouth could unstintingly appreciate its flavour. Italians do a marvellous job when it comes to making Ice Cream and the Vanilla Ice Cream here was superb, partnering the Panettone brilliantly.
In my younger days I worked night shifts with a lovely lady named Giovanna and she always used to enjoy feeding me up with her homemade Tiramisu. It translates as "pick me up" which is quite apt given that it was usually the middle of the night or the small hours of the morning when we would normally get chance to eat it. Anyhow, I have since eaten many a portion of Tiramisu, none of which have matched my Italian surrogate Mammas version. Until now!


The Tiramisu at Carluccios is just Bellissima! Carluccios at Intu Centre, Derby is quite unique in that it makes its Tiramisu fresh every day rather than it being delivered, and boy can you tell the difference. All the flavours bounce off the tongue, from the espresso and coffee liqueur soaked sponges at the bottom of the dessert to the fresh cream and generous dusting of Cocoa powder on the top. If I was to have died immediately after eating Antonio Carluccios Tiramisu I would have died an extremely happy little foodie Bird.
We had a couple of Latte Coffees to draw things to a close, and chose the rich coffee blend (but they also have a smooth blend available). I thought it was a nice touch to offer a choice of coffee bean blends to have in the Lattes. Christina came over to talk to us again, and was delighted to hear about my enjoyment of the Tiramisu and how it took me back to a happy time in my life.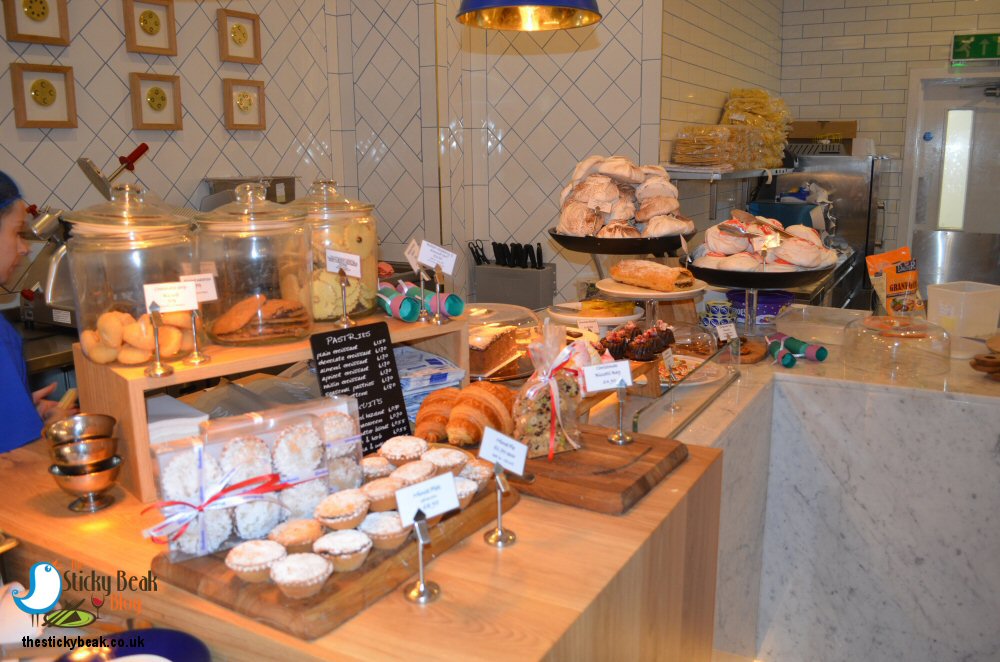 The whole team of staff at Carluccios Deli and Restaurant in Derby Intu Centre were working brilliantly together at what was a very busy service period for them, and they did it with professionalism and a smile at all times.

If you haven't been before, it's definitely worth going. I must warn you about the Deli though, the food in there is so good you won't be able to resist buying something to bring home! Hot Wings very well deserved by Christina and her team (especially the lovely Alex) :)
Some form of incentive was provided to visit this venue
read more