Dinner At Turtle Bay Caribbean, Derby
---
Published On Monday 19 Dec 2016 by Sticky Beak
See Recent Dining Out Reviews | See All Recent Reviews


These last few weeks have been a mad, but fantastic, whirlwind. Invitations have been coming in left-right-and-centre from venues across the county, and we finally made it into Turtle Bay, the hottest Caribbean joint in Derby City. We've also been running a competition to win a meal for two on our website, and our winner was Sarah Dovey; hope you enjoy your meal Sarah :)
The venue itself has a lively, vibrant but chilled vibe to it, a bit how you would imagine a beach front food shack in Jamaica to be. In fact, if you're familiar with the BBC programme "Death in Paradise" and can remember Lucilles bar/restaurant that is exactly the kind of place Turtle Bay reminds me of. I especially liked the 7" vinyl records hanging from the ceiling in the upper deck of the restaurant, but the entire decor was bright and distinctive in its style.

Our server, Jodie, showed us to our table and got us settled nicely with a drink before going through the finer points of the menu with us. Caribbean food uses a lot of spices and peppers in its recipes, some of it quite fiery, so Jodie pointed out the hotter and milder dishes to us.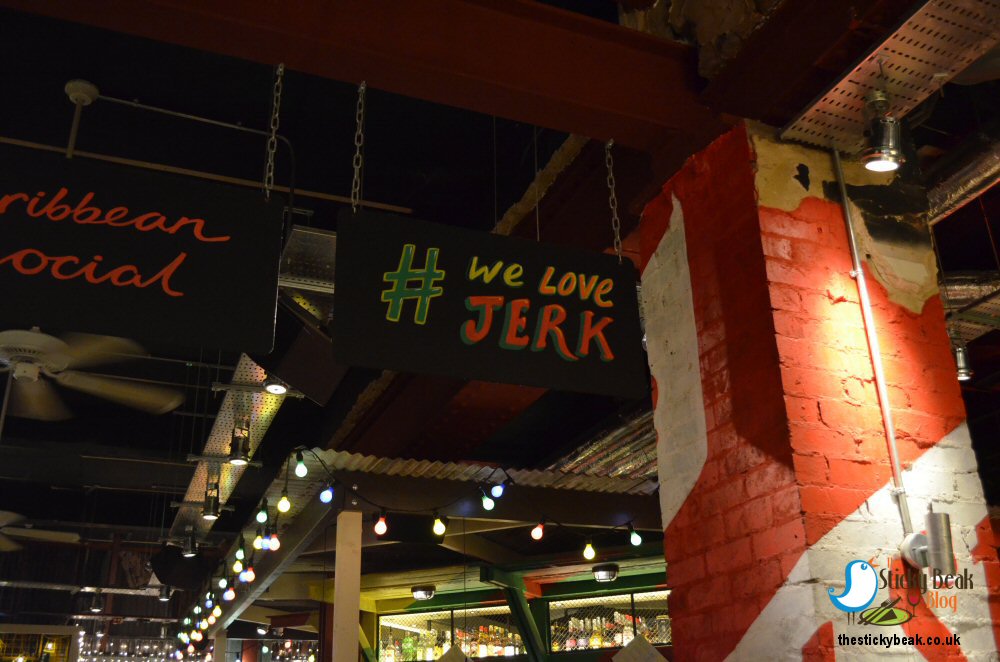 To start with we decided to share the Beach Food Platter comprising Sweet corn Fritters, Pepper Roti, Spicy Jerk Chicken Wings and Garlic and Herb Flatbread. The Sweet corn fritters were brilliantly crispy outside and were nice and spicy inside; the glaze on them was a real zippy number too.
Neither of us had sampled Roti before, not that it's a complicated dish; it consists of the Roti (similar to a flour pancake or wrap but lighter than a Tortilla) which is stuffed in this case with cheese, carrot, potato and onion and then baked in the oven. The version at Turtle Bay comes with a kicking Scotch Bonnet pepper and herb Mayo, and boy does this sauce mean business!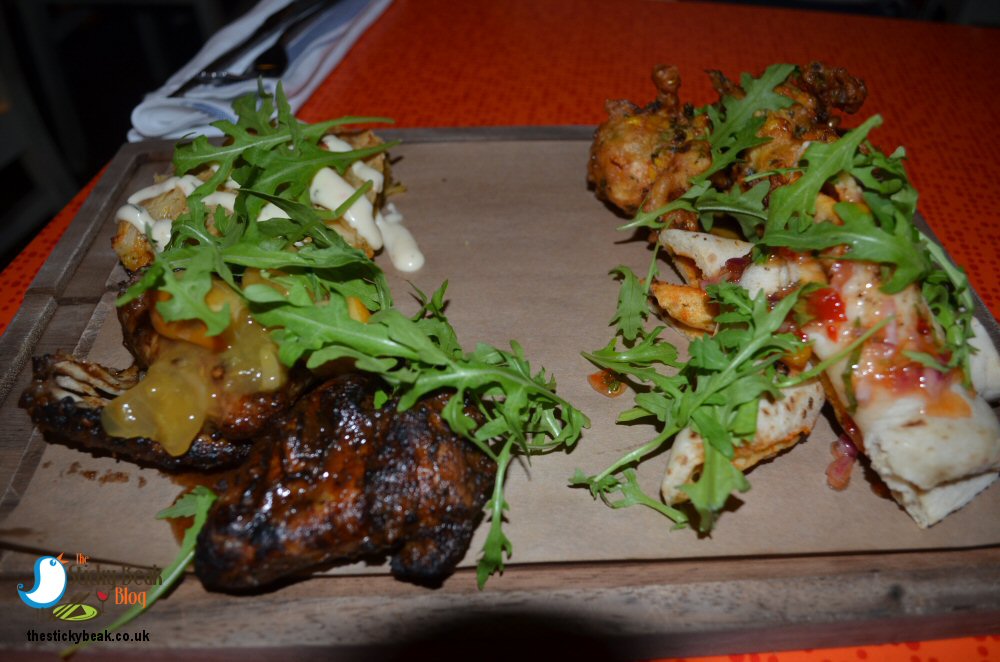 Things didn't get any milder with the Jerk Chicken Wings. We were grinning like proverbial loonies at each other as we chomped away at these piquant chicken pieces and licked the tongue tingling glaze from our fingers. Sour Orange chutney accompanied the wings and by golly it was good. The sourness seemed to assuage some of the fire from the jerk coating of the wings and really teased the taste buds.
Last up was the Garlic and Herb flatbread and this was just superb. We both loved how soft and pillowy it was when bitten into and the flavour was quite mild.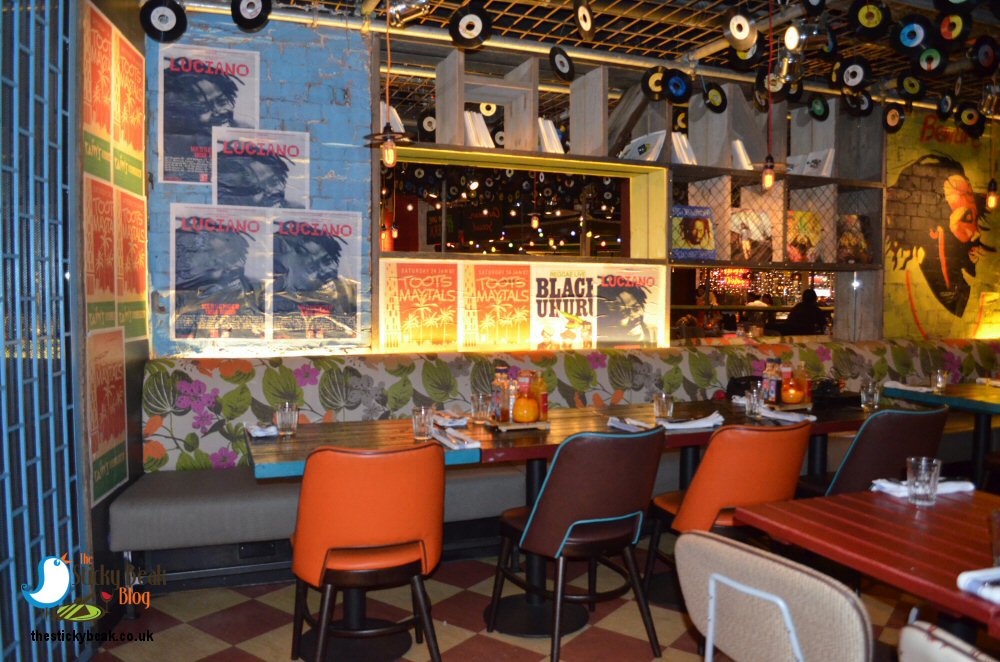 This beach food platter really was made up of four completely different elements and although the vast majority wouldn't suit the faint of heart the range of flavours and spices remained discernible in each of the dishes. Sometimes you can have spice just for the sake of it, but at Turtle Bay it is cleverly and justifiably used to produce authentic Caribbean cuisine.
Jodie was happy to hear that we were enjoying our starters as she came to check back on us and see if we needed anything else. Our plates and cutlery were taken away and only a short while later our mains were being placed before us. I had decided to have the Double Dipped Steak (with Coconut Jerk glaze) with Peas and Rice and Caribbean 'slaw and I ordered a side of Sweet Plantain too.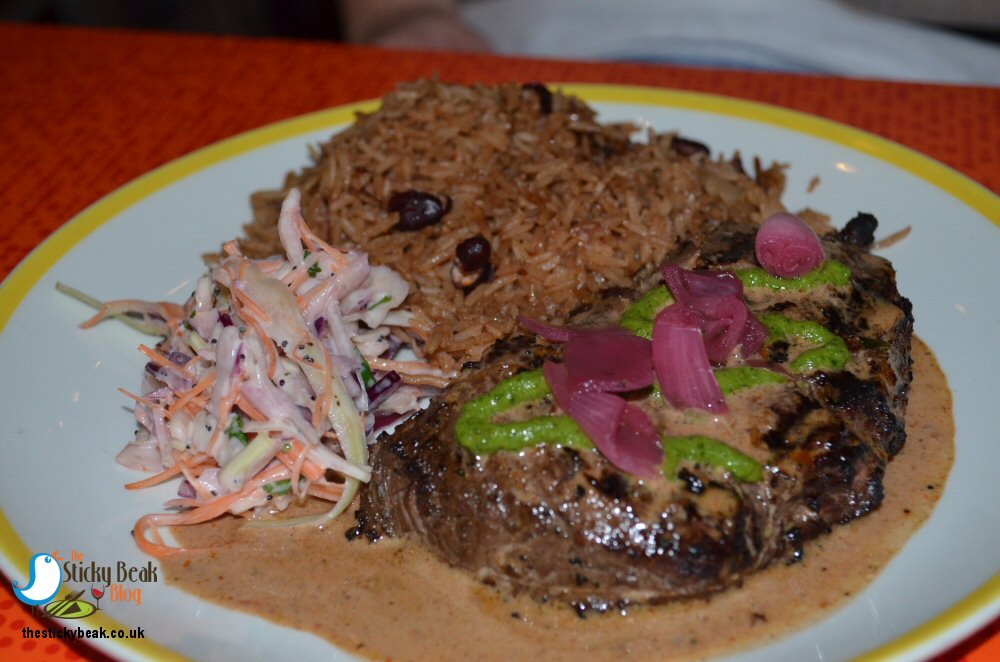 The Man Bird opted to have the Mo' Bay Chicken, a milder dish, which is sliced chicken breast cooked in a creamy, spiced jerk sauce with onions and sweet Plantain accompanied by dressed salad rather than 'slaw and Sweet Potato fries. He also had an additional side of fried Dumplings.
My steak was amazing; gorgeously juicy and blackened in places due to being flame grilled over the Pit grill and the green seasoning and sweet onion chutney on top had a fantastic punchiness to it. The generous portion of Rice and Peas (red beans) went down a treat and they had a lovely earthy hint to them from the spices used. Soft, flavoursome Plantain rounded the dish off nicely and every mouthful had been a pleasure to eat.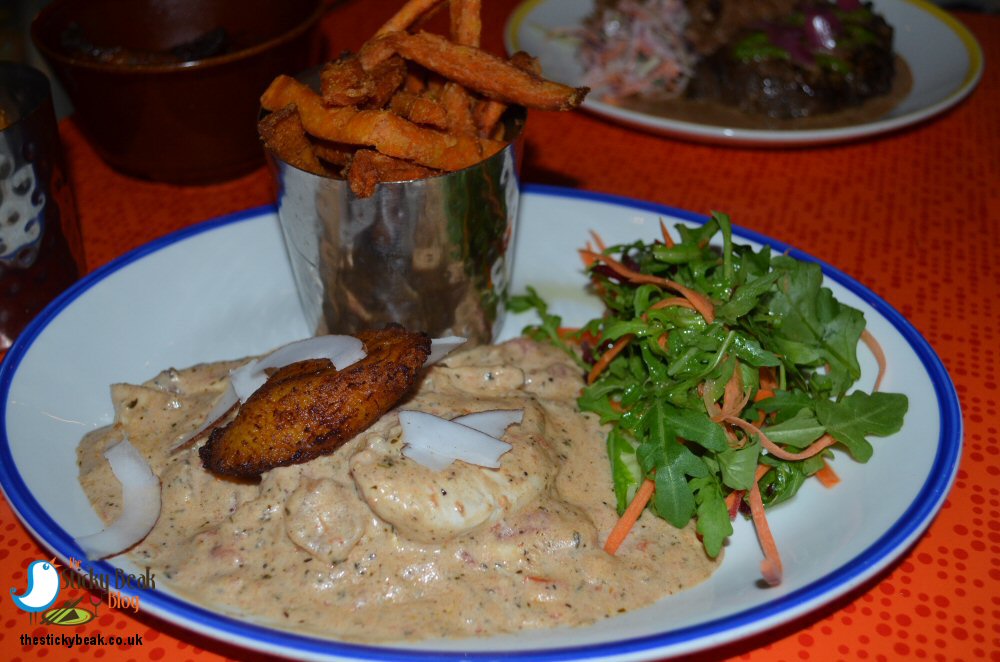 His Nibs was equally smitten with his Mo'Bay Chicken. There was plenty of chicken in the dish, which is always a good place to start and although the spices were milder in this dish it wasn't any less flavoursome for it. The Sweet Potato fries were superbly crunchy outside with lovely soft, sweet insides and the dumplings had a great spiced coating to them that he really enjoyed too.

I tried the dumplings too, and they were surprisingly dense in texture; not cloying or claggy in any sense but not the dumpling consistency I was expecting. None of the dumplings were left, so suffice to say that they were a winner with us both!


Again Jodie came to ask if we were happy with our meals, and obviously we were :) For a Thursday night it was really lively and the background music just added to the atmosphere nicely, there was even a family dining together earlier in the evening, enjoying themselves.
We had a little rest before pudding; I had the Caymanas Rum Cake with rum caramel and Vanilla Ice Cream and The Boy Wonder had Zesty Lemon and Lime Tart drizzled with Passion fruit sauce.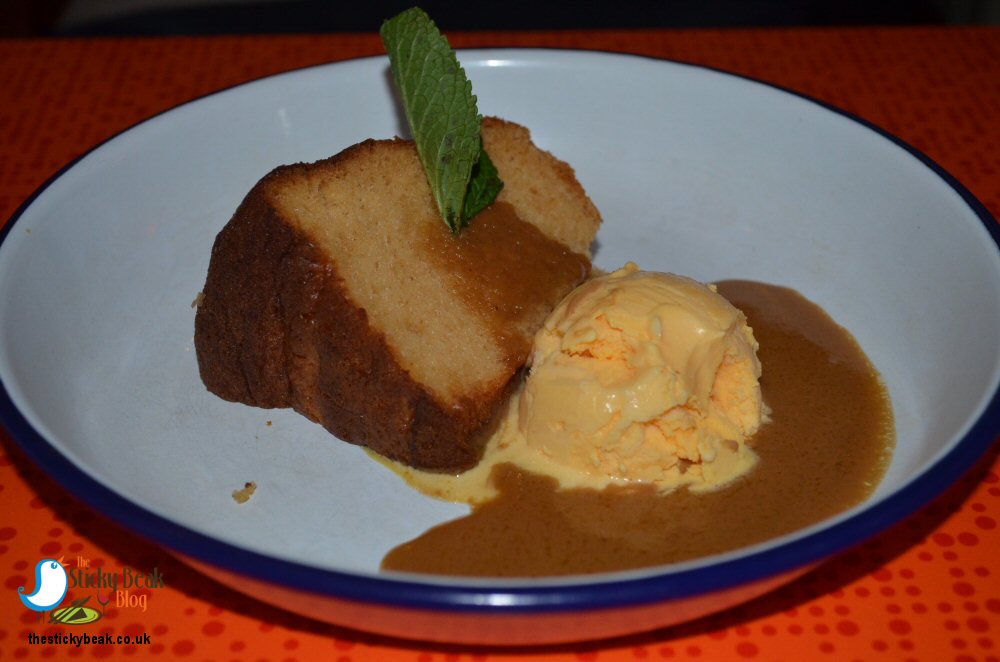 The cake itself was nice and firm, but moist, with a great rum hint to it and I loved the contrast between its warmth and the coldness of the Ice Cream. However, the rum sauce was the MOST AMAZING thing to taste - ever!! Turtle Bay you need to bottle this (and send me a crate full of it!), it is just ambrosia.
The basis for any good Cheesecake is a firm base and Turtle Bays is spot on. A generous layer of tangy Lime and Lemon mousse sat on top and then a sweet but full bodied Passion fruit sauce crowned it all. His Nibs said it was the perfect antidote to the fieriness of the earlier spices in the meal. Typically, we had polished off desserts before Jodie had chance to check on us, but we informed her that they had been delicious.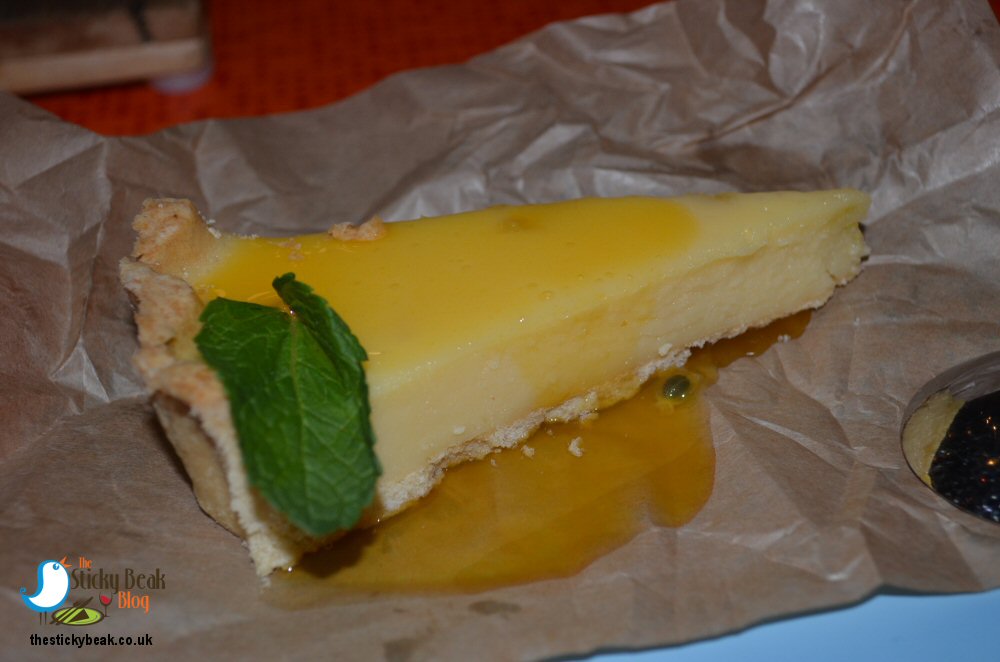 Jodie brought us a couple of Latte coffees to conclude our meal and we sat back to savour them and soak up more of the Caribbean coolness inside Turtle Bay, Derby. In keeping with the Caribbean laid back approach to life and self expression they allow their staff to have vividly coloured hair, as well as body art, tattoos and piercings.

Some people are put off by this (I have no idea why), but the level of customer service certainly isn't affected in any way, and all the staff were incredibly polite and efficient all through the evening. Jodie was an absolute star in every way; she really couldn't do enough for us.


If you haven't been to Turtle Bay before then you certainly need to go and experience this little piece of Caribbean paradise for yourselves. Happy Hour for Cocktails (2-4-1 on same variety cocktails) is available until 7pm and again from 10pm-1.30am every day, just check their site for local time variations and obviously Sunday-Wednesday there is an earlier closing time. Hot Wings (not Ting, that's a soft drink) on their way to the sunny skies of Turtle Bay Derby :)
Some form of incentive was provided to visit this venue
read more