Dinner At The Rice Bowl, Belper
---
Published On Monday 5 Dec 2016 by Sticky Beak
See Recent Dining Out Reviews | See All Recent Reviews


The Boy Wonder and I had a lovely invite a couple of weeks ago from the new owner of Rice Bowl Oriental restaurant in Belper (formerly New Ming Court). It has been a while since we last visited this establishment in its previous guise as a Chinese all-you-can-eat buffet restaurant, so we were very much looking forward to see what Woon had got in store for us.
As you walk in through the front door you still have the large bar in front of you, but the decor has changed. The walls are mainly white with accent walls in a gorgeous shade of green somewhere between Jade and Forest, and there are a couple of water feature sculptures that produce the lovely soothing sound of gently bubbling water.

The sturdy wood tables have a nice amount of privacy between them, and prints on the walls have the oriental theme running through them. I particularly liked the lightshades; they were conical in shape and reminded me of the Coolie hats worn by Oriental people.


I recognised one member of staff from the New Ming Court days, but the rest of the team are new. There was a very pleasant gentleman behind the bar who kept the drinks flowing very efficiently all evening for ourselves and the other tables of diners (of which there were a couple of groups), and a couple of lovely young ladies, who really couldn't do enough all evening for the customers.
Woon himself is from Malaysia and a lot of the dishes he cooks are from his own family recipes, try as I might I couldn't prise any secrets from him! There are plenty of typically "Chinese restaurant" crowd pleasers such as Chow Mein, Chop Suey and Sweet and Sour Chicken batter balls but it was great to see some very different dishes on offer from Malaysia.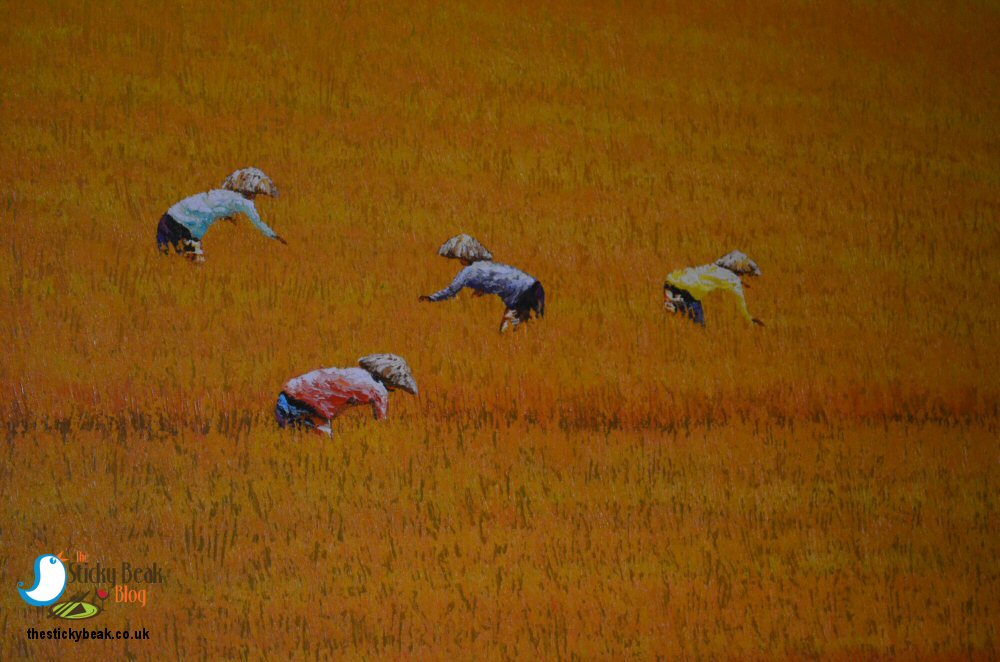 Belper folk are definitely not blinkered when it comes to trying new cuisines and I think it is a real coup for the town to have such a different type of restaurant, instead of it being located in a City such as Derby or Nottingham.
There were a lot of spices that I recognised from Thai cuisine such as Lemongrass and Tamarind, and I wondered how "hot "some of the dishes would be. Originally, The Man Bird and I were going to order a couple of separate starters but Woon asked if he could prepare us a selection of starter dishes, so that is what we did.
Before long there was a large wooden platter decorated with Bamboo leaves and vegetable "flowers" making its way towards us, laden with a plethora of delightful smelling morsels. There were Spare ribs in sauce, crispy curried Potato patties/Samosa, Spring Rolls, Sesame Prawn toasts, Satay Chicken skewers, Crispy Won Ton, Aromatic Chicken Wings and Thai Fish cakes, and in truth we didn't know where to start!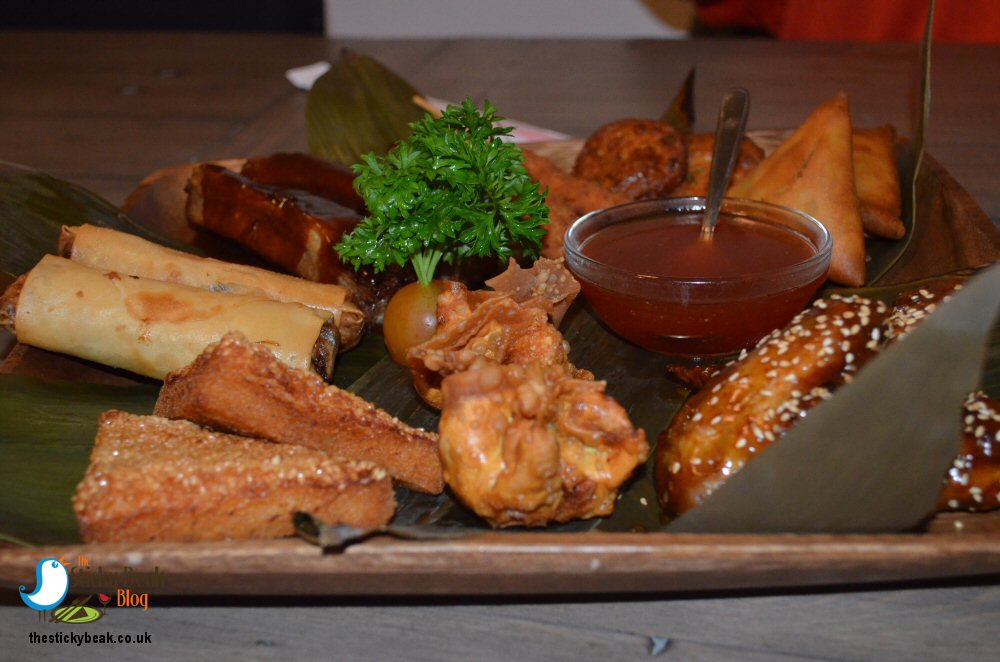 The Prawn toasts were packed with filling and nicely crisp on the outside without any hint of greasiness, so you got their true taste shining through; the same could be said of the Curried Potato patties with their ample, spicy contents.

His Nibs was chowing down happily on a very meaty spare rib with a fantastically sticky BBQ sauce on it, and he said how tender the meat was. Meanwhile, I was thoroughly enjoying the Thai Fish cake which again had a lovely crisp outer that revealed an ample filling of lightly spiced flaked fish and potato.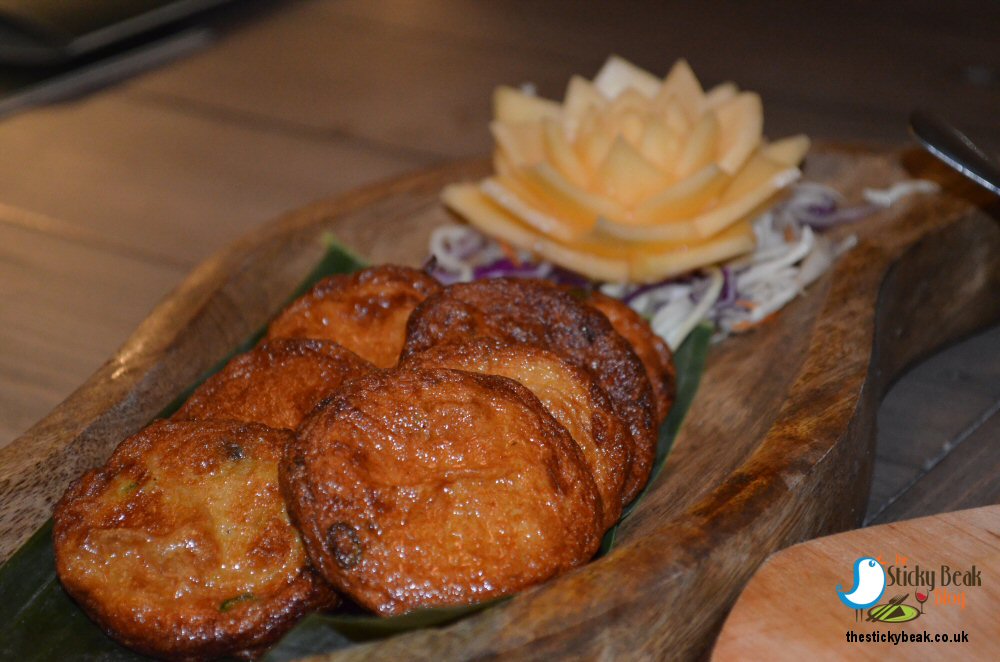 The Won Tons had a mix of minced Chicken and Prawn in them and the texture was lovely in the mouth, which was also the case with the Spring rolls; these were filled with a mixture of vegetables and bean sprouts that all had a bit of crunch left to them.

It really is a bit of a disappointment when Spring rolls have soggy insides, because you bite into crispy filo outers and want more of the same from their contents, which sadly is all too often lacking. Luckily, Woon knows what he's doing and these little gems were excellent.




Lovely chunks of tender chicken were lined up on skewers and the accompanying Satay dip was wonderful; it had a nice texture to it and you could discern the peanut flavour as well as a nice chilli kick, which partnered the chicken brilliantly.

Last up in the starter selection was the Aromatic Chicken Wings. They were a good size so that you could actually chomp into them and get a mouthful of meat and the sauce was a great mix of sticky and sweet with a spicy hint. His Nibs and I definitely needed the thoughtfully provided finger bowl after these!
Woon came and sat with us at our invitation as we were tucking in and was telling us that he only took the business on a couple of months ago. Although Rice Bowl is no longer a buffet style restaurant, they do a couple of set Banquet options (Classes Banquet at £17.80 per person, or the Oriental Banquet at £19.80 per person) both of which include Crispy Aromatic Duck as a second course.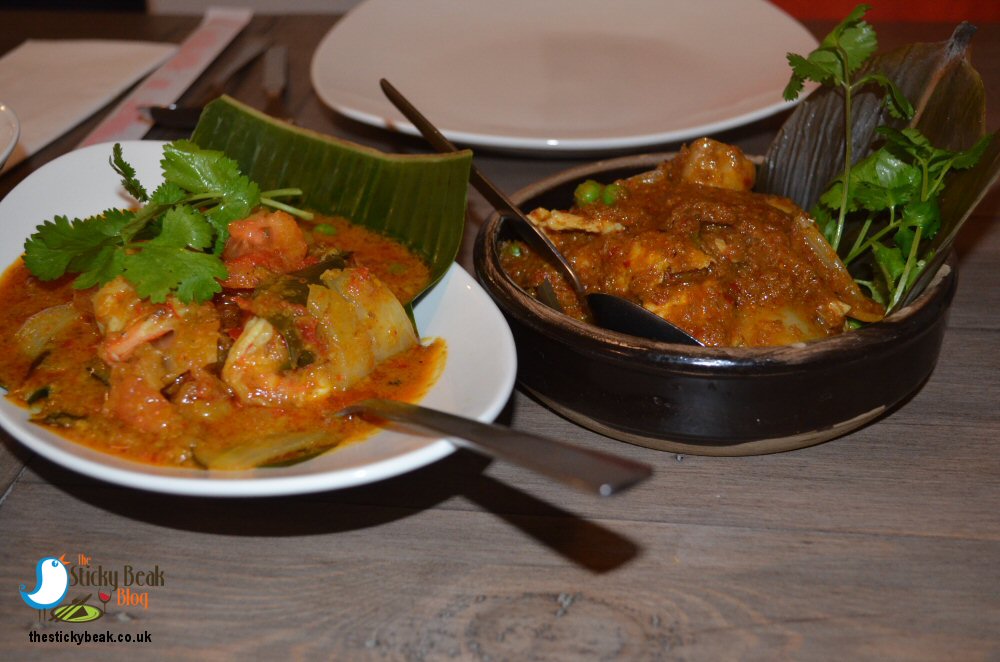 What I personally think is great about these is that they both include a mix of Chinese, Malay, and Thai dishes, so you get a fantastic culinary range of flavours and textures to try. All the dishes can be made to your personal tastes, so if you dine in a group those that like more heat can experience their preference just as well as those that like mild dishes. All you have to do is let the staff know what you require and Woon and his kitchen team will do the rest.
I should just mention the lunchtime set menu available Noon – 2.30pm Monday to Friday (excluding Bank Holidays). You get a starter and main course, from a selection, with choice of noodles and can either have the soft- or Alcoholic drink option, priced at £8.50 or £10 respectively.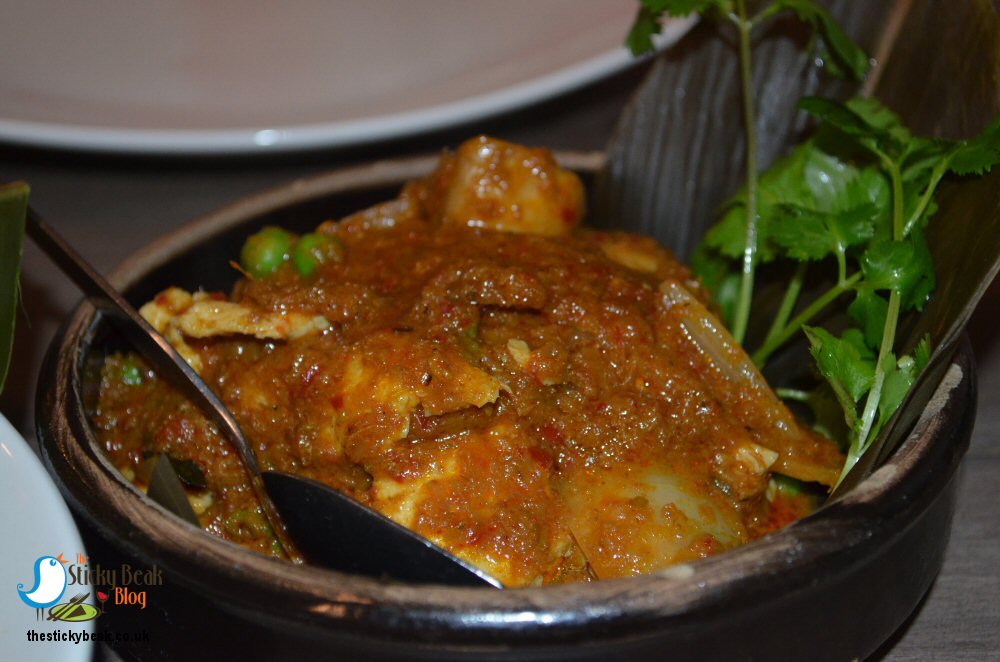 As with the starters, The Man Bird and I were being tempted with a selection of dishes which Woon had chosen for us after listening to our likes, food wise. Firstly we tried one of Woons signature Homemade Curries; Chicken curry with Curry Leaves. After spooning on our rice we tucked into the mouth watering curry, eager to see what it was like.

There were big chunks of Chicken breast meat encased in a medium texture sauce that had a great depth of flavour to it thanks to the fragrant curry leaves. Personally, I find that curry leaves impart a more rounded flavour than curry powders do to a dish, and these left a lingering taste in the mouth that was nice and smooth, rather than harsh. This was surprisingly mild and would appeal to a lot of people who are only just beginning their journey into Malaysian style dishes.


Woon also made us a King Prawn version of his curries made with Curry leaves. This one had a fresher, vibrant flavour to it in comparison to its Chicken cousin; perhaps due to the Prawns own characteristics. The sauce was also slightly thinner than the Chicken dish despite it being a bit higher on the "heat "scale; the amount of Prawns in the dish was more than ample. As you know, I love Prawns so this one was especially up my street :)
Another dish that caught my beady eye (well, I am the Sticky Beak by nature as well as name!) was the tasty sounding Beef curry with Coconut flakes. The Boy Wonder tends not to order beef dishes in oriental restaurants as it can often be in thin strips and a bit stringy shall we say, making it not worth the effort to bother with.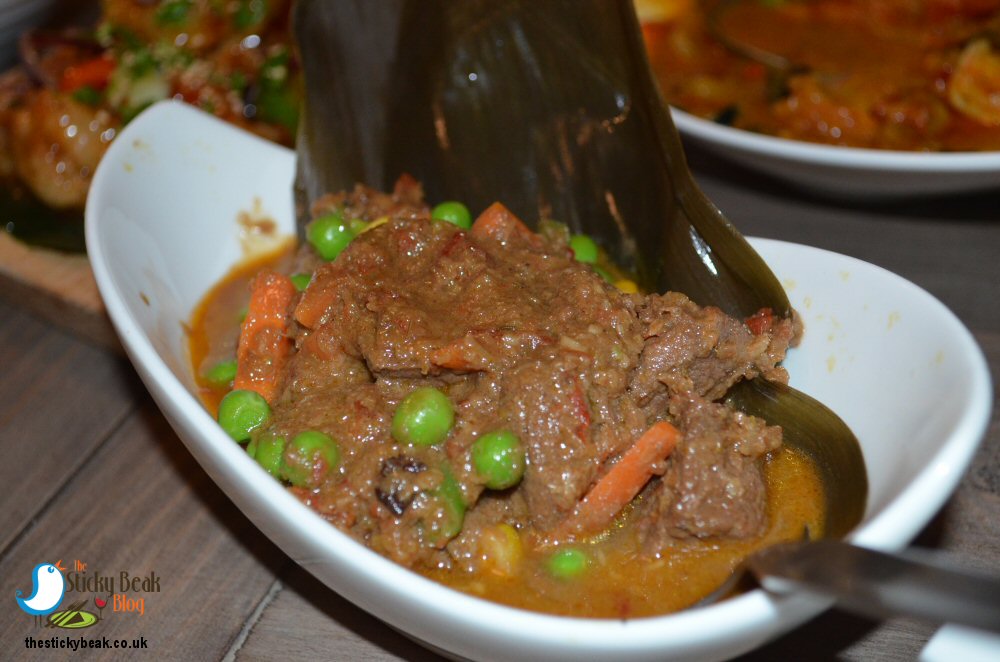 What Woon put on the table before us was the complete Polar opposite of what I have just described; superb cubes of tender beef were encased in a nice, thick sauce. Said sauce managed to have a tantalisingly good spicy edge that went on to reveal the slightly sweet Coconut note within it, making my taste buds dance in delight.
Sweet Thai Chilli Chicken was our last official main course and this beauty didn't fail to meet the standard of previous offerings. The Chicken had been cut into good thick strips and battered before being coated in a nice amount of punchy, spritely sweet Chilli sauce. Of all the dishes, this one is probably what most of you will be familiar with, and you certainly wouldn't be disappointed in any way if you ordered it.


Woon is what I would describe as a "feeder"; he gets immense joy from cooking for others and loves to get their reaction to his creations. All I said was that I was sorely tempted to try the Tamarind Prawns (from the Speciality section of the menu) as I like its strong, slightly sour flavour. The next thing I knew a plate of Chicken in a spiced sauce was being placed before His Nibs and I. Woon had apparently cooked this for his staff earlier and was eager for my opinion as it was a family recipe of his.

The pieces of chicken were irregular in shape and size, the first one of which I picked up had the bone still in. I like meat with the bone still in because I think it gives a deeper flavour to a dish, and the chicken definitely was juicy and chock full of flavour here. The sauce was medium thick consistency and had probably a medium heat to it spice-wise, both of which appealed to The Boy Wonder and I. All I can say is that Woons staff members are blooming lucky to have food of this calibre provided for them :)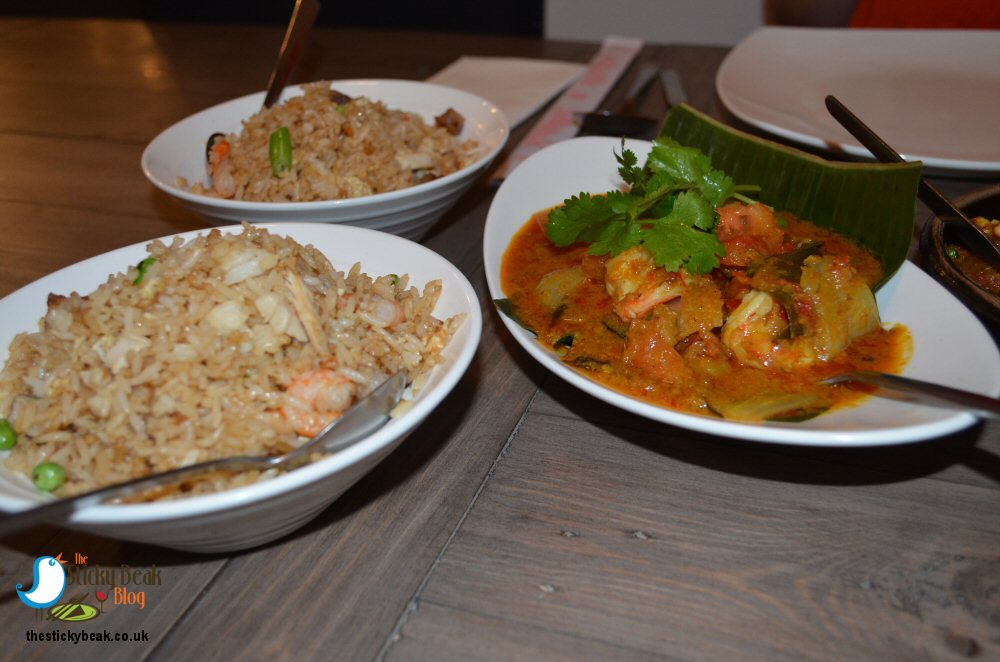 What I really liked was the fact that the dishes all had their own characteristics; from level of spiciness and different spices used in each dish, to the differing thickness and textures of the sauces. All too often at Chinese/Oriental restaurants you get very homogenous dishes that really don't look discernible when placed next to each other, except perhaps for the depth of their colour, but the dishes at Rice Bowl, Belper manage to avoid this pitfall.

The presentation is also beautiful to look at with flowers made from various vegetables and also the "bonsai trees" fashioned from Tomato and Parsley. Another nice touch was to have warmed plates put on the table for the dishes to be served on; only a little thing, but a lot of establishments don't think to do it anymore.
Our tummies were more than satisfied at this point in time and we were preparing to make our way back to the nest. Woon had one more treat in store for us though before we left; Deep Fried Ice Cream! I did a little dance of delight and a mini fist pump as I have had this before, albeit a long time ago. His Nibs however, had never experienced the total pleasure derived from the eating of this dish. Woon had chosen Raspberry Ripple ice cream as the centrepiece on this occasion, a stroke of genius if you ask me.




The large round of deep fried Ice Cream had been cut into quarters for us to tuck into, and the look of sheer pleasure on My Mans face echoed my own. The batter on the outside was utterly brilliant; crispy, and not too thick or thin. I love the opposition of the Hot and Cold elements in this dessert and how it bamboozles the brain (I know, I'm a special kind of special!), and the raspberry flavour from the ripple was just perfect to add that extra bit of something.
Whether or not you visited these premises before in their New Ming Court days, you definitely need to come along and check out Rice Bowl and its wonderful menu. I don't know about you, but in the run up to Christmas I sometimes can't be faffed with cooking so the option to eat out somewhere great is always appealing.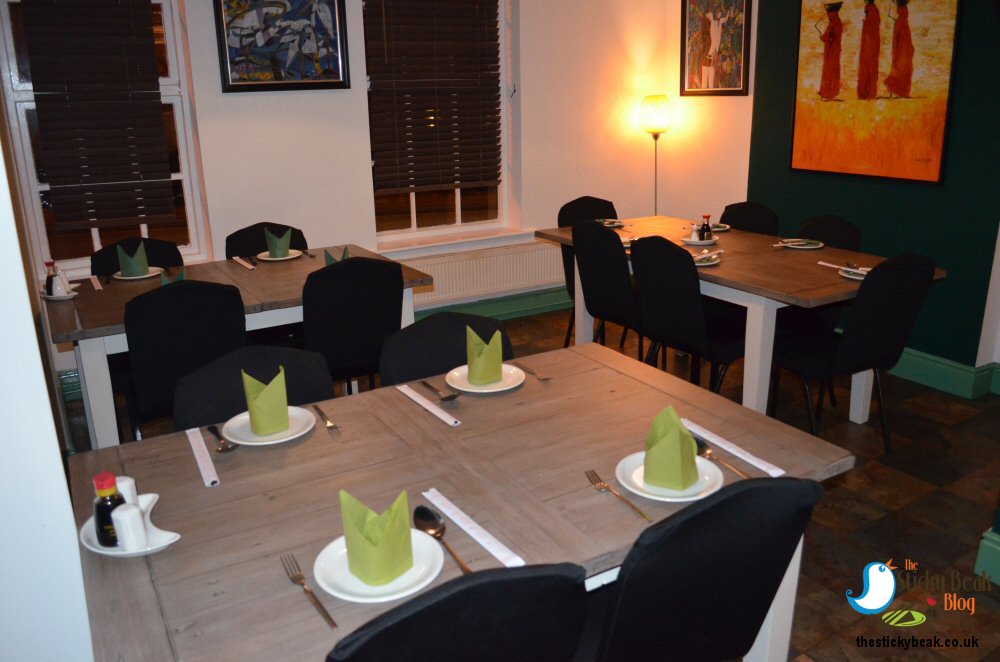 If you live locally, the Rice Bowl also offers a takeaway service, and on the night we visited the drivers were certainly being kept very busy! Woon is hoping to run a charity night in January 2017 where all the money paid for food is given to the nominated charity. As soon as we get details we will of course keep you informed dear reader, and you can also contact the Rice Bowl directly.
I know I said it earlier, but I do think it's a feather in Belper's cap to have an authentic Oriental/ Malaysian restaurant within it, so please do go and support this lovely man, Woon, and his team. Local businesses, now more than ever, need the support of their local communities and residents, and when you've got something good, it needs to stay open! For now though, all that remains is for me to say "Hot Wings" definitely deserved here :)
Some form of incentive was provided to visit this venue
read more