Dinner At The Newly Refurbished Castle, Castleton
---
Published On Friday 2 Dec 2016 by Sticky Beak
See Recent Dining Out Reviews | See All Recent Reviews


Having spent a hectic few days at Centerparcs it was lovely to be asked along to sample the menu at the Castle Hotel in Castleton, not least because the cupboards chez beak were bare! On this occasion my flock was joined by The Chicks Beau who is a lovely young man, he really is.
The Hotels informal dining area (which is where we chose to sit rather than in the restaurant itself) has that lovely olde worlde charm to it with all its wooden beams and stone walls exposed. The night we visited it was rather nippy so the sight of the roaring open log fire was a soul-warming moment and it was lovely to see two dogs making the most of its hearty warmth.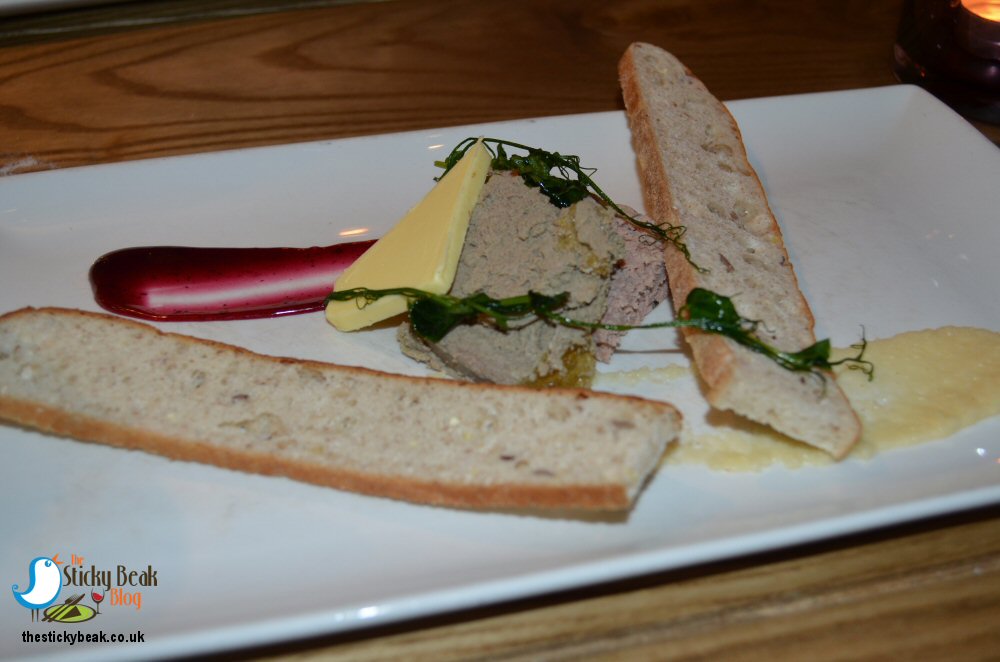 To start, His Nibs had the duo of Pate; coarse Pork, Madeira and bacon pate and a smooth oak-smoked Chicken Liver Parfait, served with Bramley apple butter, baby Gherkins and rustic bread slices. He really liked the contrasting flavours of the two pates and the different textures too. The apple butter definitely had the apple flavour taste coming through which made it completely different to anything he'd tried before, and not in a bad way either. Lovely crunchy rustic bread gave some nice bite to the dish and the gherkins imparted their own tang against the pates.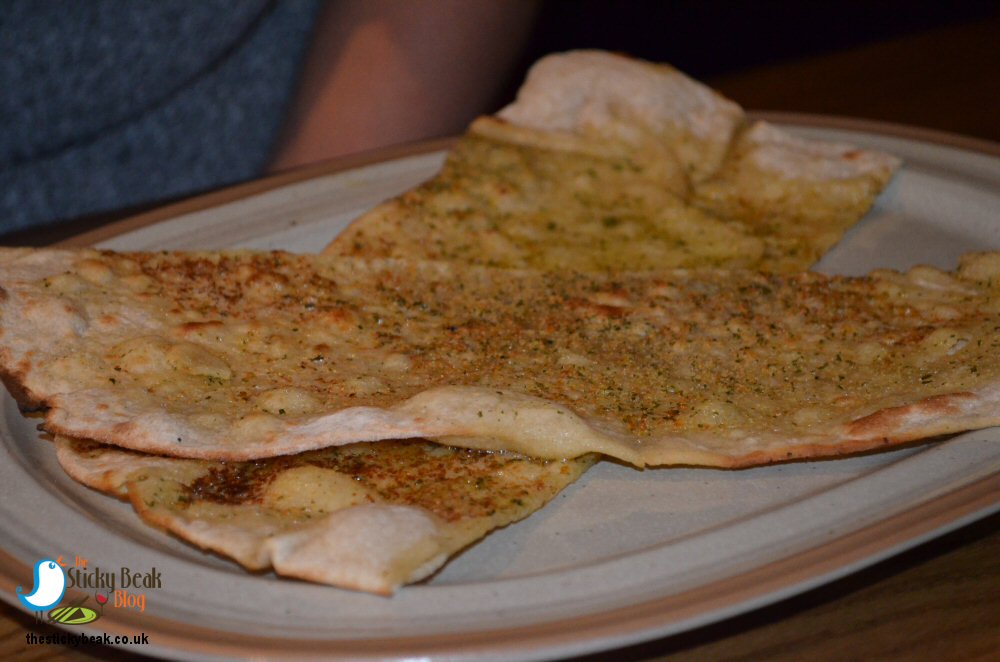 The Chicks Beau enjoys simpler tastes so he opted to have the stone-baked Flatbread topped with garlic butter for his starter. It was a large size portion and had a great aroma as it reached the table. The Beau said it was lovely and hot with a crispy outer edge, wasn't soggy in the middle and had just the right amount of garlic butter on to get the flavour without it being overwhelming.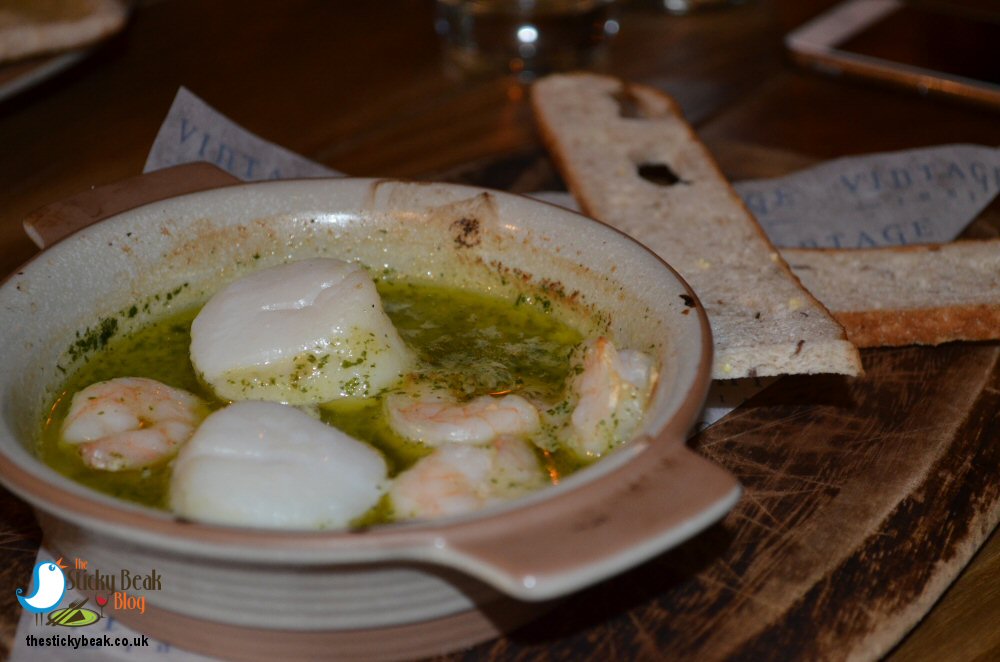 My Chick had Black Pearl Scallops and Prawns in garlic butter with rustic bread to begin with. Again, she said what a good sized portion it was for a starter and that the Scallops had been nicely cooked so that they retained their gentle soft-but-firm texture when eaten.
I had the Smoked Duck Breast with Blackcurrant curd, Orange segments and mini Summer Puddings to start my culinary journey at the Castle Hotel. The Duck itself was gorgeous; lovely rich flavour and firm texture that was partnered very well by the tangy Blackcurrant component. As we all know, Duck and Orange are natural partners so the inclusion of fresh Orange slices was always going to work well here and the mini summer puds were bursting with berry brightness which lightened up the strong flavour of the duck meat superbly.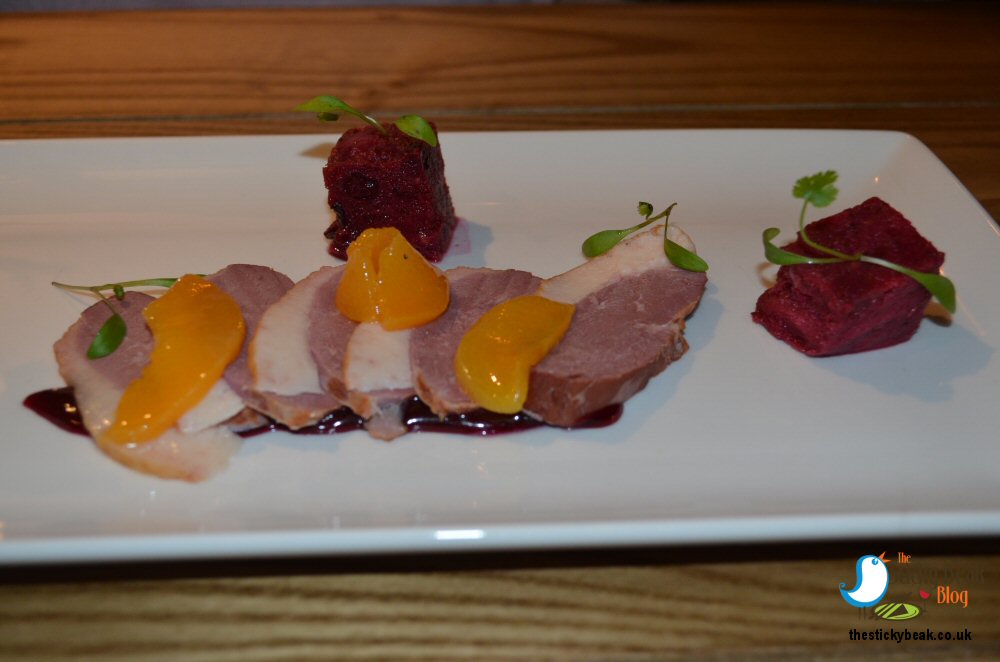 Our server was a lovely young man called George who came to check that everything was to our satisfaction with our starters. Throughout the evening he took care of our table very well, nothing was too much trouble for him; and the smile never left his face all night either.
For mains My Chickadee stuck with her seafood theme, plumping for the Risotto of Black Pearl Scallops, Lobster and Prawns topped with roasted Cherry Tomatoes and Italian hard cheese. The risotto was lovely and creamy with the rice still having that little bit of bite left to it, and there was plenty of the seafood in it too. It had been seasoned well too, which sometimes can be a bit lacking, and then you get just a bland mush in your mouth; luckily the team at the Castle Hotel avoided this pitfall and the plate got cleaned in no time at all!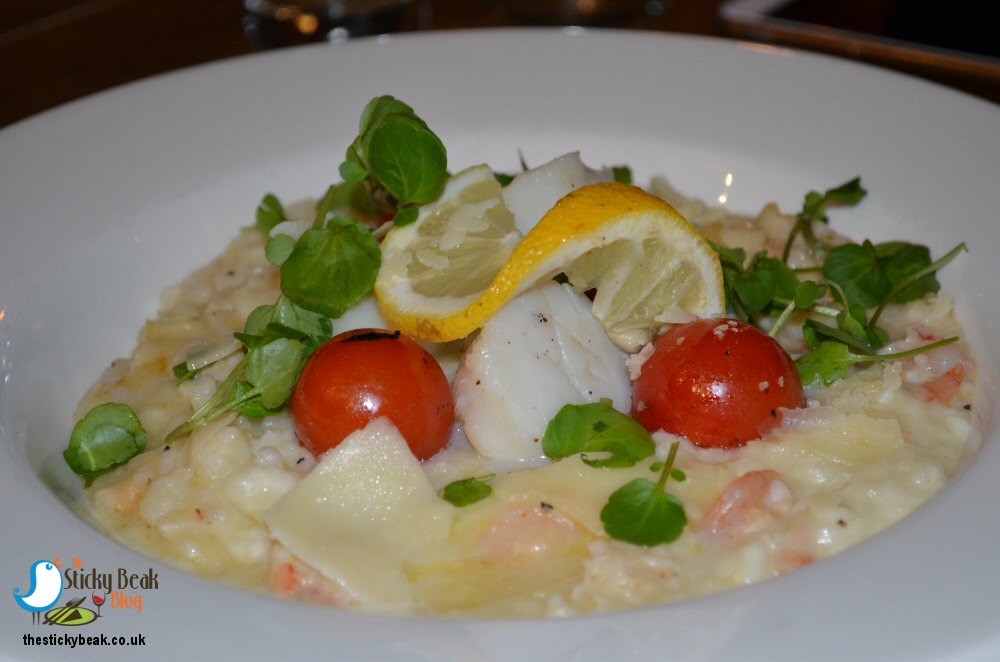 I also got in on the seafood vibe with my choice of seared fillet of Sea Bass served on a Lobster and Prawn risotto with roasted Cherry Tomatoes and Basil dressing. The fish had been skilfully cooked to retain its natural moistness and shape and the risotto really was a great accompaniment to it. I really enjoyed this dish from the first mouthful to the last. The Chick and I had ordered sides of salad and the crisp Lettuce, Tomato and Cucumber had all been lightly dressed just nicely.


Our guest had never tried Wagyu beef before, so he went for the Wagyu burger which is served in a Brioche bun with Onion chutney (he asked for this to be in a separate pot) and triple-cooked chips; he also chose to add a slice of thick-cut streaky Bacon to it. Wagyu beef has a marvellous flavour and texture to it due to the specific conditions the animals are raised in and The Chicks Beau was really thrilled with his first experience of it.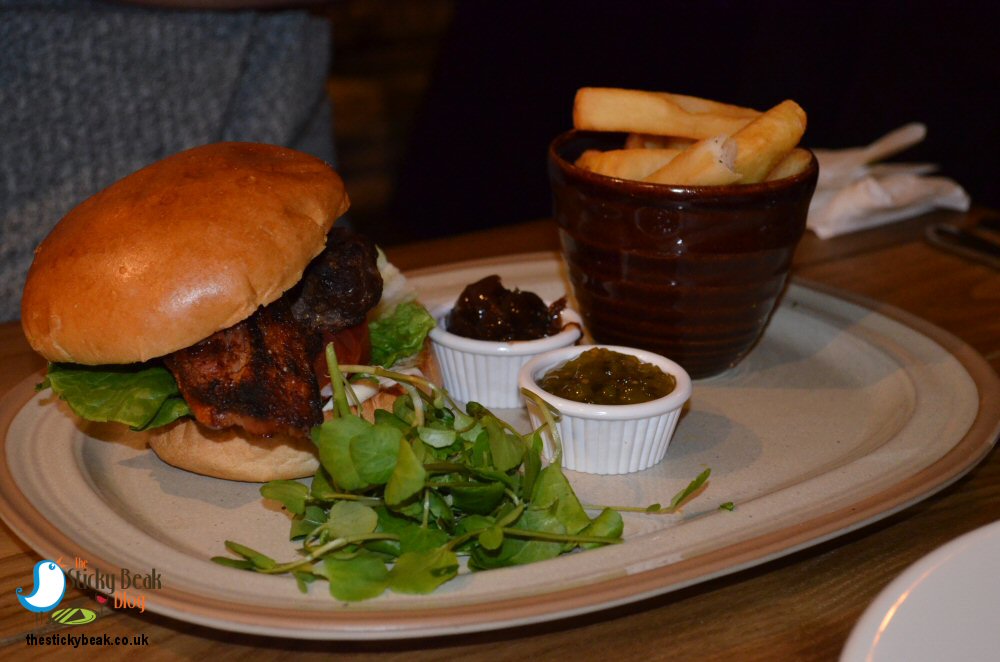 The Man Bird decided to have the Hunters Chicken and upgraded to Sweet Potato fries. This was real plateful of deliciousness; the Chicken Breast is topped with smoked Cheddar and Ginger beer glazed thick-cut Streaky Bacon before being slathered in a rich BBQ sauce. The Chicken was nice and moist with perfect amounts of cheese, bacon and sauce all combining to produce a great flavour in the mouth. The Sweet Potato fries were cooked perfectly too, so they were crispy outside and lovely and soft inside.


George was rewarded with four huge smiles when he came to check that we were all enjoying our main courses, and when he came to clear the plates away we were all chattering away about the highlights of our dishes.
The younger flock members decided that they were going to share a Belgian Chocolate Brownie for pudding, as they couldn't quite manage a full one to themselves individually. The Boy Wonder went for his go-to dessert, Eton mess, and I had a classic Sherry Trifle.
The Chocolate Brownie was declared to be really gooey and moreish and they both liked the fact that it was served warm. It came with a generous scoop of liqueur Ice Cream that was pleasingly melting on the top of it as they began to tuck in. Given the fact that the plate was squeaky clean I think I can safely say that it's a crowd pleaser of a pud!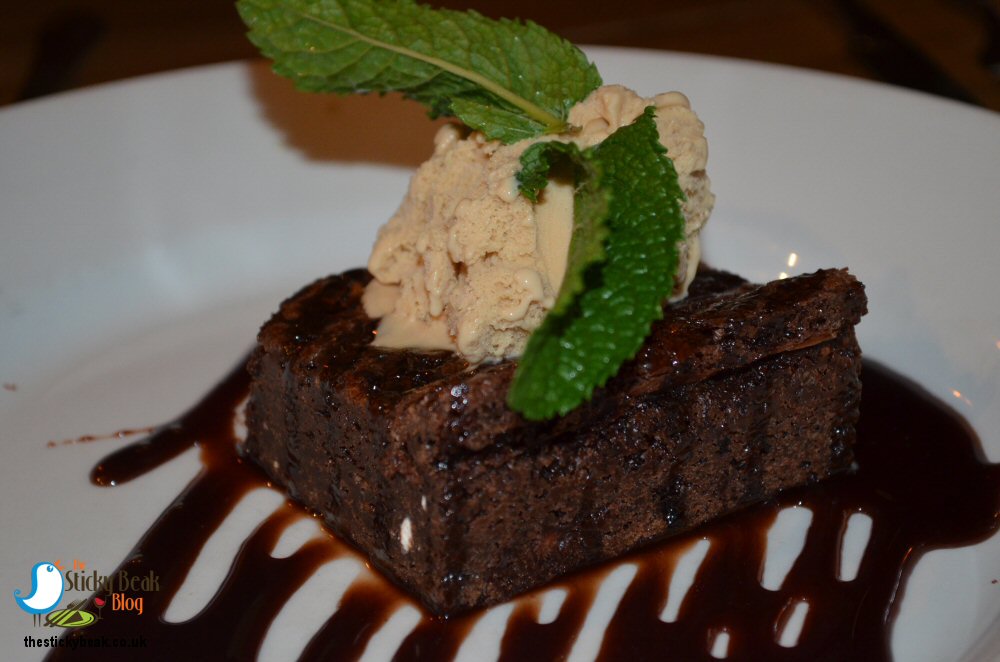 My own Trifle was superb. The Sherry soaked sponge with berries was at the bottom of the trifle dish in a lovely thick layer, upon which the set vanilla custard lay, before being swathed in a deep blanket of whipped Cream. A lovely dusting of flaked chocolate set the whole dessert off very nicely. As you know, I love the sound elicited from breaking the top of a Crème Brulee, and this is only equalled by the slurp you get when you dig in to a proper trifle. I was rewarded with a little smooch of sound as I broke into this little beauty, and couldn't suppress my grin of delight :)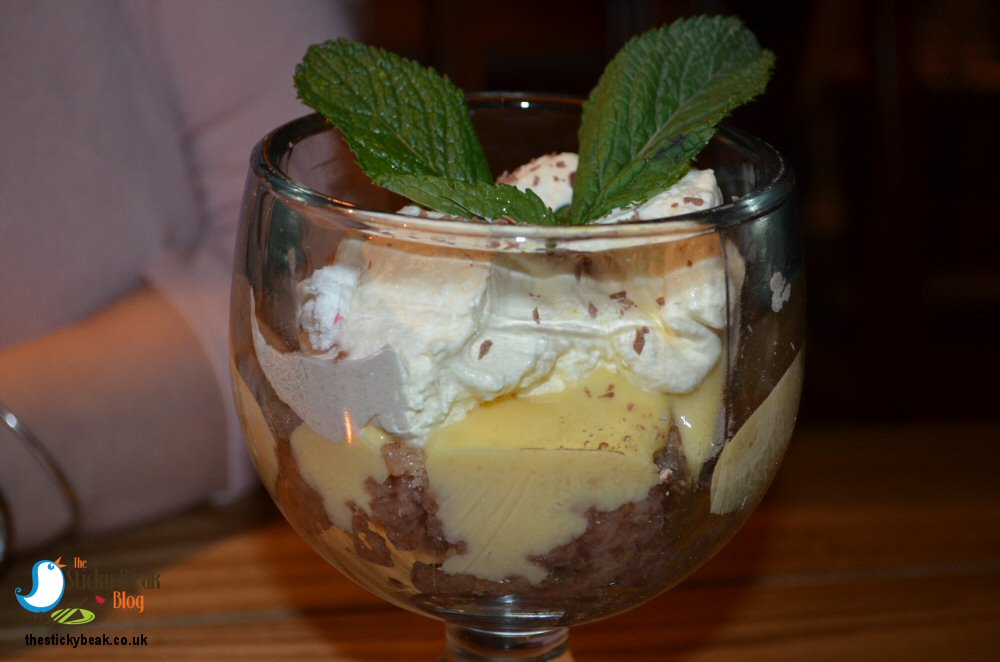 His Nibs' Eton mess was served on a plate, unusually, and you could see the fresh raspberries and Strawberries and pieces of Meringue amongst the whipped Cream. There were also little cubes of Summer Pudding in there too, so it was a lovely fruity, creamy dessert that had the texture and crunch from the Meringue to enjoy. A drizzle of tangy Rosehip Syrup finished it off superbly and left my Man wanting more (except his tummy couldn't have found room for seconds!).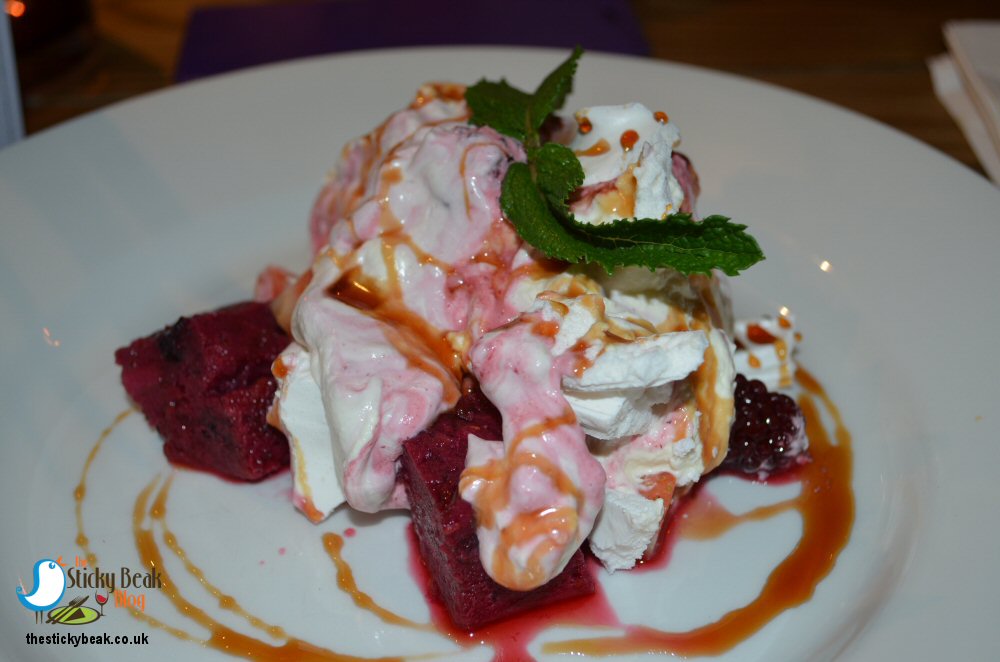 Coffees and Hot Chocolate brought the evening to a pleasant end before we had to make our way home. The fudge squares that came with the hot drinks were rather good, and a lovely surprise at the end of the meal.
There was a steady stream of diners coming in all evening, which for a midweek night was fantastic to see. As far as I could see, there weren't many scraps going back into the kitchen, just lots of empty plates. If you haven't been before up to Castleton, you need to go and have a look for yourself; it is a lovely historic town in its own right with lovely buildings to appreciate, and it is the perfect excuse to go and visit the Castle Hotel for a superb meal too. Hot Wings definitely deserved here :)
Some form of incentive was provided to visit this venue
read more