The Taste of The Kedleston Dinner & Wine Tasting
---
Published On Wednesday 30 Nov 2016 by Sticky Beak
See Recent Dining Out Reviews | See All Recent Reviews


Joe Wood, Kedleston Country Houses new Chef, certainly likes to push things forward and his latest brain child is the wonderfully named "A taste of Kedleston" events, the inaugural one of which we were invited to last week. The venue itself is beautiful, as you will be aware of from previous reviews I have been privileged to write and the Orangery restaurant was very elegantly set out as we were welcomed in and seated.
For this first event the six course menu, designed by Joe and his team, was to have wine pairings for each course supplied by local wine supplier Mr Tim Worth. For those of you who aren't aware, Tim's business is based in Kirk Langley and is well established in the area; and I have to say what a charming gentleman he is with his lively wit and mischievous humour. Mrs Worth was equally lovely, with a quick quip ready to hand and natural beauty; indeed all the guests had bubbly natures and plenty of conversations could be heard around the restaurant.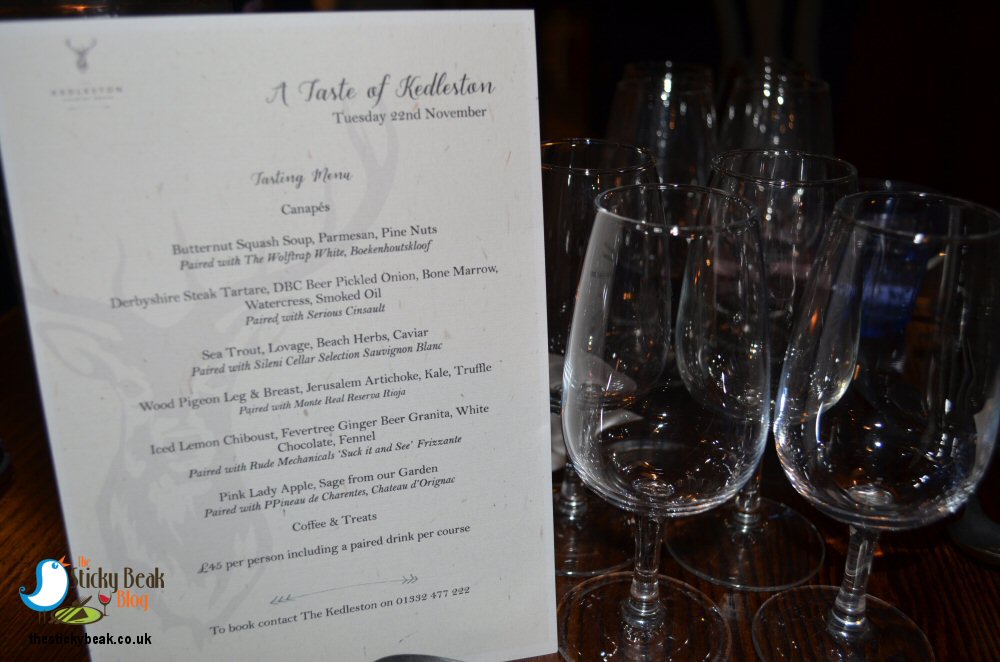 A selection of Canapés started the evening's proceedings and each table was served by extremely smartly attired young ladies and gentlemen, who were all amazing throughout the entire event. Our first canapé was a Pig's Head and Chorizo croquette presented on a bed of hay under a hay-smoke filled cloche; when lifted, this released its aromatic smoke and provided an early dose of "wow factor" to us all.




The croquette had a deliciously complex taste and great texture to it with smoky notes from both the Chorizo and the haze contained in the cloche which infused the dish. Some people will no doubt be wrinkling their nose at this and all I can say is that the beauty of events like this allows you to expand your horizons and gives you the opportunity to try dishes you maybe wouldn't ordinarily try. The taste isn't as "Offaly" as you would think believe it or not and The Man and I really enjoyed it.
Second dish up to bat was a Wheat beer Tapioca crisp onto which was piped hummus, diced Green Olives, Parsley shoots and finely grated Lemon zest; this was light on the tongue and the fresh zippy flavours contrasted well with the previous Canapé. The crisp disintegrated on the tongue like a fluffy cloud in opposition to the substantial, creamy hummus. Texture wise it was very different to the previous Canapé, so our mouths were being kept in a high state of expectation.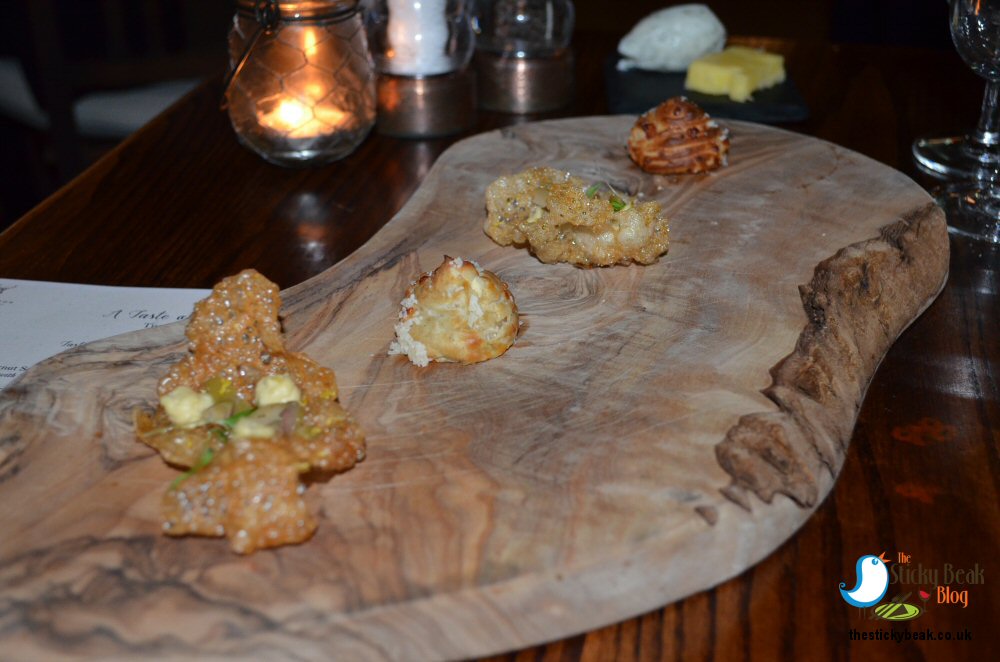 Bringing the Canapé selection to a close was a superb Lincolnshire Poacher cheese puff, piped into a decorative swirl and filled with a wonderful Chive Cream cheese. In just three little delights Joe had managed to send our palates pirouetting with pleasure and leave them in a state of eager anticipation for what lay ahead.
The proficient serving team swiftly placed magic towels on each table and trickled hot water on them so that fingers and mouths could be cleansed. It never fails to please my eye when you see the towels expand, almost magically it seems; I have said it before that sometimes it can be the small things that delight.


Last time the Boy Wonder and I went to Kedleston we had the homemade beer bread which you may recall hit the spot magnificently for us both. It didn't fail to impress this time either and was served with pats of Lincolnshire Poacher butter and a Chive and Smoked Pork dripping, both of which were very nice.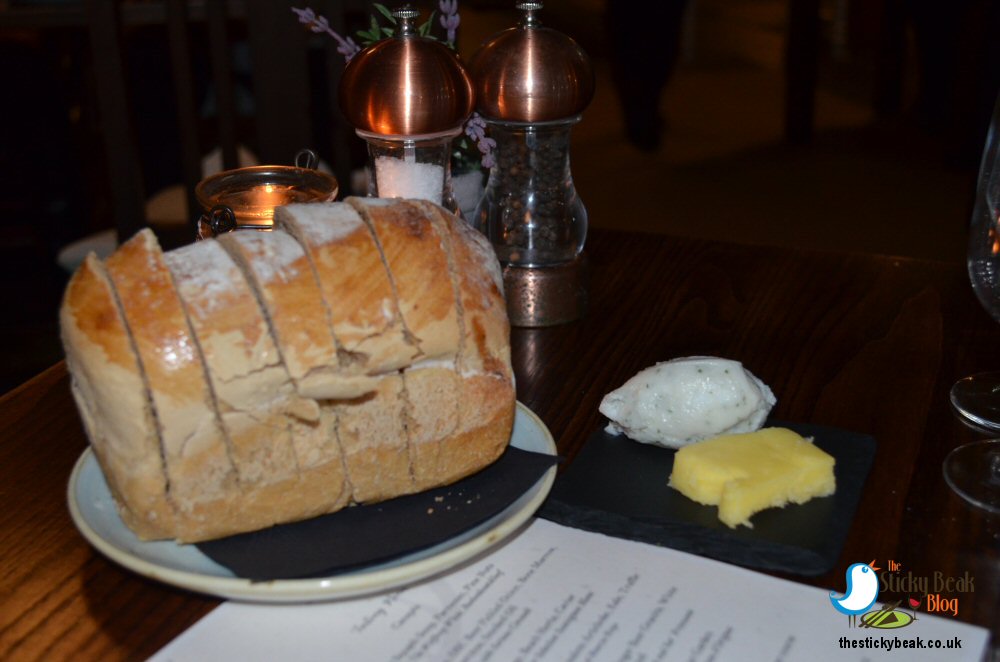 I don't care what anyone says, you can't beat a good thick outer crust to your bread slice; it makes you work hard for that initial bite which gives your palate a nanosecond to process the flavour and texture of the bread. The bread had a lovely medium appearance to it so that you could discern plenty of small air bubbles in it, but it still had plenty of closeness that made it satisfying to chew and savour.
The first course "proper" was a Butternut Squash soup with Parmesan and Pine nuts, eye-catchingly served in hollowed out squash halves arranged on decorative pebbles and paired with The Wolftrap White, Boekenhoutskloof. For me, the soup had a perfect trifecta of sweet flavour from the Squash, pungent/salt from the Parmesan and Balsamic jelly and rich nutty hints courtesy of the Pine Nuts.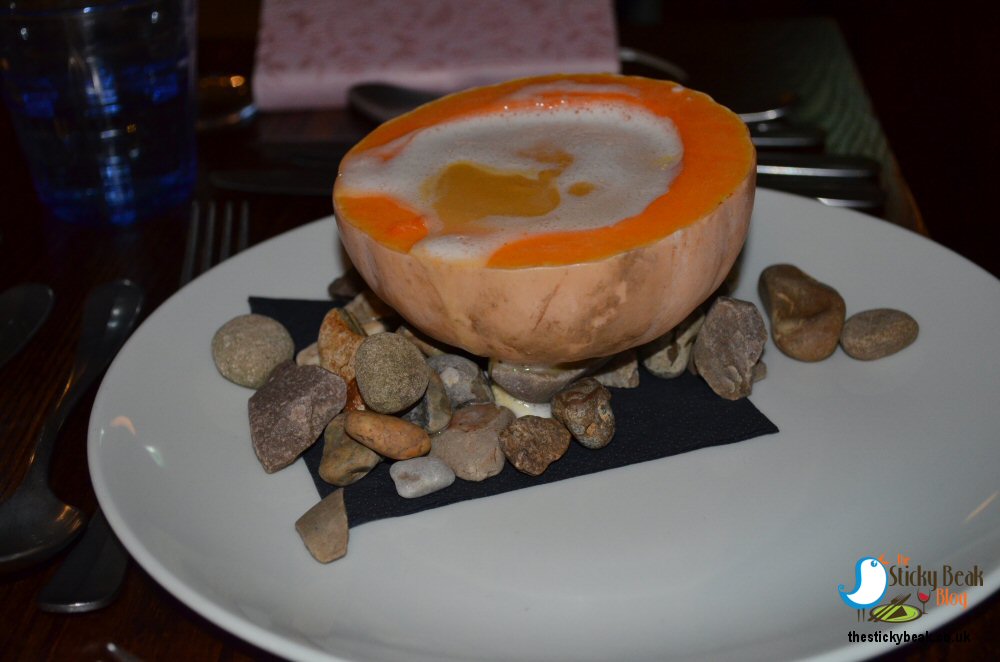 The blended soup also had texture from tiny cubes of Squash and toasted Pine nuts that had been placed at the bottom of the dish for the diner to discover as they tucked in and was finished with Parmesan foam on top. My own dish just had the Parmesan foam tipping over the edge which gave it the appearance of being a mini waterfall from the squash cliffs bubbling onto the beach pebbles; very artful I have to say.
Tim's choice of the South African white wine was excellent; this 13.5%abv beauty was very quaffable, in fact I remarked to His Nibs that this would be great easy drinking in summer on our patio. In my opinion, and Tim did inform us that everyone's perception of a wines taste is slightly different, this was quite a light, rounded wine and would go nicely with simple flavours.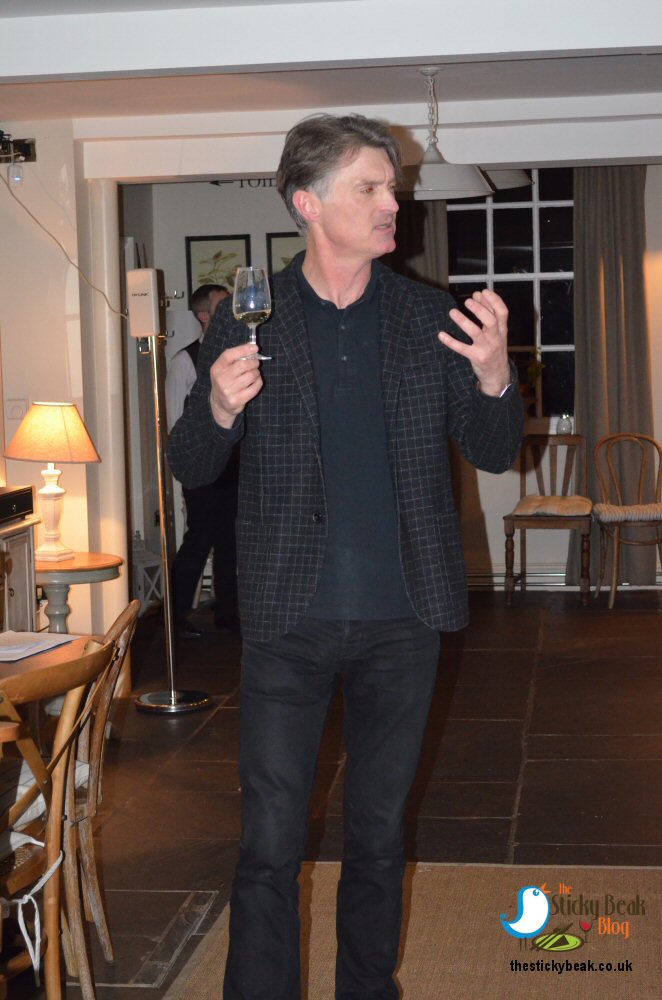 Apparently, the sweetness/dryness of a wine is detected on the tip of our tongues with the acidity detected on the tongues sides at the jaw. Along with facts like these, Tim also told us about the relevant vineyards history and how a winemaker comes up with a name for the wine; an example of this was the second courses wine, called seriously cool (the cool refers to the climate it is produced in).
Our second course was a splendid Derbyshire Beef Tartare (Joe used Bavette Steak) dressed with smoked oil and capers, with a beer reduction, Derbyshire Brewing Company beer pickled Onion, Bone Marrow croquette, Watercress (leaves and emulsion), Caramelised onion puree and beer crisps. Needless to say the beef itself was superb quality and I loved the yeasty flavour of the beer reduction; it reminded me of when I would pilfer some of my Grandma's fresh yeast as she baked her bread in the days when I was a Chick myself :)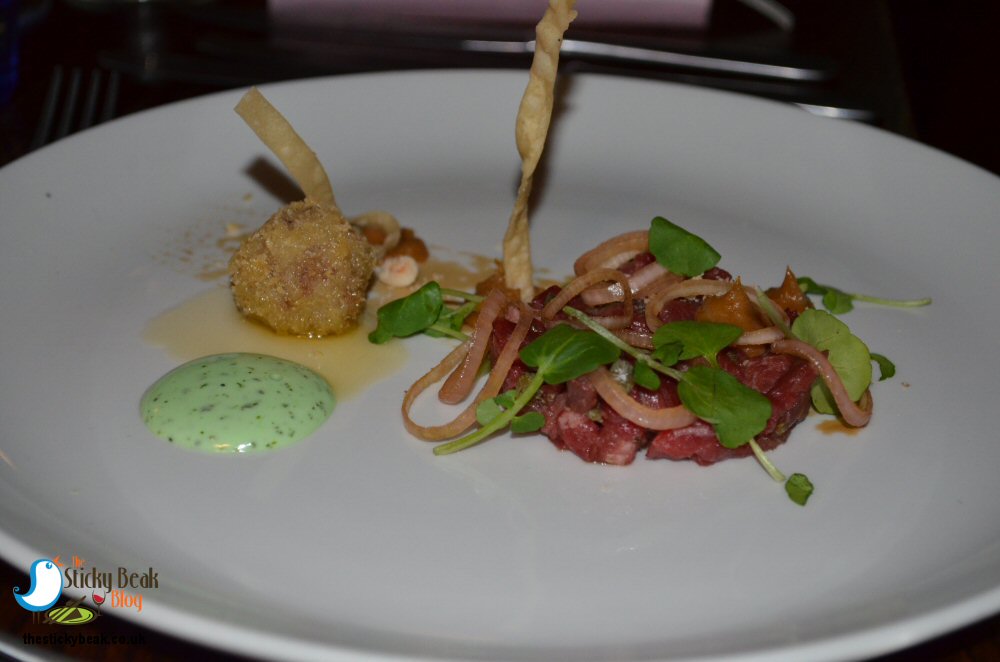 A contrast of flavours was provided brightly by the rich, deep notes of the Caramelised onion puree against the light, zingy Watercress character. The Bone Marrow croquette was a marvel to eat; the crunchy outer yielded to the bite to reveal soft, unctuous marrow bursting with taste and nutritional goodness.
The aforementioned Seriously Cool South African Red was Tim's selection to pair the steak Tartare, and a jolly nice wine it is too. It is 12.5%abv, has a nice acidity to it and I got an explosion of Cherry notes in my mouth with this. It is produced biodynamically, involving all manner of factors including the lunar cycle and an animal horn filled with manure, on top of which the vines are planted! Sounds blooming odd to me, but the result is worth it, and I didn't have to do all the work to produce it, so hey-ho and bottoms up.

Another interesting snippet that Tim told us about is that there are good days and bad days to drink wine on (every day is a good day for me!), again linking in with this biodynamic concept. There is an app for smart phones, apparently, that you can also download if you are so inclined.
Cured Sea Trout with Lovage Mayonnaise, beach herbs and Caviar was our third course, and I have to say that the fish was fabulous; nice firm flesh with a slight sweetness to it that yielded easily when bitten into. There was also some dressed white Crab meat in a mini round, that partnered the mayonnaise and herbs very nicely and of course indulgent Caviar was the figurative icing on the cake. Personally, I love the way caviar "pops" in your mouth and the resultant salty tang you experience, but I can also appreciate why a lot of people feel squeamish about it too.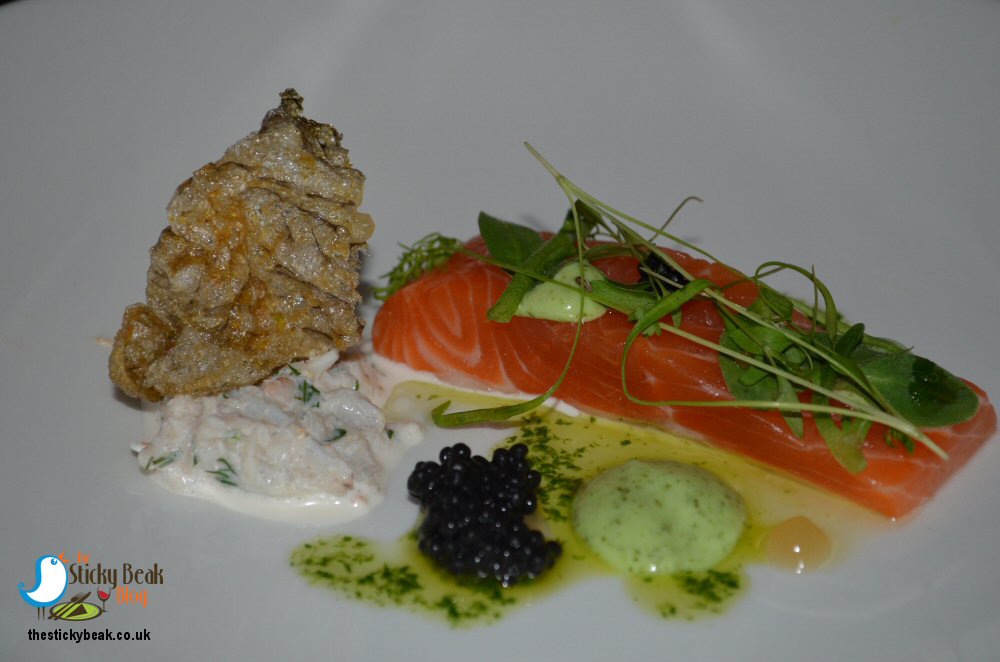 Anyhow, for me it was a really vivid dish and even His Nibs enjoyed the Sea Trout, despite not being a huge fan of fish, because it didn't have the strong flavour that Salmon has. Everything was arranged on the plate carefully to really play up the contrast of colours and textures in this dish and it did look stunning when placed before us.
This course saw one of my favourite wines being poured for us to enjoy; a New Zealand Sauvignon Blanc, and what an absolute blinder it was as the Kiwis would no doubt say. Produced by Sileni Cellar Selection in Hawks Bay on the North Islands East coast this was uncompromisingly direct on the palate in that blunt antipodean style, or as Tim eloquently put it, it was "rapier like" on the tongue. Whatever, it was spot on in my opinion.

Tim rather brilliantly came up with an inspired food-wine combo; Goats Cheese and this little ripper. You Beaut, to coin another phrase from that part of the world! I'm going to make a note of this and next summer I shall indulge in this from the comfort of my patio at home whilst looking out over the fields, just chilling out.
Our fourth course was Wood Pigeon Leg and Breast with Pureed and roasted Jerusalem artichoke, Kale crisps, Cep, lemon oil and Truffled gravy. The breast meat had a wonderfully dense texture and rich, meaty taste to it that was the polar opposite to the leg that had been stuffed with a truffle Pigeon mousse, wrapped in potato strings and fried. I loved the light texture of the mousse, which belied the amount of flavour it had, and the texture given by the crispy potato was superb.




I have mentioned before that I feel the Jerusalem artichoke is undervalued in domestic British kitchens, and its smooth subtle taste allowed the focus to be on the other flavours as it gently brought things together. The Kale crisps were fabulous; their taste had been intensified by being desiccated slightly and the crunch gave a different textural slant to the dish.
A rather cheeky Reserva Rioja from Monte Real had been chosen by Tim as the partner to the Wood Pigeon. Produced in North West Spain, this 14%abv red rascal had a lovely rounded flavour, with more oomph to it to stand up to the gamier taste of the meat. Vanilla notes could be detected on my palate and apparently this is due to this particular wine having been aged in American Oak casks for a minimum of a year.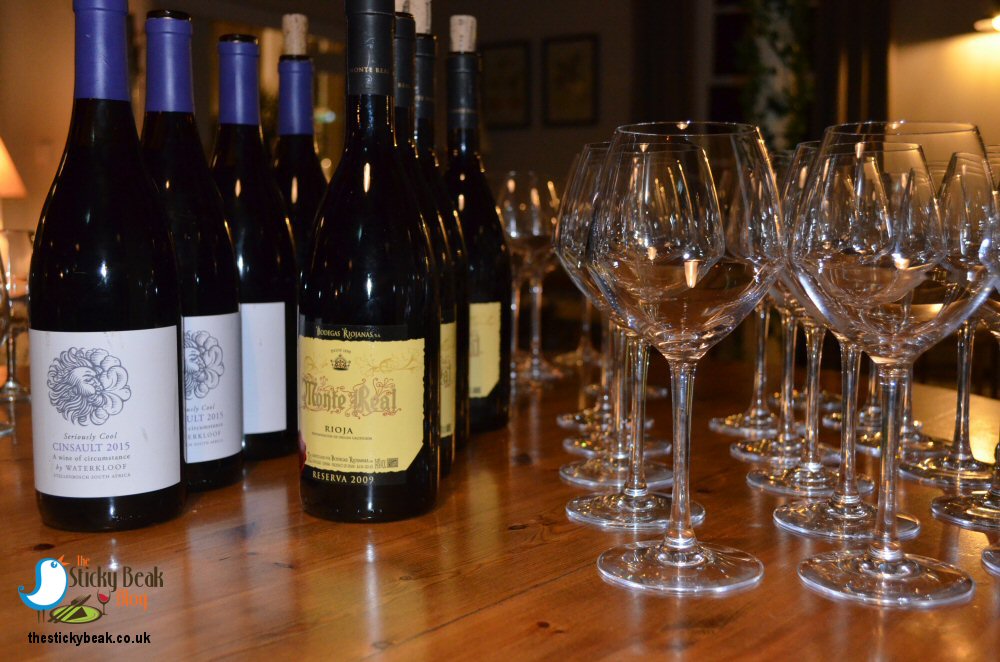 This led nicely into some more interesting wine facts and terminology from Tim. There are different categories of wine, according to their age. A young wine is called "Jovan", a more aged wine being called "Criantha", "Reserva" refers to a wine of at least 3 years of age that has spent a minimum of 1 year in a wood cask and "Grand Reserva" is a very aged wine (again with a minimum 1 year in wood casks). Being aged in French Oak casks imparts a Cedar note to the wine on the palate, and American Oak provides Vanilla notes. I have absolutely no knowledge of wines at all, other than knowing I like them, so I was really interested to have all these facts told to me and best of all Tim had a great way of being informative without any pomposity.


This brought us to the end of the savoury courses and the desserts arrival was heralded with more theatricality. Our servers brought rather innocent looking bowls with fruit slices in and a small jug of liquid; when they poured the liquid into the bowls all manner of alchemical wondrousness happened. The innocuous bowls began to bubble and spew clouds of mist over the entire table; subtle aromas of citrus (lemon and lime) and spice (whole star anise) issued forth to delight the senses and you couldn't help but be carried along by the atmosphere.
The first of the desserts was Joes Iced Lemon Chiboust with Fever Tree Ginger Beer Granita, White Chocolate and Fennel fronds. Sharp, fresh, distinct lemon Chiboust was equalled by the heat and zing of ginger pieces and the ginger beer granita to give a proverbial smack in the mush to the palate.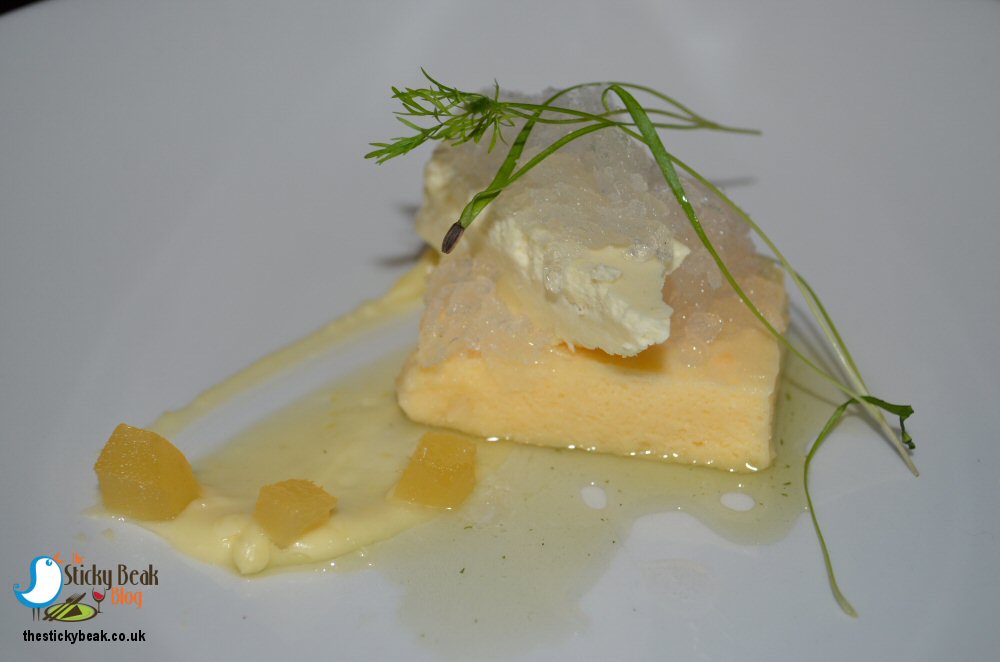 What the Boy Wonder and I really liked was the White Chocolate; it managed to be "chocolatey" enough but without the overt sweetness that you normally associate with this type of chocolate. His Nibs and I had this on our previous visit to Kedleston Country House and it was every bit as good as we remembered it to be. The slightly Aniseed taste of the Fennel married gorgeously with the Lemon to perk the palate up too.
Rude Mechanicals' imaginatively named white frizzante "Suck it and See" was the liquid choice to partner the Chiboust. Normally the Barossa region of Australia produces bolshie, full on red wines so this sweet, light white is the complete antithesis of what you would expect from the region. No doubt that's why it is called "Suck it and See", being a bit of a black sheep "let's give it a bash and see what happens" project.

Surprisingly it only has an abv of 7%; Tim told us that his in house joke is that wines of less than 11%abv are referred to as "breakfast wines", so maybe this could be called flavoured water? It had a lively, floral-esque touch on the palate, that was too sweet for my own personal taste but I could appreciate that it paired very nicely with this course.
Our sixth and final course was a superb duo of Pink Lady Apples and Sage from Kedlestons own garden. The apple slices had been poached with Thyme and pink peppercorns and were topped with a thin layer of caramelised sugar and almonds. Crème anglaise, apple puree, raw apple dots, apple skin jelly and almond puree were arranged in dabs, ribbons and smudges to decorate the plate and tempt the palate.




An iced Sage parfait rolled in caramelised breadcrumbs was topped with a pink peppercorn pulled sugar confection, and all together the dessert plate just looked divine. A multitude of tastes and textures were showcased in a beautiful harmony with this dessert; the effect was light and clean in the mouth and we all know that apple and sage work well together anyway, paired commonly as they are with Pork.
I was curious to see what wine Tim would have selected for this course, and he had plumped for a Pineau de Charentes from the Chateau d'Orignac in the heart of the French Cognac region. It gave a warmth in the belly as you sipped it because, as Tim revealed, it contains one third Cognac in its blend (the other two thirds being from Cabernet and Sauvignon grape varieties), which also gives it an above average abv of 18%.

This could be paired most successfully with any fruit based dessert as well being able to stand alone as an aperitif. Again, I am not a fan of Cognac so this wasn't my favourite tipple of the evening, but nonetheless I could appreciate its quality. The Man Bird, however, rather likes a Cognac after dinner occasionally, so he was more smitten than I was with this.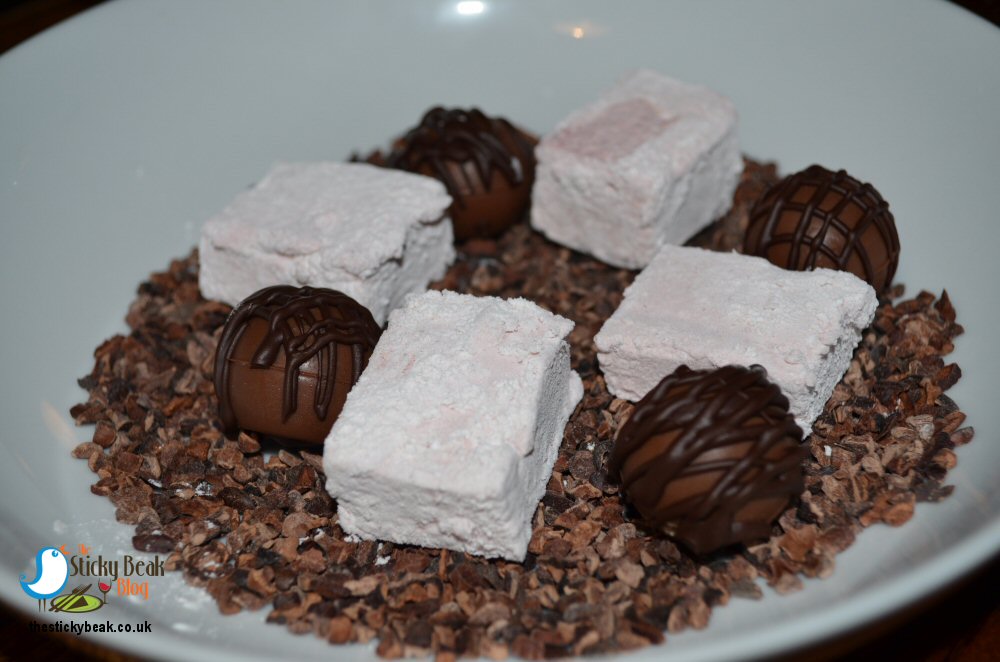 For the evening's finale there was what was wonderfully described on the menu as Coffee and Treats, and what treats they were. The lightest of Black Cherry marshmallows just danced on the tongue for the briefest of touches before dissolving, leaving behind the memory of something marvellous, and divine Spiced Salted Caramels left you wanting more. A nice robust coffee partnered these delights really well for His Nibs and me, although you could have tea if you preferred.
Singularly, without fail, every dish had been wonderfully executed and skilfully arranged on the plate for maximum impact. To achieve this you need to have a team that works well together in synchronicity and understands their individual roles; safe to say that Joe and his skilled team have got their rhythm sorted out :) Where possible Joe likes to source his produce locally, both meat and vegetables, and I think it is important for local businesses to support each other this way. It also means that when we choose to dine out locally we really are keeping the money in our local economy, which benefits us all long term.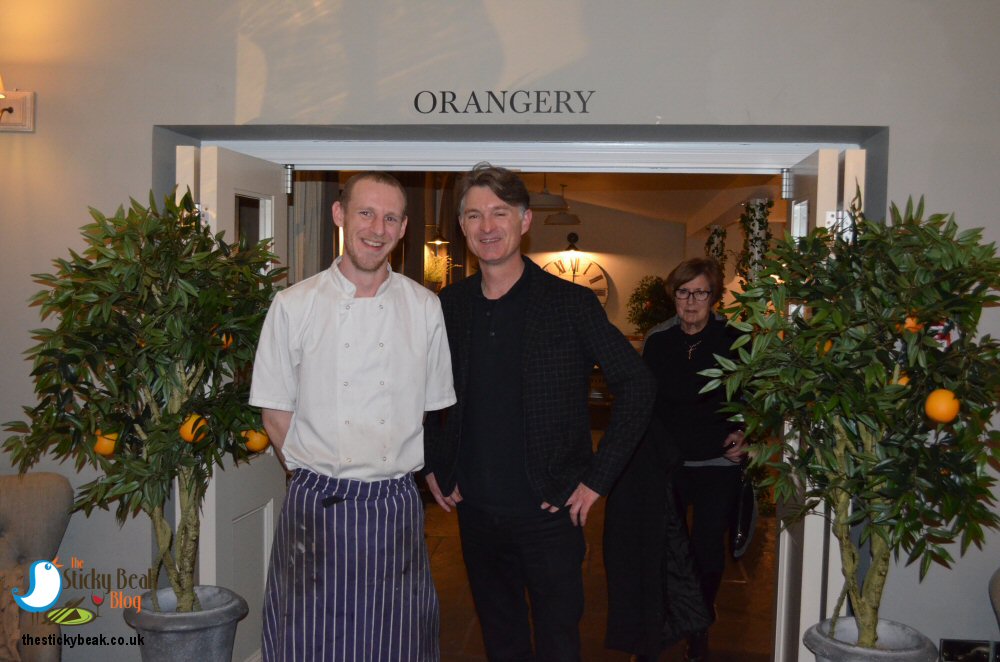 All too soon the Taste of Kedleston evening was over, and what a fantastic evening it had been. Murmurs of appreciation were heard around the room and a suggestion of how lovely it would be to tell Joe in person how much we had enjoyed it all began to garner support. Now I'm sure Joe would be the first to agree with me that his passion lies firmly in the kitchen; being in the spotlight with his "fans" takes him out of his comfort zone. However, we were all insistent and eventually Joe succumbed to our persistent badgering and listened to praise as it was offered at each table. The Boy Wonder even managed to get a photo of him! Smiling no less!
It was only as we stood up to leave the table that we really noticed just how much food we had consumed. There is a common perception that you only have small portions and so you don't really feel satiated. All I can say is that there is a lot of protein consumes over the meat and fish courses which the body finds very filling; factor in the cream and/or wine in some sauces and this further fills you up. The desserts also have a lot of biologically satisfying ingredients in them, so when you combine all six courses your body will be telling you that it is jolly happy and supper will not be required that evening. So please remember to ring a good amount of hunger and tummy rumbling with you on this event.


The next event is planned for the 17th January 2017 and will feature a menu matched to a selection of great beers so for further details and how to book either visit the Kedleston Country House website or give them a ring on 01332 477 222.

The menu will be changing continually due to seasonal influences and supply availability of meat, fish and poultry. The price for our event was £45 per person including the wine for each course, but again this may change from event to event and I advise you to check out the price directly from the Kedleston team themselves. Needless to say, Joe and his team have gained another very well deserved pair of Hot Wings :)
Some form of incentive was provided to visit this venue
read more