Dinner At The Queens Head In Ockbrook
---
Published On Wednesday 23 Nov 2016 by Sticky Beak
See Recent Dining Out Reviews | See All Recent Reviews


You may recall dear reader that the Boy Wonder and I went to the Queens Head at Ockbrook a couple of weeks ago for their grand opening after an extensive refurbishment.
As we walked through the door we were given a lovely warm welcome which was sorely needed after a "challenging" journey there, thanks to the abysmal weather. There were subtle Christmas decorations and wreaths adorning lights and tables, but nothing too gaudy that would overshadow this lovely village pubs character.
We sat at a table in the bottom section with its lovely metal cage lights and low barn type beams and had a look through the menu.

They have a really easy system at the Queens Head for ordering your food; you simply find a table, note its number, select your food choice and wander up to the bar to place your order. Easy peasy, lemon squeezy; just the way I like things.




Actually, one of the benefits to doing things this way means that you can take as much time as you like to decide on what you want, and trust me, with the amount of choice on the menu, making a decision isn't that simple.

Eventually, the two of us had selected our starters and mains so The Man Bird tootled off to let the team know what we fancied, bringing back a lovely glass of New Zealand Sauvignon blanc for me and a pint of Peroni for him.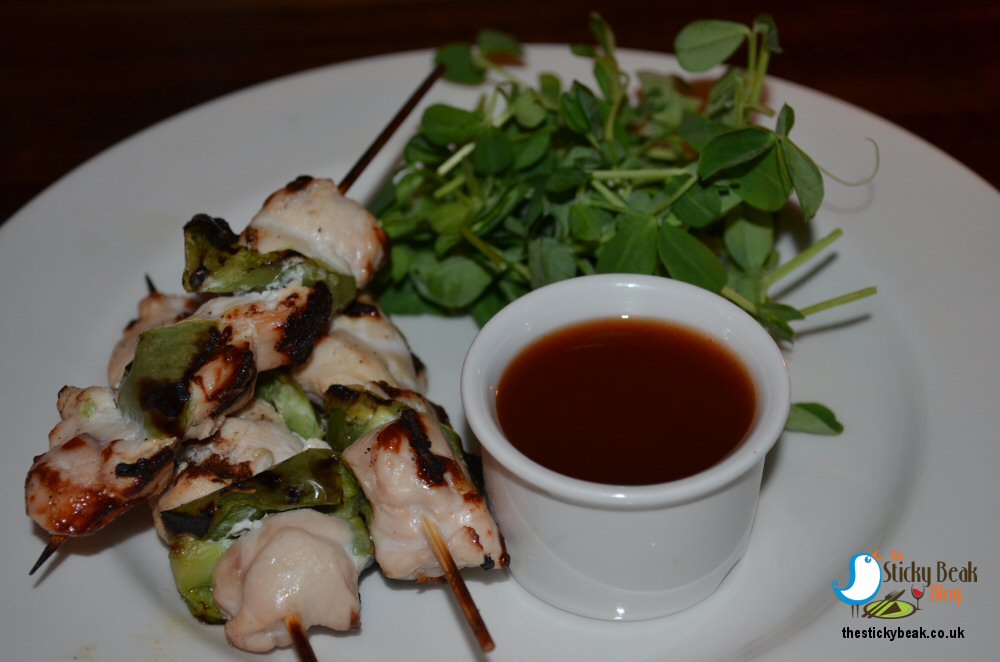 Sweet Chilli Chicken and Pepper skewers were what His Nibs chose to kick things off with and I had the Grilled Halloumi with roasted Carrots and Vine roasted Tomatoes. The boy Wonder said that the chicken breast meat chunks on his skewer were lovely and moist and the peppers had a fantastic Chargrilled taste to them.

He thought that having the zingy sweet Chilli dip in a separate pot was a good idea, simply because it let him control how much heat he wanted from the dish.


My Halloumi was delicious; nicely grilled to enhance that lovely salty flavour it has, which in turn contrasted very nicely against the sweet roasted Carrot wedges. The Tomatoes had a great robust flavour thanks to the roasting which concentrates their natural taste, and there was some lovely crunch and texture provided courtesy of pea shoots and mixed lettuce dressed with Rocket Pesto.
A very personable young lady called Becca came to ask how we were enjoying our starters and later came to take our plates away. Dave (one half of Dave and Julia aka "The Dynamic Duo" as I have nick-named them) came over to say hello and we were talking about the weather , well we are British, after all!
For the main courses, we were both in the market for some good honest pub grub to warm our bellies, so I had the Beef long-bone Rib that is initially slow cooked, then brushed with BBQ sauce and grilled, and this comes with vine roasted Tomatoes, sautéed Mushrooms and chips. I also fancied the super food side salad as an accompaniment.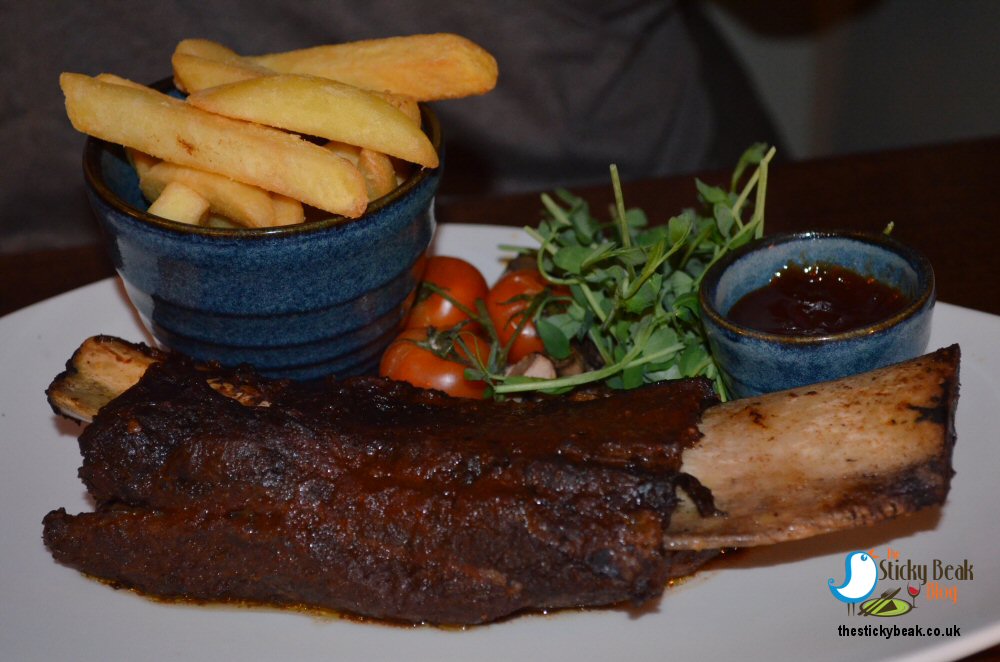 The Boy Wonder opted to have the open Chicken Pie; Chicken breast pieces and butter beans in a creamy smoked Applewood cheese and bacon sauce crowned with puff pastry and served with seasonal veggies, buttery mash and red wine gravy.
They were both hearty portions, especially my beef which I think really came from a Tyrannosaurus Rex, not a cow, as it was massive! Pleasingly, both meals were lovely and hot too and His Nibs' vegetables were cooked to retain a hint of their natural crunch.

The pie had fab chunks of meat in it and plenty of beans, both covered in a marvellous cheese sauce that lingered on the tongue. Gorgeous light, flaky puff pastry was the cherry on top of this flavoursome pie, and satisfying portions of the buttery mash and vegetables meant that this dish could tame the biggest appetite. In The Mans words "this is a fine example of honest comfort food done to a high standard".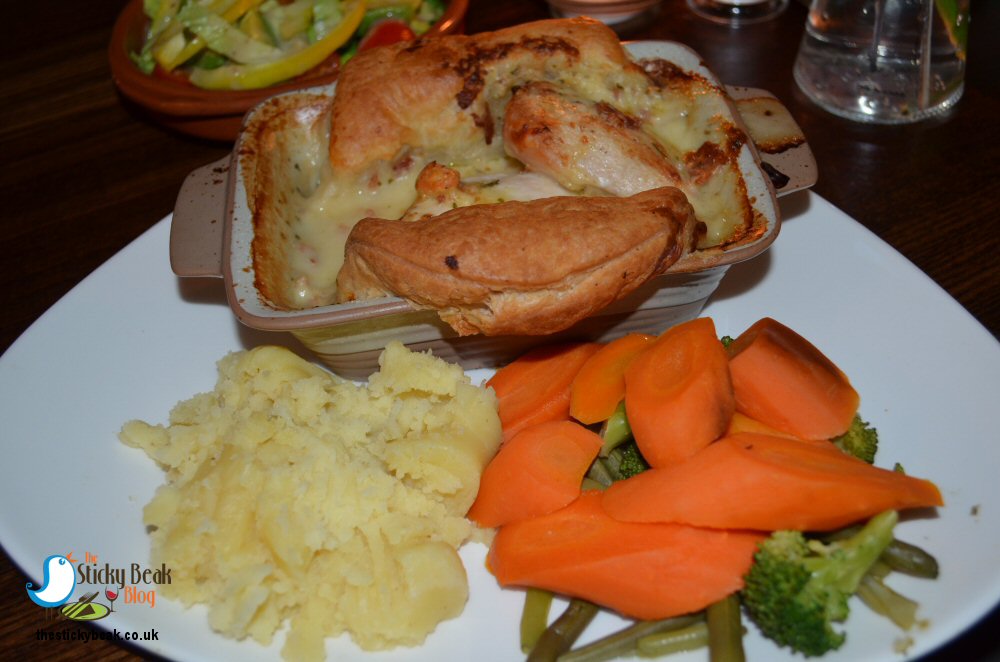 My rib meat was falling off the bone it was so tender, and it had a great, hearty flavour to it too. The tomatoes and mushrooms were delicious and there were plenty of them on the plate; I was very happy to have further BBQ sauce on the side in a little pot, so that I could help myself to more if I wanted. The chips weren't homemade, skin-on affairs but they were lovely and crisp on the outside and fluffy inside, and had plenty of taste to them.
The super food salad had Soya beans and Avocado in, as well as Peppers, Cucumber and mixed leaves in a lovely dressing. It was nice and light, with plenty of texture that contrasted superbly with the rich meat taste.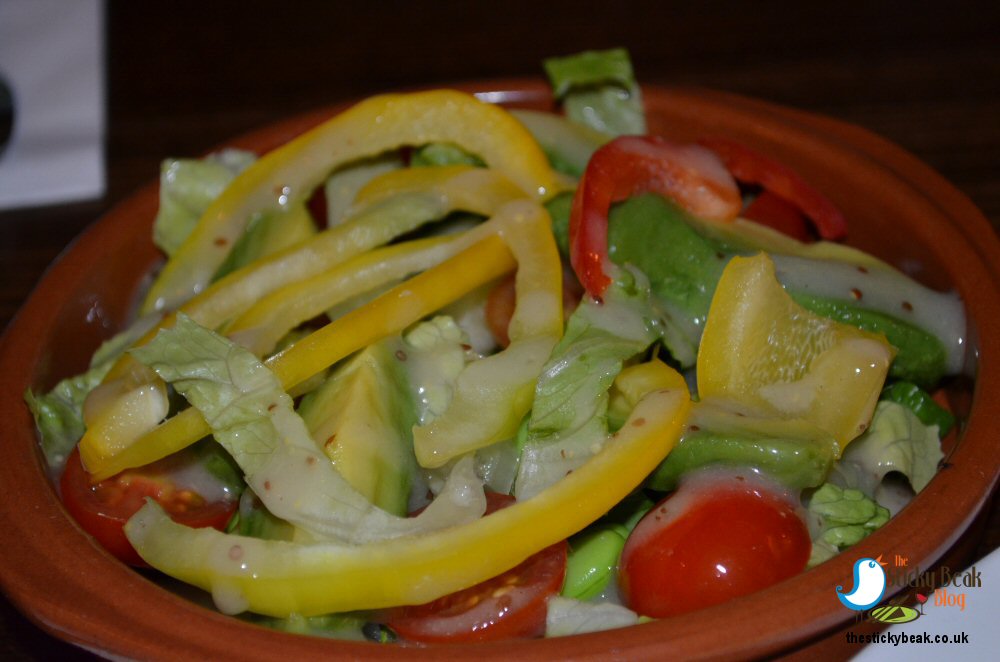 Becca had again come over to check that everything was to our satisfaction with our meals, which it was, before she cleared our empty plates away. We gave ourselves a bit of a breather before deciding to have pudding; I chose the Cookie Cup Explosion and Him Indoors had the Salted Caramel Cookie Sundae.
Now I know in the past I have expressed my desire to have a DeLorean to let me travel back in time, but something even stranger happened at the table. My very manly Man bird suddenly transformed into the iconic Kate Bush! No word of a lie dear reader, all he could say about his Sundae was "wow, wow, wow!"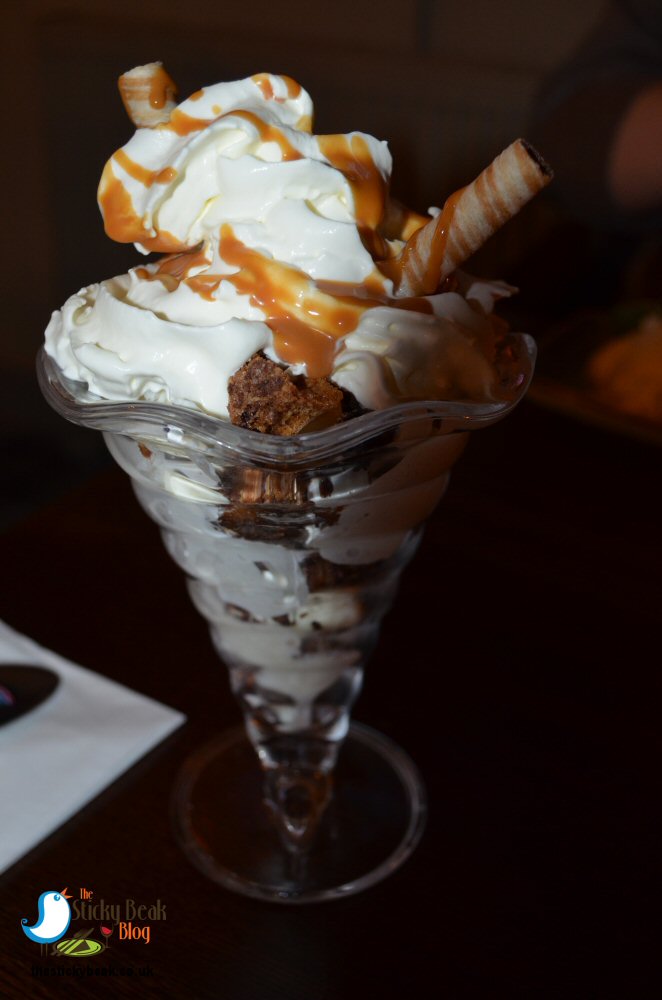 From where I was sitting it did look pretty amazing; Chocolate torte, crumbled Cookie Cup Explosion pieces and vanilla Ice Cream in layers, all drizzled with Salted Caramel sauce then smothered with a layer of Cream and decorated with wafer straws. The Sundae glass was very stylish too, and the whole thing really did look beautiful.
My Cookie Cup Explosion is a fab little temptation consisting of a dense biscuit base filled with Chocolate Brownie, mini Marshmallows and Chocolate Honeycomb pieces. As if that wasn't enough it is all drizzled with more Chocolate and served with Ice Cream (although I asked if I could swap for Cream). I had a fork and spoon for this pud, but it was so deep I couldn't cut through it in one go! How fab is that? Chocoholic paradise it most certainly was :)


Every week night has its own offer, including 2 meals for £11.49 from a selected menu Mon-Fri all day, 25% off food all day on Tuesdays for the over 65s and Fizz Fridays. Oh, and on Sundays you can have the day off and indulge in a Sunday roast with all the trimmings :). The Queens Head prides itself on being family friendly; you just need to aware that due to licensing constraints Children may only be on the premises up until 9pm. To be honest though, most children would be in bed by then and, really, do you want them eating too late and risk them having upset tummies and indigestion?
Fine dining with silver table service the Queens Head isn't, and nor is it wanting to be, but if you want good quality food at a good price in lovely clean premises then this is your kind of place. The Boy Wonder and I had a very pleasant evening at the Queens Head in Ockbrook and we're sure that you will too. Hot Wings to Dave, Julia and their lovely team :)
Some form of incentive was provided to visit this venue
read more