New Menu At The Pitcher & Piano, Derby
---
Published On Saturday 19 Nov 2016 by Sticky Beak
See Recent Dining Out Reviews | See All Recent Reviews


The Man and I had been invited to try out the new additions to Pitcher and Pianos menu at their Derby premises, and it was our first visit there since the departure of Handsome Harry. There were a few people already in taking advantage of the calm post-work midweek atmosphere and conversation seemed to be flowing nicely.
We were told to ask for Jess upon arrival, which we duly did, and she is a very lovely, bubbly young lady it must be said. Our usual table had been reserved for us and we immediately felt at home as we ordered a glass of Chardonnay for me and a pint of Heineken for him.
Several new additions to the menu in the starters section caught our eye, not least the Satay Cod, Bacon and Sausage rolls and crispy Whitebait. In the end however, I opted for the Chicken thighs coated in Chilli and Caramel whilst His Nibs had the Spicy Meatballs with Basil, Parmesan and spicy Tomato sauce.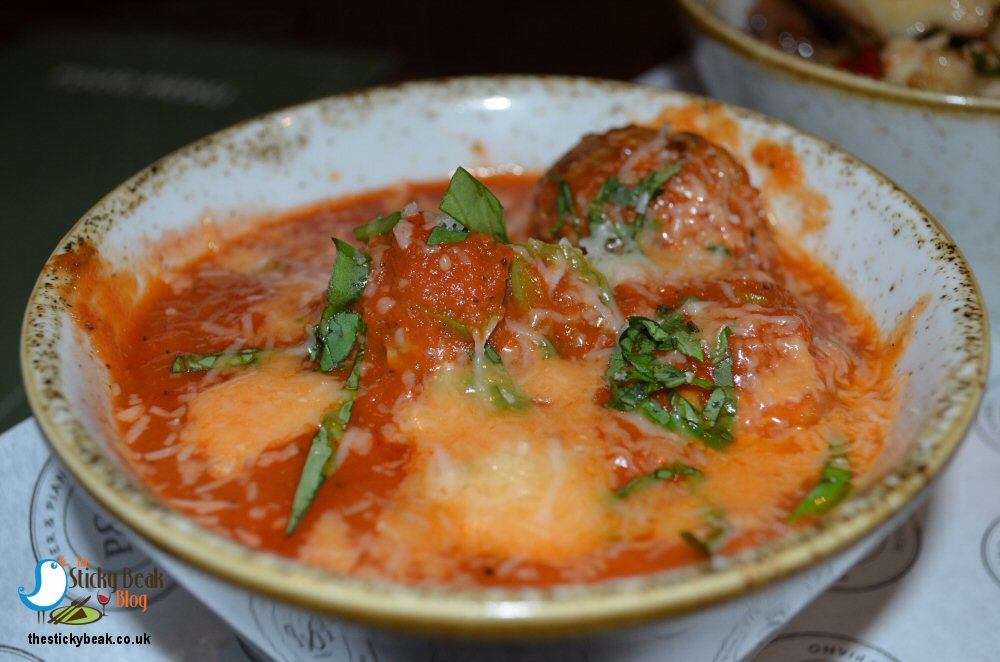 The Meatballs were a good size, well seasoned and there was plenty for a starter portion; a sauce for meatballs needs to be a substantial affair and this one certainly was. Not only was the sauce nice and thick but it had a very pleasing punch to it that made it exciting on the taste buds without making the tongue tingle.
My own Chicken thighs were very nice; they still had their skin on to keep them moist and juicy, but they were boneless so any faffing about was minimized. The glaze was nice and sticky, finger lickingly so, and there was plenty of chicken to chomp at, so plus points all round :)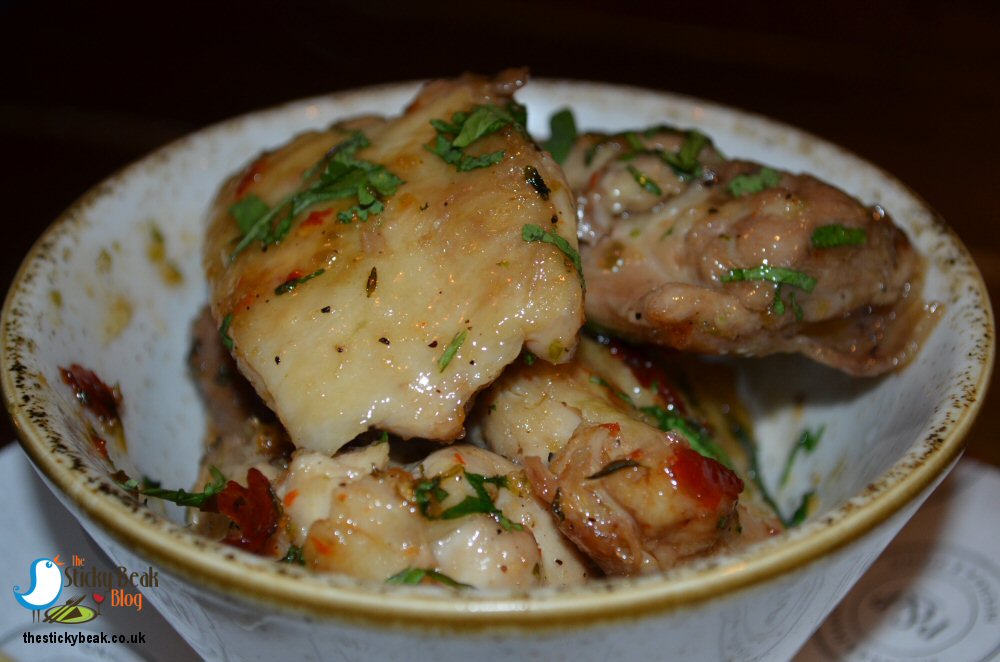 The new menu features a sharers section too and there are some great choices on there, ranging from Nachos through to a multi item smorgasbord. As always, the food was nicely presented and lovely and hot, just as it should be. Although we weren't having them for dinner, we did notice that there is an extensive selection of sandwiches and salads to choose from on the new menu, replacing the flatbreads.

The mains section captured our interest with its range of choice, including for the first time, a pie (Braised beef and Cheddar), but The Boy Wonder decided he wanted to try the Ginger Ale glazed Ham Hock with Spring onion and Cabbage mash and buttered Chantenay Carrots and Greens. I don't think I've ever had one of the Pitcher and Piano burgers so I decided it was high time to do so, selecting the Glazed Beef variety which comprises a 6oz beef patty, glazed beef, flat Mushroom, crispy Onion, melted cheese, little gem Lettuce and truffle mayo all served in Brioche bun and accompanied by Sea Salt and Rosemary skinny fries and Beetroot and Apple 'slaw.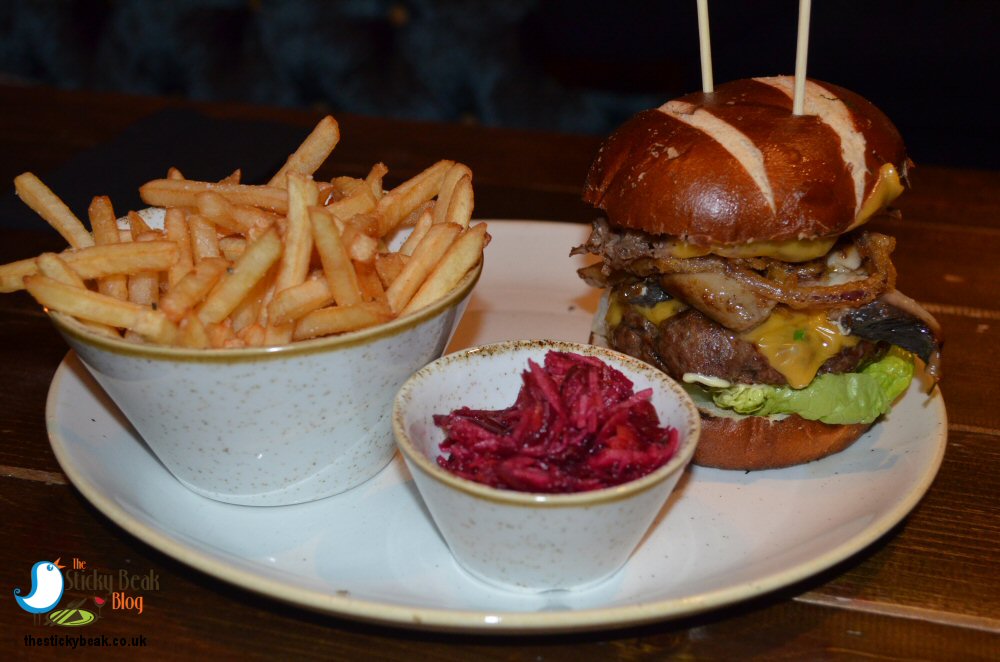 My burger was a proper belly buster and jam packed full of flavour; the patty was lovely and juicy and all the other components were in a nice balance with each other. I totally enjoyed every mouthful of my burger and the fries were fab too; nice crisp outers and you got a great taste of the Rosemary coming through.

As you know, I love Beetroot, there's something about its deep, earthy taste that resonates with me and the combination of this great vegetable with sharp but sweet Apple was a winner in the Coleslaw stakes.
I really wish I'd got a photo of The Man birds face when Jess served the Ham Hock to him, it was priceless! Honest to goodness, no word of a lie dear reader, the Ham Hock was enormous; I think it was originally meant to feed the Derby County football squad, it was huge!




The Pitcher and Piano chef can cook that is for sure; despite its size, the ham was beautifully moist, not dry at all, and the bone just pulled clean out. He said that you could really taste the ginger ale glaze and that it gave it a sweet sticky edge. All the vegetables were cooked perfectly and not overly buttered as to be drowned, but rather just to give them that lovely rich hint.

His Nibs had also ordered a portion of Sweet Potato fries on the side and again these were pleasingly crunchy on the outside with that great sweetness that they have. Jess was happy to hear that we'd enjoyed our mains as much as the starters and asked if we wanted any pudding.
After a little while we ordered the Black Forest Trifle for yours truly and the Honeycomb and Toffee Cheesecake for The Man. I can't tell you the last time I had Trifle but I just really fancied it for some reason. When it came it was served in a tall sundae glass which I wasn't expecting at all, but it looked really beautiful presented this way.

Layers of Black Cherry compote were swirled with vanilla ice cream and chunks of rich Chocolate Brownie had been interspersed with this to make it visually interesting. Vanilla cream and chocolate dust topped it all off and when I dug my spoon in and got a mouthful of all the ingredients it was one of those heavenly moments that make your soul smile.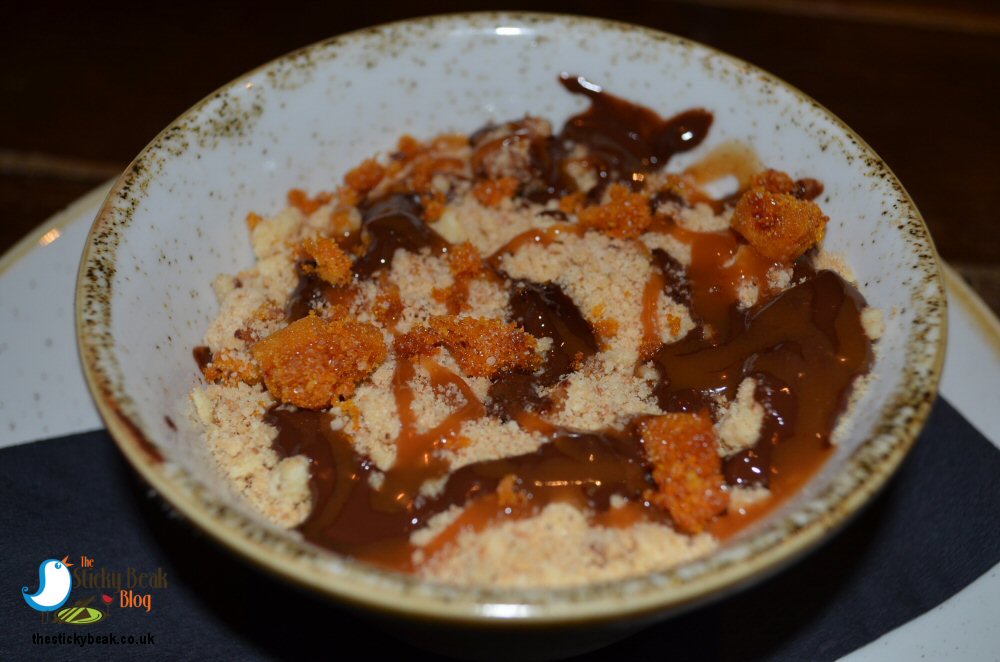 Judging by the grin on His Nibs' mush the cheesecake was hitting the spot just nicely too; it had also been cleverly presented and was almost an "upside down "interpretation of this dessert. The rich Vanilla and Mascarpone cream was in a generous layer on the bottom and had been topped with a Honeycomb and White chocolate crumb and then drizzled with toffee and chocolate sauces to create a totally decadent dessert. Both of us sat at the table patting our (not so) little bellies in satisfaction with contented smiles on our faces.


We finished things off with a lovely coffee from Illy, the brand that Pitcher and Piano use in their establishments, ruminating over what a great evening we'd had yet again with these guys. We weren't alone dining either, there had been a steady flow of customers in all evening, and it's not hard to see why it's popular with Derby residents; good food, good service, good atmosphere. Hot Wings awarded here again, well done team P&P Derby :)
Some form of incentive was provided to visit this venue
read more