Dinner At The Mansion Restaurant & Wine Bar, Derby
---
Published On Sunday 6 Nov 2016 by Sticky Beak
See Recent Dining Out Reviews | See All Recent Reviews


My little feet haven't touched the ground since we got back from our Flock holiday, and I must admit, I do like to keep busy at our Counties great establishments.

This time we were making our way to Mansion, Derby, who were runners up in the best bar and best customer service categories at the Derby food and drink awards earlier this year (2016). As you walk in the door you can appreciate the huge bar area complete with its stools and open banquette booths, and there was already a lively buzz from here when we walked in, which steadily increased through the evening.
The dining section was very sleek and stylish with its dark wood floors and matching tables; the tables looked fantastic with their dramatic black runners and red napkins bound by black beaded holders. I was impressed by the quality of the glassware too, no flimsy versions here, they were proper weighty affairs.




Lovely ceiling mounted, circular , multi-layered crystal lights threw a spectacular array of twinkling reflections across the room to provide flattering illumination for diners; after all us ladies don't like harsh unforgiving lights do we ?
As you would expect from an award short-listed bar and restaurant, the restaurant offers an extensive wine and beer selection. I particularly liked the pairing suggestions at the bottom of each wine description; very handy if you're not particularly confident or au fait with wines.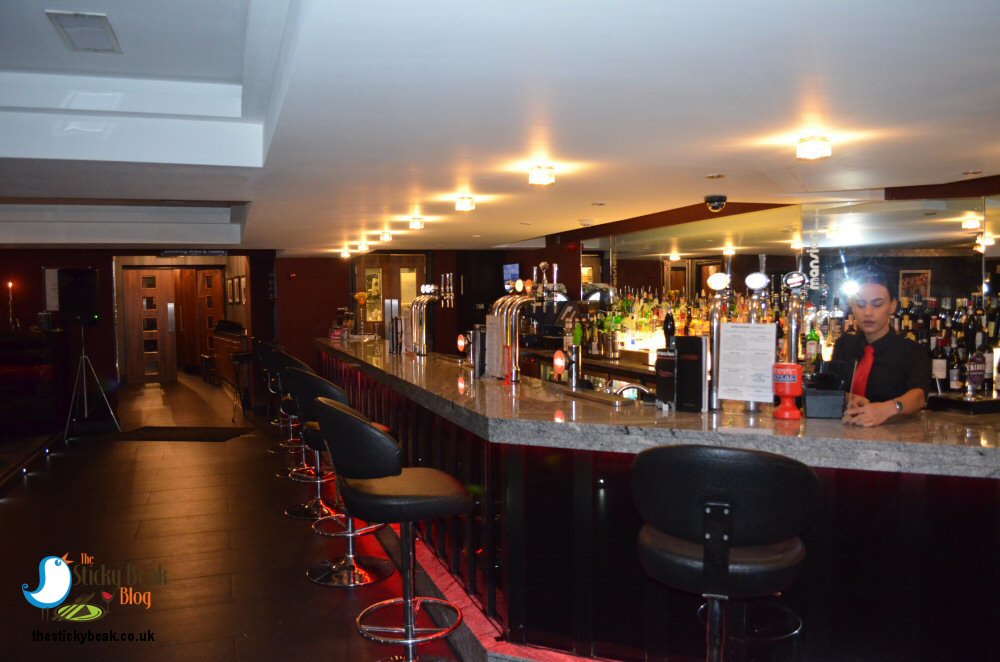 Our lovely server soon brought over my glass of Argentinean Malbec and a pint of Peroni for His Nibs. We also took the opportunity to place our orders for starters and main courses; Home cured Sea Trout and Saddle of Abbey farm Lamb for me, "Cockie Leekie" Terrine and Fillet of pasture fed Derbyshire Beef for The Man Bird.
The presentation of the starters was exquisite, some of the nicest I've admired for a while.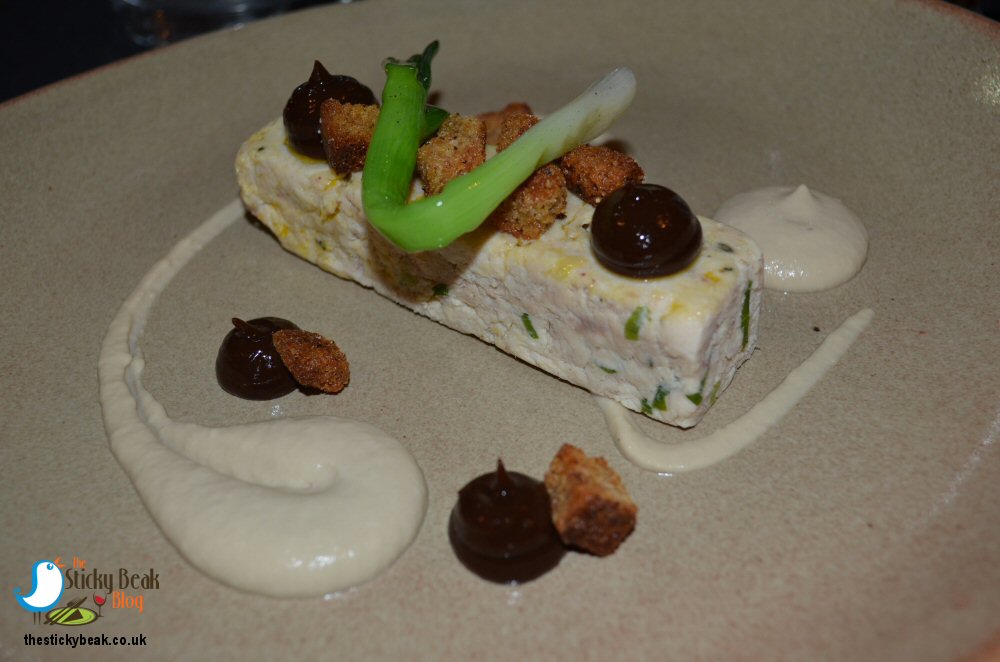 The Boy Wonder said that his Terrine was very well seasoned with a nice meaty taste to it and the Griotte onion gave it a nice texture. Prune puree added a rich, sweet note to the dish and further crunch was provided by the Sour Dough croutons.

My own Sea trout was marvellous with its lively taste and dense flesh and the Cream cheese and Cucumber Cannelloni paired superbly with it. The cucumber ketchup was exactly as you would expect; ketchup consistency with the taste of cucumber, lovely.




There was a light sprinkling of pale coral-hued fish roe on the Sea Trout too that provided a lovely salty tang on the palate. Our server came to check that everything was to our liking, and went away happy with our positive response.
When our main courses were brought out to us, we again marvelled at the presentation. The Man Bird was impressed with the tenderness of his beef; it literally didn't need any cutting through and just fell apart on the tongue.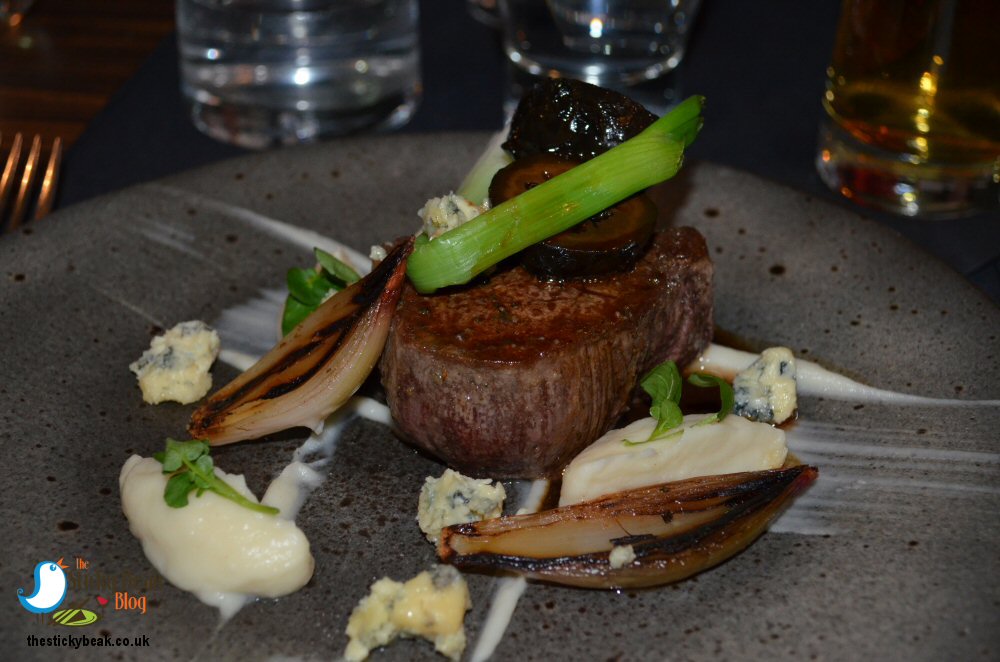 It had a great full on flavour, reflecting the quality of the life the animal had led. His favourite element of the dish though was the Ox Cheek hot pot with its full on, smack-you-in-the-mush flavour paired with a thinly sliced potato top.

So taken was he with this that he could quite cheerfully have eaten a large bowl of this by itself, and actually when I tasted it I could imagine this making a great lunchtime dish simply paired with some fresh warm bread.

I also got passed his Pickled Walnuts and they were lovely and soft with a great tang from the pickling vinegar. The Celeriac puree went down well and he said that there was just the right amount of Colston Basset Stilton in the dish for it to be appreciated without drowning the other flavours out.


The Abbey Farm Lamb saddle was beautiful, succulent and very packed with taste, and I also liked the crispy belly round with its deeper flavour. Violet Potato discs gave the dish a shot of colour as well as tasting lovely and I also liked the Jerusalem artichoke.
For meat eaters this would be your idea of paradise as the portions were generous and the quality was second to none.

I personally like a few more vegetables along with my meat and I think some Carrot and maybe Mange Tout could've given extra textural interest to the dish. However, this is only my personal opinion and is in no way a criticism, and really doesn't detract from the dish overall, as it was rather fine as it was.

Again our server came to check we were satisfied with our choices and we assured her that we were.
Both the Boy Wonder and I could've eaten every single choice on the dessert section; there is a marvellous selection with literally something for every taste.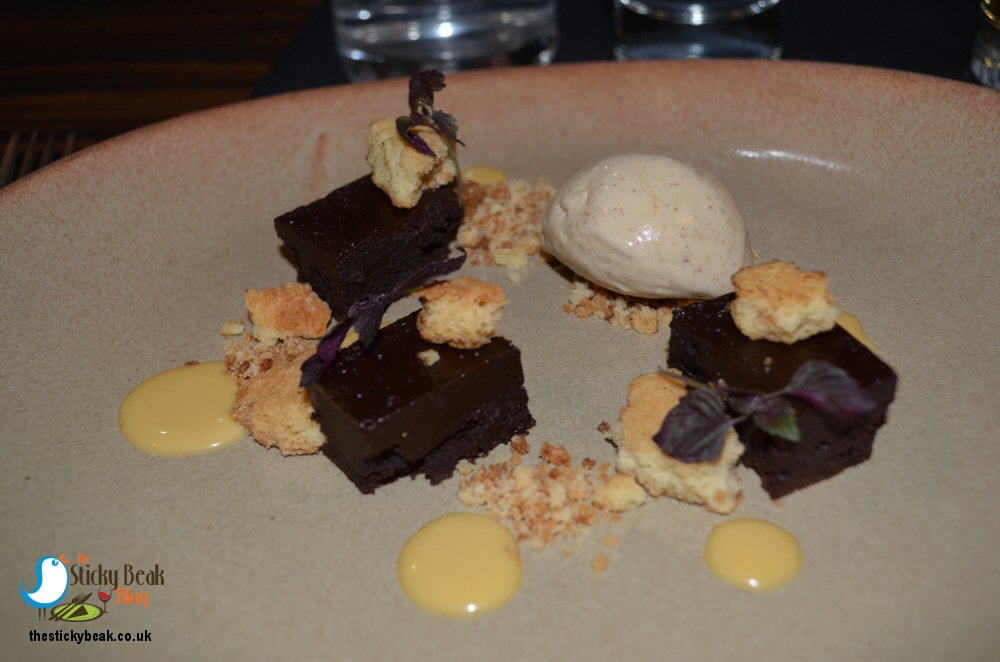 After much deliberation we settled on the 70% Chocolate Torte and, after our server apologised for the Apple Tart fine being off the menu that evening, I plumped for the iced five spice Parfait.
Presentation–wise, Mansion scores a Hat trick because the puddings were nothing short of dazzling.

His Nibs' Chocolate torte came with Malt Ice cream, crumbled Shortbread and Salted Caramel (which is the flavour du jour at any discerning establishment), and all the flavours and textures married together in a harmonious symphony which left him with that warm satisfied grin on his face.




My parfait came with Tonka bean Custard, caramelised Plums and chocolate soil. The parfait had a delightful delicate flavour to it that was enhanced by the five spice infused Plums; add in the decadently smooth, creamy Tonka bean custard and the whole dessert was a master class in culinary skill when pairing flavours together.
We finished our meal off with a Latte coffee each and were deep in conversation regaling each other with our personal highlights of the evening.

All too soon we had to make our way back to the nest, having passed a great couple of hours in vibrant surroundings eating superb food. If you haven't been before, then I can recommend Mansion to you with no hesitation at all. Hot Wings well deserved here :)
Some form of incentive was provided to visit this venue
read more