A Steak Sharer At The Devonshire Arms, Beeley
---
Published On Sunday 16 Oct 2016 by Sticky Beak
See Recent Dining Out Reviews | See All Recent Reviews


Nothing lifts the spirits on a chilly Autumn evening than the sight, sound and feel of a wood burning stove going at full tilt and this is what greeted The Man Bird and I as we walked through the door of The Devonshire Arms pub at Beeley on the Chatsworth Estate. Having confirmed our dining reservation with the lovely Hannah the next thing to do was relax with a nice glass of Chilean Merlot and a pint of Stella Artois lager whilst we studied the menu.
I decided to try the Pear, Walnut and Chicory salad with Garlic croutons and Blue Cheese dressing for my starter and His Nibs had his usual Chicken Liver parfait with Onion Marmalade and house bread; for our main course we chose the 16oz Rump steak sharing platter on the recommendation of Evan.

My starter had exactly the right ratio of all its component ingredients to produce a marvellous dish full of flavours and textures; bitter notes from the Chicory balanced beautifully against the crunchy, sweet Pear and the Garlic partnered well with the tangy Blue Cheese tones.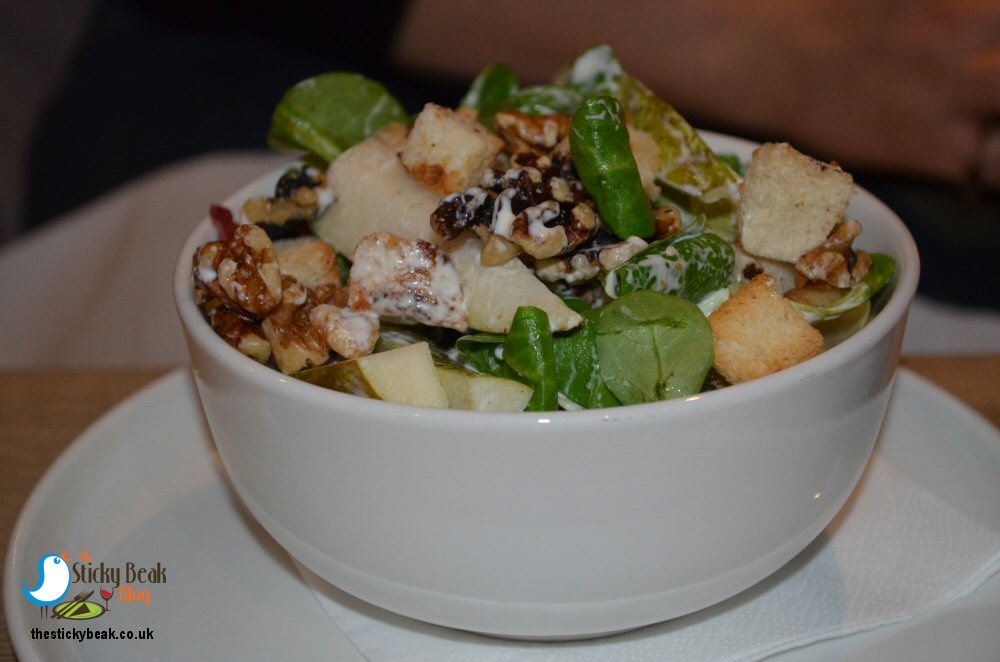 The Man Bird was equally pleased with his choice of starter; the rich, ultra smooth parfait had flavour bursting from every molecule and the Onion marmalade had a wonderful texture to it and a beautifully tangy, smoky taste rather than being too sweet like many mass produced versions. You can't beat fresh, warm home baked bread and rolls and the team at the Devonshire Arms at Beeley certainly think so too; their roll was delicious and even more so when slathered with the Chicken Liver parfait.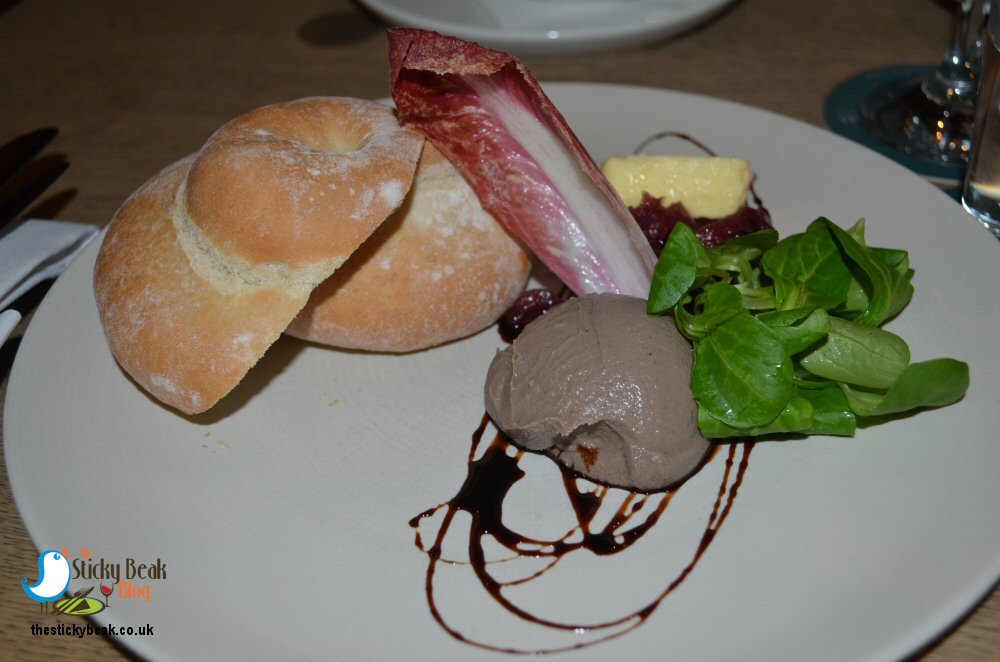 As we were munching merrily away Gareth, the manager of this pub and The Devonshire Arms pub at Pilsley came over to say hello and have a quick chat with us; it's always nice to put faces to names and he is a very personable chap I must say. Gareth checked that we were enjoying our food and surroundings so far, which we were, and we weren't alone in our enjoyment as there was quite a few tables taken with fellow diners and residents enjoying a post-work drink.
It wasn't long before a lovely young lady was bringing our steak sharing platter over to our table, and what an incredible sight to behold it was. A large slate held a whole 16oz steak with mushroom medley atop it, roasted skin-on shallots, thick homemade chips, a bowl containing the panache of Garden greens and two little pots of creamy Peppercorn sauce.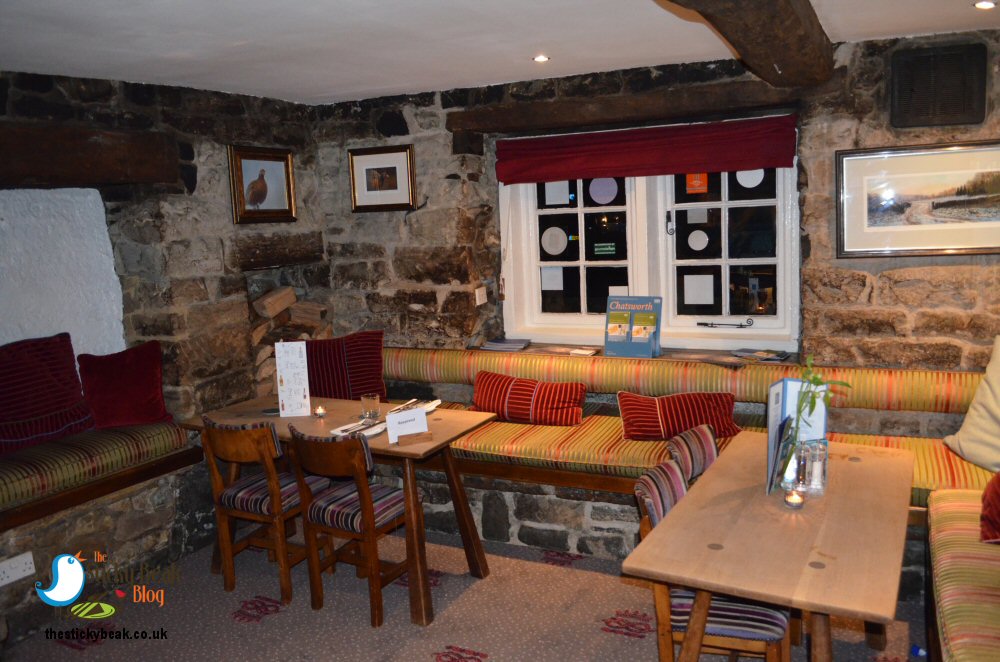 There is something very satisfying on a primeval level about cutting into a huge slab of meat and this was an incredibly tender and juicy steak that had been perfectly cooked medium rare. They say that you can tell when an animal has lived a good life by the quality and taste of its flesh and this beast had grabbed the bull (of his life) by the horns and lived every moment to the full, pardon the pun.

Nothing beats thick fluffy chips to go with a steak, I don't get the same satisfaction from skinny fries when I'm tucking into a steak (to me they partner burgers better), and the chips were brilliantly fat so you could really chomp into them and be rewarded with their soft melty inners. I just had to dunk one of my chips into the Peppercorn sauce too, only to make sure that it could hold its own when dunked, a bit like a decent biscuit shouldn't immediately disintegrate when dunked into a hot drink.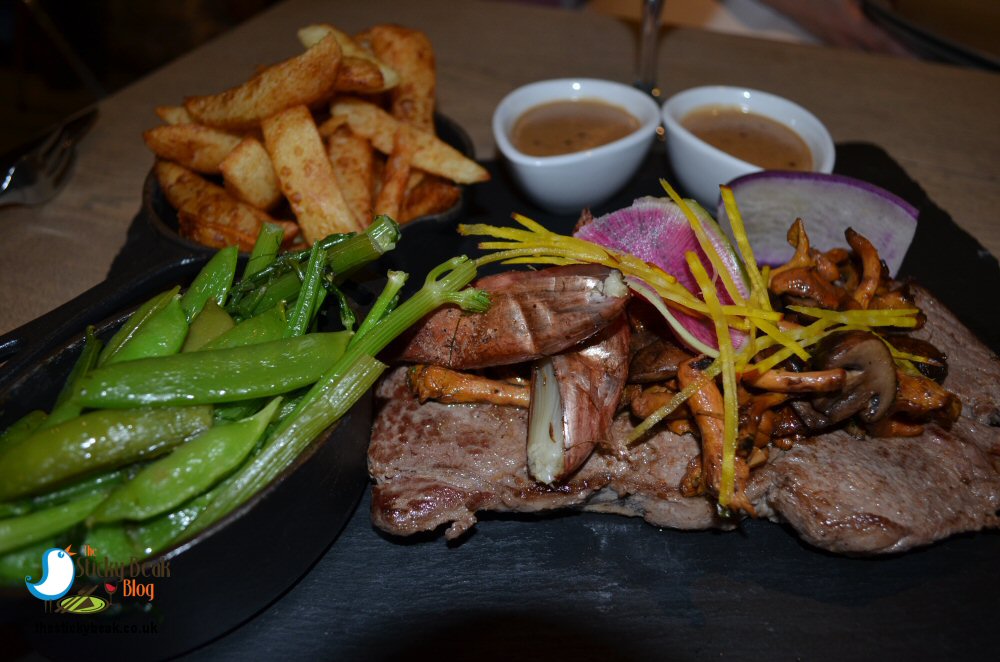 It more than passed the test I'm pleased to report. The Peppercorn sauce was superb too in that it wasn't overly creamy so you could really appreciate the heat from the peppercorns in it. This meant you got a clean, punchy flavour on the palate rather than a limp, characterless offering that would've got lost against the mature flavour of the steak. The ever cheerful Hannah came to check that we were enjoying our steak, and went back to the kitchen to give Chef our compliments. His Nibs peeled the skin off one of the roasted shallots and savoured its sweet gooey taste with a grin on his face as I tucked into the Mushroom medley with its mild earthy, nutty flavour.

The garden greens were all nicely crunchy, young and tender specimens that had got oodles of natural flavour bursting from them; Mange Tout and Sugar Snap peas were accompanied by Samphire and Fennel stalks which you don't often see on a plate, it is normally the bulb that we eat. Unsurprisingly, there wasn't a single morsel left on our plates and we had enjoyed every last mouthful.
Evan gave us a few minutes before enquiring if we would care for pudding, a request that was met with an enthusiastic affirmation. I had the Mango Cheesecake with its ginger biscuit base, fresh Mango pieces and Ginger Ice Cream and The Boy Wonder had the Hazelnut Meringue with Coffee Ice Cream and White Chocolate shards.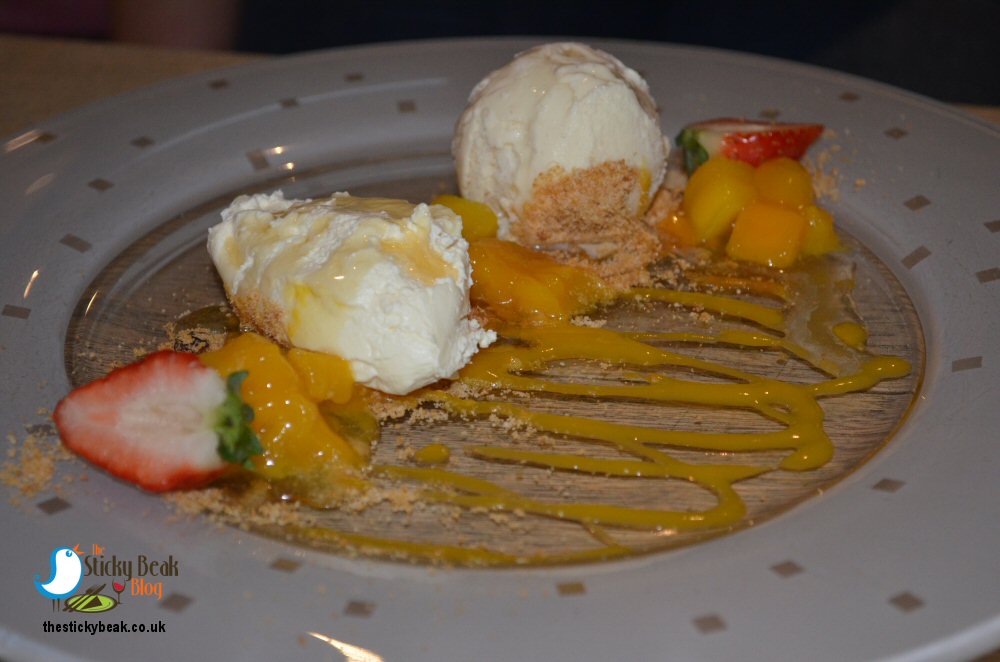 Both desserts were stunningly presented; mine on a frosted glass plate to show off its deconstruction fully and the Meringue in an inky hued artisan pot. The flavours in my cheesecake were really wonderful, from the clean zingy note of the Ginger components in the base and Ice Cream through to the fragrant perfumed flesh of the ripe Mango. What I really enjoyed though was the actual cheesecake; it was fetchingly tart on the palate instead of the rather more usual sweetened versions you get and this just served to enhance the other flavours all the more.

His Nibs' Meringue was lovely and crisp on the outside with a fantastic slightly gooey inner that just had the right amount of Hazelnut flavour to it. The Coffee Ice Cream was rich in flavour, but not harsh to taste, and danced a lovely duet on the tongue with the meringue. Smooth creamy White Chocolate provided a gentle finale for the palate to revel in, and The Man was a very happy chap with his sweet selection.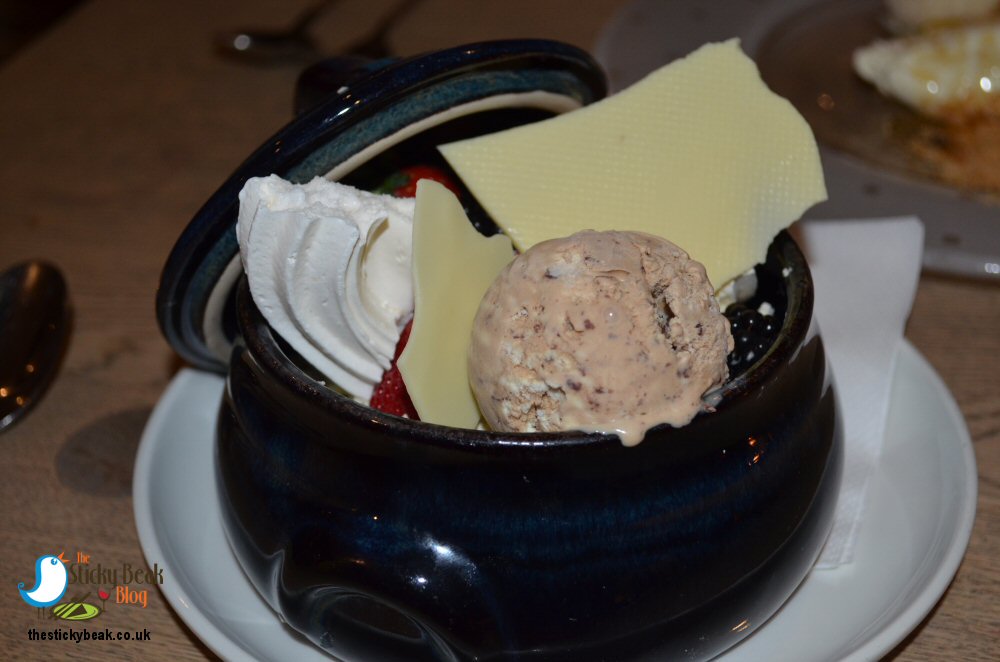 We rounded our meal off with a couple of Latte coffees, happy to bask in the warmth of our full bellies and the roaring wood burner. The Steak sharing platter is £35 and easily fills two people up, and as well as the Rump version we had there are also Ribeye and Sirloin steaks to share if you prefer.

The Devonshire Arms at Beeley have an extensive range of beers, wines and ciders to choose from too, to accompany the food they offer. I can heartily recommend you pay a visit to Gareth and his team if you haven't already done so. Hot Wings definitely awarded here.
Some form of incentive was provided to visit this venue
read more