Funky Friday At Marco's New York Italian, Kegworth
---
Published On Tuesday 11 Oct 2016 by Sticky Beak
See Recent Dining Out Reviews | See All Recent Reviews


You can't beat a kick start to the weekend, and the team at Marcos New York Italian at Kegworth have got a real feel good one for you all. Funky Friday is its name, and great offers on food and drink accompanied by funky sounds is its aim. As you know, the last time The Boy Wonder and I went to Marcos we had a great meal there, so we were very much looking forward to getting our weekend off to a stylish start on this occasion.
Since our last visit there have been lots of new additions to the menu, so there was an air of anticipation to see what was on offer. To kick things off I had a Gin and Tonic, although I was sorely tempted to have a cocktail pitcher for £12.95, and His Nibs had a pint of Peroni.

To start, we ordered the New-to-the –Menu Monte Cristo sharing platter with its Rosemary Focaccia, Olive Grissini, crushed Avocado, Caponata, Tomato Bruschetta and Mozzarella. It was nicely presented on a wooden platter and we soon tucked into its many delights.




This platter was full of crisp, vibrant flavours and when we had finished it we said what a great, light feeling starter option it was. The Mozzarella was beautifully fresh and creamy and paired beautifully with the Focaccia and its gentle hint of Rosemary.

I really liked the warm, chunky Caponata (similar to Ratatouille) and the creamy mashed Avocado, and The Man bird was chowing down quite happily on the Olive Grissini and dipping into the Caponata too. Our lovely server came to check that we were enjoying the starter and was pleased to hear that we were more than happy with our choice.
We ordered a bottle of water for the table and I took advantage of the moment to order a cheeky glass of Pinot Noir to have with my main course seeing as I wasn't the driver for the nightJ The Boy Wonder opted to have the 10oz Rib eye steak with the (new) Chimichurri sauce to accompany it and I had seen another newcomer, the New Orleans Seafood Skewer, that just had my name written all over it and I had the New York Iceberg wedge salad with Blue Cheese dressing as a side order.
The Chimichurri sauce is a cold sauce which was the first surprise because normally sauces to accompany steaks are warm and the second surprise was its incredible flavour; this South American minx packed lots of punch and zip flavour wise but not the kind of heat that blows your taste buds into shock.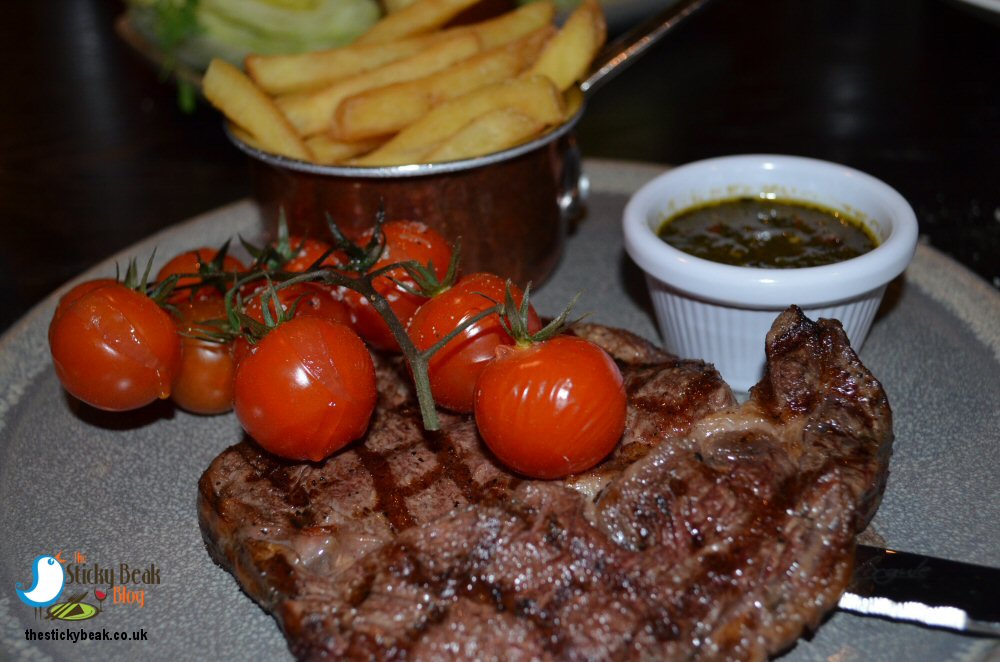 The steak itself was everything you dream of; juicy, tender, chock full of taste and cooked perfectly as you ordered it to be done (in this case medium rare), and it hardly needed the use of the steak knife to cut it, it was so tender. Him Indoors had the Rosemary and Crystal salt chips, although you do have the choice of Sweet Potato fries too if you prefer, and the roasted vine tomatoes were delicious too.
My seafood skewer was nestled very temptingly on a bed of tomato sauce encased Spaghetti and I couldn't wait to taste it. I am pleased to report that the Jumbo Shrimp, Calamari and Salmon fillet pieces were all cooked beautifully in order to retain their natural juiciness and textures, and the Spaghetti was also perfectly al dente so the whole dish was a joy to eat.

The tomato sauce had a lovely natural taste to it, was skilfully seasoned and had nice chunks of vegetables in too. I have said many times before that it is very often the simplest things that give great pleasure and this was very much the case with my side order. Although it only consists of the Iceberg lettuce being cut into quarter wedges and served with a bowl of creamy Blue Cheese dressing, both parts were as they should be; the lettuce was fresh, cool and crisp and the dressing was deliciously creamy with that fantastic blue cheese twang. Again our server went back to the kitchen with some positive feedback for the Chef.


For pudding we both strayed from our usual paths; me with my choice of Italian cheeses and His Nibs with his Knickerbocker Glory option. The Knickerbocker is one of those classic desserts from the '80s and this particular version consists of Vanilla ice cream, Raspberry Sorbet, fresh Raspberries and coulis being layered alternately in a tall glass and topped with a huge swirl of Chantilly cream and a fresh Raspberry.

It really did look beautiful with its carefully arranged layers and The Man Bird said it was tremendously good to taste.
My cheeses were served on a wooden platter along with a pot of Honey, a pot of Spiced fruit Chutney and two lovely types of cheese biscuit. There was a blue cheese (Dolcelatte I thought), Mozzarella, a hard rinded cheese (perhaps Pecorino) and another very mature cheese that I didn't know but which was wonderful to eat.

One of the biscuits was herb infused which went really well with the Mozzarella, the other was a darker colour and more robust in flavour to partner the stronger flavoured cheeses. The addition of the Honey was a different touch and I particularly liked it with the Mozzarella and the Pecorino (I know, I have strange tastes!), and the spicy chutney more than held its own against the mature cheeses too. I thought that this was a cleverly thought out cheese board actually, and I totally enjoyed it.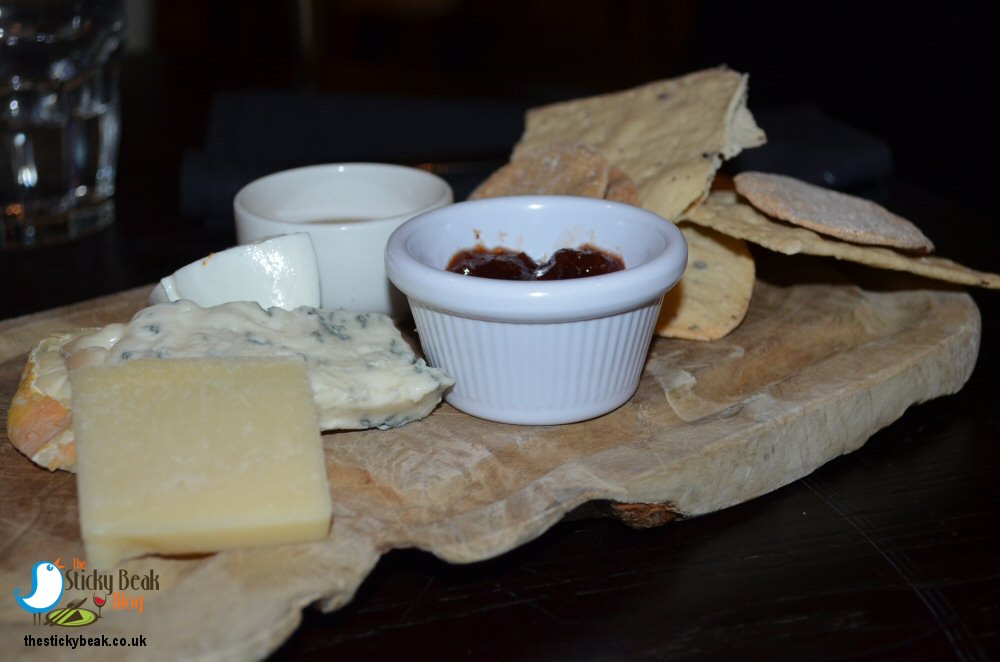 Our server came to check that we were still happy with our meal and we took the opportunity to order our customary meal finale drinks; Latté coffees.
When our coffees came we both let out a little sigh of contentment; we had forgotten that at Marcos New York Italian at Kegworth they serve them with the most divine, gooey squares of Chocolate Brownie. As we devoured these little delights we both said that it would be no hardship at all to drink a vat of coffee in order to have more of this wonderful brownie!
We had spent the last 30 minutes of our meal listening to some classic tunes courtesy of the talented DJ in residence, Steve from Maison Deluxe. I loved the selection of smooth but catchy tunes from the likes of Lionel Richie, Alexander O' Neal, Luther Vandross and Midnight Star to name a few, and I wasn't the only one sneakily swaying and tapping my feet to the rhythm at the tables in the restaurant :)
His Nibs and I had another great night courtesy of the marvellous team at Marcos New York Italian restaurant at Best Western Yew Lodge Hotel in Kegworth. If you haven't been before you really do need to go and check it out for yourselves, you won't be disappointed; the service was excellent, as was the food and the ambience was perfect too. Hot Wings deserved here again :)
Some form of incentive was provided to visit this venue
read more