Dinner At The Old Hall Hotel, Buxton
---
Published On Monday 26 Sep 2016 by Sticky Beak
See Recent Dining Out Reviews | See All Recent Reviews


The Boy Wonder and I do like Buxton, and have had the pleasure of paying visits to several places there over the years. This time was the turn of The Old Hall Hotel and its restaurant to play host to us, and we soon found a parking spot close by to the building.
When you walk through the door you can't help but appreciate its historic charm; there is a tendency sometimes to drag old buildings into the modern era and destroy their character, but luckily this isn't the case here. There are plenty of quirky corridors and odd shaped nooks and crannies to appreciate here at the Old Hall Hotel, and as you walk into the dining room there are plenty more to admire.

The first thing to strike you is the superb high ceilings and the two huge centrally hung chandeliers. When we were seated at our window table we also noticed the original sash windows and their formal, elegant drapes; the windows themselves are huge, sweeping up from about a foot off the floor to roughly the same distance from the ceiling.




All the tables are set with white linen cloths and napkins with nice, weighty cutlery and a candle gently flickering away. Dark wood floors and dining chairs give the restaurant a timeless, classic feel which is augmented by the historic portraits and paintings on the walls. The walls and window drapes are all done in a cream and pale blue palate, to prevent the area being dour.
Emmy, our lovely server, brought over our drinks and a bottle of water for the table and took our orders. In a jiffy she had also brought over a basket of freshly baked dinner rolls and I chose a Rosemary Focaccia roll, with His Nibs opting for a Tomato infused roll; these little gems were swiftly placed onto our side plates with silver fork and spoon. There is something very special about traditional silver service at the table, you can't help but be impressed by it.
For my starter I had chosen the grilled British Asparagus with poached Duck egg and Parmesan shavings; The Boy Wonder chose his usual Smoked Ham Hock terrine with Golden Raisin and Gribiche Potato. I think he's got designs on compiling a compendium of Terrines within the county; wherever we go, if he sees Terrine on the menu it's like a sirens call to him.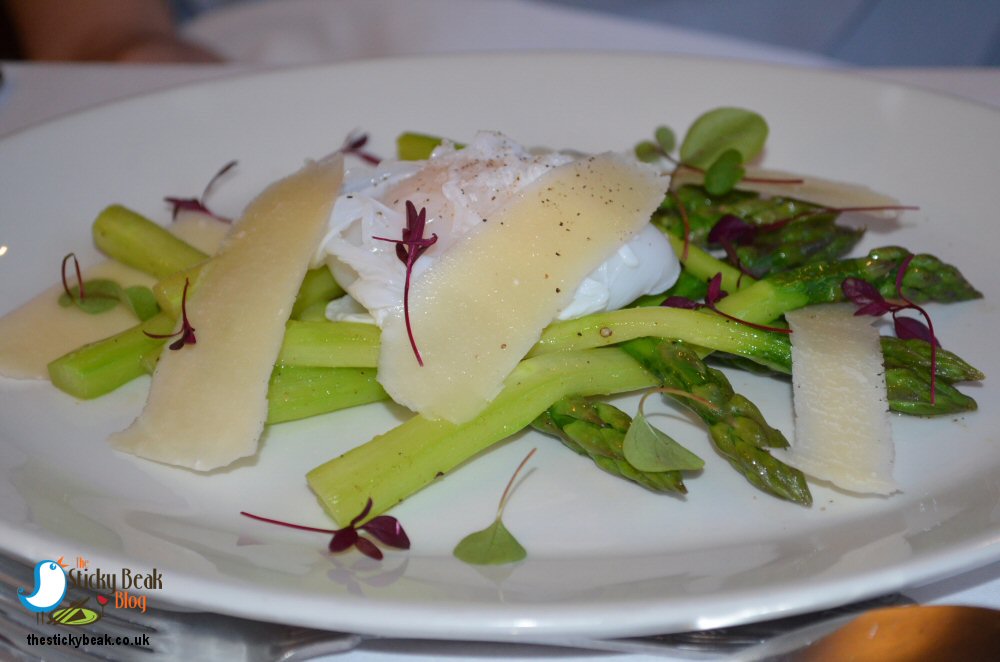 My dish had plenty of Asparagus spears to tuck into and dip into the gloriously bright egg yolk. The Duck egg had been poached to perfection and the yolk had such a beautifully rich, creamy taste to it. In partnership with each other, the robust taste of the Parmesan, the egg and fresh Asparagus played a delightful symphony on my tongue; this is a classic starter and one that was very well executed by The Old Hall Hotels Chef.
His Nibs terrine had a lovely smokiness to it, not too much as to overwhelm the natural ham flavour, but enough for it to be appreciated in its own right. The inclusion of the Golden Raisins in the terrine itself gave it a wonderful sweet note that partnered the meatiness and smoky hints brilliantly.

Gribiche Potato was something neither of us had encountered before, and to be honest it looked a bit like a carefully done Potato salad. The Potato itself had been cooked excellently to retain just a little bit of firmness when bitten into, and just the right amount of seasoned Gribiche (which apparently is akin to a Mayonnaise, made with cold egg yolk, mustard and oil) coating it.


Emmy asked if either of us wanted freshly ground Black Pepper to season our dishes, and then discreetly left us to it.
With such lovely starters under our belts we were very much looking forward to seeing how our main courses would shape up; Aged Salt Beef pot au feu with Horseradish foam and summer vegetables for him and Herb crusted Hake with Saffron and Clam broth and Samphire for yours truly. His Nibs' beef had a very deep flavour with a tender yet firm texture that allowed it to easily be cut into without it falling into ribbons.

There was a lovely heat from the Horseradish foam, not too much so as to overwhelm the other flavours, but enough so you appreciated that slightly astringent note from it. The summer vegetable selection comprised a gorgeously spiced braised red Cabbage, Honey glazed Carrots and perfectly cooked, just crunchy Green Beans.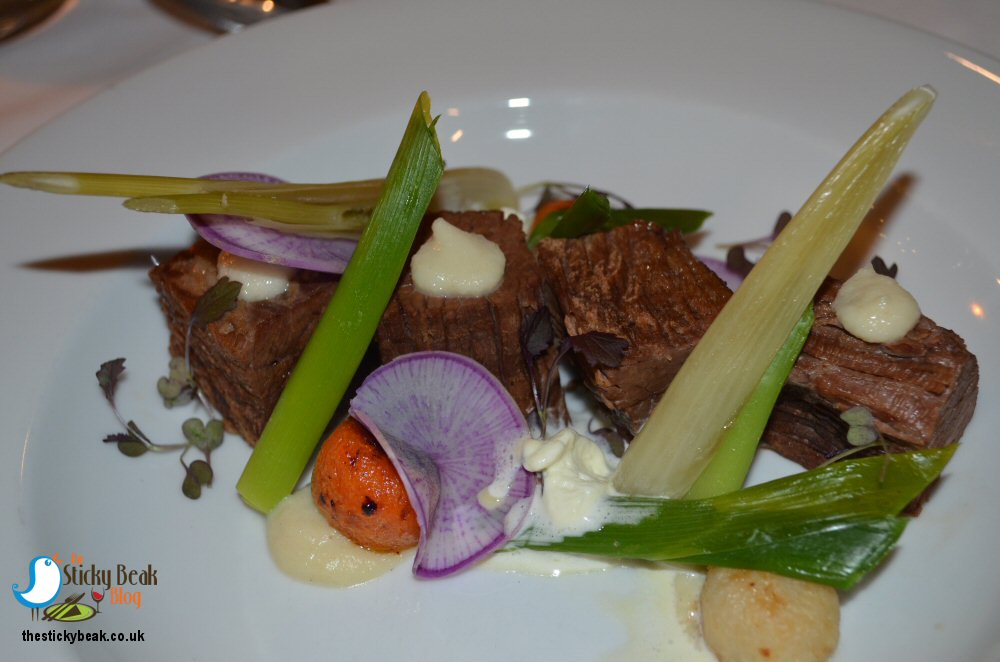 As you know dear reader, one of my pet peeves is dry, overcooked Fish and thankfully the Chef at The Old Hall Hotel knows how to do Fish well. The Hake was perfectly cooked, full of flavour and wonderfully moist. I loved the fresh clean taste of the herb crust, and it was a very pretty green hue which gave the eye something to appreciate against the Saffron coloured sauce.

As well as Clams there were Mussels in the dish, both presented in their shells and both very meaty specimens for the palate to savour. The Samphire provided a lovely bed on which the Hake fillet had been carefully placed, and as I bit into it I got the utterly perfect tang of the sea. Sometimes you only get a little portion of Samphire, but I was thrilled to see that on this occasion there was a lovely inch and a half bed of it to appreciate.

One of the things I remember from my younger days is picking huge buckets of Samphire when on a Biology field trip to the Salt Marshes in Lincolnshire; my fellow classmates and I took them back to the hostel and cooked it fresh for supper in the evenings, just blissful! The sauce was a delicate balance of flavours and I sorely wished that I had saved my roll to mop it all up, but there wasn't an awful lot of it that went back to the kitchen by the time I finished :)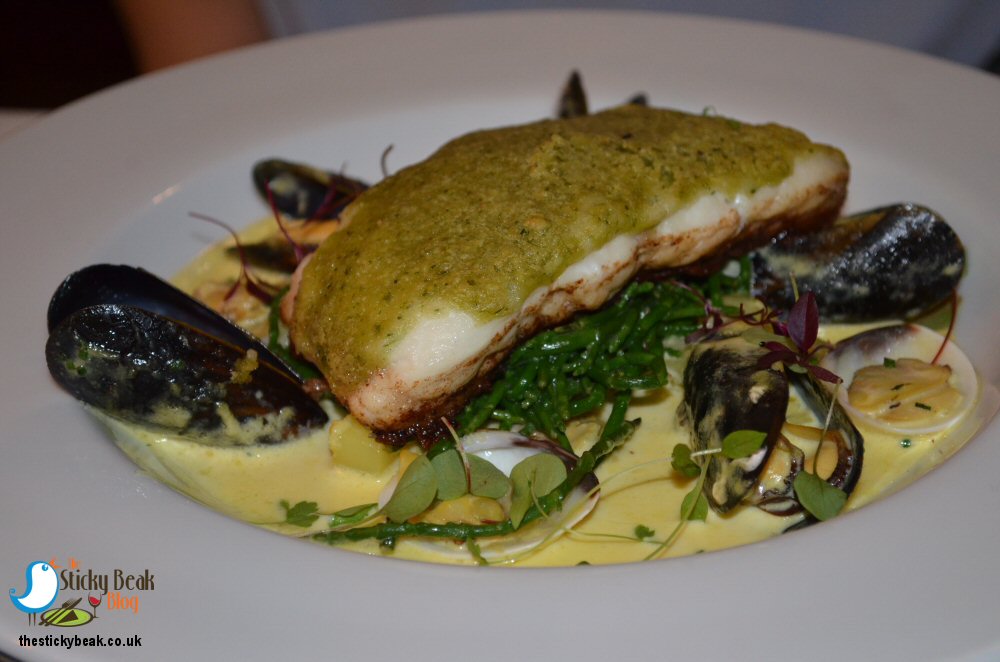 Emmy had again asked if we wanted Black Pepper with our dishes at the start and enquired if there was anything further we needed, before leaving us to enjoy our meals. Throughout the evening she had been busy with other tables, and I she had perfected the art of discreetly noticing how each table's meals were progressing and then just seeming to appear at the right moment to clear plates away, or to refresh glasses. Emmy gave us a short interlude before asking if we would like to see the dessert menu, which of course we did.
We ordered White Chocolate Panna Cotta with Honeycomb and Raspberries for The Man Bird and Chocolate Ganache with Caramelised Pear and Salted Caramel for me. His Nibs Panna Cotta had that very cheeky "come hither" wiggle to it that hints of culinary naughtiness when eaten, and indeed it had a beautiful silky creaminess to it that was sheer joy for the mouth.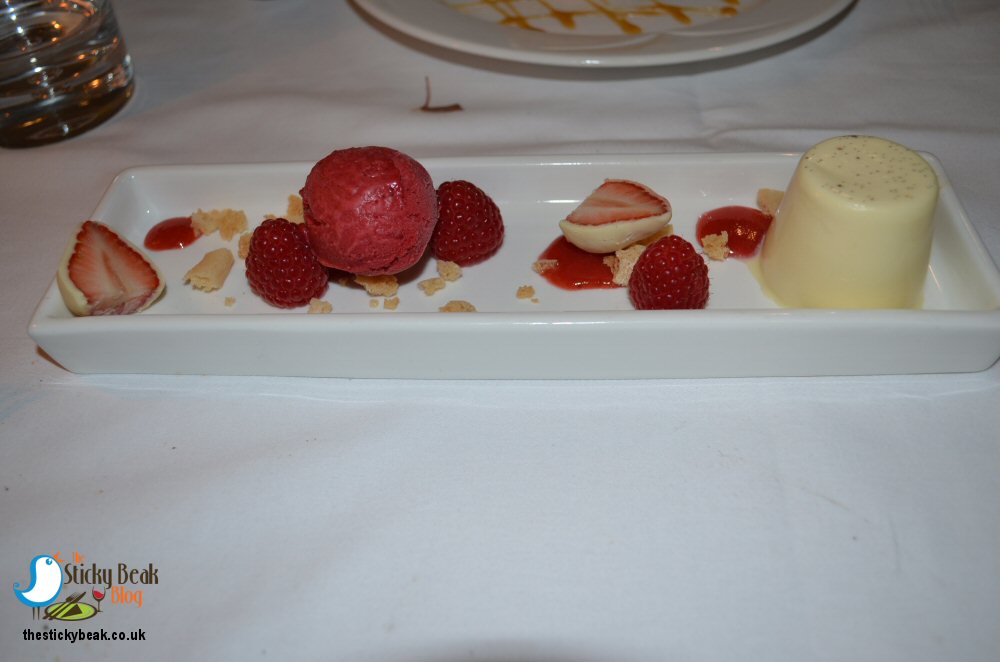 The berry Sorbet that accompanied it had the right amount of punch to it so as to counterbalance the richness of the White Chocolate. Fresh Raspberries and White Chocolate dipped Strawberry halves were scattered on the platter so that it was a visually stunning dessert, as well as being jolly tasty. I loved the simple presentation of my Ganache; it just let the dessert speak for itself. A light crumbly pastry case was filled with a wonderfully rich, densely flavoured chocolate Ganache that caressed the tongue when eaten, and this was topped with lovely pale gold hued Pear slices in a fan shape.

The Pears just had a hint of firmness to them so that they didn't disintegrate when cut into and their natural delicate perfumed sweetness shone through on the palate, enhanced by their careful Caramelisation. Salted Caramel is very much in vogue at the moment, and this example was very nice with just a hint of salt detectable.


Both of us were exceptionally happy with our choices of food on this occasion and had enjoyed every morsel, much to Emmys delight when she asked how our evening had been. We finished things off with a couple of Latte coffees and reflected on another lovely outing.

One thing we both liked was the clear, concise pricing of the menu; all entrees were £7, mains (with the exception of the vegetarian dish at £15) were all £17 and puddings were all £6.
We really enjoyed our evening at The Old Hall Hotel in Buxton, thank you for hosting us so cordially, and Hot Wings are most definitely awarded to your delightful team :)
Some form of incentive was provided to visit this venue
read more