New Menu At The Kedleston Country House Hotel
---
Published On Friday 23 Sep 2016 by Sticky Beak
See Recent Dining Out Reviews | See All Recent Reviews


The Boy Wonder and I were off out again, "abandoning" The Chick as she so dramatically puts it, this time to revisit The Kedleston Country House and meet new Chef, Joseph Wood. Joe has recently moved from Breadsall Priory and brought some of his team from there with him, including the very talented Llwyd Griffiths henceforth known as Sous Chef extraordinaire. Working alongside some existing Kedleston kitchen team members they are quickly becoming what I have nicknamed the Fabulous Five.
We wandered into the relaxed bar area and told the young lady behind the bar that we had got a table booked in the restaurant, and she said that she would inform the team of our arrival. As we were sipping our pre dinner drinks the wonderful Robyn, who served us last time, came along with a couple of menus and a tray of rather fine looking Puffed Pork skin (or Crackling as I would call it) and Apple Chutney to nibble on.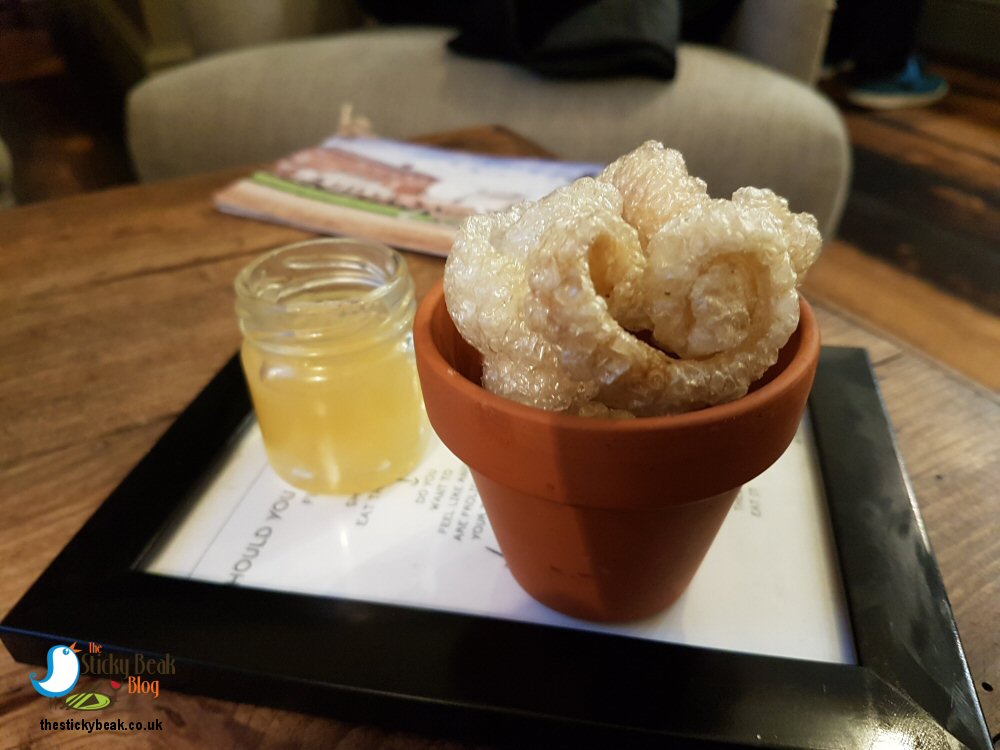 A short while later Robyn came to escort us through to the dining room, and it never fails to make me smile; it is decorated very neutrally with shabby chic distressed legs to some of the tables, large hurricane lamps containing gently flickering candles and simply set tables, all of which combine to give it a relaxed, calming ambience.

With our starter and main course orders taken, Robyn came over bearing a platter of Homemade Beer bread and individual pats of fresh butter and Smoked Bacon Lard. Immediately The Man Bird and I were taken back to our childhoods with bread and dripping for supper, so we loaded our knives with the lard to spread on the beautiful warm bread, and wow what a mouthful of flavour we were rewarded with. The bread was lovely and light in texture with a gentle hint of maltiness to it, both presumably owing some credit to the beers properties.

A lot of people shy away from lard and butter due to recent bad press surrounding them, but I think the key, as with any foodstuffs, is to enjoy them in moderation (ok, I'll hold my hands up to not showing much moderation on this occasion!). Let's not forget also, that the human body is designed to cope with naturally occurring fats and oils rather better than modern synthetic versions with their hydrogenated molecules and various additives.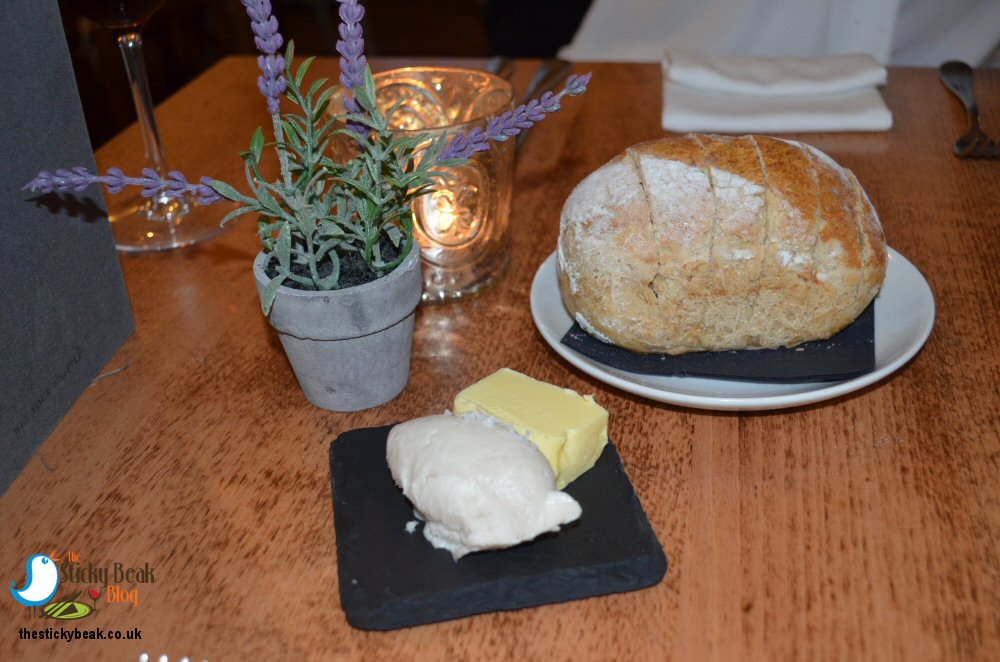 Head Chef Joe was obviously in the mood to feed, before our starters were served to us there was another amuse bouche to savour; Cured Salmon with Caviar on top, dinky little Apple rondelles and Lovage Mayonnaise dots scattered artfully at the edge of the dish, with a savoury herbed crisp topping the lot off nicely. By now my taste buds were firmly in the zone, and pinging with eagerness at what lay ahead.


I had ordered a Taste of Duck to start, comprising Kedleston kitchen Smoked breast, Liver parfait and Pan fried Heart with roasted pear, toasted Hazelnuts and Nasturtium leaves, and The boy Wonder opted for the Smoked Chicken and Ham Hock Terrine with Leek terrine, sourdough crisps and Prune Puree. Mr Wood had got other plans however, so that we each got both starters!

The presentation of the Duck dish was gorgeous; with every piece having being carefully arranged on the plate, and the flavours and textures did not disappoint either. I was surprised by how delicate the heart tasted and loved the slight smoky taste it had, I even managed to tempt His Nibs into trying a bit (before he passed his portion over to me), and he really doesn't do any kind of Offal. Again, he was surprised by the taste and light texture of the heart.




The breast meat was beautiful and I do like duck; actually come to think of it I had the duck last time we visited Kedleston Country House. You can't beat a rich, full flavoured parfait, and this one has a gratifyingly punchy flavour that you can't help but take your time to savour; it demands respect from your palate, and deserves it too as it was superb. The toasted Hazelnuts added texture to an otherwise smooth dish, with the pear providing some lighter fresher notes to taste.
Terrine is one of The Man Birds favourite starters and he had also had terrine to start on our previous visit, albeit a different recipe. I don't care how cool you are, everyone loves a bit of table theatre, and we were about to have a little bit of this demonstrated to us by the lovely Robyn and Sous Chef extraordinaire Llwyd.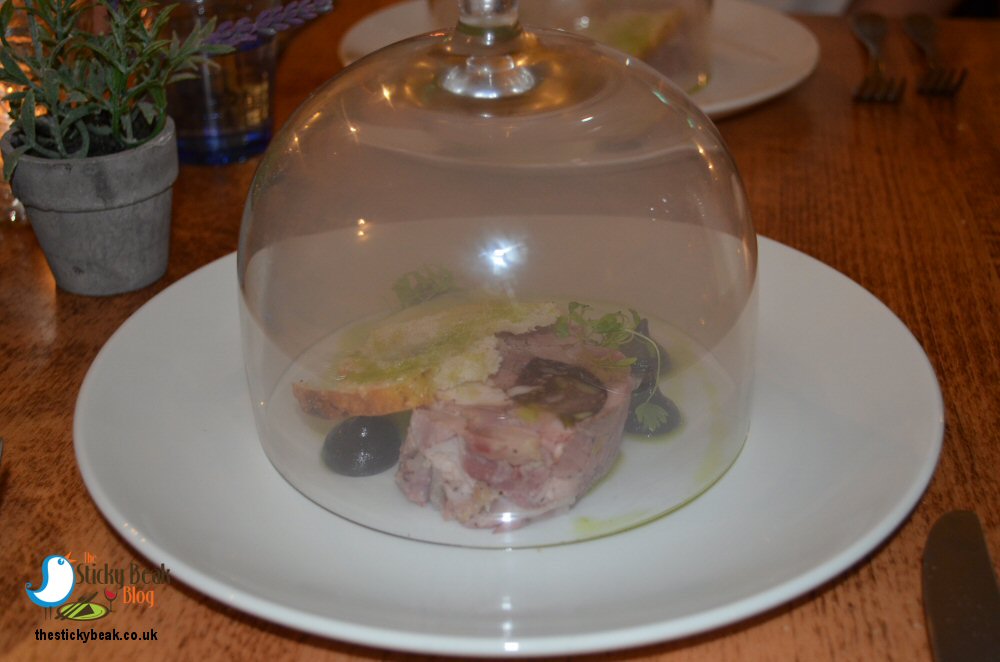 They each carried a plate covered by a glass cloche and waited whilst The Man took the requisite photo before simultaneously raising the cloche to allow the escape of a pillow of earthy, fragrant smoke. From the mist a wonderfully chunky meat terrine appeared surrounded by its verdant Leek counterpart, jewel coloured Prune puree dots and crowned with sourdough crisps.

The terrine was a real meaty beast bursting with wonderful flavours from the smoked chicken, Ham hock and Black pudding and the Prune puree had an intense sweetness to it that really went brilliantly with the meat. Lighter, fresher flavours were provided courtesy of the fresh Leeks and crunch came from the sourdough crisps. The dish was again delicious; both starters were innovative and very skilfully executed.


For mains we had ordered a taste of Derbyshire Lamb (for me) and Derbyshire Beef (for him). The Lamb had three cuts to it, Loin, Shoulder and Belly, accompanied by lamb fat Potato Fondant, Jerusalem artichoke, Kale crisps and Truffle sauce. Each cut has its own distinctive texture and taste and had been carefully cooked to showcase these characteristics to their full potential.

The Belly yielded its sweet, juicy, creamy taste easily to the palate; the Loin was distinctly lean with a soft texture and beautiful flavour; the Shoulder was richer and meatier in taste, falling apart in ribbons as I cut into it with my knife. I loved the Kale flavour, and the Potato fondant had a great thin crisp outer that revealed a rich, smooth inner whose taste had been augmented by the lamb fat.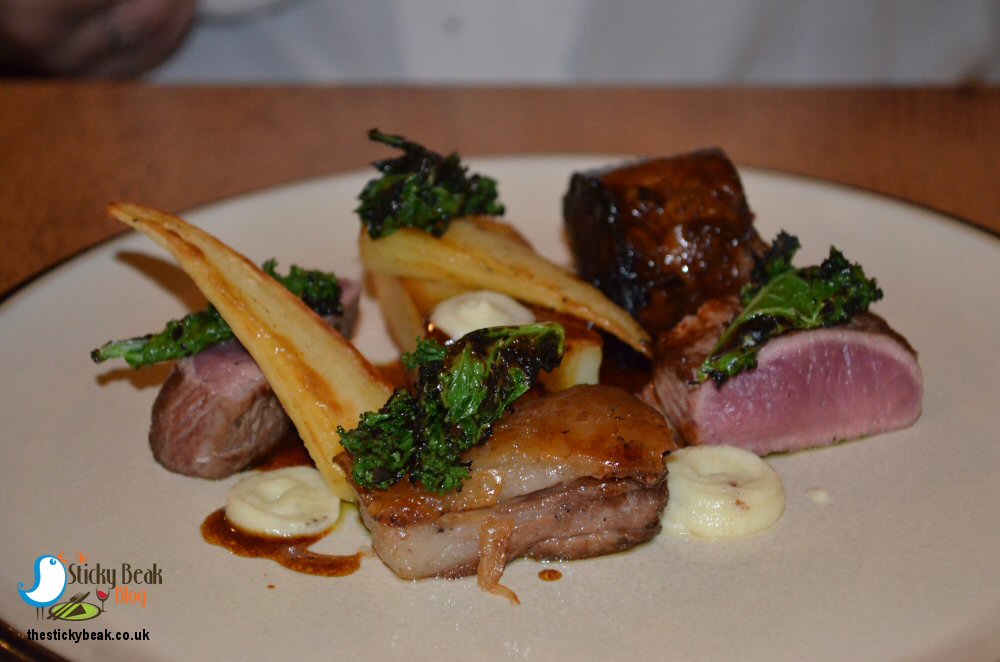 Artichoke is an underrated vegetable in my opinion so I took great pleasure in eating this, and it was lovely and mellow with that hint of fragrance that once tasted is never forgotten. I was one jolly happy little bird as I'm sure you can imagine dear readerJ
His Nibs' beef dish had Ox Cheek braised in Derby Brewing Company Porter and Sirloin with beer pickled Onion, Potato and Celeriac. This was declared to be a supremely tasty dish by The Man Bird as he tucked into the cheek with much enthusiasm. The Cheek was falling apart as he cut into it, no doubt having been tenderised by the beer, and it had a wonderfully deep flavour to it.

Unsurprisingly the Sirloin tasted beautiful with its texture needing no pressure from the knife to cut into it. The rich flavours were partnered very well by the earthy taste of the Celeriac, another underrated vegetable in my opinion. A nice sharper, twangier note came from the beer pickled onion so that the overall dish was multi layered to the palate.


Robyn had unfailingly checked that we were happy with our food at every opportunity, and enquired if we needed further drinks bringing to the table. This professional, polite young lady also co-ordinates the Weddings at Kedleston Country House, and with her enthusiastic yet unflappably calm aura I can imagine she would be perfect in the role.
Yet another little surprise from Joe awaited us, this time as a "pre dessert dessert"; enter the Lemon Chiboust with all its delicate lemon, cream and eau de nil hues. There was a plethora of clean, vibrant flavours in this little gem, it cleansed the palate brilliantly, and would be a perfect lighter pudding for those who don't really "do" dessert (odd bods).




In addition to the authentic, slightly hint of bitter, lemon taste there was a marvellous anise hint courtesy of the Fennel shoots and a great zingy Ginger flavour from the Granita. Gentler, creamier tastes were provided by the White Chocolate acro and the finale was the wonderful Tarragon syrup with its unique flavour.
The boy Wonder had the Dark Chocolate Delice for his pudding and again was bowled over by Chefs teams' skill. The dark Chocolate cosseted the tongue with its deep velvety richness, ably assisted by the brown butter parfait and burnt Orange caramel. The pairing of dark chocolate and orange never fails to please the senses, and the hint of Almond and Coriander flavours just elevated this above the ordinary.


DELICIOUSNESS OVERLOAD ALERT!!!! I have now got a new, most favouritist in the whole wide world pudding; the Apple Crumble Soufflé. This is just a-flipping-mazing, totally amazeballs and you have simply got to have it in your life dear reader. It does exactly what it says on the tin; you get Apple Crumble flavour paired with a feathery light Soufflé ( I think this one was bidding to become Jacks alternative beanstalk it was that tall!). Factor in some crunchy roasted Hazelnut pieces on top and you have a heavenly taste and texture sensation for the tongue.

As if this wasn't enough, Bluebell dairies utterly perfect Vanilla Ice Cream and Joes Salted Caramel sauce were also in the equation, so my mouth was doing cartwheels of sheer bliss. Yet again I couldn't help but disgrace myself; well, when a caramel sauce is this good it warrants being poured directly onto the spoon to be poured into the mouth doesn't it? Actually, Mummy Bird, it's Joes fault for making such an irresistible dessert, I defy anyone to exert self control in the face of such perfection.


The Fabulous Five have put their heads together with the brilliant bar team and come up with a stonkingly good idea; instead of just offering diners at Kedleston Country House dessert wines to pair with the sweet treats they are pairing cocktails with the dessert selection.

The Man and I were presented with our final surprise of the evening, namely a take on the Espresso Martini for Him and an as yet unnamed cocktail for me (although I called it the Sweet Little Mystery). The Espresso Martini brings the palate to life with its full on coffee taste which complimented the strong rich flavours of the delice really well.

My Sweet Little Mystery was a more refined number with its spiced Rum, Crème de Cacao and Cream components, and it was very nice. I also suggested that a Calvados and Cream combination might work with the Apple Crumble Soufflé, in a sort of Brandy Alexander way.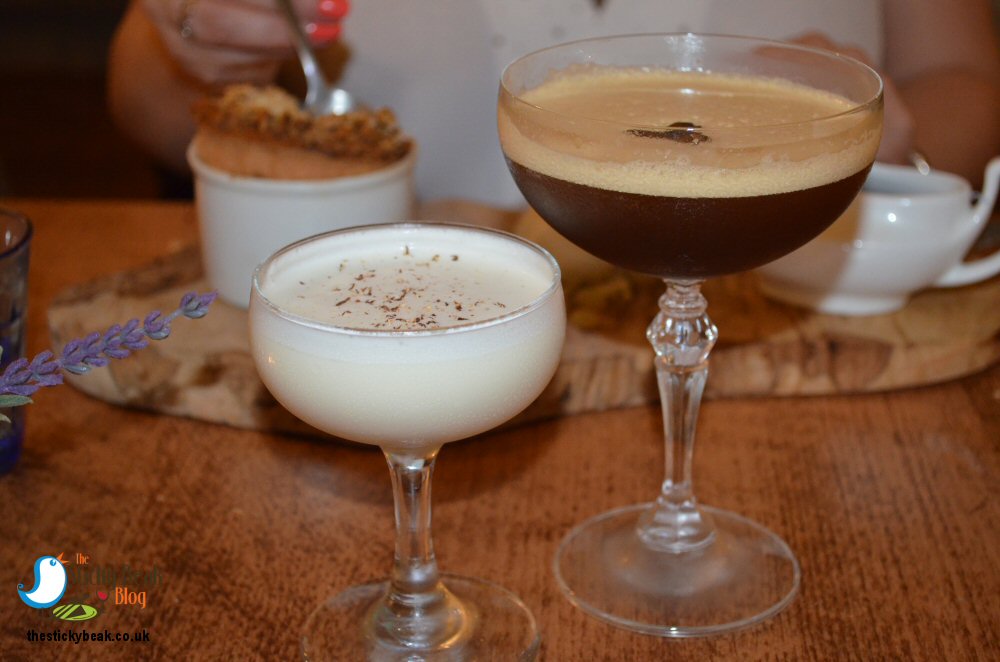 Joe came out to have a chat at the end of the evening to garner our thoughts and opinions, which I thought was lovely as no doubt there were still a million and one things to do in the kitchen. We were saying how nice the meat was and guess who the supplier is? None other than the award winning local business Owen Taylor. It was brilliant to know that local businesses are still supporting each other, and I've never had a bad bit of meat pass my lips from Owen Taylor.
It goes without saying that Hot Wings are definitely making their way over to The Fabulous Five, Robyn and the bar team; you are all at the top of your game. Thank you for inviting us over again to sample your new menu; it was a total, unbounded joy to do :)
Some form of incentive was provided to visit this venue
read more