Lunch In The Great Barn Restaurant at Hardwick Hall
---
Published On Sunday 18 Sep 2016 by Sticky Beak
See Recent Dining Out Reviews | See All Recent Reviews


It's been a busy start to autumn for The Boy Wonder and I, and today was the turn of the impressive Hardwick Hall to be under our beady eyes gaze. Hardwick Hall, whilst not being as large as Chatsworth House, still has the "wow factor" as you drive onto its grounds and admire the strict symmetry of Bess of Hardwick's residence.
We had been invited along to review the Great Barn restaurant, and took advantage of our time to admire and explore the buildings and grounds, all of which were fantastic; it's easy to see why you can easily spend an entire day here, there are lots of things to see for all the family.
The car park was manned by a lovely fellow who greeted us with a wide smile and directed us to where we needed to be, and once at the visitor centre the warm welcome continued by two very polite ladies. They handed us a map of the grounds and showed us where we needed to be, which wasn't far away at all.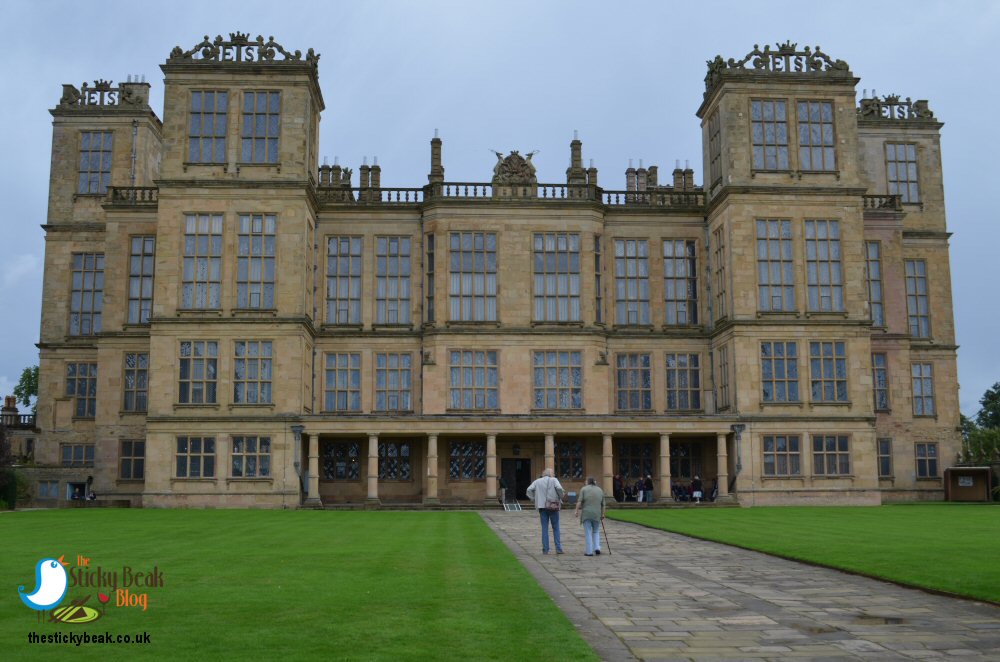 Nature decided her call needed answering before we ventured any further, so I did a quick detour to the Stable Block lavatories which were spotlessly clean and very modern. I liked the fact that the toilet itself was a little higher than normal, those with mobility problems will benefit from this extra bit of thought in design enormously.
We seated ourselves at a table downstairs, in the front section; there is a further rear section downstairs as well as an upstairs mezzanine complete with exposed ceiling beams. I loved the grey flagstone floors and was admiring those funny little windows that look like little slits from the outside; (very effective at stopping arrows hitting you apparently) that have been retained in the building.

There are obviously modern windows too, and that's part of the charm of the Great Barn; its fusion of both traditional and contemporary elements. The tables and chairs downstairs are quite stark and functional, but the effect is softened with the clever use of woven throws draped on the back of the banquette seats in the restaurant.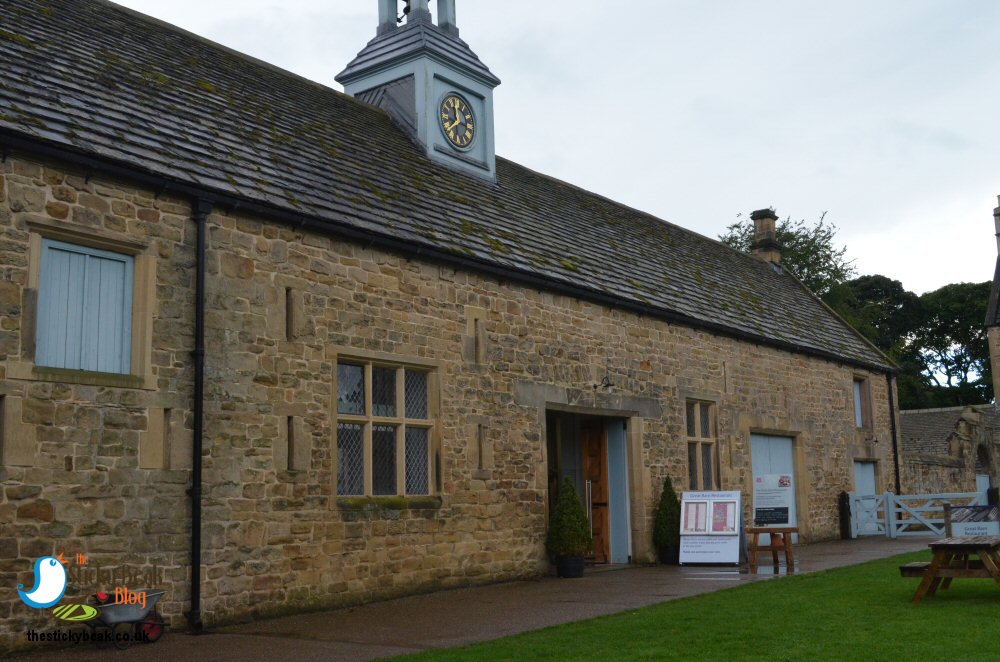 Breakfasts are served from 9am until noon in the Great Barn restaurant and all other food is served from noon until 5.15 pm; this includes light bites, salads, jacket potatoes, sandwiches and hot main courses and puddings.

His Nibs saw the slow cooked local beef casserole cooked in a red wine, mushroom, onion and Thyme sauce, and decided on that immediately, and I chose the Chicken breast in a creamy wholegrain mustard and mushroom sauce.

Both these dishes come with potatoes and seasonal vegetables, and it wasn't long before a lovely young lady brought them out to us. I cannot state enough the importance of bringing your appetite with you, the portions were huge!




My chicken breast was deliciously moist with a superbly mustardy sauce that really encapsulated good honest grub at its finest; it was piping hot and presented very nicely on the plate.

The Man Birds casserole was no less impressive with large chunks of meat very much in evidence; again it was tender, juicy meat that was chock full of flavour. I tried a little bit for myself and it was beautiful, I particularly liked the flavour of the sauce with its delicate taste of Thyme.

The seasonal vegetables included Courgettes, Leeks, Broccoli, Cabbage, Mange tout, batons of Carrot, garden Peas and Cauliflower; they had all been cooked superbly to retain their natural crunch and flavour so that their symphony of notes came alive on the palate, and the New Potatoes had a wonderful flavour when bitten into.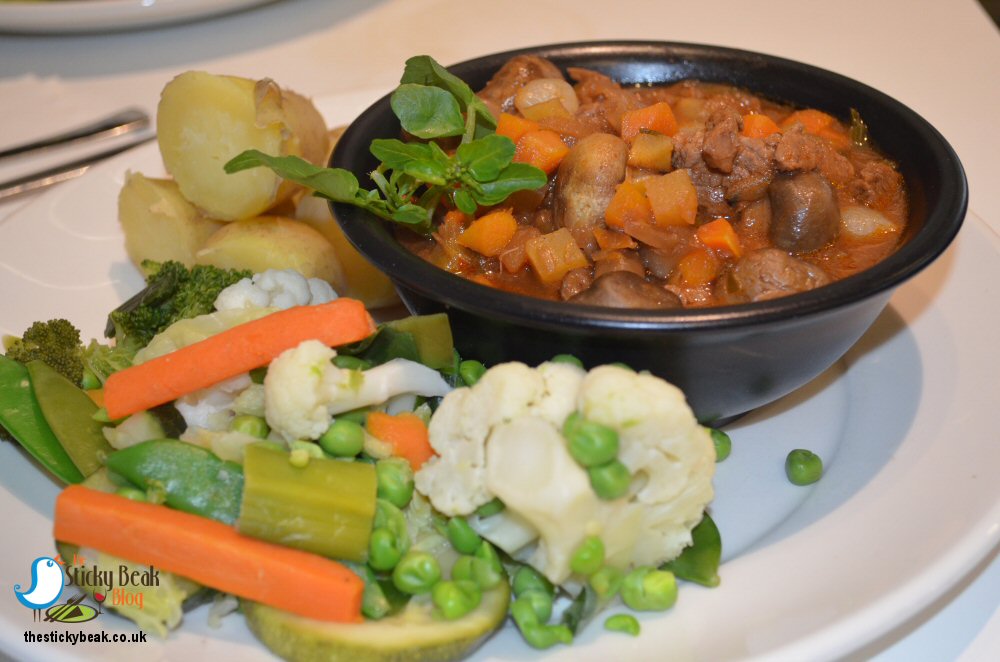 After all that deliciousness we gave ourselves a little breather before ordering a couple of lattes and our choice of puddings; Chocolate and Beetroot cake for His Nibs, seasonal fruit crumble and custard for yours truly.

It didn't take our lovely server long to bring the sweet treats over and my eyes took a few seconds to process the size of the pudding in front of me; in all seriousness, The Man and I could've shared this beauty and still felt as if we'd had a full portion each.

One of my favourite fruits is Plum and the ones in the crumble were left unsweetened to allow their beautiful natural taste to shine in this dessert. There was no shortage of fruit here, every foray into the dish by my spoon came up laden with at least two chunks, if not whole halves, of Plums in it, and the crumble topping was at least an inch thick so every mouthful had plenty of texture to it as well.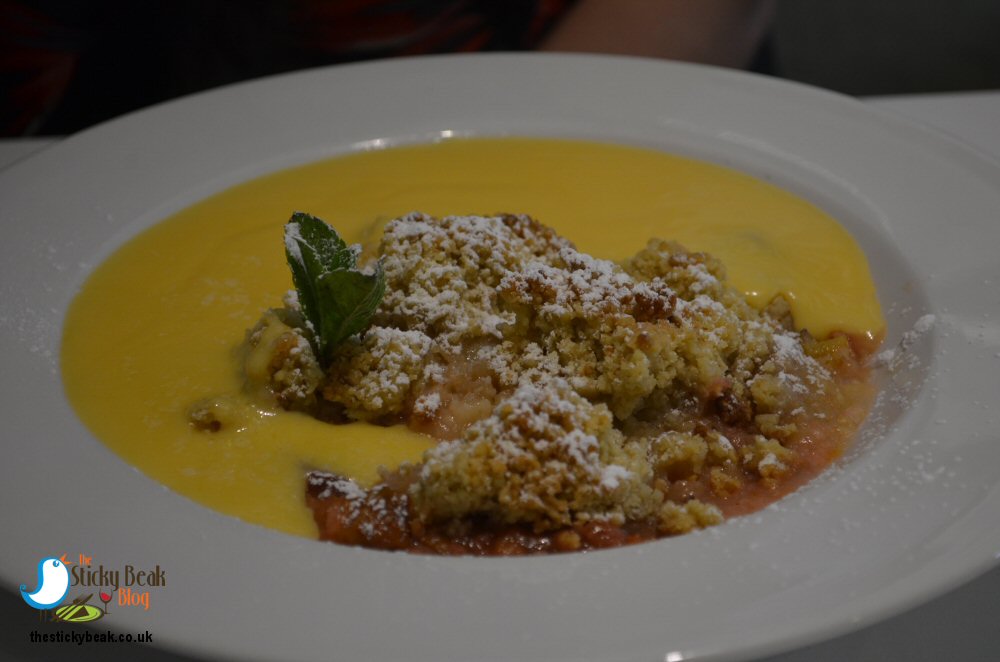 The crumble had a little bit of added sweetness, added to further by the dusting of icing sugar on top of it, and this counteracted any tartness of the Plum brilliantly so that the pudding was a great balance of sharp and sweet contrasts.
No doubt some of you are thinking about the appeal of a cake with Beetroot in and all I can say is that it works as well as Carrot does in a Carrot Cake. The result is a deliciously moist cake with a nice deep, rich taste to it.

Somehow the earthy taste of the Beetroot enhances the flavour of the Chocolate and magically amplifies its taste on the tongue; honestly you need to have this in your life, it was marvellous. Again it was a nice wodge of cake to savour instead of a piffly little crumb that disappears as soon as you look at it.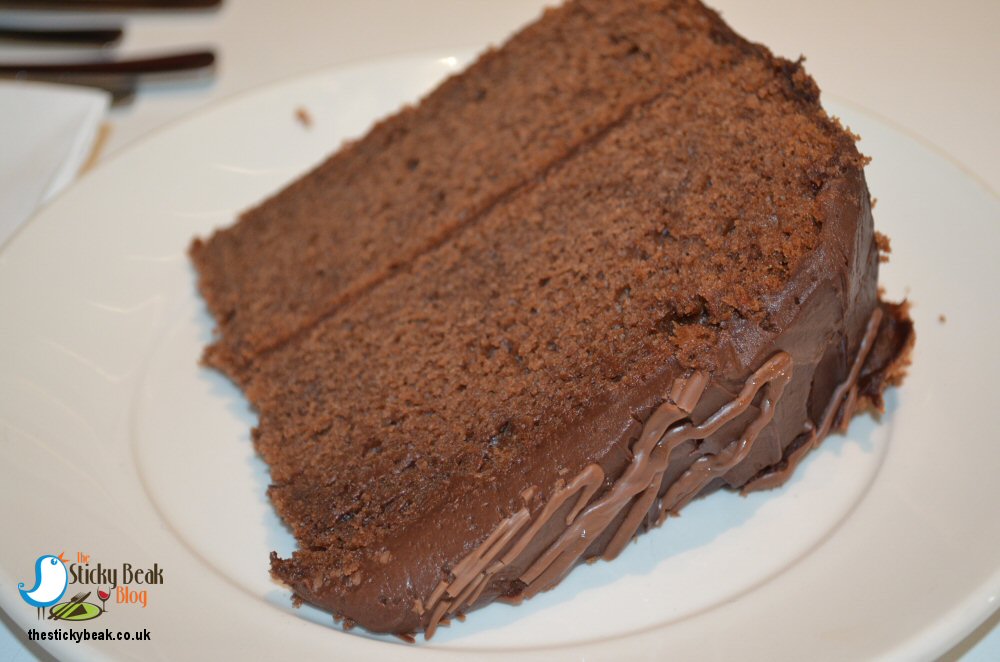 Our main courses were the priciest items on the menu at £8.95 and £8.25, the crumble was £3.95 and the cake about £3. Given the quality and the size of all the dishes I have to say that you'd be hard pushed to find better value for money anywhere, and in fact one of the male staff members we later talked to said that a lot of people come to have lunch here rather than stay on the motorway and pay service area prices.

Having sampled it for ourselves we can see why! Even after paying £3 for car parking, a hot main and coffee or tea would come to only just over £20 for a couple travelling together, and let's face it a sandwich, cake and drink each would cost that easily in a service area.
The staff members were always serving tables with food and clearing up most efficiently as soon as people left, which in peak season would be very important. In saying that, I estimated that up to 100 people could be seated in the Great Barn, with probably half of those seats being occupied at any one time today (mid September), so still a lively time of year for the team at Hardwick Hall.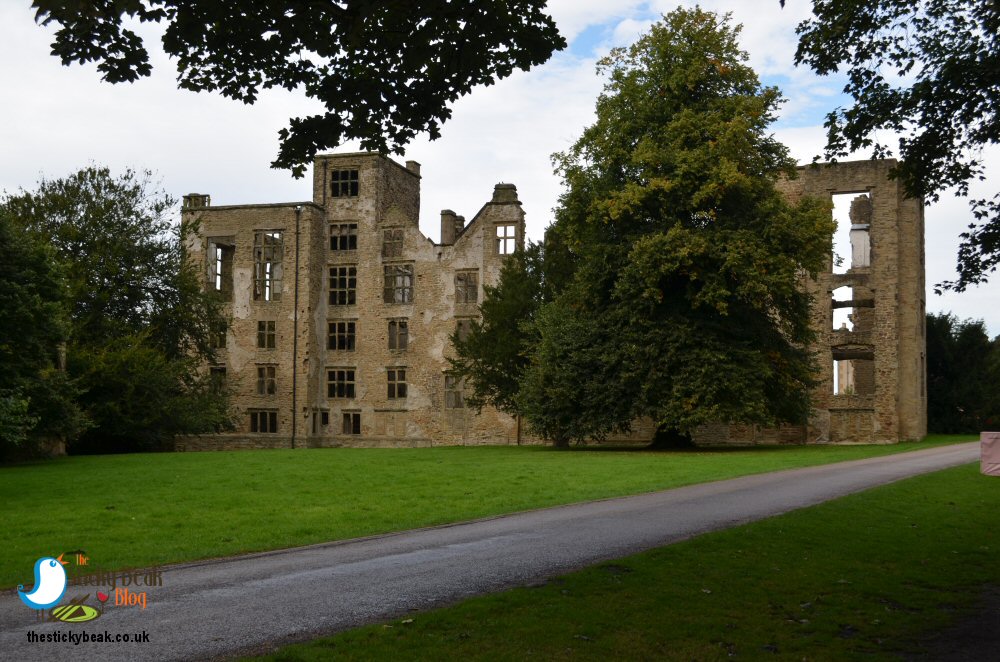 We snapped a few nice photographs of the grounds, the restaurant and asked if we could just step inside the entrance to get a shot of Hardwick Hall itself. The very obliging lady and gentleman then spent a good quarter hour talking to us, regaling us with some of the history of the Old Hall (managed by English Heritage) and tales of the formidable Bess herself.
Hardwick Park and the restaurant (from 9am) and the garden and shop (from 10am) are open every day except Christmas day until 6pm or dusk (if earlier), the Hall itself is open from 13th February until 3oth October 2016 Wednesdays through till Sundays. Christmas season begins on the 26th November through until the 18th December, albeit with slightly shorter opening times of 11am-3pm but still Wednesday-Sundays and the car park shuts at 6pm or dusk (whichever is earlier).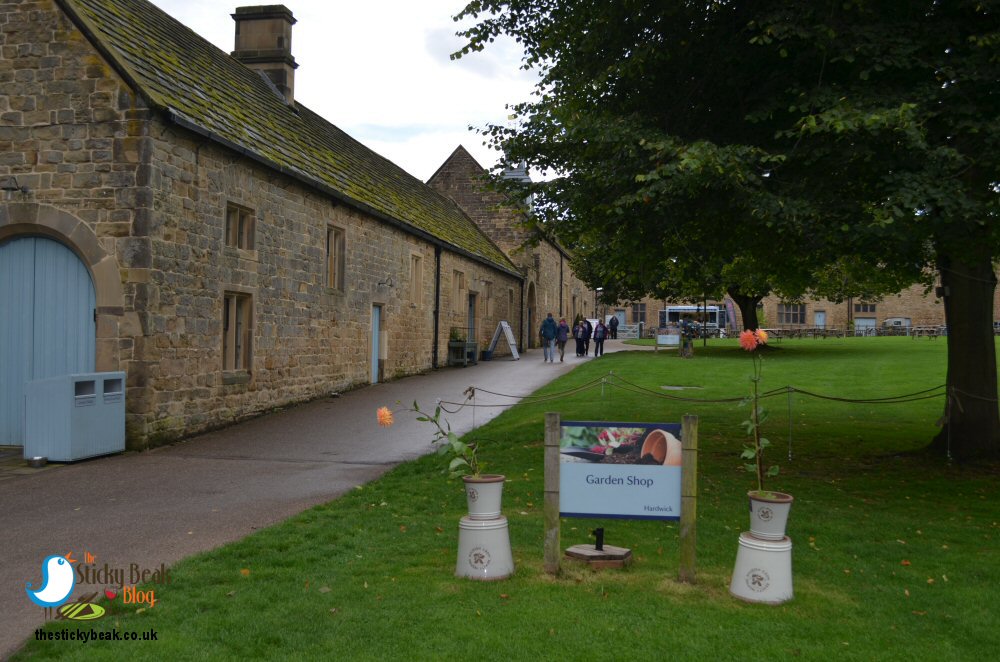 As stated earlier, you will need to pay car parking fees to access the Great Barn restaurant, but this will also allow you to appreciate the beautiful grounds to either walk up an appetite or walk off the calories and it also goes straight to the upkeep of one of our counties fantastic attractions.

Hot Wings definitely awarded to the team at Hardwick Hall and more specifically its Great Barn restaurant team; it was a real pleasure to review your food and restaurant :)
Some form of incentive was provided to visit this venue
read more