Afternoon Tea At The Flying Childers, Chatsworth House
---
Published On Monday 12 Sep 2016 by Sticky Beak
See Recent Dining Out Reviews | See All Recent Reviews


The Man Bird and I were invited to have Afternoon Tea at Chatsworth House' The Flying Childers tearoom a while back, and last weekend we tootled along to take them up on their kind offer.
In todays frenetic environment little oases of calm are rare gems that allow us to recharge our batteries and reconnect with friends and loved ones, and The Flying Childers is an extraordinary venue that perfectly lets you to do just that.
Let's be honest here; when you are driving along the road to Chatsworth House and you first glimpse the magnificent building your breath is taken away and you feel your world-weariness begin to slip off your shoulders.

This continues as you make your way into the old stable block, which now houses a couple of restaurants, the Gift shop and the Flying Childers tearoom, due in no small part to the very sympathetic renovations that have preserved the original stone structures and their character.


Once inside The Flying Childers the refined, relaxed ambience releases any last vestiges of everyday stress from you and transports you into a gentler space.

You are probably wondering how on earth the tearoom got its unusual name and a rather grand picture on the wall will give you a clue. A stunning bay thoroughbred stallion and his handler greet you as you walk through the door; the magnificent equines name is Flying Childers and he was owned by the second Duke of Devonshire.

This horse was a legend in his day, winning many prestigious races, and if we compared him to the great Frankel of our era Childers would come out ahead in the comparison.


A very smartly attired, polite young lady by the name of Abigail came and handed us our menu, then gave us a couple of minutes to choose the teas or coffees we would like to have. I chose Moroccan mint tea and The Boy Wonder had the Wedgewood original blend in homage to Wedgewood's collaboration with the Chatsworth Estate in the tearoom enterprise.

The china tea services are, as you would expect from Wedgewood, absolutely stunning in their designs and this genteel touch further enhances your sensory experience of the Flying Childers tearoom.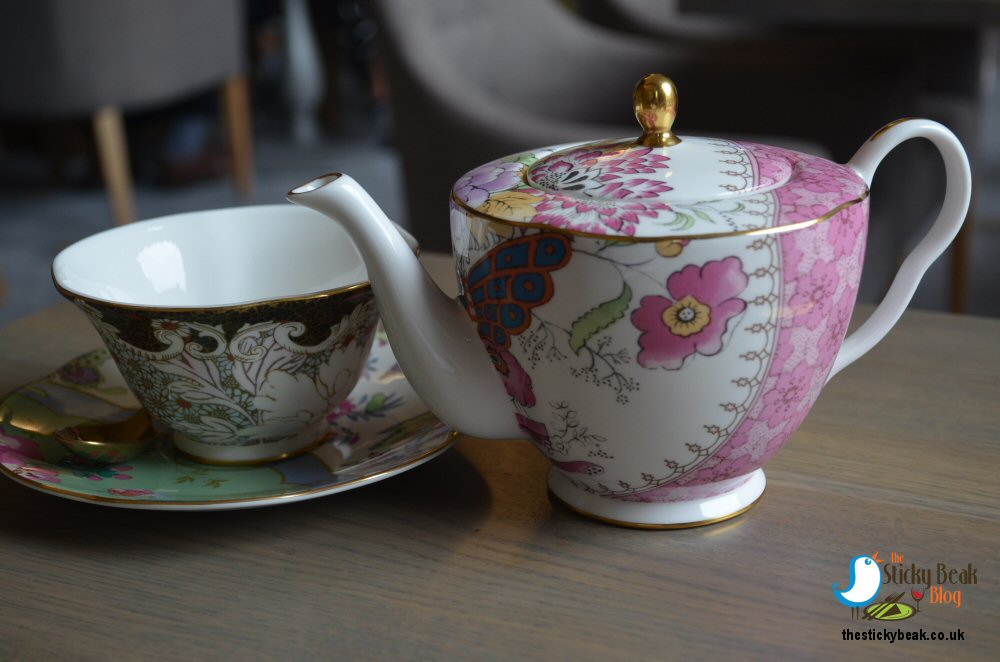 To kick things off we were served with Beetroot Macaroons with Goats curd and cubes of red, and golden, beetroot and a tomato jelly.

The Macaroon was superbly textured; a thin crisp shell with that wonderful chewy inner to savour, and a gorgeous hint of sweet beetroot offset by the tangy Goats curd. It isn't often that you get to eat different varieties of beetroot side by side, but by doing so you appreciate the subtle differences that nature provides; the golden Beetroot is slightly mellower and subtle in flavour than its red, earthier, more robust cousin.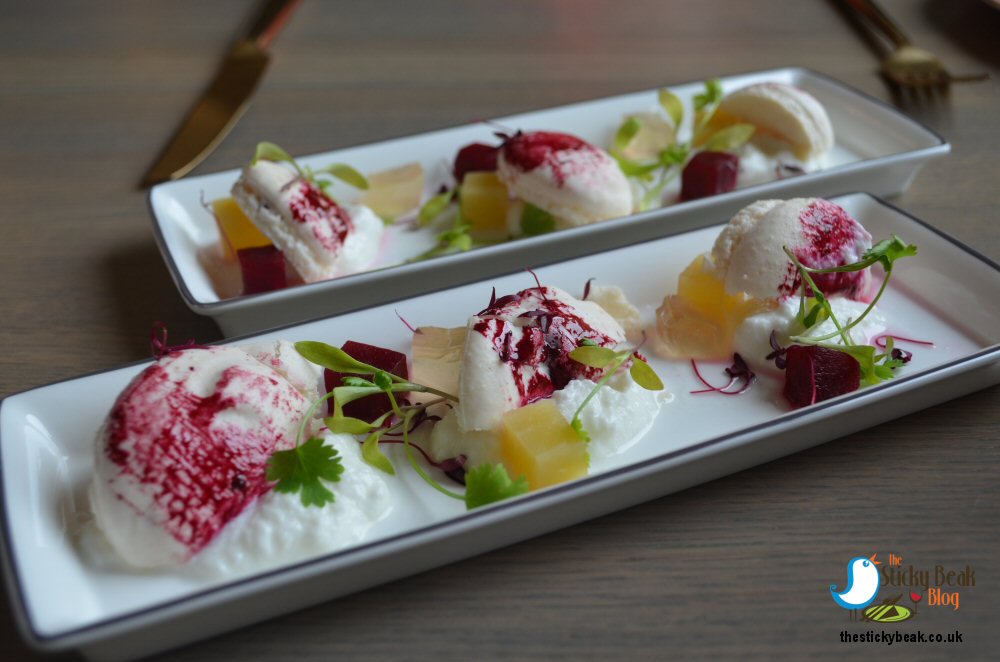 The Man and I were in agreement that the Macaroon was the perfect introduction to what we were sure was going to be a fantastic spread. Abigail came to check that we were enjoying ourselves so far and enquired if we would like more tea, to which we replied that we were still fine for refreshment and were enjoying the service so far.
The finger sandwich selection comprised Smoked Salmon and Dill mayonnaise, roasted Ham and Chatsworth estate Tomato Chutney, Free range Egg and Mayonnaise, and Cream cheese and Cucumber on a variety of white and brown breads.

All the sandwiches were lovely with enough filling to satisfy and savour, without spilling out when bitten into. My own favourite would have to be the Smoked Salmon (no surprise to you all I'm sure dear readers) and His Nibs was bowled over by the Ham and Chutney sandwich; not only was the ham top quality but the Tomato Chutney had a real zip to it that he really enjoyed.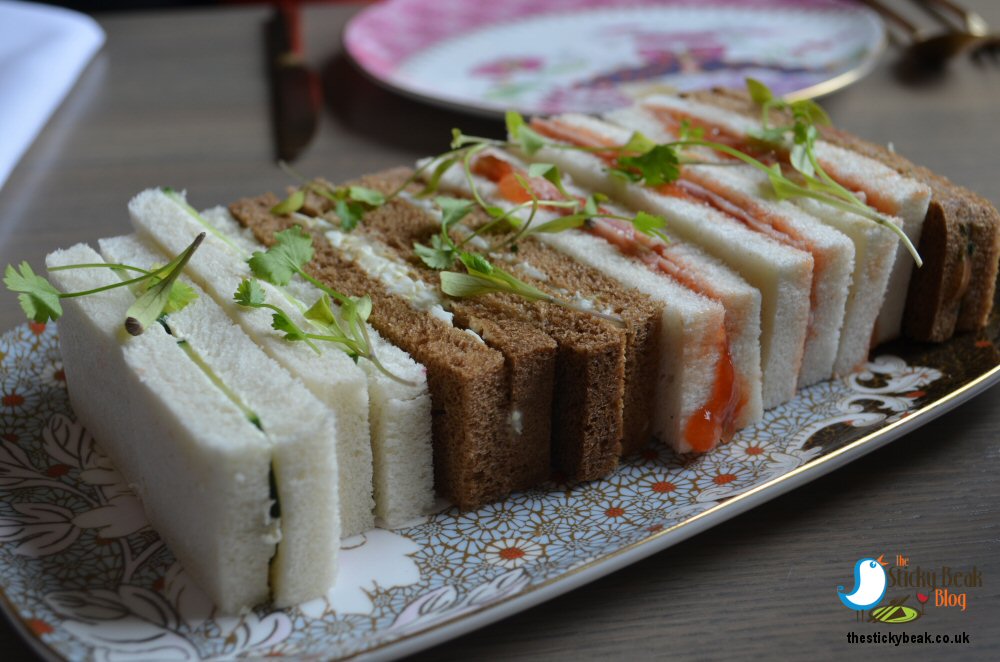 Yet again, the lovely Abigail was discreetly monitoring our progress and came to enquire how we were finding the sandwiches, and was happy to hear that we were impressed with the selection on offer. We did take her up on her kind offer of more tea, this time I opted for Assam and The Man Bird had his favourite afternoon tea tipple of Earl Grey.

With her discreet efficiency, Abigail soon whisked our old tea cups and tea pots away and returned with a fresh service of both. I have to say that all the staff had that splendid knack of just appearing when needed and not seeming to be noticed at other times, a rare skill that appears effortless but in fact takes a high level of training and skill to achieve.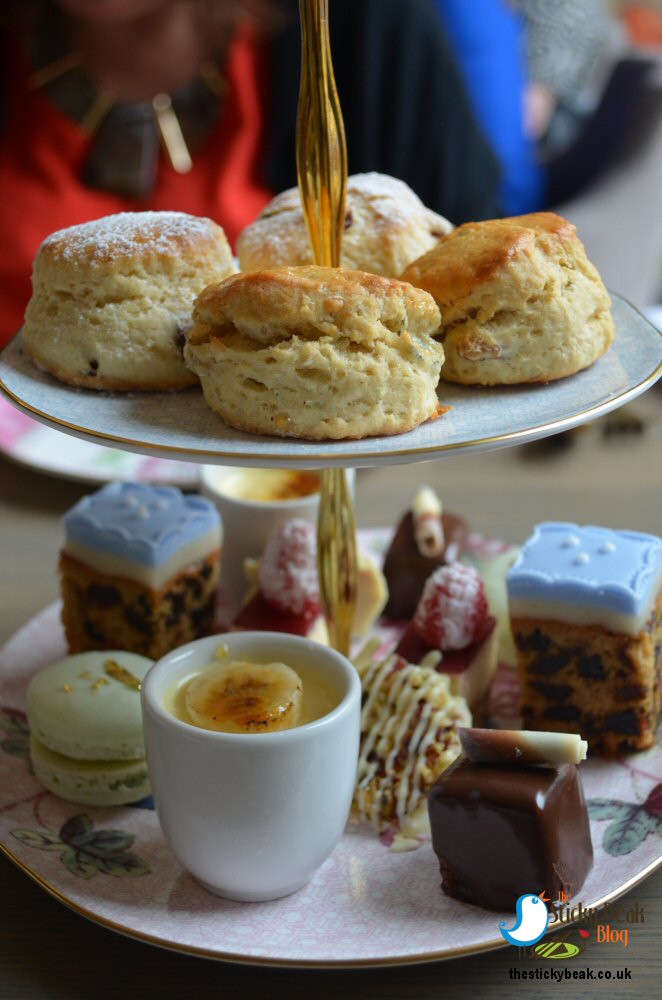 Another lovely young lady by the name of Alana Clare served our Cakes and Fancies selection to us on a two tiered cake stand. On the top tier were Stilton and Walnut scones with fresh butter, and the more traditional fruit scone served with Strawberry preserve and clotted Cream.

Both scones were delicious and had a wonderful open texture to them; the savoury version had a lovely Stilton hint to it with Walnut pieces providing a great crunch, and the fruit scone had a pleasing amount of fruit in it as well.




The second tier contained a mesmerising selection of multi hued delights; Fruit cake with Wedgewood blue icing, Passion fruit Posset with Caramelised Banana, Cranberry, Pistachio and White Chocolate Florentines, Jasmine Macaroon with their delicate Eau de Nil colour and Gold Leaf top, Spiced Chocolate Mousse and Bakewell Cheesecake. Our little eyes were popping out on stalks at the sight before us, and we could hardly contain our excitement; the hardest thing was deciding which order to have them in!
The Passion fruit Posset was eventually agreed upon as the item with which to celebrate the sweet selection and it did not disappoint with its full fruity flavour that cleansed the palate, and boy did my palate need cleansing after the amount of clotted cream I had heaped upon my scone.

We chose the gorgeously decorated fruit cake next with its iconic Wedgewood blue adornment, and it was a superb example of an afternoon tea cake; not too rich but not too light, just the right balance of sponge and fruit.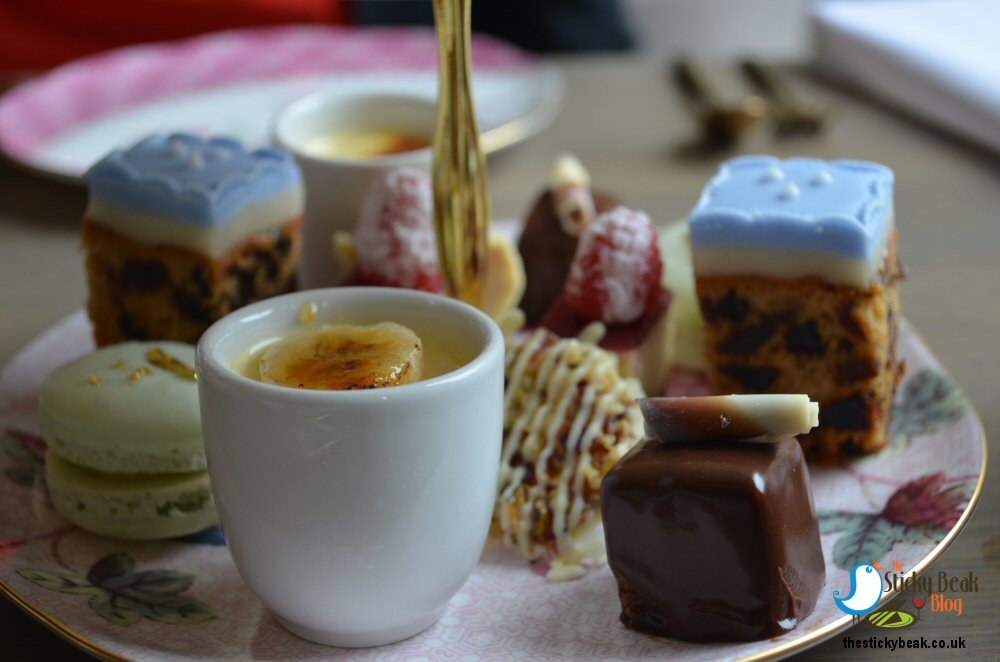 Moving swiftly along we soon saw off the rather yummy Florentine and the equally marvellous Spiced Chocolate mousse. Only two contenders remained on the cake stand, the Jasmine Macaroon and The Bakewell Cheesecake so we flipped a coin to determine who would be the proverbial last man standing.

Our penultimate morsel was the delicately perfumed Macaroon and it was delightful with its light flavour and texture, but the last temptation to be savoured was Chatsworth's interpretation of local classic, the Cherry Bakewell, with its Cheesecake version.




It was absolute sweet heaven; its base was firm and buttery, but not so hard that you couldn't cut through it with a pastry fork and the almond cheesecake layer was topped with a vibrant Cherry gel. As the last crumb passed our lips we gave a little sigh of satisfaction, but also tinged with sadness as we didn't want the afternoon to end.
Through every moment of our time on The Chatsworth Estate, from arriving at the car park entrance and chatting to the booth ladies to leaving The Flying Childers restaurant we had been treated with nothing less than complete professionalism.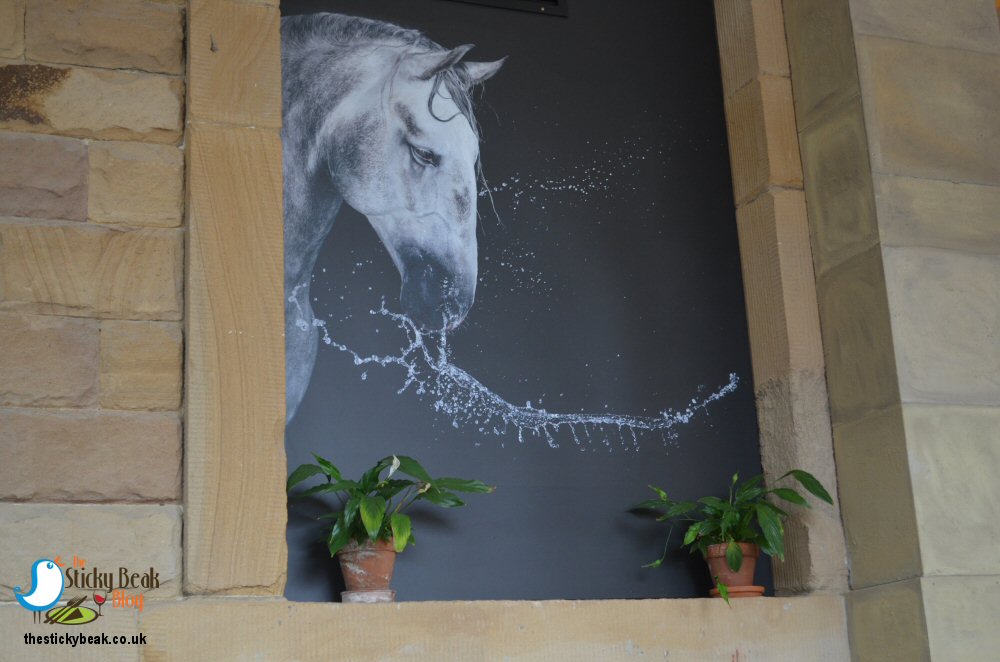 Nothing was too much trouble for any of the staff and we had a thoroughly splendid time. Most people have at some time visited one part of the Chatsworth Estate, whether it be going into the magnificent Chatsworth House itself, Chatsworth Gardens, Chatsworth Farm or Chatsworth Garden Centre, but the excellent catering facilities are sometimes overlooked.

I can recommend the Flying Childers Afternoon Tea experience to you whole heartedly; admittedly it isn't cheap at £35 per person (£45 per person if you want to add a glass of Laurent Perrier Rose Champagne), but everything was top quality and it was a fantastic way to spend an afternoon :)
Some form of incentive was provided to visit this venue
read more