Lunch At Las Iguanas, Meadowhall
---
Published On Friday 26 Aug 2016 by Sticky Beak
See Recent Dining Out Reviews | See All Recent Reviews


Not wishing to blow my own trumpet, but I am a bird of many talents; the most notable two being eating and shopping, ask The Man Bird, he'll tell how his biceps are worked by carrying numerous bags! Sometimes the planets align and the opportunity to combine both my talents comes along, and this was the case on an outing to Meadowhall for some new togs with My Mummy Bird, The Chick and His Nibs.
We easily got parked thanks to the great facilities at Meadowhall, and, in typical flock fashion, headed off in search of somewhere to grab a "pre-spree" breakfast and coffee. The customer service lady was very helpful and as she gave us a map of the centre, pointed us in the direction of Costa Coffee. After a short while we had re-fuelled and headed off to spend in our own inimitable style at the plethora of stores.
Thanks to some forward planning, The Man Bird had booked us in at 1pm at Las Iguanas and we were more than ready for some refreshment and a sit down. A lovely staff member showed us to our booth table and handed us a menu, before telling us that our server would be with us shortly.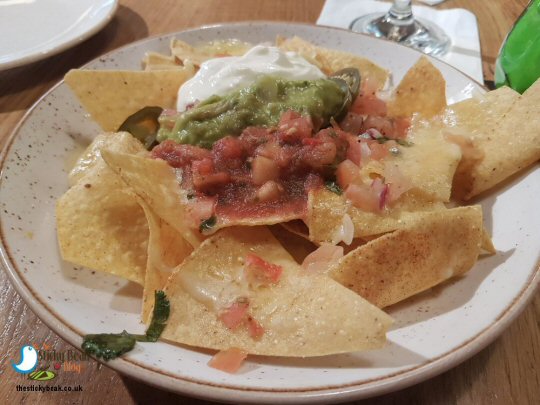 Las Iguanas have got a terrific lunch and early evening menu that offers main courses for £6, £6.95 or £7.95 and you can add starters to this for £1.95 or £2.95. They also have some great drinks options that sit alongside this menu (first glass or bottle only); £2 for a 175ml glass of red or white wine or Brahma bottled beer and £1.70 for Coke, diet Coke or lemonade.

My Chickadee had spotted the non alcoholic coolers were on "buy one get the same one free" and decided to have the Raspberry cooler which is raspberry puree and bottlegreen Elderflower refresher.
The Flock tucked into the starter dishes, Quesadilla with spicy Chicken, Peppers, Onions and Cheese and Nachos topped with melted Cheese, Pico de Gallo salsa, Jalapenos, Tomato salsa , Soured cream and Guacamole. The dishes were full of flavour and colour; the nachos were crispy and the quesadilla was filled generously with lovely spicy chicken.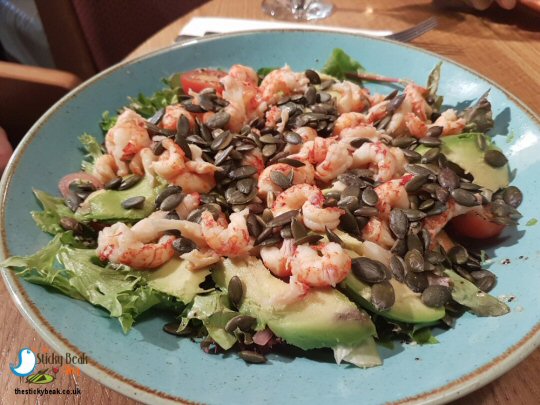 It didn't take us all long to demolish those appetisers and we looked forward to trying our mains; I ordered the Fiesta Ensalada with Crayfish (an additional £2), Mummy Bird had the Cuban sandwich, Chickadee chose the Smoked Chipotle Chicken Burritos and The Boy Wonder had the Havana club and BBQ glazed Pork ribs.
My Mummy Birds face when our server brought her Cuban sandwich over was, in the words of those famous adverts, priceless. The buttery toasted bun was rammed full with roast Pork belly, pulled pork, Emmental cheese and Ham topped with a sweet Mustard and Green pickle relish, and Mummy had opted for fries rather than salad to go with it. Even the rest of us gave a little whistle of "whoa, that's a beast and a half" as it was placed in front of The Elder. Without much ado, Mummy began to tuck in as it was likely to take her a good while, and enlisted the help of her cutlery.
The Chick was equally agog when her Burrito was placed in front of her; it was just as huge in proportion as the Cuban sandwich, although its filling of chipotle rice, refried beans, crunchy 'slaw and cheese was different to the sandwich. Judging by the little sighs of delight, I think it safe to say that My Chick was enjoying it immensely.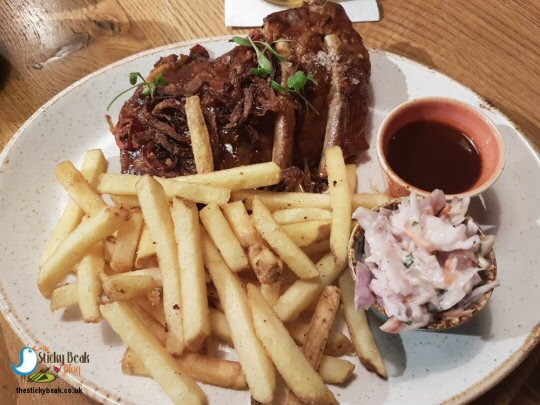 My own Salad was liberally strewn with Crayfish tails that were very juicy and flavoursome. There was a fantastic array of flavours and textures thanks to the roasted Butternut Squash, mixed leaves, Carrot, Cucumber, Salsa Criolla, smoky roasted Tomatoes and fresh Avocado all tossed in a Poppy seed dressing. A liberal scattering of roasted Pumpkin seeds, charred Corn and Roquito peppers crowned a jewel coloured dish to perfection and further enhanced the taste and texture of this dish.
Last but not least, His Nibs Pork ribs were served to him, and wow did they look good; half a rack of pork ribs slathered in an amazing smelling sticky rum glaze topped with Crispy onions and chilli, with 'slaw and fries (sweet potato mash or salad were the other choices).The ribs just fell away from the bone with no effort and just melted on the tongue they were so tender, and the glaze was finger lickingly good too.


As the last morsel was being savoured we all sat back with satisfied grins on our faces, and planned the afternoons shopping route on the lower level. The staff members were all very polite and smart, and had checked back on us when we had the starters and mains to make sure we were happy with our food.

In the background there had been a nice level of music and the premises were clean and tidy so we were satisfied in all areas with our experience at Las Iguanas in Meadowhall. Hot Wings awarded here, so if you go to Meadowhall yourselves dear reader I can heartily recommend Las Iguanas as a place to eat :)
No incentive was provided to visit this venue
read more