Dinner At Wagamama At Derby INTU
---
Published On Sunday 21 Aug 2016 by Sticky Beak
See Recent Dining Out Reviews | See All Recent Reviews


Sometimes a venue still manages to surprise me, and Wagamama at Intu, Derby was one of those places. From the outside it looks quite austere and clinical, but when we stepped inside the atmosphere was really friendly and warm with a lovely ambience to it.
The tables are arranged in almost bench style rows with each one divided for up to four people to sit at, and at first glance you think you're going to be getting rather too up close and personal with other diners, but thankfully this isn't the case at all. There is a large enough gap between the seating so that it's the same as being seated in other restaurants; you have your own personal space respected and, unless you talk loudly, your conversation will remain private.


Robin, the Assistant Manager, showed us to our table before handing us over to the very lovely Ben, an extremely smart, polite young man who was our designated server for the evening. First on the agenda was ordering a large glass of a delightful Sauvignon Blanc for me and a cold Singha lager for His Nibs as we perused the menu for inspiration for a starter dish.

The Chilli Squid with Coriander and Chilli dipping sauce caught The Man Birds beady eye straight away and I decided to try the Ebi Katsu, which is crispy fried Prawns in Panko breadcrumbs with a spicy Chilli and Garlic sauce, garnished with a fresh Lime wedge. We also ordered the Raw Salad with its mixed leaves, red Onion, Mooli and Carrot garnished with fried Shallots and served with Wagamamas own house dressing.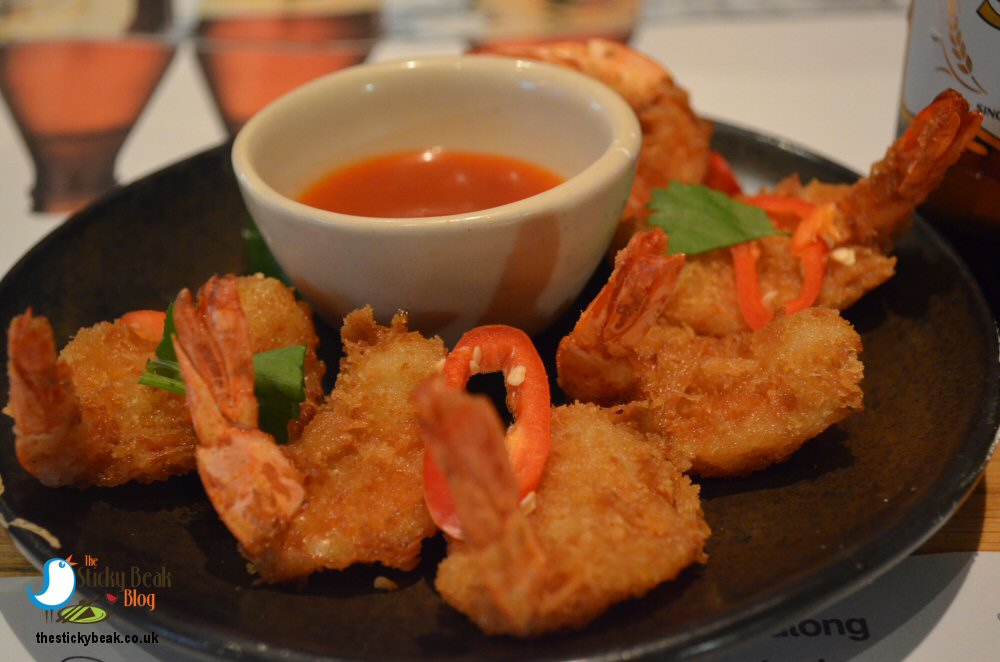 I have to say, I was pleasantly surprised by the size of the starter dishes, they could easily be chosen as lighter portions if you wanted them for lunch or even if you were just a bit peckish during a shopping spree. I had 6 large prawns to tuck into and they had a fantastic crispy outer to them that gave a great crunch when bitten into, and the dipping sauce was nice and fiery; just what I was in the mood for.

The Man was equally pleased with his ample portion of Chilli Squid; it had been cooked just right so that it was nice and tender rather than rubbery and tough, and again the dipping sauce had a nice heat to it that pleased his palate. There were plenty of tastes and textures to be enjoyed in the salad, and we tucked into that throughout the meal at a leisurely pace. Both Robin and Ben came to check that we were enjoying our starters, which we were very much so.


For our main courses we ordered Surendra's curry with Chicken for Him Indoors, and Teriyaki Lamb from the Omakase (Chefs special dishes) selection for yours truly. The grilled Teriyaki Lamb comes with Mushrooms, Asparagus, kale and Mange tout which is served on a bed of Soba noodles in a Pea, Herb and Wasabi dressing, and I must admit that it was the combination of Lamb and Wasabi that got me intrigued.

Visually it is a stunning dish and I was hoping that it would taste as good as it looked. Lady luck wasn't just smiling on me, she was positively grinning like a Cheshire cat, because it was a really well thought out and cleverly put together dish, and the Lamb itself was very tender and juicy. All the elements worked in harmony so that there was plenty of interest on the palate, and the Wasabi, whilst you could still detect that hot, pungent note, didn't overpower the dish at all. I was extremely pleased with my choice, and The Boy Wonder also loved the bit I gave him to sample.


There is a little bit of a story behind Surendra's curry; it is actually named after one of Wagamamas development chefs, Surendra, and is a recipe that his Aunt passed to him. A little bit of chef jiggery pokery and Wagamama slant was given to it and it has become a favourite on the Wagamama menu, and rightly so according to His Nibs. It is a rich, hot, spicy green curry made with Jalapeno peppers, onions and Ginger, and you get a fantastic hint of Star Anise that is quite surprising to find in curries.

It is topped with Sweet Potato straws and served with mixed Sesame seed garnished Steamed rice. If you haven't yet tried this dish, I can heartily recommend it to you; it isn't overly spicy, it has a nice mid range heat to it that I think most people will appreciate. Again, both portions were very generous so, if you were like me and thought that you wouldn't get a "hearty" meal at Wagamama, then you are in for a very pleasant surprise :)


Kiren, the General Manager came over at this point to see what we thought of the food so far, and brought over a portion of Yaki Udon from the Teppanyaki section of the menu for us to try as a little surprise. This gem of a dish looked huge, and I was totally shocked when Kiren told me that it contains only 700 calories!

The evening was blowing all my pre-conceptions out of the water, but in a good way, and the Yaki Udon was absolutely delicious. This dish is thick noodles fried in curry oil with Chicken, Prawns, Chikuwa, Egg, Bean sprouts, Leeks, Mushrooms, and Peppers garnished with fried Shallots, Pickled Ginger and Sesame seeds. Both of us commented how lovely it was, and again told Kiren that we were astonished by how few calories it contains.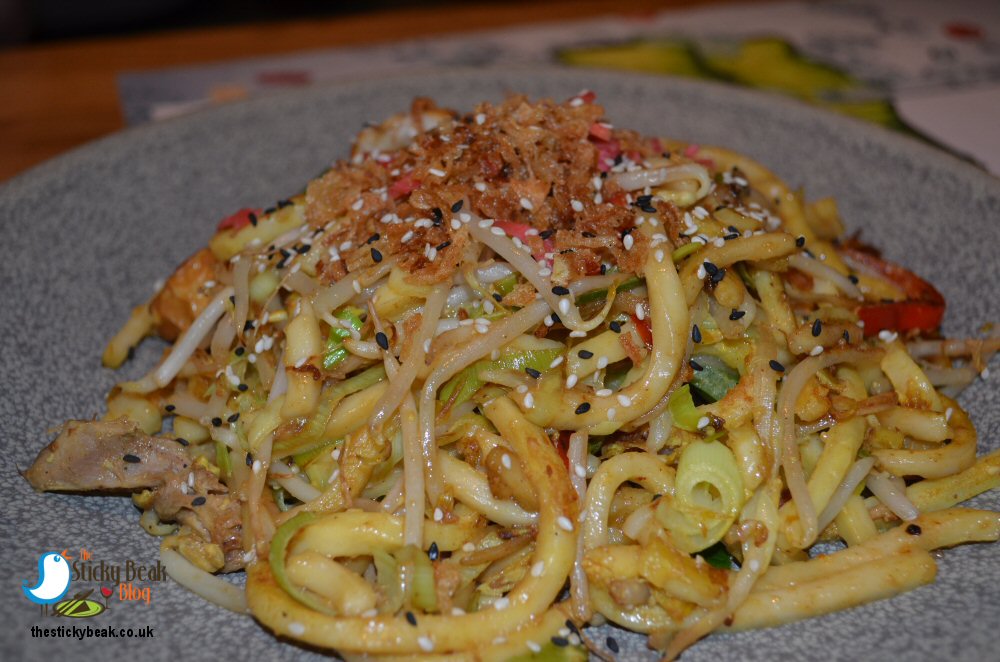 We were really touched when the Chef, Hemant Dangwal, came out to introduce himself and ask how we were enjoying the experience. He was telling us about how all the ingredients are fresh and cooked to order, there is no microwave in his kitchen, and they really go the extra mile for those guests who have Gluten intolerance issues.

For those individuals who do have Gluten intolerance or allergies, Wagamama have thoughtfully put together a varied menu especially for you, and they specify their procedure in the kitchen on this menu for you to read. Personally I have no food issues but I was impressed by the level of thought and care that the company give to those customers that do live with these difficulties.
For dessert we chose Onigiri (me) and Banana Katsu (The Boy Wonder), and they were both absolutely delicious. I would describe the Onigiri as a rice doughnut with a coating of coconut, and I loved the fact that it wasn't overly sweet or sticky and it wasn't at all greasy. The best bit about it was licking the sugar that it was dipped in off my fingers; sometimes it is the simplest things that bring me pleasure.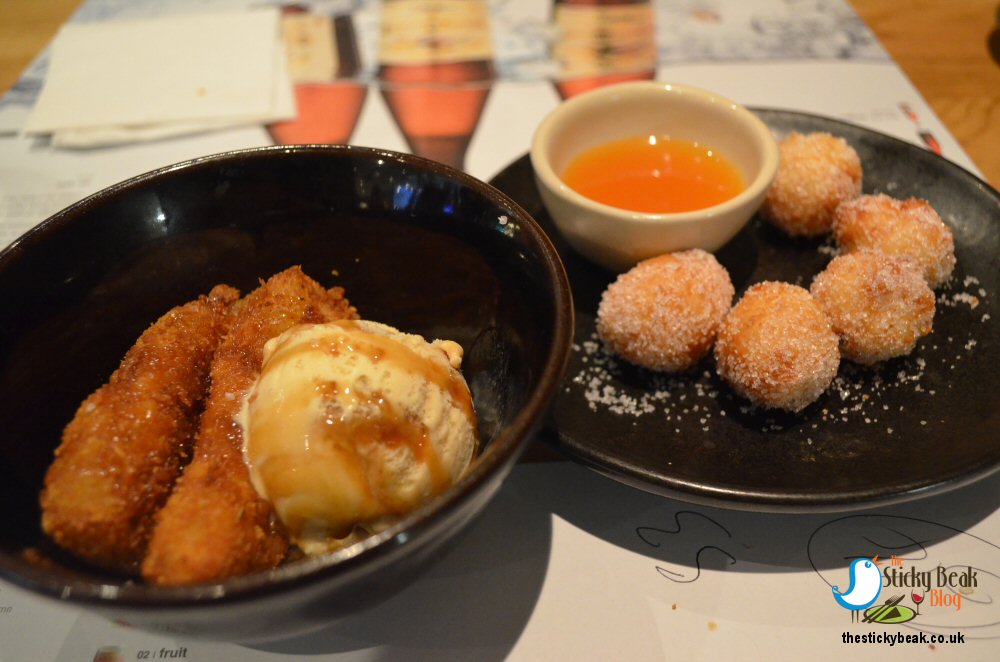 A separate pot of Passion fruit sauce meant that I could dip in as much or as little as I wanted, and the delicate tang complimented the Onigiri brilliantly. The Man Birds Banana Katsu was a hit too, the Katsu coating was nice and crisp and wasn't as sweet as a more traditional fritter type batter which allowed the natural sweetness of the just nicely ripe Banana to shine. Salted Caramel Ice Cream was the perfect partner for this dish because it again has sweet and savoury elements to it to prevent it being too sweet and cloying.

Most importantly, neither dessert had the effect of lying heavy on the tummy, so we didn't get that bloated feeling at the end of the meal.
As usual we rounded things off with a couple of Latte coffees, and took the opportunity to have a final chat to Robin and tell him what an amazing time we'd had. The staff were all incredibly attentive, not just to us, but to all the other diners in what had been a very busy evening for them.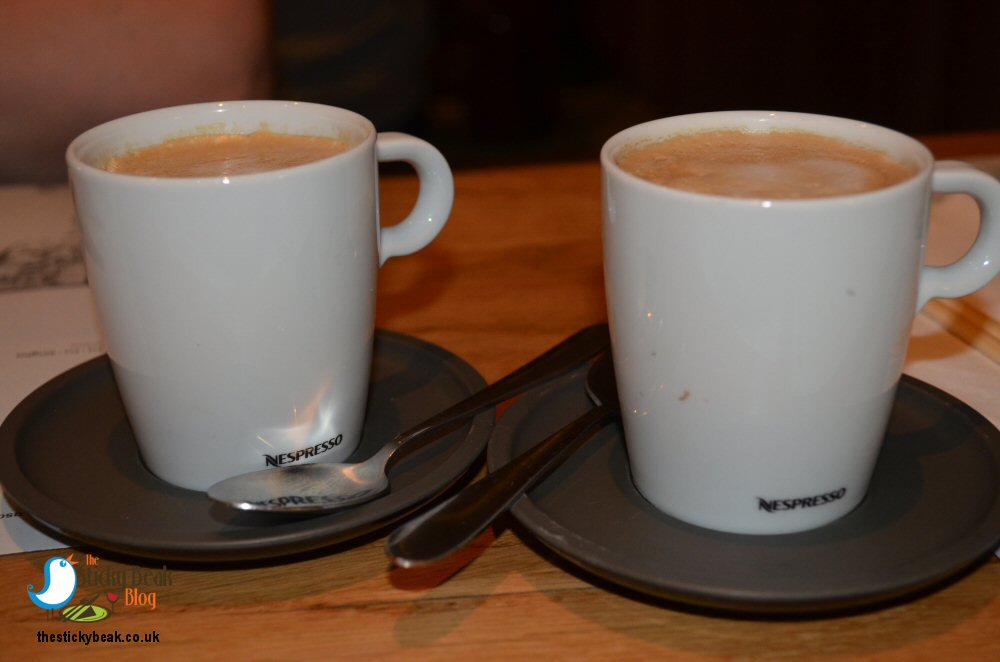 If you haven't been before then I can totally recommend it to you; they have a fantastic childrens menu too and there were several families in dining which was nice to see. They also do a delivery service via Deliveroo, so if you are lucky enough to live within the required vicinity for delivery and really don't want to cook, take full advantage of this service :)

Hot Wings definitely deserved here, and Thank you Kiren for inviting us over to experience Wagamama, we're converts for life.
Some form of incentive was provided to visit this venue
read more