Dinner At Fahrenheit, Genting Riverlights, Derby
---
Published On Sunday 14 Aug 2016 by Sticky Beak
See Recent Dining Out Reviews | See All Recent Reviews


It's been a fair old while since The Man Bird and I paid a visit to Fahrenheit Bar and Grill, so we were delighted when Josh, the manager, asked us to come and sample the summer menu.
We have had a very positive experience each and every time we have had the pleasure of reviewing this Derby restaurant, and you don't have to be a member of the Casino either to be able to dine there.

As we made our way up the escalator to the reception area, a lovely lady greeted us with a wide smile and asked if we'd been before; we replied we had so the process of having our photo taken was a quick procedure. Another escalator took us up into the casino floor and restaurant area, and we couldn't help but smile as we saw the welcoming smile of Josh.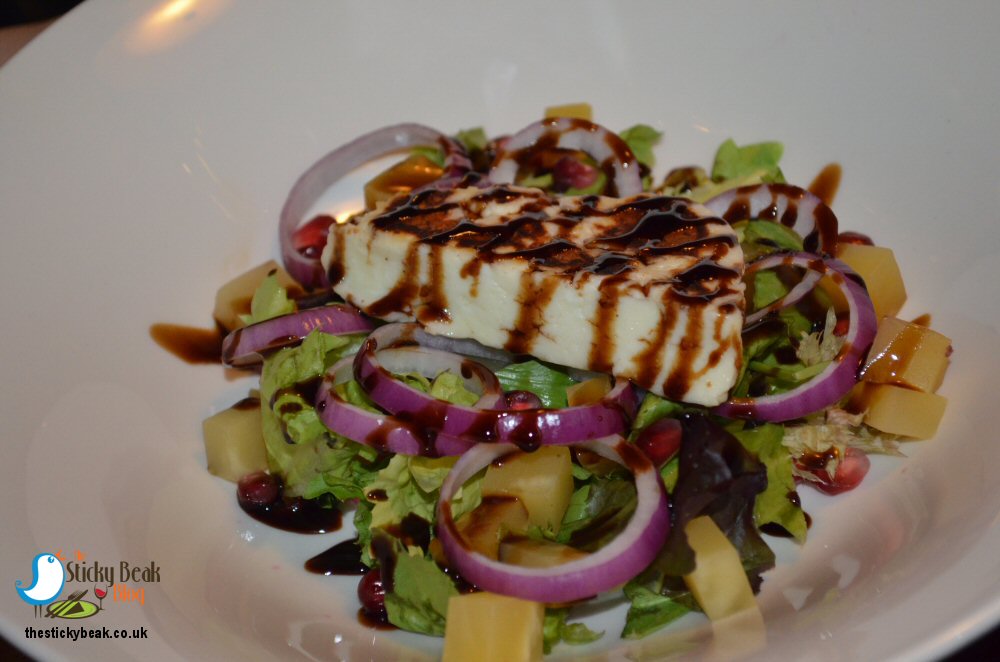 Fahrenheit has a lovely feel to it, thanks in no small part to the very thoughtfully done decor and we soon settled in at the far booth table, which afforded us a great view of the entire restaurant and also of the gaming floor.
It was lovely to see so many diners in already at 7.30pm and I think some of them were taking advantage of the amazing summer offers this restaurant has on at the moment. There is a "meal deal" menu that allows you to have two courses for £9.95 or three courses for £11.95, and you can add a bottle of wine for only £8.

The "cocktail club" offers 2-for-1 on cocktails Sunday- Thursday from 12pm -7pm (excludes Splash Out), but my favourite offer is the "summer offer" of 25% off your total bill from the A la Carte and "Go Casino" menus, which is valid from Sunday- Friday. Josh told me that this is going to be running at least until the end of September, so if the kids are monopolising your time this August don't panic; when they go back to school in September, book the babysitter and reclaim your adultness (and your sanity!). If you can't wait that long, and frankly why wait, then grab your friends together for a fun night with great food in a friendly relaxed restaurant.


As usual, I could've eaten every single thing on the menu, and actually had two starters because I really couldn't make my mind up; I settled on the Grilled Halloumi Salad with roasted Beetroot and Pomegranate seeds and Fahrenheit Sticky Pork Ribs with Pineapple and Black Pepper Salsa, and His Nibs chose the Crispy coated Calamari with Asian Dipping sauce.

We had a bottle of chilled table water as well as a bottle of the jolly cheeky Pinot Grigio Rose, which we knew from last time to be nicely quaffable. The salad looked beautiful with its array of jewel colours and it tasted just as good; lovely crunch coming from the Pomegranate seeds, slight saltiness from the Halloumi and sweet roasted beetroot was just perfect on the palate.




Equally fabulous was the Fahrenheit Sticky Pork Ribs; the glaze was exactly as stated, brilliantly sticky with smoky but sweet flavours that caressed the tender Pork meat. The Pineapple and Black Pepper Salsa went brilliantly with the meat too, and The Boy Wonder and I soon devoured these little beauties.

Calamari, if not cooked properly can be a bit rubbery, but thanks to the skill of head chef Sam Lloyd-Walker and his Sous chef Tyrone Birkinshaw the ones served to The Man Bird were spot on. The dipping sauce has been changed slightly to an Asian version that actually went really well with the seafood. Josh came to check that we were enjoying our starters and was pleased with our feedback. Dan came to clear our plates and it wasn't long before Josh was bringing our main courses out to us.

I had the Twice cooked Belly Pork with Champ mashed Potato, Savoy cabbage and Crème Fraiche Cider sauce, whilst His Nibs opted for the Chicken Forestiere which is Chicken Breast in a Garlic, Cream and Mushroom sauce served with chunky chips, grilled Tomato, Mushroom and Watercress.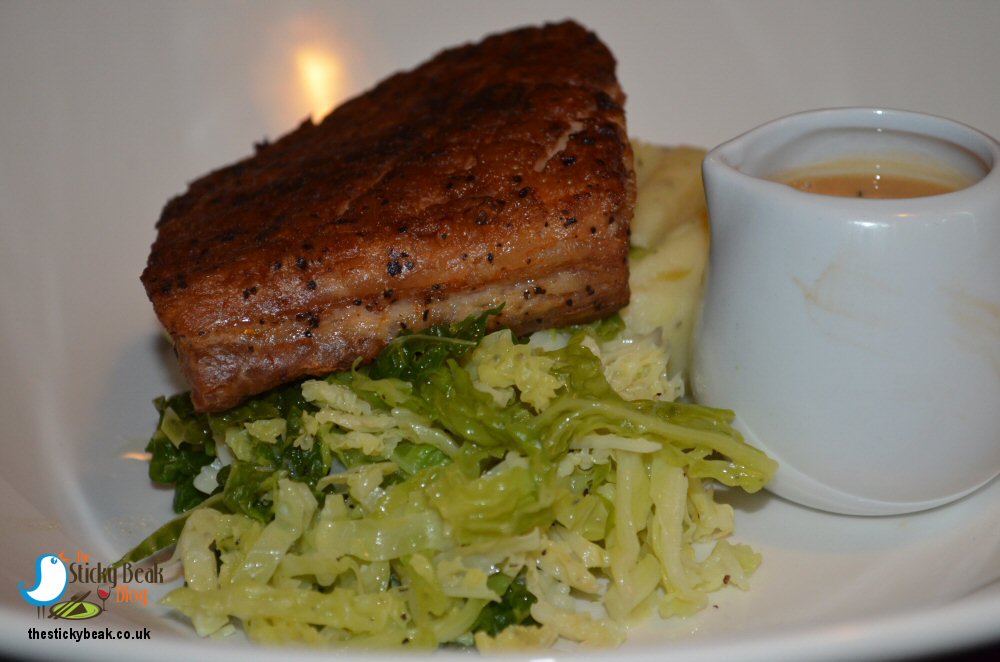 It goes without saying that we ordered a side of Onion rings (I LOVE Fahrenheit's version), and they were as amazing as ever; Josh still wasn't divulging the secret to their perfection though! One of the things that sets them apart is the fact that when you bite into them the whole onion slice doesn't come away in the first bite, you literally get a clean bite of onion and batter every time.

Both our main courses are newcomers to the menu, and I think that you will love them. The Man Birds chicken was a really good sized breast and the meat was very tasty, moist and succulent with the accompanying sauce being superb too. Lovely "crisp outside, fluffy inside" chips and nicely grilled vegetables made the dish a real pleasure for him to eat. I tried a piece of the chicken and sauce and I got a little hint of Tarragon on my tongue which I loved.



My own Belly Pork was simply gorgeous; the meat was delicate in flavour and just came away in ribbons it was so tender. It sat on a bed of marvellously creamy Champ mash with texture provided by the greens in it, and the shredded Savoy cabbage had been cooked so that it retained some of its wonderful natural texture and its flavour came jumping through in the mouth.

The crème Fraiche Cider sauce was in a separate little pot allowing the addition of as much or as little as you fancy, and it was a lovely sauce to pair with the Pork as Cider is a natural partner anyway for it. Josh checked that everything was to our satisfaction and was met with grins of happiness, and, soon afterwards, clean plates.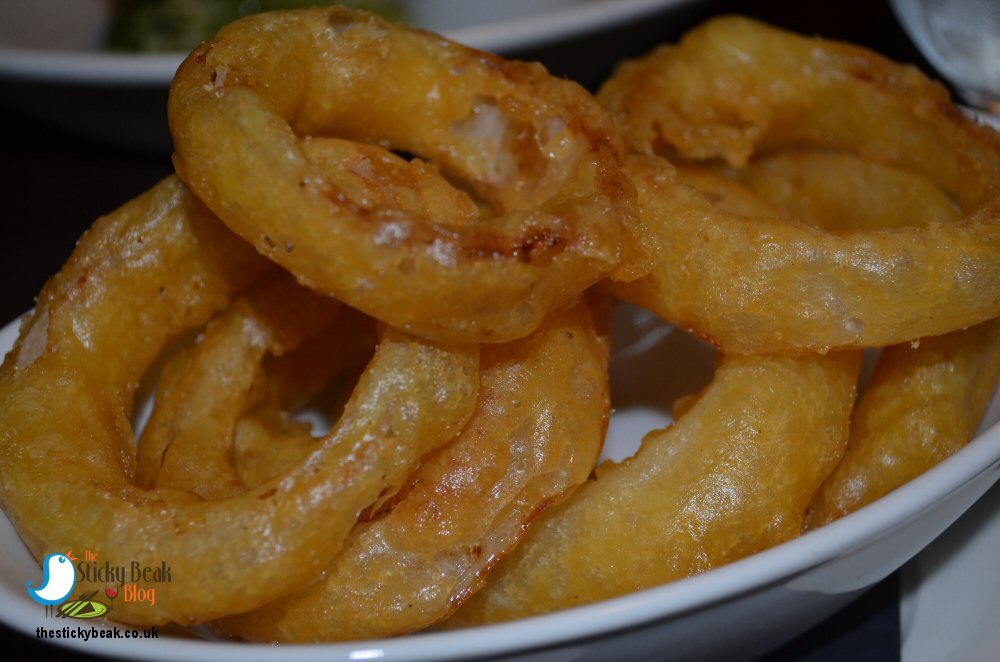 My favourite dessert was calling to me like a siren, so Cointreau Crème Brulee it was for me (with Glazed Oranges and Shortbread) and Him Indoors fancied the baked New York style Cheesecake with warm Cherry compote. The Crème Brulee had a lovely thick, thwackable top to it that revealed rich, velvety custard that had a marvellous hint of Cointreau to it and the Glazed Orange segments had a fantastic natural zip to them to provide a contrast to the richer, creamier elements in this dish. Buttery Shortbread fingers provided the perfect final piece to this dessert.




His Nibs' Cheesecake was going down a treat across the table, and he said it was incredibly smooth and rich with a lovely base that was firm (nothing worse than a saggy bottom after all!), with the Cherry compote giving it some natural tartness to cut through the rich flavours. Yet again, our plates were spotlessly clean when Josh came to take them away and our tummies were full to bursting and incredibly happy.


We finished the superb meal off with a couple of Latte coffees and commented on how lucky we are to be doing something that we love and revelling in the fact that Derbyshire has an incredible array of restaurants for us to review. I know I've said it before, but I absolutely love my home county and passionately believe that folks need to know about what's on offer so they can come and support local businesses. Hot Wings for Josh and the Fahrenheit Bar and Grill team at Genting Riverlights Casino in Derby, they have done a great job with their Summer menu.
Don't forget about the incredible offers I mentioned earlier in the review, they are definitely worth checking out (details also available on Gentings website), and there are also amazing packages available for Christmas and New Year; yes, I know it's still Summer, but forward planning pays off.
Some form of incentive was provided to visit this venue
read more