The All You Can Eat Buffet At O-Tokuda, Chesterfield
---
Published On Sunday 7 Aug 2016 by Sticky Beak
See Recent Dining Out Reviews | See All Recent Reviews


It's confession time for me dear reader; after having a busy day at the fantastic Bakewell Show the previous day my enthusiasm for cooking had not returned, so I cheekily suggested that The Man took me out for dinner.
Our Chick was off doing her own thing so the two of us tootled off to the bright city lights, excited to be trying a new restaurant to review. We parked in our usual spot, local landmark "The Doughnut", although if you are dining in O-Tokuda the staff give you a ticket to park in the private yard at the back of the premises in the evenings.
As you walk into the restaurant there is a little pond with Koi fish in on the left hand side, and then you descend a few steps into the main eating area. It isn't a particularly large restaurant, maybe 50 or so seats, so I would definitely recommend booking as it was very busy when we arrived at 6.30pm.




A very friendly lady showed us to our table which incidentally gave us a great view of the restaurant and the open kitchen adorned with colourful traditional lanterns at the front. Another young lady was soon with us to take our drinks order, closely followed by a young man who took our starter order. Whilst we waited for our food I took the opportunity to get a quick bit of practice in with the chopsticks as it has been a while since I last used them, although the places were also set with forks for those that can't be faffed with chopsticks (normally our Chick!)
As you know dear reader, I love fish and seafood so I decided to have a mini Sushi Nigiri box to kick things off as we toasted our own good health with a white wine and Asahi lager. The sushi trio was delicious and came with Japanese ginger and Wasabi paste which both woke my taste buds up!




A mixed platter of Peking Spare ribs, Chicken Yakatori in Teriyaki sauce, Spring rolls, Prawn toast and Chicken Mango rolls was soon placed before us and we had also ordered Salt and Pepper Squid and Tori Gyoza (soft chicken dumplings). The toasts were lovely and crispy, not at all greasy, and they had plenty of filling in them; His Nibs loved the Chicken Yakitori with its sticky teriyaki glaze, and we both thought the sauce on the ribs was delicious.

A little platter of dips had also been placed on our table containing wine vinegar, soy sauce and sweet Chilli dip varieties, and the chicken dumpling really came alive to my palate when I dipped it into the vinegar. Our server came to check that everything was to our liking so far, which we assured her it was.

The beauty of coming to a restaurant that does buffet style dining is that the portions tend to be a bit smaller to encourage you to try more dishes than you would ordinarily, and we subsequently ordered some more of the Salt and Pepper Squid and tried the Deep fried crispy Fish in Dijon sauce. The squid was nice bite size pieces with a seasoned coating, and the Squid itself was lovely and tender, not at all rubbery.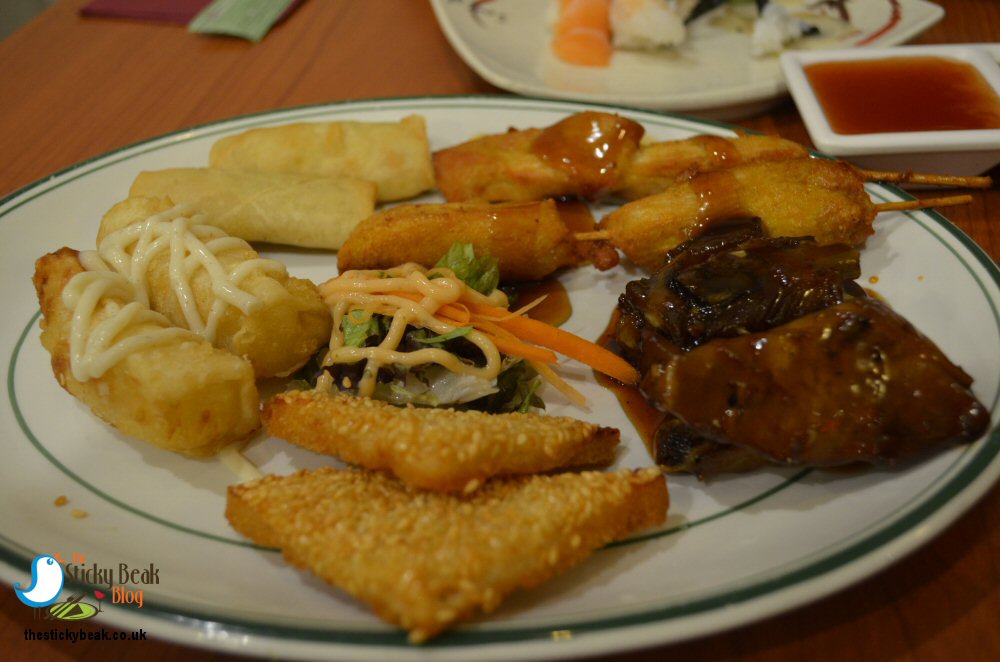 The Satay Chicken skewers were delicious, nice generous size pieces of juicy breast meat with a great spicy Satay sauce covering them. We were more than happy with the quality of the food so far, it is cooked fresh to order right before your eyes and brought very promptly to your table to ensure it reaches you in prime condition.
We decided to break the pace up a little bit and chose Hot and Sour soup next which, when it came, was piping hot and had shredded mixed vegetables in it as well as chicken. It was quite spicy, as its name suggests, so although it appealed to me and The Boy Wonder, if you prefer less spicy food I would perhaps order another option (of which there are several).

There is an intermediate course option of Crispy Aromatic Duck for a minimum of two people at an additional charge of £1 per head, which we decided to have, and very nice it was too. The duck was very generous in size, providing plenty of meat for 3 pancakes each as well as some left to pick at separately, and the cucumber and spring onion were also plentiful. As a lover of Hoisin sauce, and therefore quite generous with it on my Duck, I am pleased to say that there was also enough of this to go round.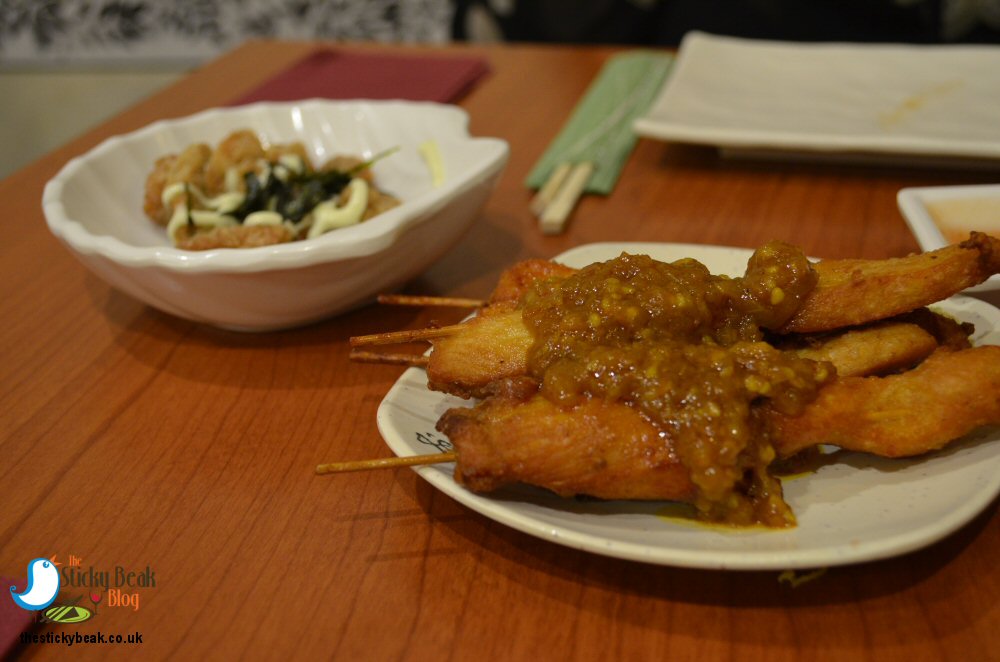 I had a quick look around the restaurant at this point and every single table was occupied, and all the tables seemed to be having a great time at O-Tokuda; one family was celebrating a birthday and the young boy was enthusiastically singing Happy Birthday to his Dad as one of the staff brought out a little dessert complete with sparkler.
For our main courses we began with a King Prawn Japanese Curry for me and Chicken Sambal for His Nibs, accompanied by boiled rice. Both dishes were marked as Chilli Hot, and indeed they did have a nice kick to them, the Sambal more so than the curry, which I would say was medium spicy.

I had a fantastic amount of King Prawns in my Curry and The Mans Sambal was also chock-a-block with sizeable pieces of chicken; the vegetables in both dishes were nice and crunchy to give a bit of texture to them.




Next up was stir fried Broccoli with Garlic in Oyster sauce and two of the chefs specialities, Crispy Shredded Beef in Chilli and Honey Lemon Chicken. I love stir fried Broccoli anyway, but this had a lovely taste to it thanks to the garlic slices being cooked carefully so they didn't burn and become bitter and the lovely rich oyster sauce.

Across the table the Shredded beef was rapidly disappearing, so I grabbed a couple of pieces whilst I could and they were lovely and sticky, with a great spice to them that would appeal to those who do like a bit of spice but not too much. I particularly liked the Honey Lemon Chicken as it really managed to balance both of the main flavours; you got the sticky sweet honey flavour and then the citrus twang of the Lemon just cut in and stopped it from being cloying.
Unsurprisingly, we were both absolutely podged at this point, so we skipped the dessert course which is an additional charge of £2.50 per person. Even at 8.30pm people were still arriving at the restaurant and there was only one table free, even at that time of the evening.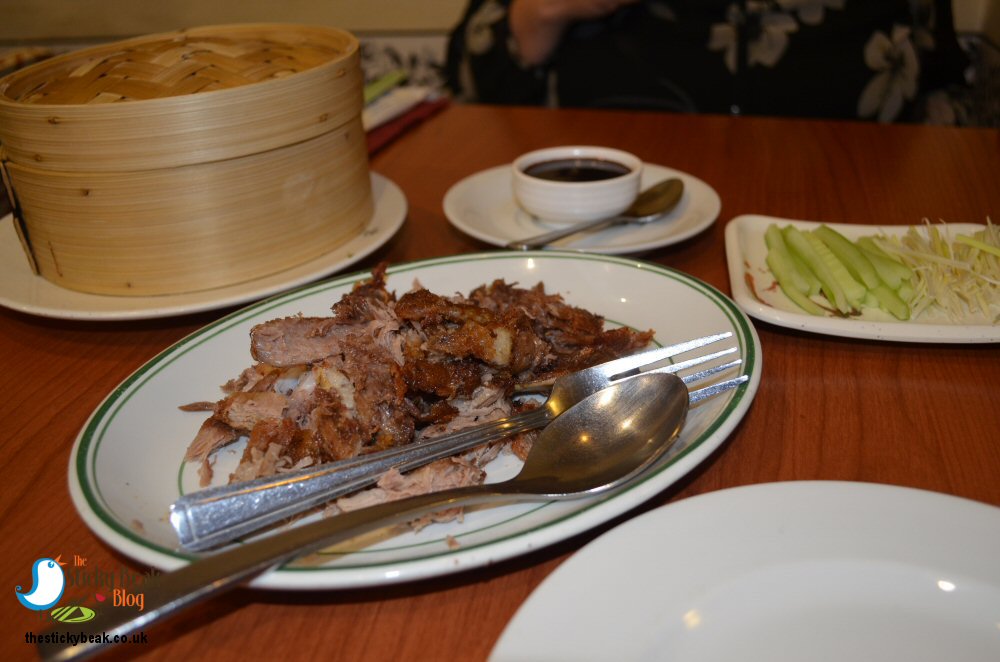 Throughout our visit to O-Tokuda the staff kept checking that we were satisfied at all times, that we had enough to drink and that food was brought out quickly. In fact, the team were like a well oiled machine, discreetly clearing plates away or refilling drinks and making sure that all the diners were happy. Nothing was too much trouble for them and they were always very polite to everyone.

The "All you can eat Buffet" is priced at £13.99 per person Sunday-Thursday and £14.99 per person Friday and Saturday, with children aged over 3 to 8 years being half adult price, children aged 3 £3 if sharing a buffet meal and children under 3 eat free (excluding drinks). On Fridays and Saturdays they also open between Noon- 2.30pm, as well as evening opening hours of 5pm-11pm every day. I would definitely recommend visiting O-Tokuda if you haven't been before, so Hot Wings awarded happily here. :)
O-Tokuda will be closed from 14th August until 11th September 2016 for refurbishment, but they are taking bookings still for when they re-open.
No incentive was provided to visit this venue
read more