High Tea For High Heels At Lisa Jean's
---
Published On Wednesday 6 Jul 2016 by Sticky Beak
See All Recent Reviews


Lisa Jeans At Bennetts Brasserie closed in October 2019 due to the closure of the Bennetts Store.
The Boy Wonder and I can (on the odd occasion) be quite civilised and so we were delighted when Lisa Jean and Lee invited us along to sample their "High Tea for High Heels" menu which is located in Bennetts Brasserie in Bennetts department store in Derby.
The Brasserie is a visual spectacle in itself as you approach it with its two sweeping staircases winding up to the dining space, and we were greeted warmly as we arrived and introduced ourselves.

Lee himself came and showed us to our beautifully arranged table, set with pristine white cloth, polished cutlery and gorgeous Royal Albert china in the quintessentially genteel "Old Country Roses" pattern. Our chairs were pulled out for us and napkins placed gently in our laps as we settled in to do a spot of people watching from our fantastic vantage point.




There were several birthday celebration tables in evidence with the accompanying chatter and bubbling laughter to be quietly heard. The atmosphere was one of nice refinement without the slightest bit of snootiness, so you can relax and just enjoy the good food and company.
The first choice we had to make was which tea we would like to have; all the teas are loose leaf at Lisa Jeans and are gently infused to release their full flavours.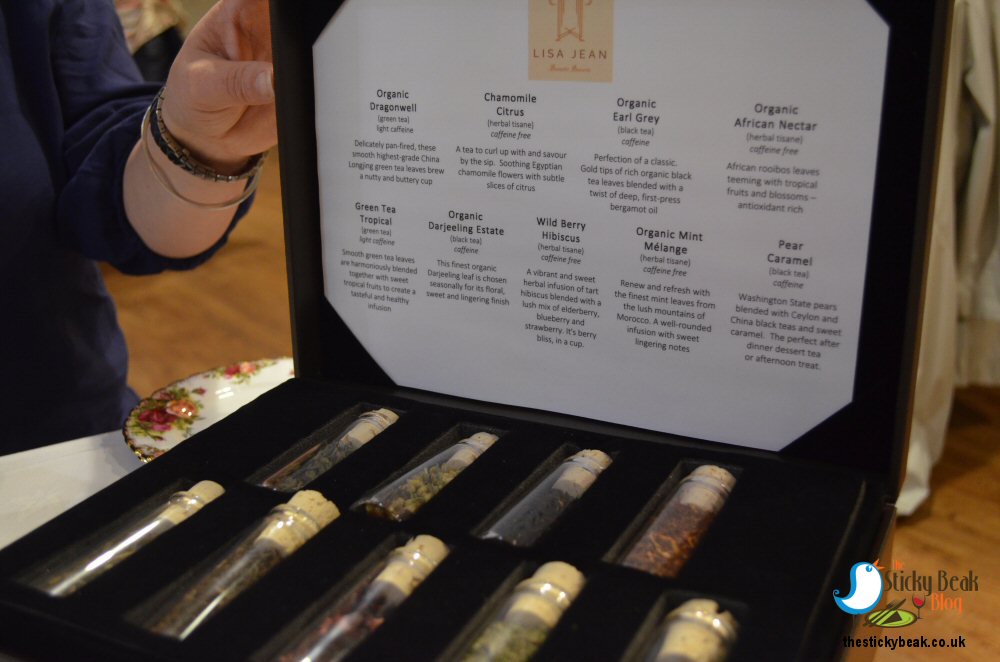 We were shown the tea menu and allowed to have a smell of the leaves as they are brought to the table in a presentation box in their own individual vials with short descriptions of their characters written underneath. I chose to have organic Dragonwell leaves, and this is a green tea with a light caffeine content that produces a nutty, buttery tasting brew.

His Nibs went down a slightly more traditional route and had the organic Earl Grey tea; this is a black tea blended with Bergamot essential oil to give it its distinct flavour.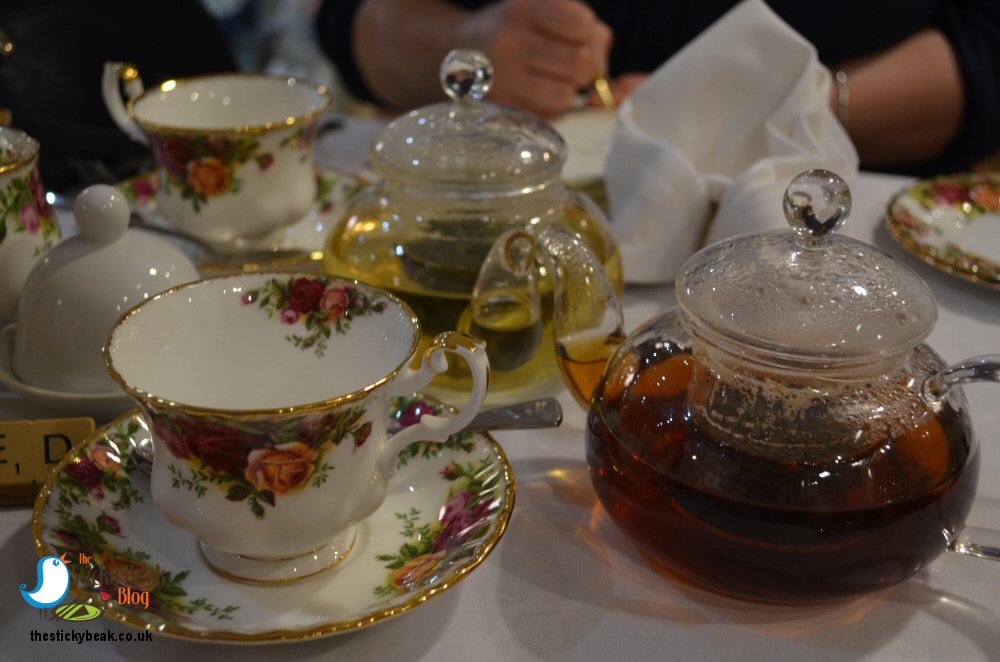 The teas are brought to the table in clear tea pots with integral infuser chambers so you can discern how strong you want to have your tea.
A beautifully turned out young lady brought the three tiered stand containing our High Tea assortment and placed it gently down.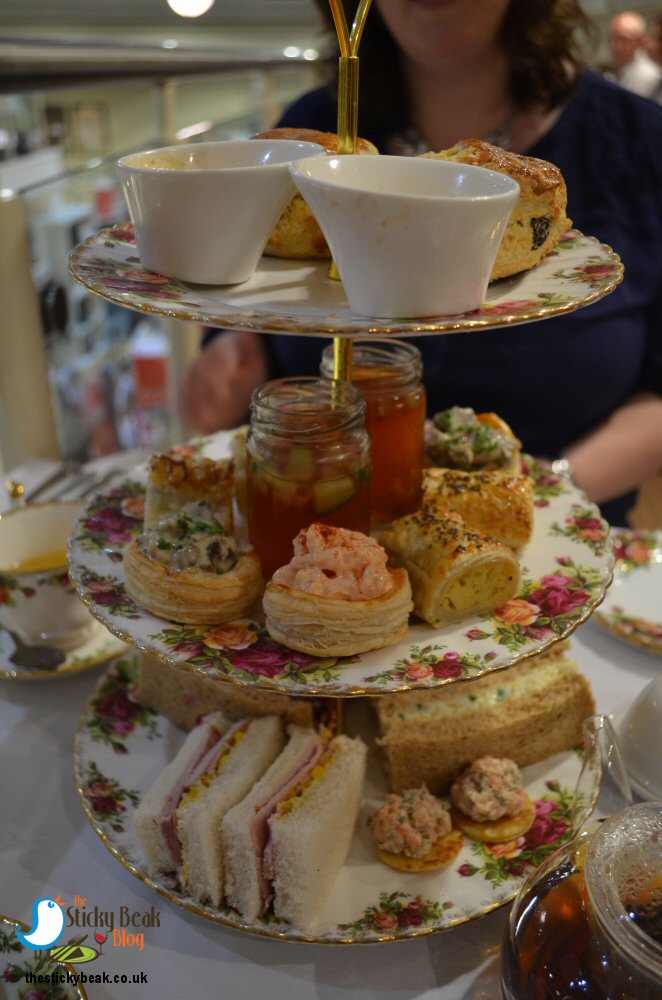 The bottom tier had our white and brown bread finger sandwiches on and the Smoked Salmon tartare blinis (whose superb taste belies its bijoux size). I tucked into a jewel hued Cucumber, Cream Cheese and Beetroot morsel and all the ingredients were nicely balanced; there wasn't too much of the cream cheese to make it claggy, the fresh beetroot was sliced thinly and the cucumber just provided a nice hint of crunch.

The Man Bird also liked this one which surprised me as he isn't the biggest salad fan. Mildly spiced Coronation Chicken was paired with Mango and Coriander and produced a very tasty little morsel that we both savoured.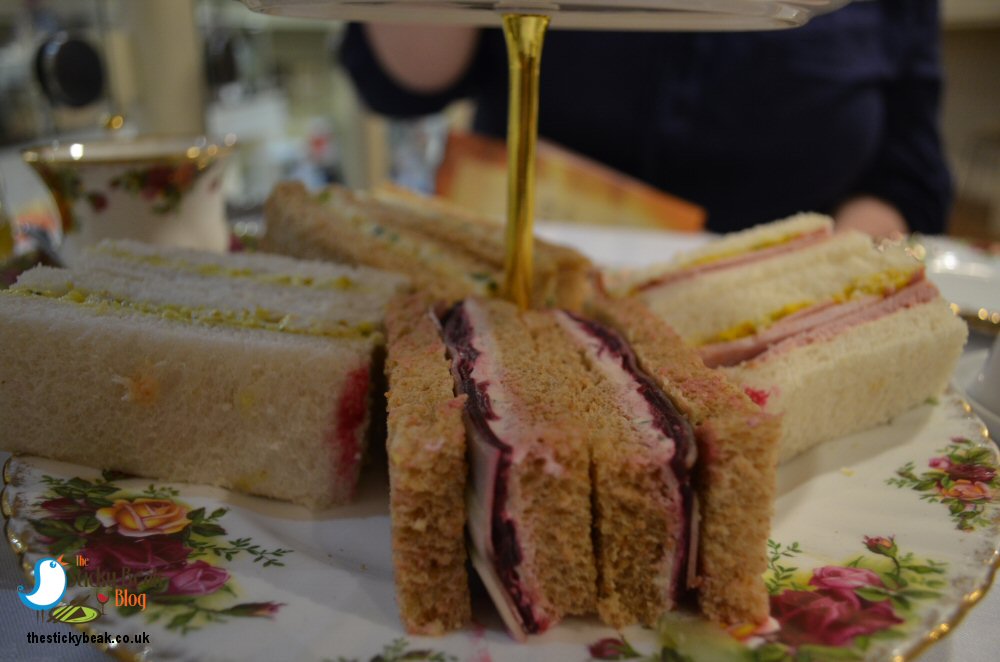 The Egg mayonnaise and salad Cress was also very tasty, again not too much mayonnaise had been used which meant the sandwich had a nice level of creamy texture without it making the bread go soggy.

It was the superb maple glazed ham teamed with Lisas own punchy Piccalilli that got the biggest murmur of delight from The Boy Wonder; my favourites were yet to come.
The middle tier was home to the Pimms Jellies and a selection of freshly made pastries, namely King Prawn Marie Rose and Wild Mushroom &Tarragon Vol au Vents and mini Derbyshire Pork and Stilton- and mature Cheddar and Spring Onion rolls.

Individuals of a certain age (40 plus years) will instantly think of those poor, sad buffet offerings that were soggy wet cases filled with bland concoctions when the word Vol au Vent is mentioned; thankfully Lisa Jean has given them the treatment they deserve and transformed them into rather splendid creatures. Crisp, crumbly cases surrounded beautifully seasoned ingredients that just danced on the tongue; they definitely hit my taste hot spot.




Both types of mini rolls were delicious; typically his Nibs preferred the Pork and Stilton variety whilst I edged toward the Cheese and Onion one. Neither of them were too strong taste wise and both of them achieved a great balance between their two flavours. Crispy pastry completed them extremely well, and they were very much savoured by us both.
Throughout our savoury course we were checked on to make sure we were enjoying the food and a discreet eye kept on the contents of our teapots. A lovely gentleman came to clear our savoury cutlery away and to ask if we would like to take more tea, suggesting several varieties that go well with the sweet course of the High Tea.

The Man Bird surprised me again with his choice of organic African Nectar, a caffeine free herbal tisane that has a lovely light tone to it. I opted to have the organic Mint Melange, another caffeine free herbal tisane that produces a well rounded flavour with sweet notes.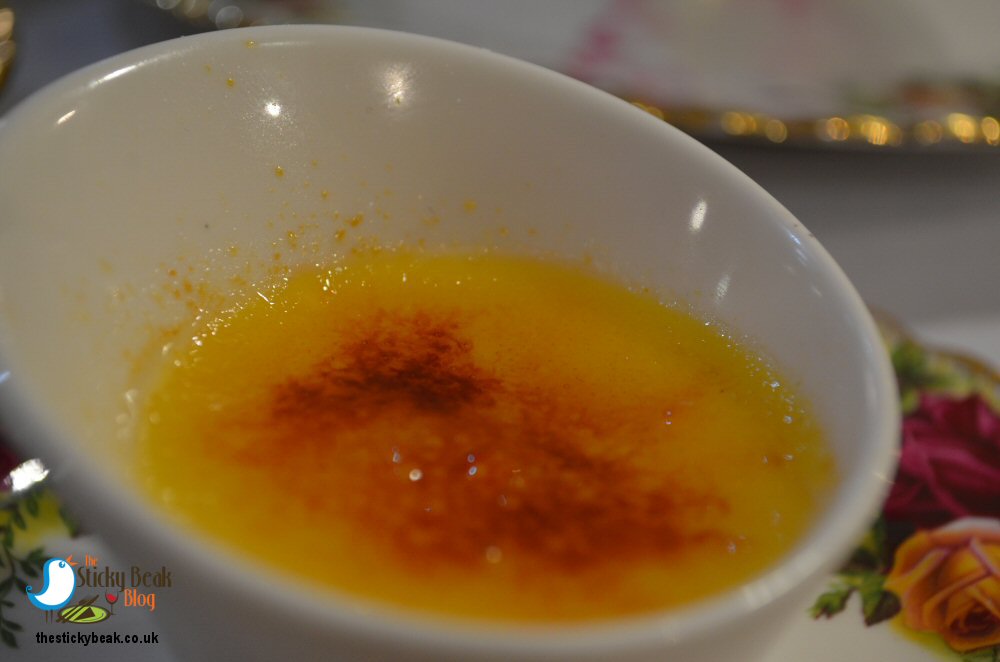 To kick the sweet course off we picked a morsel off the top tier; little pots of Sugar glazed Elderflower Crème Brulee, which were stunning I have to say. The lovely rich Crème had a gentle hint of Elderflower that was nice and delicate on the palate with a superb crisp top that yielded to the spoon with the most gratifying crack; just wonderful.

We wandered back down to the middle tier and retrieved the Pimms Jellies from their hiding place. Lisa Jeans' philosophy on these delights is as follows, "if you have a Sherry Trifle you want to taste the Sherry, so you will taste the Pimms in these Pimms Jellies". They had a brilliant taste of the summer to them with the refreshing Pimms taste very much in evidence and the little pieces of Cucumber, Strawberry and Orange twinkled delightfully in the rose hued jelly.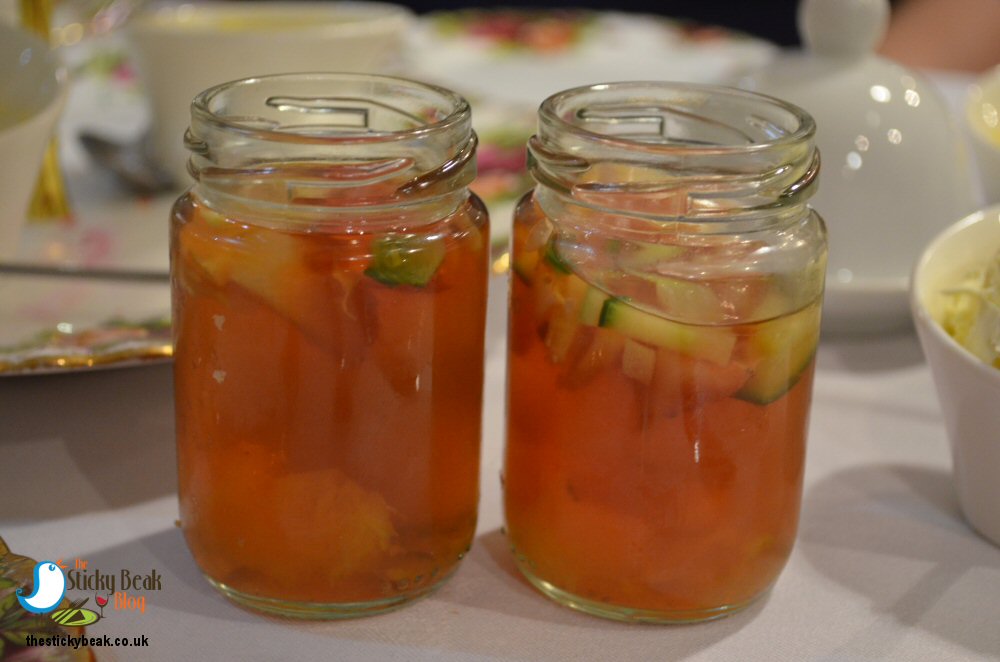 It was clean on the palate with fresh vibrant flavours making it, I think, the High Tea equivalent of a Dinners sorbet course.
The final sweet treat was Fruit Scones served with Lemon Curd, Strawberry and Prosecco compote and Clotted Cream. Lisa Jean makes fantastically light, airy scones with a nice amount of fruit in them that have a lovely buttery taste on the tongue.

The golden hued Lemon Curd had a very pleasant rounded taste to it rather than the sharp, artificial twang you get with most commercial types. It was the Strawberry compote that was the real surprise of the day; it was surprisingly zingy in this age of cloyingly, sweet jam that has us divorced from how things actually taste naturally.

This compote was a total pleasure to eat because it didn't leave you feeling overloaded and heavy like processed, sugar laden commercial versions. Both the Lemon Curd and the Compote were superb accompaniments to the Clotted Cream; they lifted its creaminess so that you could savour it rather than it coating your tongue too heavily and overwhelming the scone.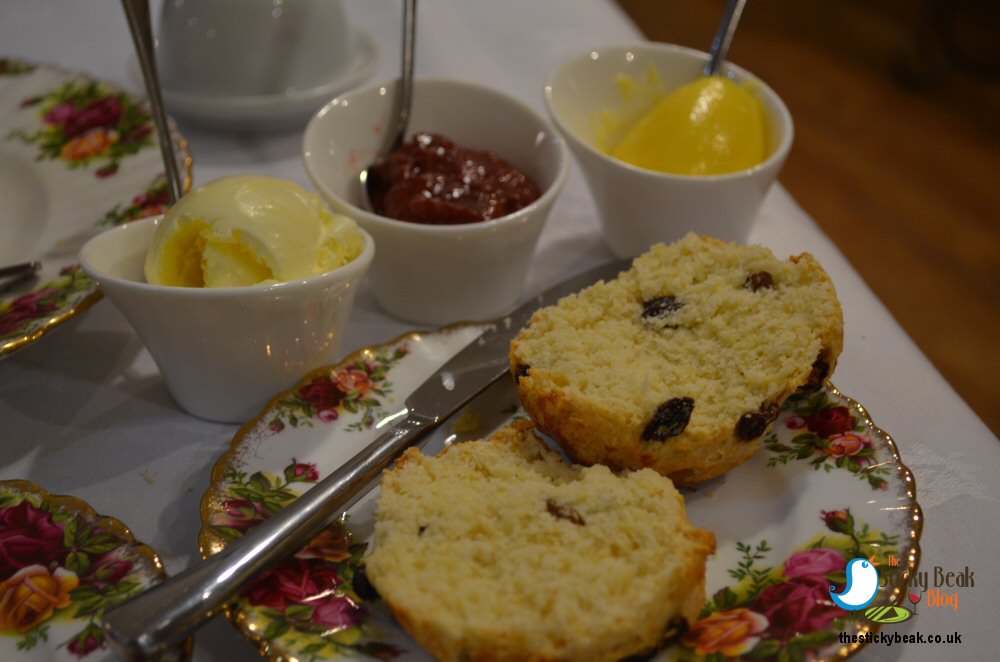 Our tea choices were perfect in our opinion as they kept our palates nicely refreshed between all the different tastes of the sweet course.

At the end of our High Tea Lisa Jean came out and brought us her homemade Chocolate Orange Ganache Truffles to try, and oh my word they are gorgeous; they have a very subtle Orange hint that teases your taste buds as the rich ganache literally melts on your tongue.
We had thoroughly enjoyed every single bite we took, and I have no hesitation in saying that you will too. This traditional British experience is available for £17.95 per person for adults, with several add on options for various tipples, and there is also a version for children at £8.75. It is available Monday – Saturday from 2-3.30pm and on Sunday between noon and 2pm.




As well as High Tea there are other options to choose from ; a five course Champagne Breakfast (Monday-Saturday 9am-3pm, Sunday 11am-2pm), and a 2 or 3 course set menu (Monday-Saturday Noon-3.30pm).Throughout the week there are lighter lunch items to have including soup, salads, sandwiches and toasties, and Lisa Jean has just started to do a Traditional Sunday Roast between 11am-2pm to compliment Bennetts Sunday opening times.

Hot Wings ahoy guys, your team totally deserves them.