Dinner At The Alton Towers Rollercoaster Restaurant
---
Published On Saturday 2 Jul 2016 by Sticky Beak
See Recent Dining Out Reviews | See All Recent Reviews


Food on its own is great, and Fun by its self is also pretty awesome, but when you combine the two it's fantastic. The team at Alton Towers have done just that at their Rollercoaster restaurant and they invited my little flock along to experience it for ourselves.
If you visit in the evening you don't have to buy park tickets to experience this either; there is a separate path from the Splash Landing s Hotel that takes you to the Rollercoaster Restaurant.
As you walk through the front door you are instantly drawn to the plethora of tracks above your head that serve each table, and some of them were already delivering their goods to waiting diners. You can't help but be mesmerised by all the activity whether you're a child or adult, it's just one of those things that holds your attention captive.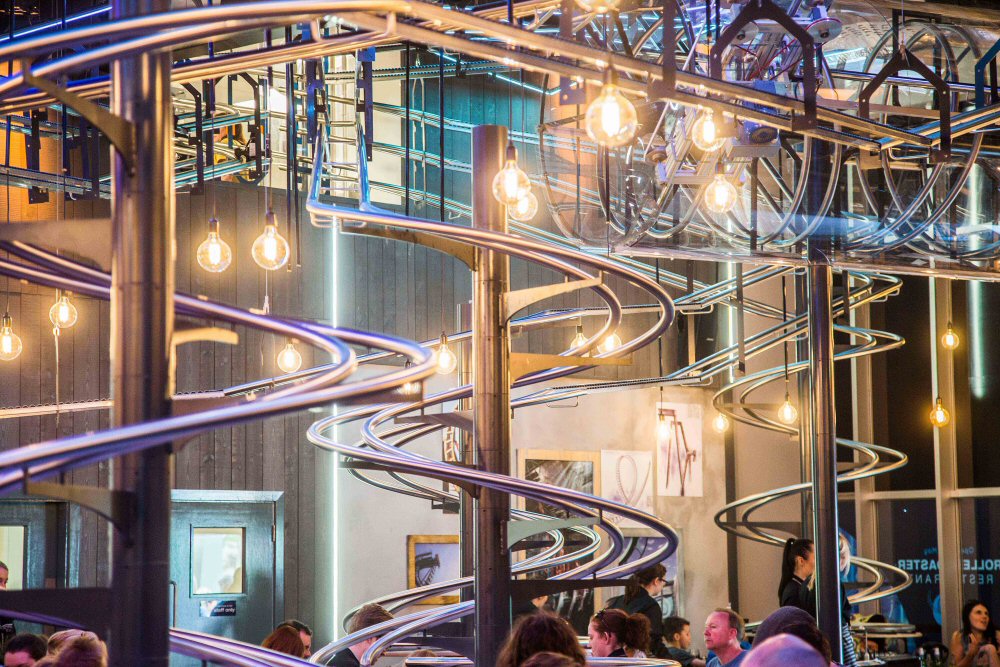 We were shown to our seats and one of the servers sat with us to talk us through the ordering process on our own individual tablet. Each seat has a number (we were numbers 2, 3, and 4) and they recommend that you order one course at a time, as when the kitchen receives an order they cook it fresh and send it down your rollercoaster; clearly you don't want 3 courses sat at your table going cold.

Everything comes down the rollercoaster tracks to your table except hot drinks and glasses of wine, for obvious safety reasons, so The Chick and His Nibs were amazed when their juice and beer arrived via the track.


For starters we had the Smoked Paprika dusted Calamari with Chilli, Lime and Coriander dip, Lobster tail Cocktail with salad and sauce, and Asian style slow-cooked Pork ribs with a Honey, Soy, Ginger and Chilli sauce with Sesame seeds.

Clearly a lot of thought went into the product development and meal planning at the concept stage of this restaurant because the meals have to be able to deal with twists and turns (and even loop the loops!), but still reach the diners looking good. Both the dips were in cute little containers to prevent them slipping about all over the food and the motion just helped my ribs receive a gentle extra basting of sauce before they reached me, so no complaints here.




The next logical question you will want answering is "does the food taste good?", and yes it does; my ribs were meaty and juicy and melt in the mouth, My Chicks lobster tail was beautifully tasty and The Man Bird said his Calamari was tender with a great punchy dressing.
The great thing about being able to order your food on a tablet directly at your table is that as soon as you want to order your next course or drink then you just do it, there's no waiting for staff to appear (although the staff were so efficient there wouldn't have been a wait anyway).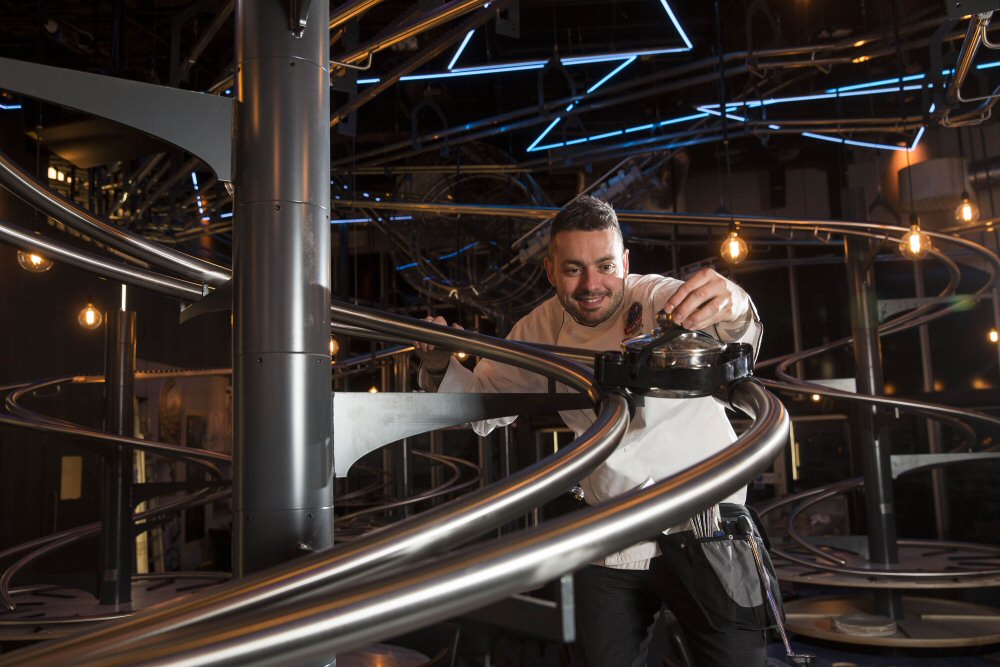 So Chickadee cracked straight on with ordering the main courses, Ultimate Rollercoaster Burger for The Boy Wonder, Asparagus and Leek risotto for her, and the Super Looper dish for me, with Béarnaise sauce.

It wasn't long before our food was winding its way down the rollercoaster track to our table. My Fillet steak and Lobster tail were both delicious and tasty, and I loved the seasoning on the fries. The Béarnaise sauce came in its own little pot and was piping hot, as was the grilled tomato and mushrooms that came with the dish. Next to me, Him Indoors was chowing down on his 6oz burger with much enthusiasm, saying that it was a really tasty meat patty and that the salad was lovely and crisp. Again, he commented on the slightly smoky, spicy seasoning on the fries and how nice it was.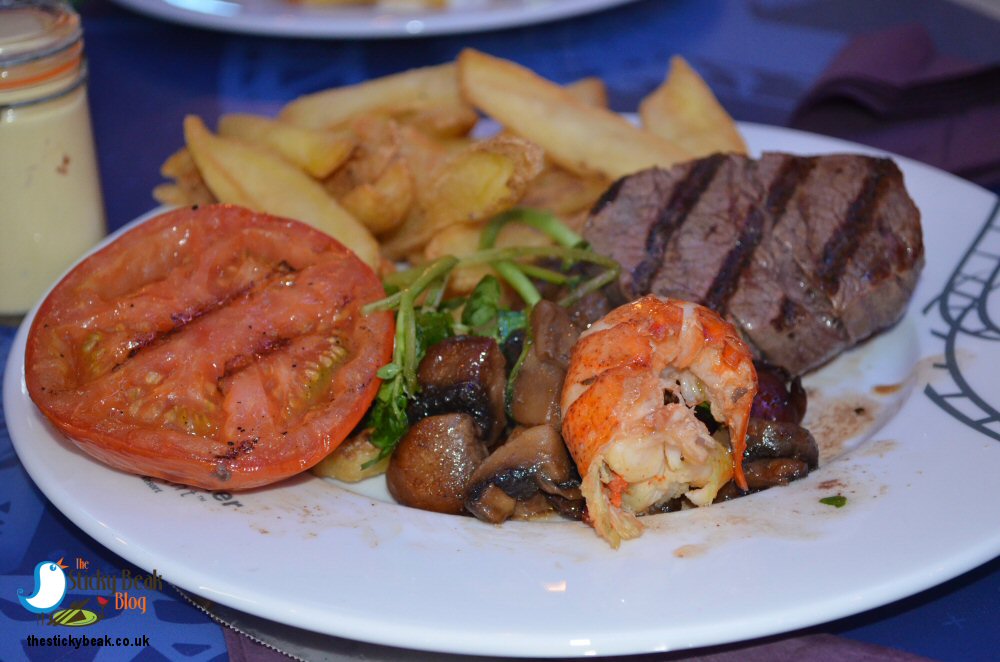 Chickadee loved the rich flavour of her risotto; it has a great cheese twang to it that really went well with the vegetables in it and she commented on how filling it was.
We did have a little break before we ordered our desserts; Homemade Chocolate Brownie with mint Ice Cream and Chocolate sauce for My Chick, and The Ultimate Rollercoaster Ice cream bowl for me and The Man Bird.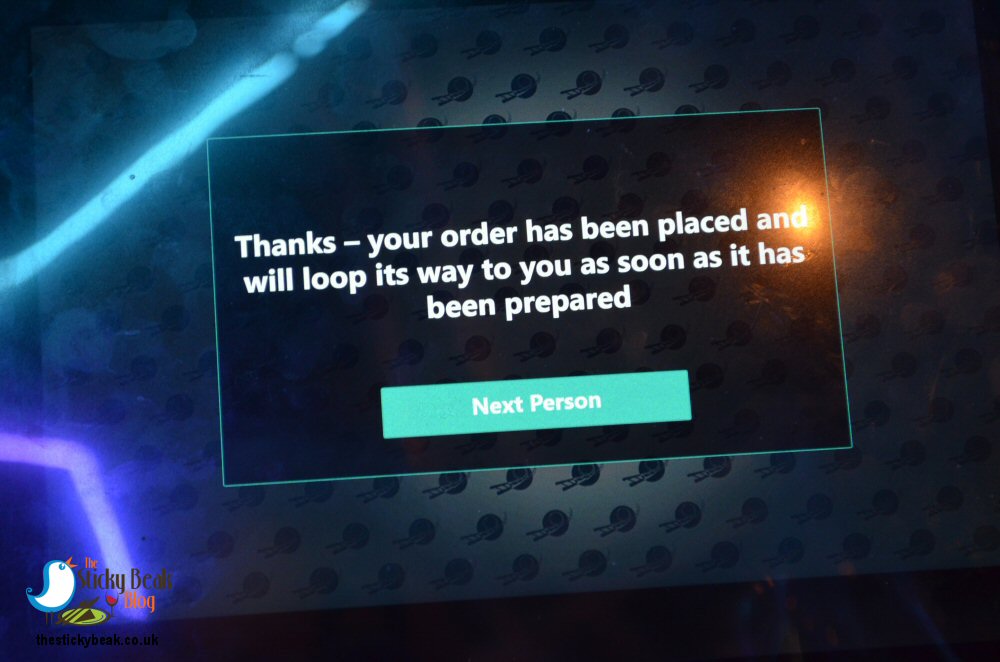 Our Chick transferred her dessert into a bowl, but when our dessert arrived we just looked at each other and decided to leave our huge beastie where it was!

Four scoops of Ice cream (Vanilla, Chocolate and Strawberry), mini marshmallows, whipped cream, chocolate and caramel sauces, mini Flakes, wafers and glace cherries comprised this total delight of a dessert and filled the bowl it was delivered in, and we tucked in like proverbial kids in a sweetie shop. In all honesty I don't know how we managed to finish it; we did beat it but it took us a good while to do it.




All the cutlery, plates, bowls and napkins are on a separate lazy Susan underneath the tables rollercoaster track.
There was a great buzz in the restaurant, and a fair few birthdays being celebrated. Families with kids of all ages were laughing and watching the trays as they were weaving their way down the various tracks, and just generally having a great time together.

The staff were always watching to clear dishes and trays away and bring drinks to tables as needed, but the best bit is when a tray stops on the tracks; you can see people wondering how on earth it's going to move again, but then the staff bring out a long pole and send it on its way (normally to a little clap or cheer from the relevant table).

Kids starters and desserts are £1.95 and mains are £7.95, which for a theme park we thought was about right and the adult menu prices range from £5.95 - £7.95 for starters, £11.95 - £29.95 for mains, and £2.95 - £8.95 for desserts. I think that these are fairly typical of theme park or resort prices, just slightly above high street prices but nothing outrageous, and the food was of good quality on all the dishes we tried, so we were more than happy.

Watch this video from the Alton Towers Rollercoaster Restaurant

The Rollercoaster Restaurant is a brilliantly unique dining experience with mass appeal across all age groups. It is unquestionably successful for parents with kids but because you can access the restaurant without purchasing park tickets (if you go in the evening) it would also be a lovely place for grandparents to take their grandchildren if they wanted to for a treat. If you do go during the day then you will need to purchase park entry tickets to access the restaurant.

Lunch is served between 11am – 5pm, and dinner service runs from 5pm – 10pm. Hot Wings looping their way to this team, we had a really fun filled family experience with you (even the teenage Chick was impressed!!).
Some form of incentive was provided to visit this venue
read more