Dinner At The Kedleston Country House Hotel
---
Published On Saturday 18 Jun 2016 by Sticky Beak
See Recent Dining Out Reviews | See All Recent Reviews


Normally when we get invited to dine out The Man Bird plays the part of Parker the Chauffeur, but due to his current ailment and the medication he has been prescribed he is unable to fulfil this role. Cue the entrance of the female equivalent of Ayrton Senna (me), and a very efficient arrival (albeit taken rather sedately this time because of heavy downpours en route) at the entrance porch of Kedleston Country House.
You may recall dear reader that The Boy Wonder and I were invited to the official opening of this gorgeous country house last year, so we were thrilled to go back and see for ourselves how the premises have evolved after their settling in period.

I love all the little nooks and crannies that comprise the study, snug, parlour and lounge areas they really give a cosy feel to the atmosphere which is accentuated by the clever use of vintage paint hues on walls and textural fabrics on the furnishings. The effect is relaxed; genteel, country living and you accordingly begin to feel yourself wind down; as you go through to the dining room this feeling is maintained by the clever use of natural touches such as wooden candelabra and a subtle colour scheme.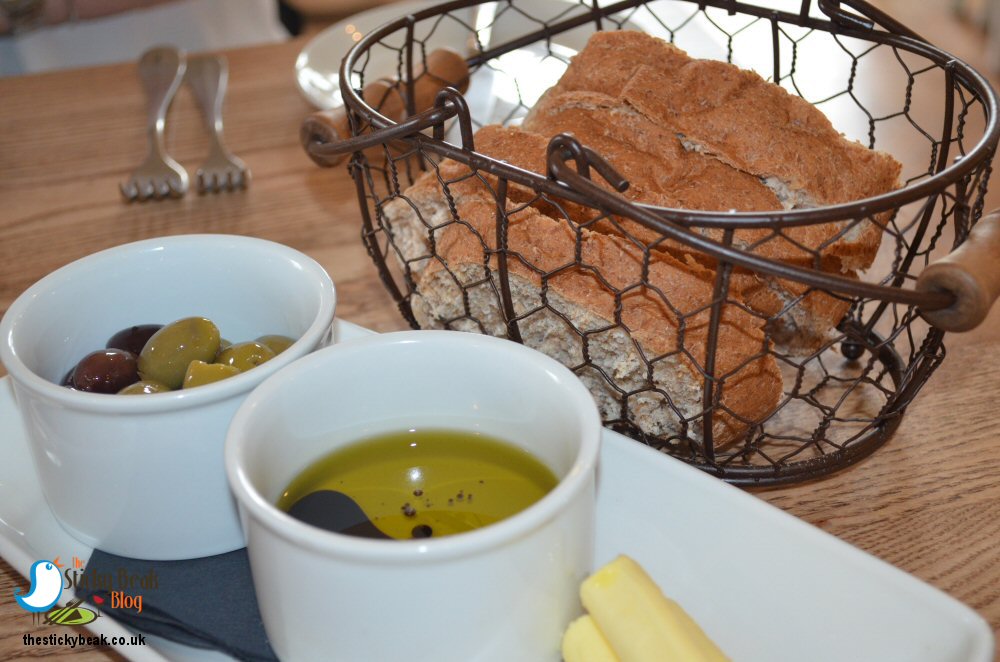 A wooden platter of fresh bread, warmed mixed Olives and a bowl of Balsamic Vinegar and Olive oil was placed on the table for us to enjoy whilst we gave the menu some serious attention.

Our lovely server brought us our drinks over and enquired if we would like water for the table and then took our orders from us.

For starter I had decided to try the Wild Mushroom Arancini with a Garlic and Olive tapenade, Rocket and Parmesan salad and Basil oil, and His Nibs had the Chicken and Asparagus Terrine with Pea puree, Pea and Basil salad and toasted brioche.




The presentation was very pleasing to the eye with both starters and The Man said the terrine had a wonderfully light, fresh taste to it. There was a nice crunch provided by the asparagus and the pea and basil salad was also clean on the palate. Opposites attract as the saying goes and the silky smooth chicken element of the terrine was married perfectly with the crisp toasted brioche.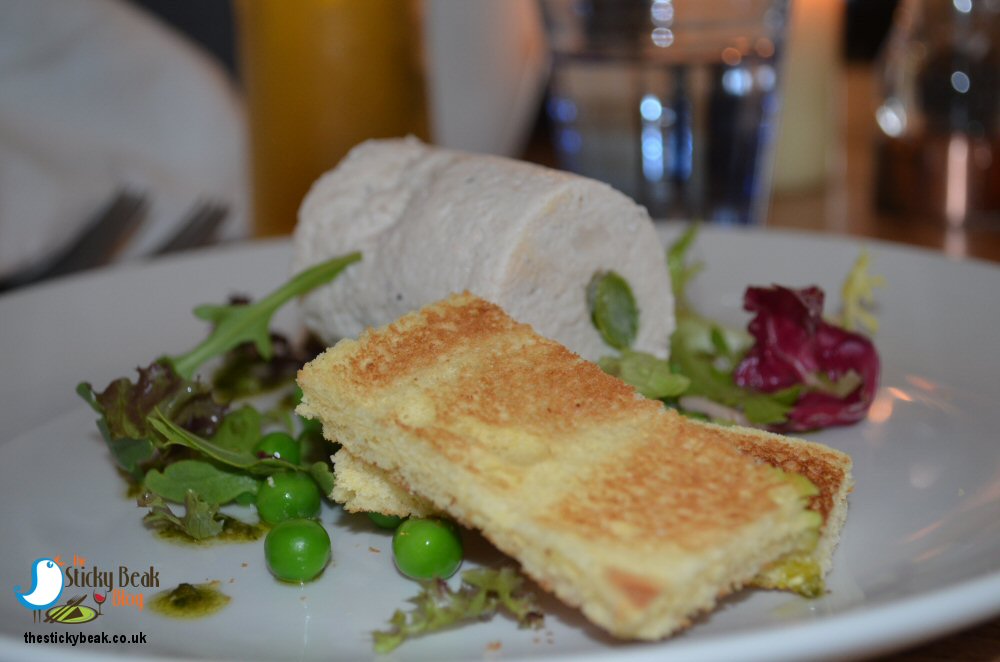 One happy male bird was sitting opposite and I was no less happy with my Arancini; they had uber crispy outers that just accentuated the creamy rice and mushroom inside. What could easily have been a fairly bland dish was elevated into something sublime by the punchy Parmesan and Rocket components to produce a thoroughly enjoyable morsel.
For my main course I had chosen Roast Duck breast with Fondant Potato, Cherry puree, Heritage Carrots and wilted Spinach. I opted to have the Duck served pink and it was a really succulent breast absolutely bursting with flavour and the full on Cherry taste from the puree went superbly with it.




The fondant potato was lovely and creamy to taste and both the carrots and spinach were cooked superbly to retain their maximum flavour.

The Boy Wonder still has an altered appetite from the medication so he opted for the Lamb and Rosemary burger served on Herb Flat bread and topped with Tzatziki and accompanied by an Olive, Feta and Cucumber salad and hand cut chips. Much "oohing" and "aahing" was coming from His Nibs' beak, and when he came up for air he said that the burger was rammed to the hilt with flavour.

I was agog at the size of it to be honest, it was huge! He really loved the robust Tzatziki; all too often they are fairly watery, diddy things but not the Kedleston version. This rascal celebrated its marvellousness with chunky cucumber and fresh herbs and its coolness and freshness paired well with the hot burger.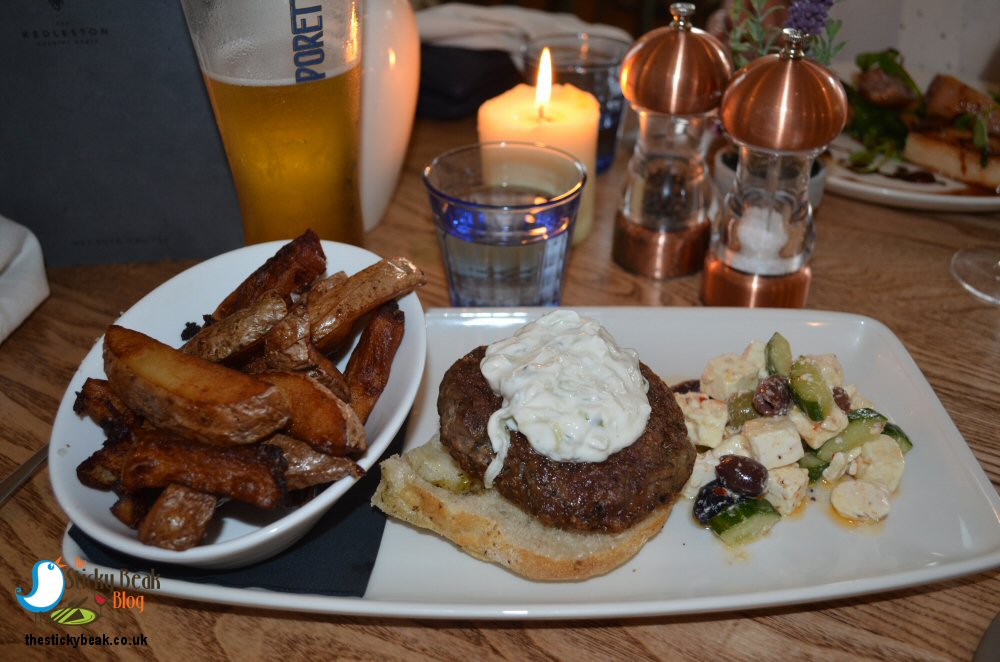 More fresh, uncomplicated flavours were provided by the artisan salad and the chips had a great colour and taste to them as well. We were both delighted with our meals so far, so even though our tummies were saying they were full, when the dessert menu found its way to us we soon ordered sweet treats;

Kedleston Peach Melba for yours truly and Sticky Toffee Pudding with Toffee sauce and Clotted Cream Ice Cream for Him Indoors. I swooned with gastric glee at the warm peach, fresh raspberry and vanilla tastes that cocooned my taste buds, it was flippin' amazing let me tell you dear reader.




I'm afraid I made a spectacle of myself by quietly scraping every last little bit from my dish, but it was absolutely worth the disgrace J.Across the way His Nibs was gorging himself on the deeply flavoured delight that was his Sticky Toffee pudding. It was indeed gloriously sticky and rich, and called to the hidden depths of foodie heaven that only a true pud-a-holic can appreciate.

The Toffee sauce was liquid Nirvana and then all this sumptuousness was crowned sublimely by a spankingly good ice cream to provide a magnificent end to The Boys meal. We had a few minutes to digest the moment, wallowing in happiness like those proverbial piggies before our lovely server asked if we would like to retire to the parlour for coffee, which we did.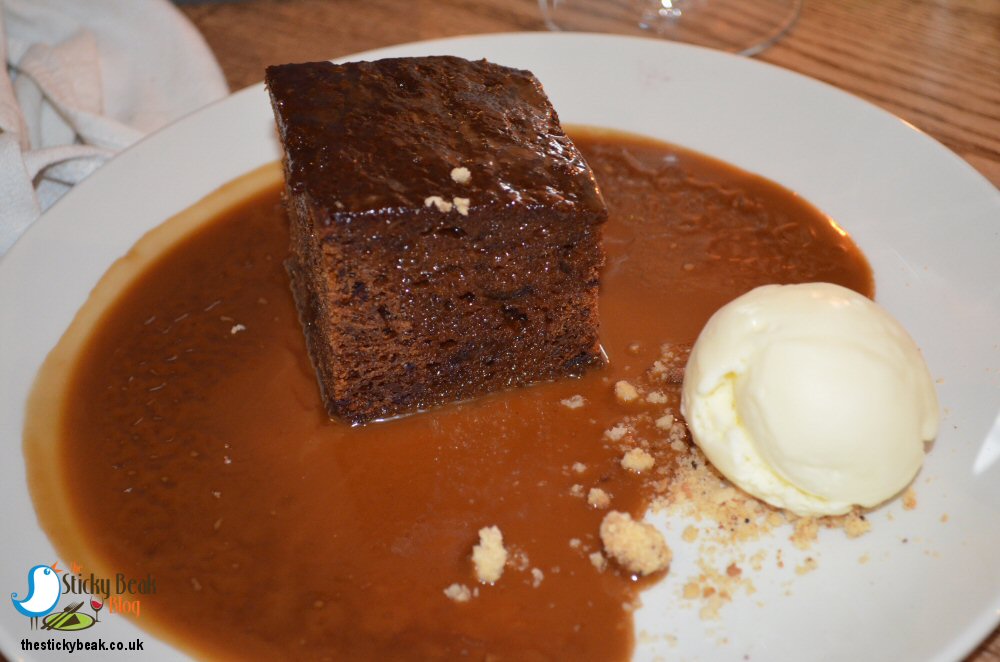 If you haven't been to Kedleston Country House before it really is worth going and experiencing it for yourselves. If you don't fancy a full blown three course feast they rather niftily do several sharing boards which I can easily imagine myself and The Man having with a tipple or two on a balmy summer evening. We received great service too, so no complaints on that score either, Hot Wings happily awarded here :)
Some form of incentive was provided to visit this venue
read more