Dinner At The Tempus Restaurant, Eastwood Hall
---
Published On Thursday 16 Jun 2016 by Sticky Beak
See Recent Dining Out Reviews | See All Recent Reviews


I recently stayed at The Eastwood Hall Hotel and dined in The Tempus Restaurant at the hotel, you can find about more about my stay at the hotel by clicking here however here is my review of the Tempus Restaurant
The Dining room, as you would expect, is a very large space, but due to the clever use of booths and other features, it doesn't have a cold clinical feel to it. All the staff were very smartly dressed and very polite, and it wasn't long before my starter of Escabeche of fresh Mackerel and The Man Birds choice, Ham Hock and Pea terrine, were being served to us.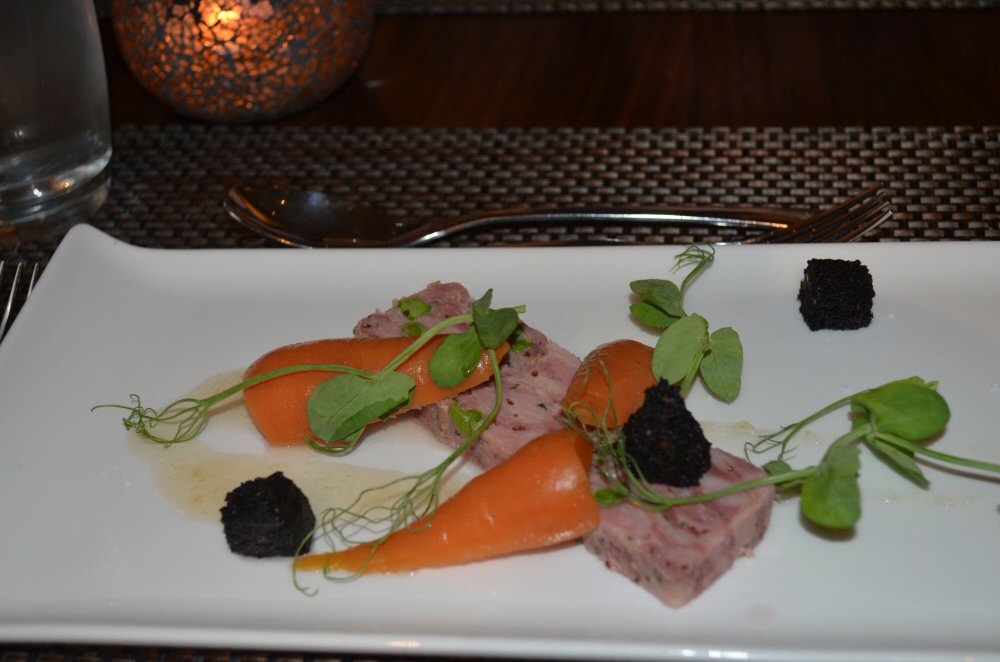 Both dishes were presented nicely and full of taste; the inclusion of vegetables gave them both plenty of texture too and we were more than happy with our first choices. I had the Rump of Lamb marinated in Moroccan spices with cracked Freekeh, Apricots, Pistachios, Raita and Coriander cress for my main course and I have to say that it was absolutely superb.

Now I'm not pretending it was the handpicked cuts that you get at Top Class restaurants, but it was a tasty, lean, well cooked piece of Lamb that I would happily recommend to friends and family and its marinade gave it flavour without overwhelming the natural meat taste. The Freekeh was very filling, as most grains are, and the fruit and nuts gave the dish a superb textural element, and I really enjoyed every mouthful.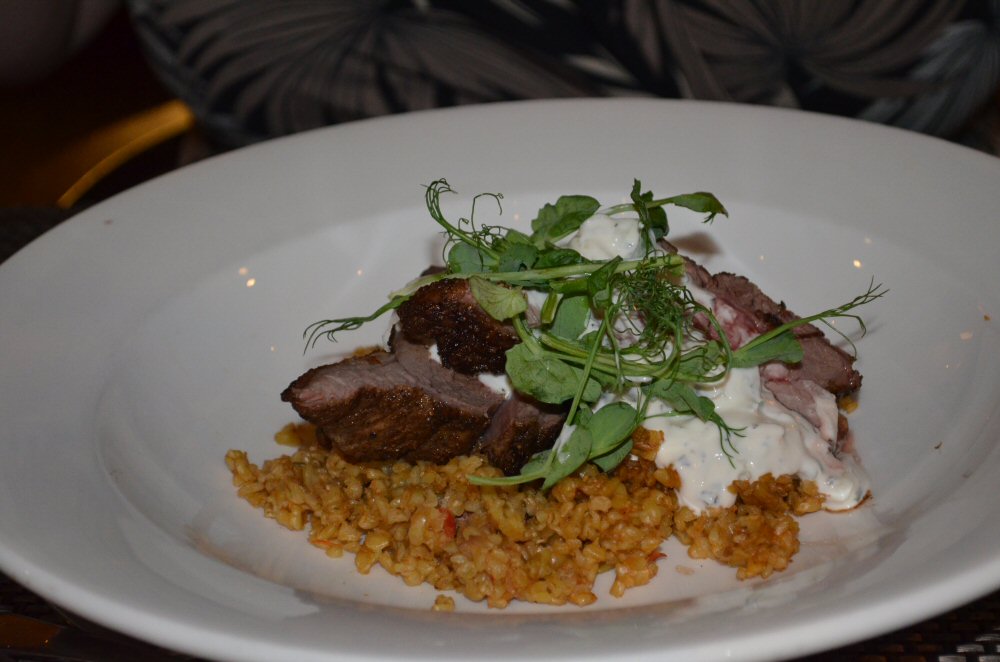 Him Indoors was feeling a bit delicate and was on some medication that changed his appetite so he opted to have the Aberdeen Angus beef burger and, crikey, this was a meaty beast of a half pounder . In fact he ended up leaving some of the Churcham roll as he just couldn't eat anymore!

The Chunky chips were very tasty and had been nicely seasoned and I pinched his Cherry Tomato and Gherkin skewer, which was superbly crunchy and tasty. The Groupon deal also included a bottle of house wine with the meal, and again it wasn't a bad bottle to have; not a vintage tipple by any means, but a more than acceptable house bottle. Put it this way, there wasn't any left by the end of the meal




As is often the case, when you feel a bit poorly sometimes you just want comfort food, and so my Man chose Sticky Toffee pudding with toffee sauce and vanilla bean ice cream for his dessert. He didn't quite finish it all bless him, but he said the pudding was lovely and light, with a nice rich toffee taste and the ice cream was a fantastic quality one.

I had the Chocolate and Orange Ganache Tart with Pecan brittle and Crème Fraiche and it was an extremely rich, decadent dessert that had my taste buds doing cartwheels of delight. The balance of the Chocolate and Orange flavours was spot on and it sat on a gorgeous buttery base; then the addition of the slightly sharp note from the Crème Fraiche tempered the sumptuous ganache superbly.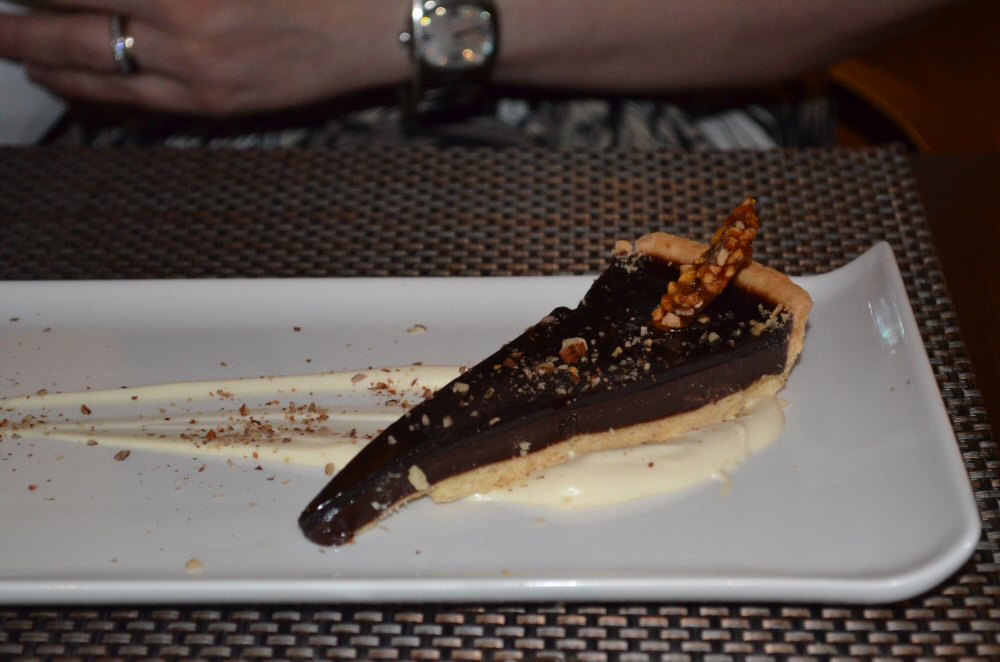 When the last mouthful of food had been eaten we sat back in our chairs with grins of joy on our faces and said how much we had enjoyed the meal.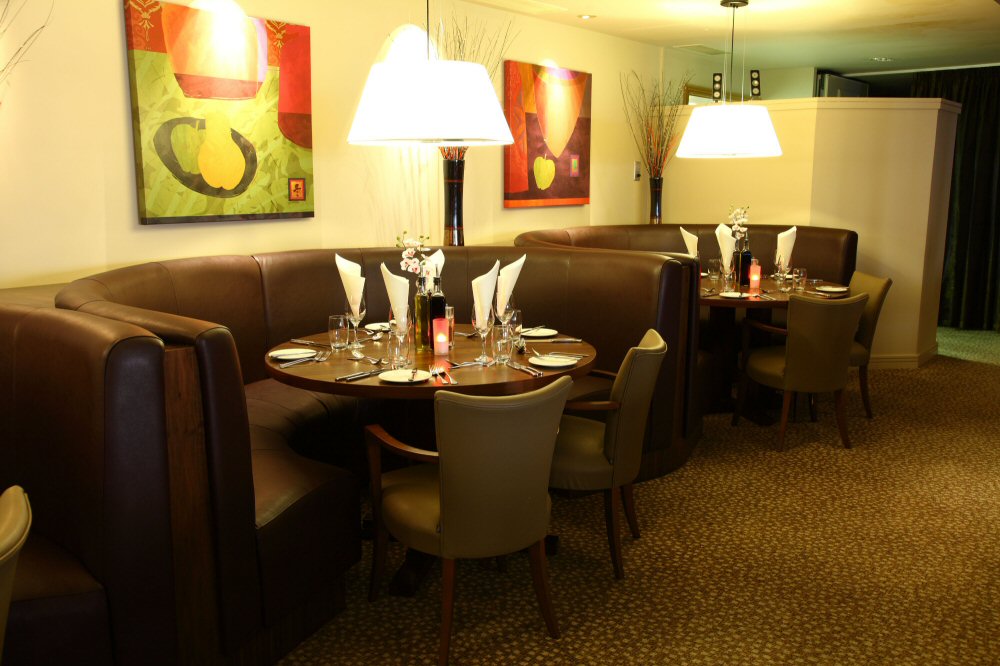 If you haven't been before I would definitely recommend a stay here, and if you can find a deal on Groupon then jump at the chance; I haven't come across a better deal than this one in terms of quality and value for money. Top Marks for accommodation and facilities and Hot Wings for the food team Eastwood, you are a credit to the company.
No incentive was provided to visit this venue
read more