Fish & Fizz, Dinner At The Fox & Goose, Wigley
---
Published On Wednesday 1 Jun 2016 by Sticky Beak
See Recent Dining Out Reviews | See All Recent Reviews


I recently posted a chatterbox article about the Fish and Fizz Bank Holiday Weekend 2016 menu that was on offer at The Fox and Goose. Chatterbox articles don't tend to be as descriptive and in-depth as full blog reviews for obvious reasons, so here is the "normal" review for the flock meal; for all three courses we had a mix of regular and promotional menu dishes.

It was a lovely balmy evening and a wedding and evening reception was just getting underway in the function room so there were some very prettily dressed people around (the bride looked a-ma-zing).
The view was just incredible, you could literally see for miles and when we sat down in the orangery we had a superb table that allowed us to continue drinking in the scenery. Lynne, the General Manager, came over and talked us through both the menus then left us for a couple of minutes to decide what we fancied.

His Nibs had the Homemade Smoked Chicken Pate from the Spring menu, the Chick had Moules Mariniere served with skinny fries and I had the Razor Clam Tartare, both from the Fish and Fizz menu.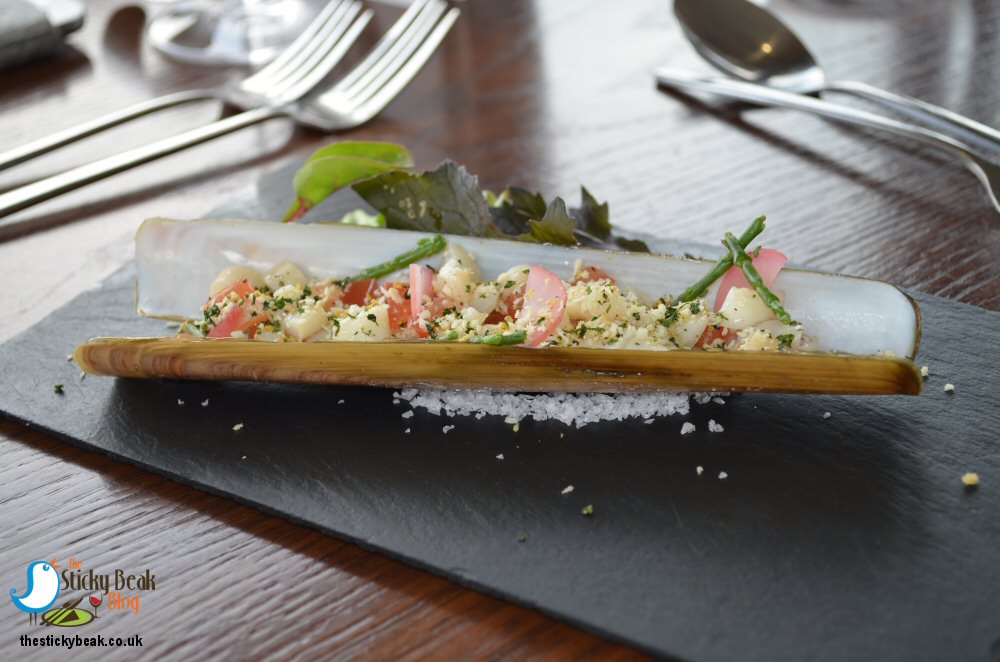 My starter came presented in its original shell so it looked picture perfect, and boy did it taste every bit as good; the clam was super fresh and both the pickled Radish and Samphire added a great zingy note on the palate. Fresh tomato gave a more rounded flavour so that the overall effect was gorgeous as you ate it.

My Chicks Moules came in their own pot and had been cooked with Cider, Shallots, Garlic and Parsley; there were plenty of them, so she was more than happy! Not many young adults or teens like Mussels but ever since she was a wee chick my girl has always eaten a wide range of food and she said that these were delicious. Put it this way, there weren't any left.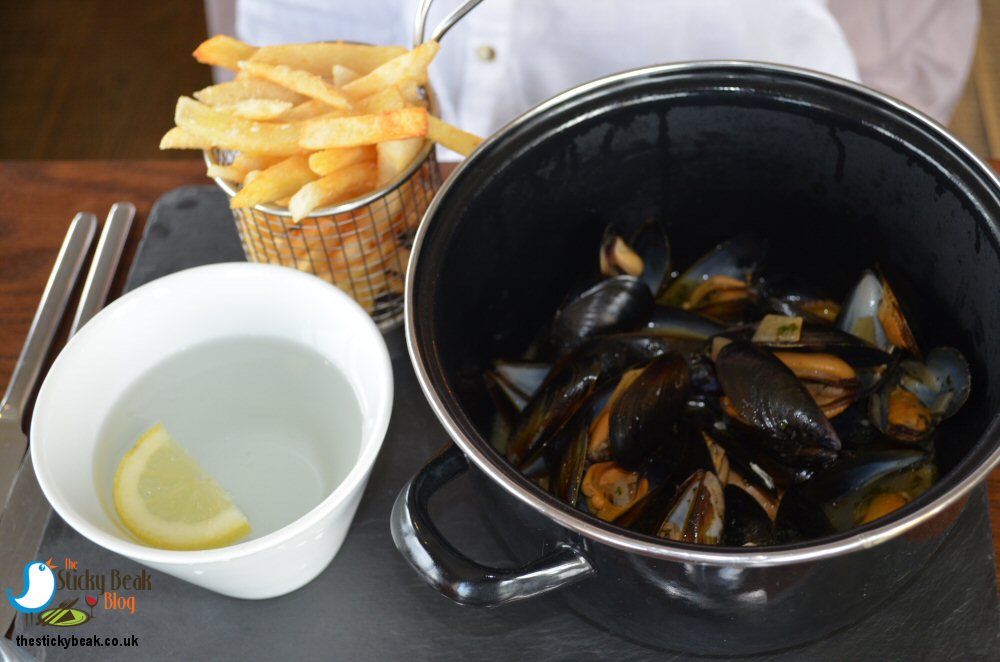 The Boy Wonders pate was superb with its full, punchy flavour and again there was plenty of it. Another lovely member of staff came and checked that things were to our liking, and when we replied that we were thoroughly enjoying our food she said she would pass the comments back to the Chef, which I thought was lovely. Sometimes it must be a thankless job being in the kitchen and not receiving much feedback, so it's nice that at The Fox and Goose they really do work as a team.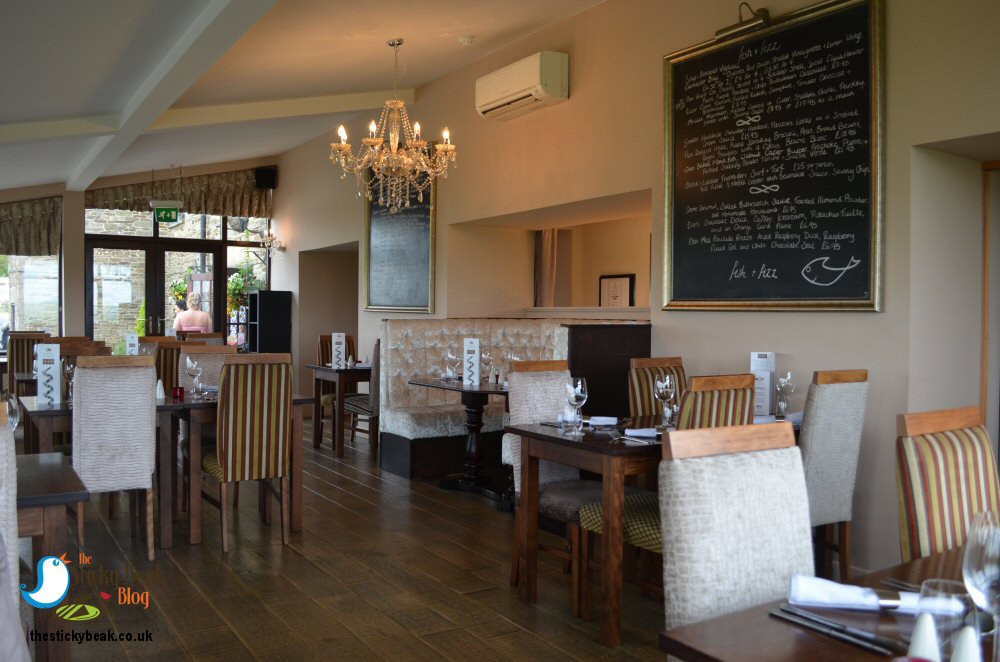 For main courses The Man Bird and Chick had dishes from the regular Spring menu; Fish and Chips with mushy peas and tartare sauce for her, Sausage of the Day (Cumberland that day) with creamed potato, spring greens (mange tout and green beans) and carrots with Caramelised Apple, Sage and Confit Onion sauce for him.

I had the Pan roasted Hake with Purple sprouting broccoli, Peas, Broad beans and Jersey Royal potatoes with a Citrus beurre blanc from the promotional menu and I also had a side salad with my main course.




All three dishes had been plated up with care and did look lovely before we all dived in with our usual gusto! The Chicks fish had a great crisp batter on it and the homemade chips had plenty of taste to them, she left the mushy peas so I had to take a hit for the team as we say and have them. Well, ok, I didn't have to, I'm just greedy and like mushy peas so I slathered some vinegar on them and gave them an appreciative resting place in my tum.

My fish was blooming lovely, very nice juicy flesh with crispy skin; just how I like it. The baby broad beans were incredibly sweet and flavoursome and the mere taste of them took me back to my own fledgling days when my granddad used to grow his own at home.

They are an under-rated vegetable in my opinion and can be used in a variety of ways, but unless they are in fashion in the culinary world a lot of great fruits and vegetables tend to get forgotten, which I think is a huge shame. Anyhow, the rest of the vegetables had been cooked perfectly and the citrus beurre gave the potatoes a nice twist that balanced their natural sweetness wonderfully.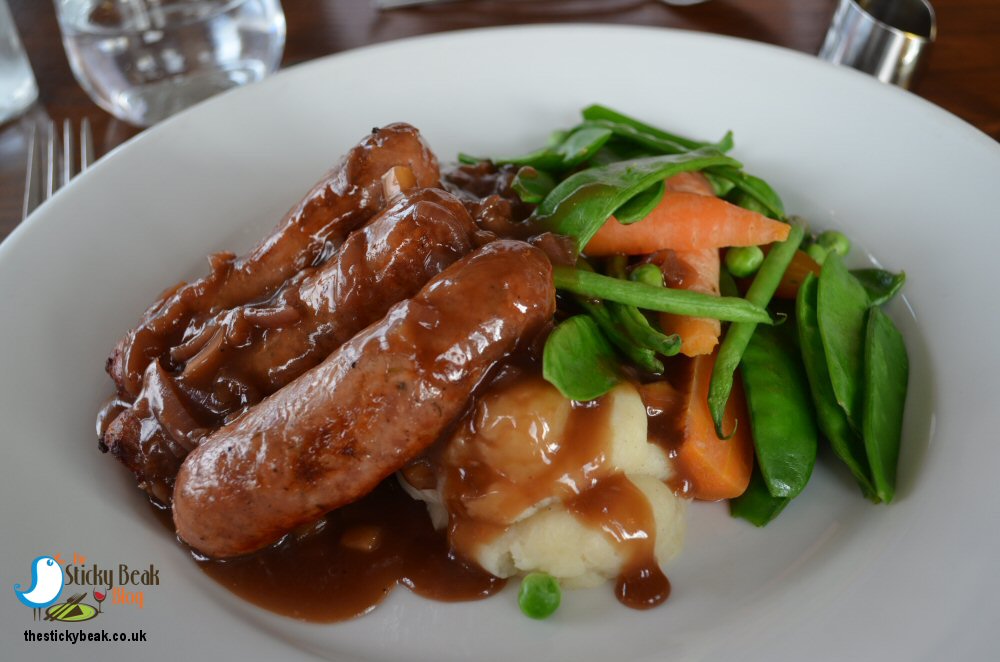 A trio of thick meaty Cumberland sausages sat proudly atop a creamy round of mash on The Man Birds plate, but not for long as he soon plunged into them gladly. The slightly sweet sauce complimented the robust seasoning in the sausage marvellously and the mash was, apparently, nice and creamy; perfectly crunchy vegetables rounded the dish off superbly, so he was a very happy birdie too with his meal. Top marks all round so far, and three satisfied diners.

There were plenty of other diners coming in too, and most of these were indulging in the Fish and Fizz menu as well. Lynne had checked that we were equally pleased with our mains as we had been with our starters, which we were, and then she brought us the pudding menu to peruse.
For desserts His Nibs and I had choices from the Fish and Fizz menu; Crème Caramel with Salted Butterscotch sauce, Toasted Almond powder and homemade Honeycomb and Dark Chocolate Delice, Coffee ice cream, Pistachio tuille and Orange curd puree, and Chickadee had the Chocolate Brownie with Vanilla ice cream from the spring menu.




The Brownie obviously hit the spot as it was gone in record time, and The Man Bird was chirruping with delight with his Crème Caramel. The Honeycomb was lovely and crunchy which really highlighted the smoothness of the Creme fantastically.

The Chocolate Delice was total perfection with its thick chocolate outer that revealed the richest, densest, most decadent ganache I think I've ever had; I definitely wanted to recall that DeLorean back into service let me tell you. I was also impressed with the Coffee ice cream because it had an authentic flavour rather than an artificial one that leaves a slight aftertaste in the mouth, and the Pistachio tuille was rather yummy too.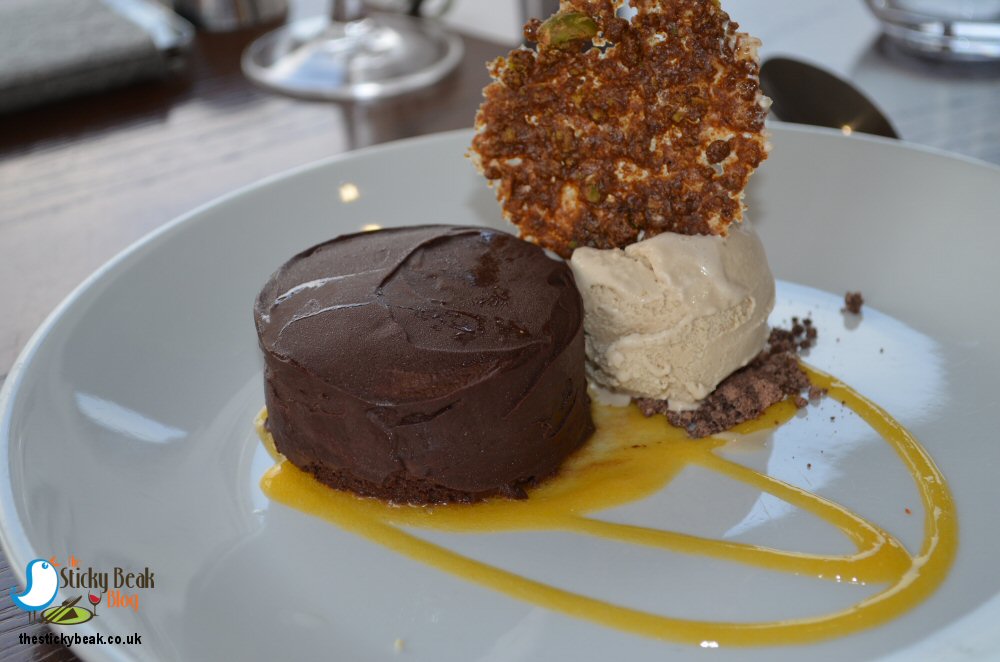 We had a latte to round things off, Chick didn't want anything else so she wandered outside to admire the scenery for a while. All too soon the evening came to an end, but I can definitely recommend it to you dear reader; they also do a terrific Sunday menu too if you fancy a lazy Sunday one week with no cooking or washing up to do :)
Some form of incentive was provided to visit this venue
read more