Trying The Summer Menu at Revolucion de Cuba, Derby
---
Published On Monday 30 May 2016 by Sticky Beak
See Recent Dining Out Reviews | See All Recent Reviews


As you know dear reader, The Man Bird and I love Revolucion de Cuba for its tasty morsels and also for the chilled, friendly vibe it exudes. New sales manager, Olivia, is a super person with oodles of zing and personality so when she invited us to be the first to try the summer menu we jumped at the chance.
As she talked us through the changes and tweaks on the menu it was lovely to be able to have a catch up with her again, and boy the team at Revolucion have got some great deals on to tempt us all. The " Menu del Dia" is available Monday to Friday until 5pm and with its light bites, burritos and sandwich selection it provides great choice for those either working (no food coma to deal with) or for those having a break from retail therapy; my favourite is the "Burrito and Mojito" for a tenner :)

If it's dinner after work you're wanting but pay day is a way away then the "Menu de la Noche" is your new best friend; this gem is available Monday to Thursday after 5pm and offers 2 courses for £9.95 or 3 courses for £12.95 and there is a great selection of dishes to choose from.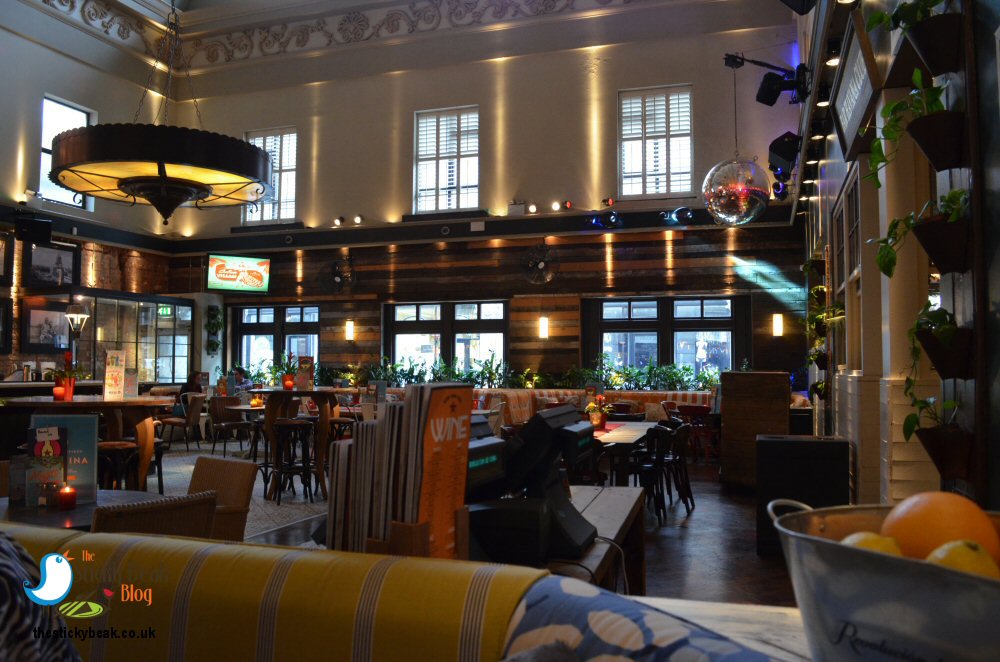 We chose our food from the main Cantina menu, now printed on a single side so no faffing about flipping from page to page and you know I like things to be simple! We had 5 dishes from the tapas section to sample and these are available Monday to Saturday at any three for £13 or 2-4-1 on Sundays.

As well as a stonking selection of meat and fish tapas there are 5 great vegetarian choices too. Our choices were the Sticky Chicken Skewers with their yummy Honey and Lime glaze (loved this twist on a classic), Pork and Chorizo Quesadilla, Albondigas, Salmon Ceviche and Mojito Battered Prawns.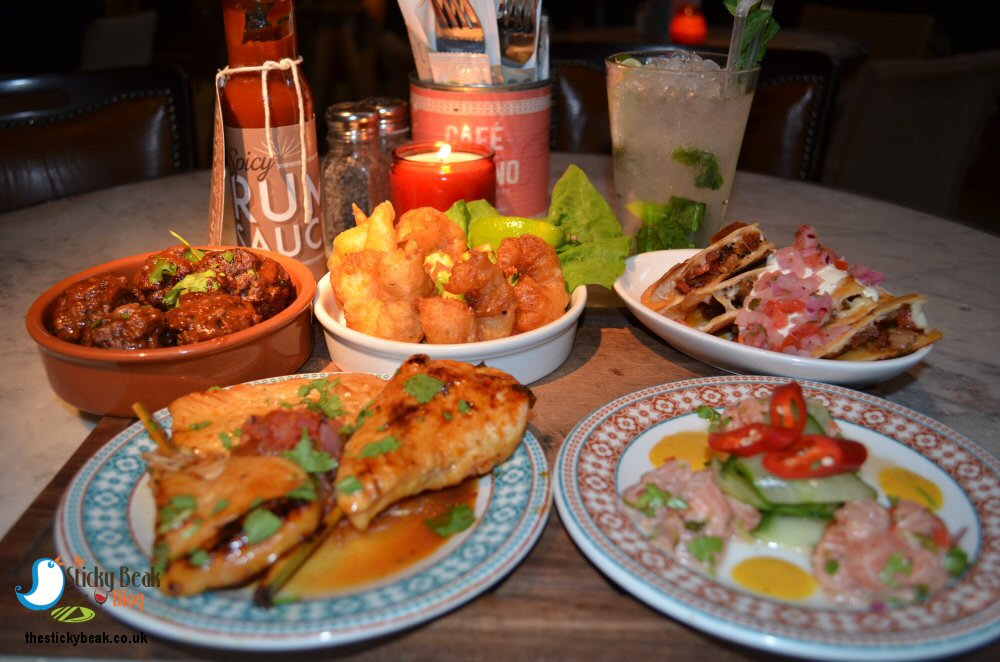 I loved the Salmon Ceviche, to me this is a real summer dish with its fresh citrus and coriander flavours and the Salmon was delicious; I was also smitten with the Mojito Prawns, the Mojito in the batter gives it a fantastic light texture and the fat, juicy Prawns were very yummy.

His Nibs and I have eaten plenty of Albondigas in our time but both of us agree that the ones at Revolucion de Cuba are by far the best, we love the portion size and the tomato sauce just cannot be beaten.

The Quesadilla was packed with roasted pork belly, chorizo and cheese as well as smoked chilli jam and sour cream and we couldn't resist dipping the crispy grilled tortilla into RDCs splendidly wicked Spicy Rum Sauce; it went crazily well with the punchy flavours in the Quesadilla.
My Classic Mojito and The Boy Wonders Peroni were hitting the spot beautifully and we indulged in a dab of people watching as we waited for Davinia to bring out our main courses. There was a lovely relaxed feel at all of the tables and plenty of laughter being shared between groups of friends.

We didn't see any families dining although children are welcome on the premises until 8pm during the week and until 7pm on weekends, again perfect for after school munchies or weekend shopping breathers. Another family and child friendly thing the Revolucion team do is offer Salsa classes for tots on Wednesday morning every fortnight, what an absolutely fantastic idea; keeps the tots minds and bodies active whilst the mums and/or dads can socialise with other parents too.

During half term week 2016 (30th May until 5th June) kids eat FREE when bringing grown up with them - another purse friendly option from the RDC team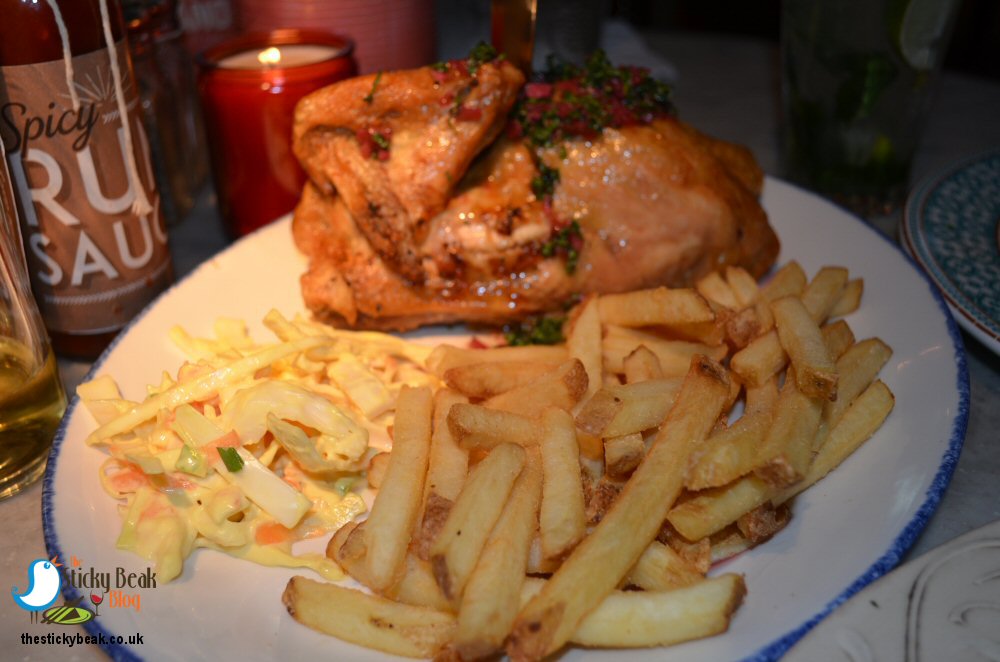 For our mains we opted for Los Pollos Cubanos (half a grilled chicken) with the Chimichurri sauce as the fresh parsley, garlic, oregano and chilli flavours are great for summer eating; Lime and Chilli Salmon steak and the Shredded Pork burrito with its tasty Pineapple salsa were our other two choices.

These three delights were all superb, the meat was all full of flavour, juicy and moist; the chef clearly knows what he's doing in this kitchen. The accompanying Skinny fries and Fennel slaw we had to go with the Chicken were delicious too. When she came to check how we getting on Davinia brought us a carafe of iced water to the table which I thought was a lovely touch.




I have to say that on all the occasions we've been to Revolucion de Cuba every single member of staff has been incredibly professional and friendly, and it's one of the things that keep us going back. The Salmon had a great zippy taste thanks to the citrus element and I loved the texture of the giant cous cous it was served on; the roasted vegetables were super tasty too.

I honestly don't think that any more shredded pork meat could've been stuffed into the tortilla; combined with the rice, beans and cheese this wee beastie could've fed an army. The burritos come with tortilla chips and black beans too, so they really are incredible value for money at £10 or under and it was totally moreish on the tongue as well.


Mere mortal's tummies would be bursting at the seams here, and if truth be told The Man Bird and I were stuffed ourselves. However our total lack of will power combined with our gluttony meant that when Davinia asked if we would like dessert we were eagerly bouncing up and down like kiddies in a sweet shop, nodding our heads vigorously.

Before long a yum-tastic trio of sweet treats that would have Roald Dahls Mr Wonka himself dribbling with delight were placed before us and we eagerly tucked in. First to be delved into was the bowl of Molten Chilli Chocolate and this beauty is a Salted Caramel and Chocolate fondue with a chilli kick that is topped with Strawberries, Bananas, Raspberries and Mango.

The Boy Wonder is a total chocoholic so he was in heaven scooping up spoonful after spoonful of chocolate and fruit into his mouth, and I have to say that it was rather nice myself. Sweet Nachos dusted with sugar and Ginger and layered with Cream, Strawberry coulis, fresh Strawberries and Mango was also a winner, particularly with me as I love the heat that ginger gives and of course there are the digestive benefits of this spice to consider too.

Actually, come to think of it, these desserts both have plenty of fruit in them; that's got to be at least 1 of your 5 a day right? Boom! guilt free dessert alert, count me right in :)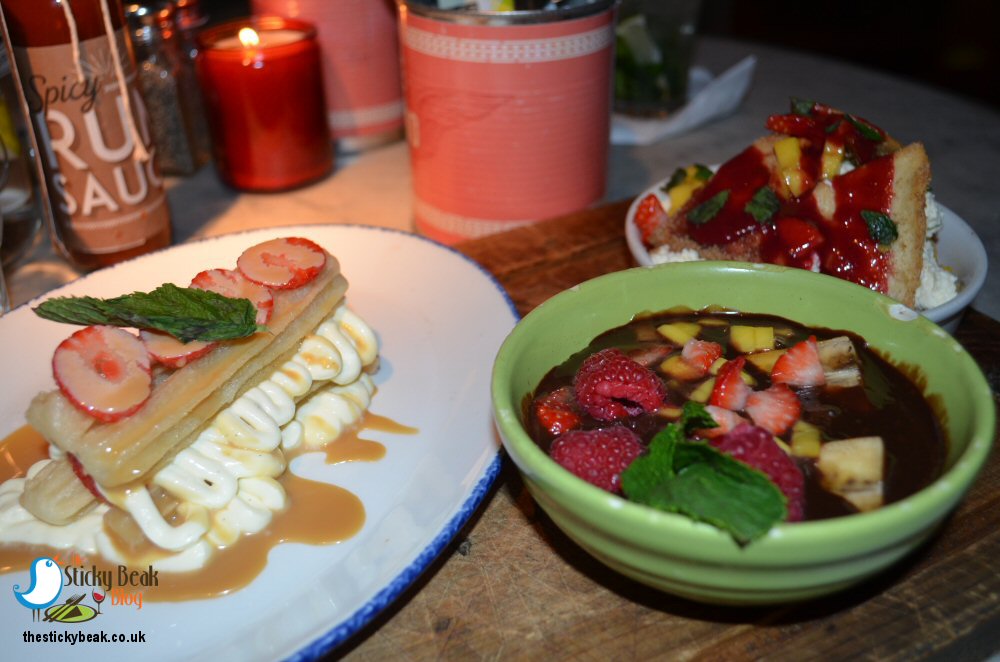 Our final dessert delight was the Churro Cheesecake which as its name suggests is Spanish Doughnut sticks (Churros) layered with Vanilla Cheesecake and fresh Strawberries and then drizzled with Rum Caramel sauce. I swear I could feel my taste buds sighing with total contentment when this treasure hit them! All the desserts were mind bogglingly good and you really do need to have these in your life, but if you absolutely can't manage them then there is always the Espresso Rumtini dessert cocktail on hand instead.
Unsurprisingly we couldn't manage a coffee, we honestly didn't have room for another molecule in our tummies! However, it was one of the tastiest food experiences we've had and you can always rely on the RDC team to keep things fresh and innovative without compromising taste or quality, so please go down and try the summer menu for yourselves. Hot Wings salsa - and meringue-ing their way to Revolucion de Cuba, Derby.
Some form of incentive was provided to visit this venue
read more