Refurbished Restaurant At The Talbot In Dronfield Woodhouse
---
Published On Saturday 28 May 2016 by Sticky Beak
See Recent Dining Out Reviews | See All Recent Reviews


You may recall our previous visit to The Talbot pub in Dronfield late last year, as we all thoroughly enjoyed the food and atmosphere. Very recently the Landlord, Landlady and their wonderful staff did a full refurbishment all by themselves and they very kindly invited us back to see the results for ourselves.

Chickadee couldn't make it this time so it was just The Man Bird and I that walked through the front door and into what could easily be interpreted as a Secret Garden. The bar area has its own relaxed area complete with sofas to lounge on and plant pot lightshades and the decor is themed on wooden boards with climbing plants draping over them.
We were shown into the main eating area by the very lovely Anna, and this room has a light, airy feel to it with an ambience, to me, of a country barn thanks to the brick effect paper and more wood effect features. I particularly liked the artificial grass that adorned the windowsills and one ledge had Mushroom and Toadstool sculptures on. Lanterns mounted on the walls provided a beautiful soft lighting that only enhanced the relaxed feel the team wanted to achieve.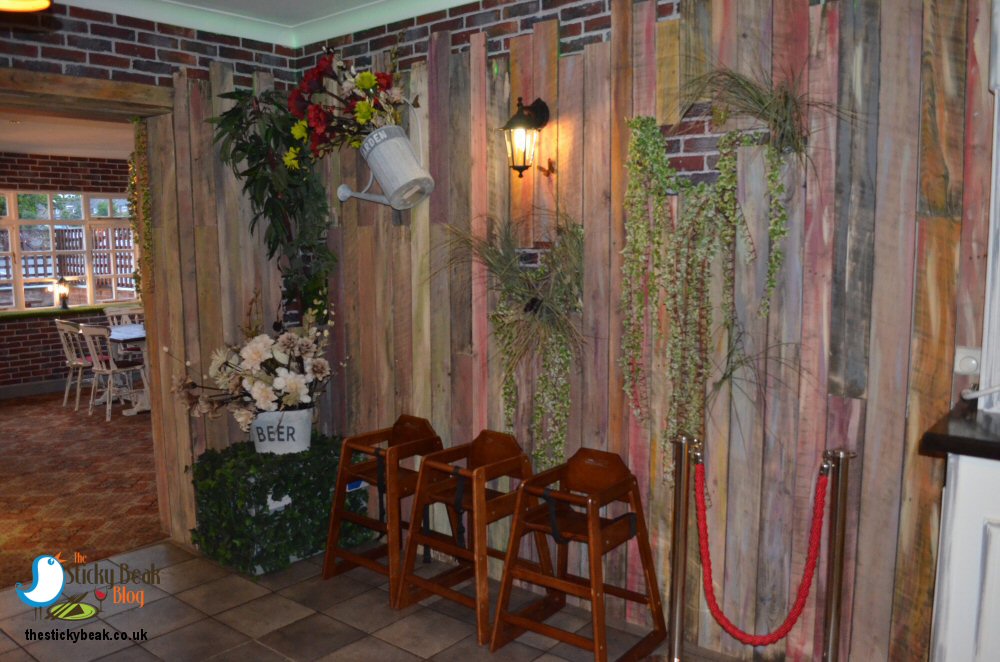 With a large glass of a rather cheeky Chardonnay in my grasp, and His Nibs savouring a pint of Amstel lager, we perused the very extensive menu. They have a fantastic selection of wines and lagers on offer, and I also noticed that cocktails were 2 for £8 as I walked through the bar area. Just as we thought we had decided what we wanted one of the lovely young ladies would bring something delicious to another table that looked mighty tempting, which would make us think again.

Honestly, there was so much to choose from; traditional pub dishes such as a homemade Pie (that we had last time, and it was amazing) through to steaks of every type, as well as a great vegetarian selection and a huge choice for kids. Amber brought us some warm Poppy seed rolls and Chive butter to nibble on which were gorgeous, and took our starter orders; Mussels in Cider from the specials board for me and Duck Spring Rolls for The Boy Wonder.

Our table was booked for 7pm and there were only two tables free, the restaurant was busy with couples, groups of families and a group celebrating a birthday. There were children eating, but not teeny tinies on this occasion, which is a shame because there is a great little play area outside for them to hoon around in.
Before long my Mussels were being placed in front of me and His Nibs had two large Spring Rolls served to him. Natalie brought a finger bowl and side plate for the Mussel shells to the table for me too, which I thought was very forward thinking for a pub. It really is the small details that distinguish quality establishments from run-of-the-mill premises, and the team at the Talbot know their stuff really well.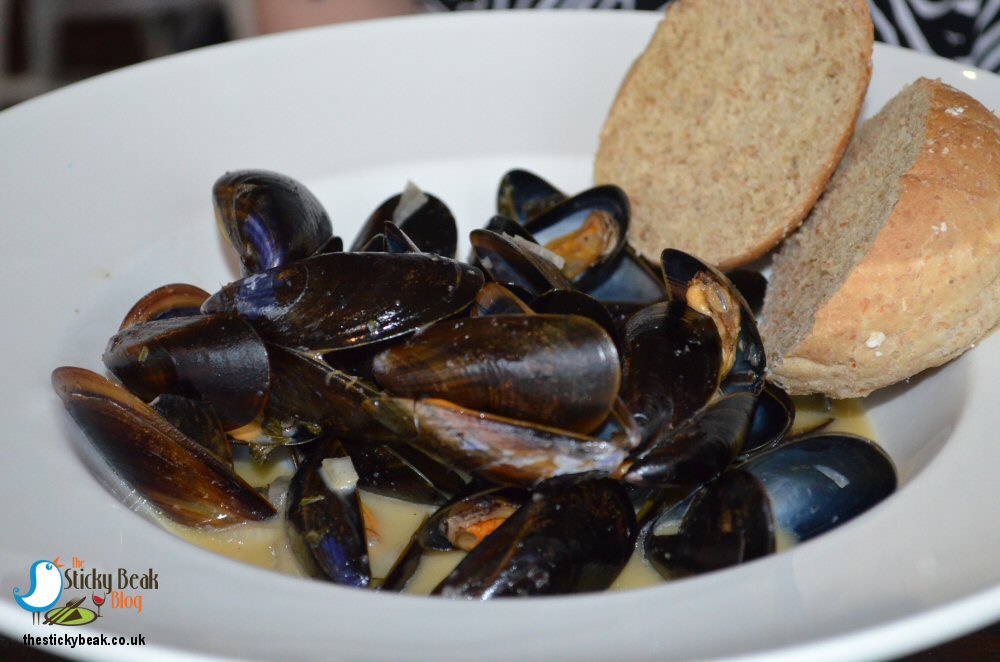 I had plenty of meaty Mussels to savour and the sauce just had that lovely hint of Appley sweetness I was looking for without losing the natural cooking liquor taste from the Mussels. Clearly, I had been remembered from last time as a fresh bread roll was also on my plate so that I could mop up the sauceJ.

Him Indoors was tucking in to his Spring Rolls and was impressed with the amount of Duck meat inside them; they were very generous and nice, crispy Filo pastry added crunch and texture to the dish. The dipping sauce had a pleasing warm kick to it, and he even ate some of the mixed salad leaves that came on the slate with the rolls. Both dishes were good sized portions for starters and got our taste buds wide awake ready to savour the mains we had ordered; Beef Brisket for The Man and Surf n Turf for yours truly.


The mains had been presented beautifully and again were very generous sized dishes. The Beef brisket was as tender as you like and chock full of flavour that just burst onto the tongue with a proud "ta dah". Perfectly smooth mash with fresh Chives complimented the meat brilliantly and both the baby Carrots and tender stem Broccoli had been cooked to retain the right amount of natural crunch and delicate flavour of them.

I could feel the warmth from sheer joy radiating across the table towards me from His Nibs, so when I asked if he'd enjoyed his meal, I was met with some vigorous head nodding.

My Surf and Turf was a plateful and a half, let me tell you dear reader; there were homemade pillowey chips seasoned with flaked sea salt, homemade onion rings with superb light, crispy batter on them and a large field mushroom that had been sautéed in butter as well as lovely squidgy grilled tomato. All of these tasted amazing, but the stars of the show, whole tail Scampi and Rump steak were absolutely belting.




The Rump Steak, and I kid you not, was at least an inch and a quarter thick, maybe an inch and a half in the middle, and had such a rich taste to it my taste buds were swooning with joy. In Derbyshire we "dunna mess abaht" when it comes to meat, and the chef at The Talbot certainly knows what he's doing. Top notch grub at sensible prices is hard to find, but you strike gold if you come to The Talbot that's for sure.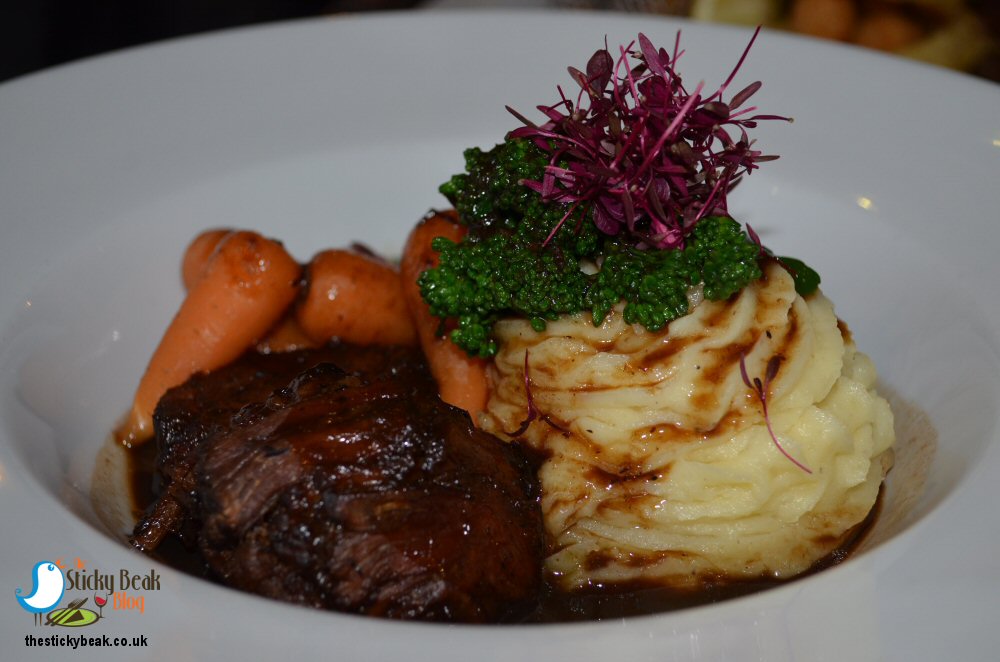 The Scampi was nice and tasty too, so it was top marks all round for this particular Surf and Turf, and Amber was very happy to hear how much we were enjoying our food when she came to check that all was ok at our table.
Our little tums were fairly bursting with repleteness at this point but somehow Anna convinced us that we really couldn't leave without trying The Talbots delicious puds, and she was right, they were blooming delicious.

I had a superb homemade Bakewell tart with fresh Cream that had a great balance of fruit layer to airy sponge layer, topped with a nice amount of flaked Almonds, and The Man Bird opted for the Homemade Raspberry Eton Mess.




Usually an Eton Mess is presented in a sundae glass or dish, but the Talbot team do theirs on a slate and it is a square, layered confection that doesn't fail to impress in the taste department due to its plumptious proportions. Every last little bit was given a loving home in His Nibs tummy, he was bowled over by the balance of cream, meringue and zingy Fresh Raspberries.
It was one of those meals that you would love to be able to eat over and over and over, and judging by the clean plates coming from other tables we weren't alone in our opinion. Anna was telling us that the Steak burger (topped with pepperjack cheese and served in a Brioche bun) is a popular choice on the menu, and when you think that this comes with chips and costs £9.95 you can see why.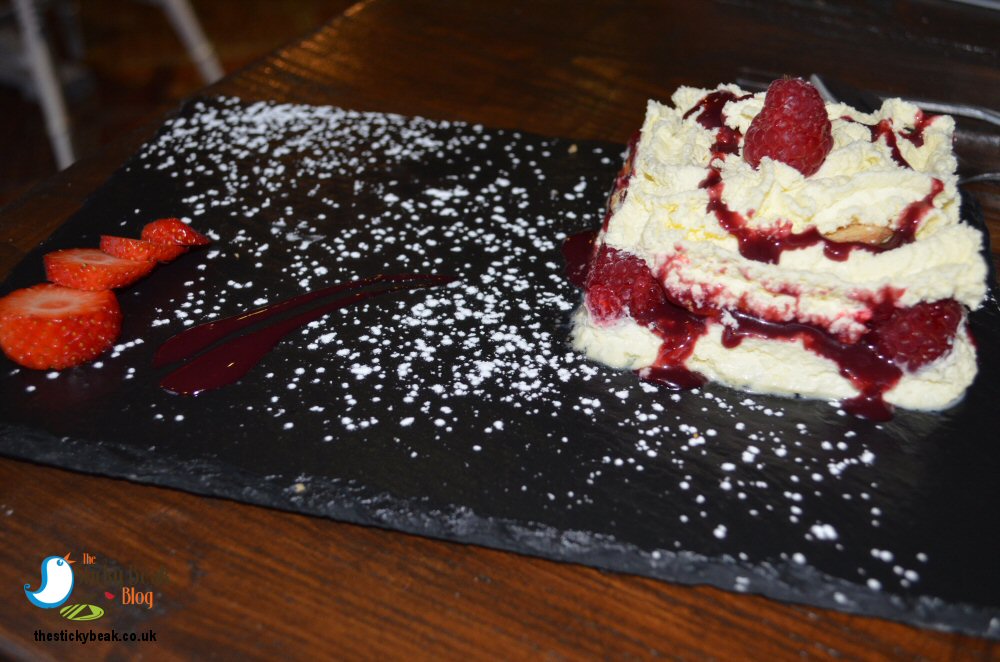 They also serve a selection of freshly made sandwiches, so if you don't fancy something hot at lunchtime this is ideal. At one point in the evening not a single table was free, they were all occupied, so I would definitely recommend booking when you come. Hot Wings definitely deserved here again, and I am full of admiration for the refurbishment you've done, it looks great :)
Some form of incentive was provided to visit this venue
read more