Dinner At The Handmade Burger Co, Nottingham
---
Published On Monday 9 May 2016 by Sticky Beak
See Recent Dining Out Reviews | See All Recent Reviews


Yet again we were playing taxi service for The Chick and a couple of her fellow fledglings that were going to Planet Bounce for a birthday bash, and we thought that we would get in on the fun too with a meal our for us.
We booked a table at the Handmade Burger Company, so after dropping the Girls off, The Man and I headed over to the venue. The restaurant itself is very modern in decor with lots of industrial piping around and a neutral colour scheme but there was a great friendly vibe to it that obviously appealed to the families dining there, as well as being hip and trendy enough for young groups of friends and couples.


Our server, Craig, asked if we'd been before (which we hadn't) and talked us through the menu items and the ordering process, took our drinks order and left us to peruse the extensive menu.

I decided to have the Beef and Horseradish burger from The Yorkies section, which switches the bun for Yorkshire puddings to hold the beef patty and this is topped with Watercress, Caramelised Onions and a homemade Horseradish sauce.

The burger itself was incredibly juicy and packed with flavour, and the horseradish gave it a great zip of heat which in turn paired rather nicely with the sweetness of the caramelised onion. The fresh Watercress again provided a nice peppery heat as well as some natural crunch for added texture in the mouth.




Having never come across Yorkies being used as a burger bun I didn't really know what to expect, but it was surprisingly good and I have to say that I thoroughly enjoyed it.

His Nibs opted for the American BBQ Bacon Stuffed burger from The Pit range which takes its inspiration from the BBQ pit recipes all across America.

This little gem has a core of melted Swiss Cheese in the beef patty which is then topped with smoked Bacon rashers, HBC's BBQ pit sauce, Mayonnaise, Iceberg Lettuce and Red Onion all served in a Buttermilk bun, and a Gherkin topped pot of Coleslaw on the side.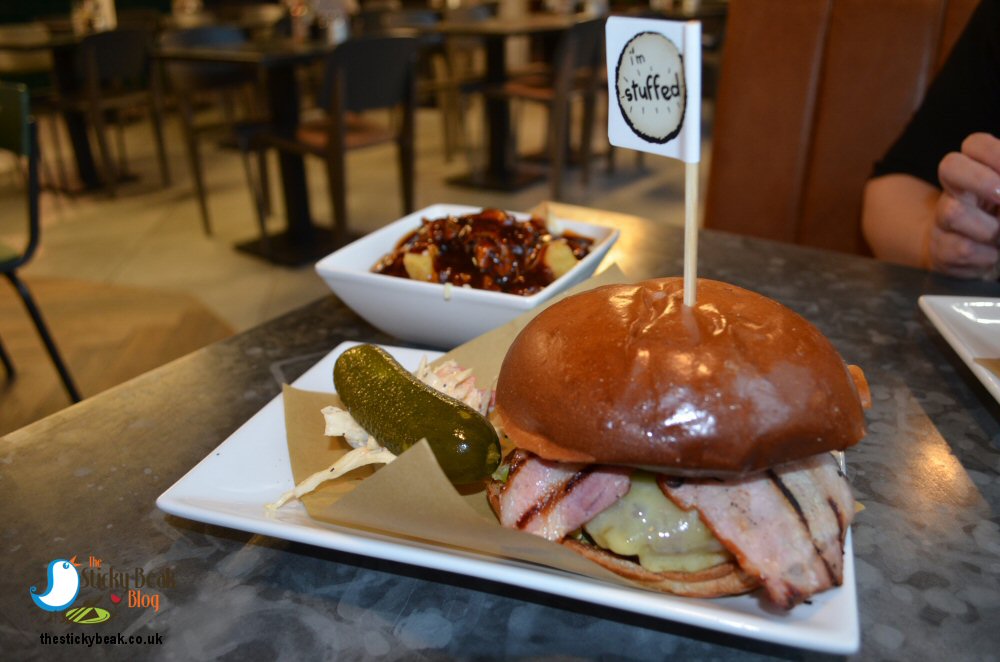 The gooey cheese core was very satisfying on that subliminal level of being messy and the burger was very tasty; the bacon was sliced nice and thickly and the smokiness of this and the sauce made the burger really tasty.
As seems to be the current trend, fries are available as an extra order, so I had the Hipster Chips which are chips topped with Jalapeno 'slaw, Sriracha Mayo and fresh Spring Onions. The Chips were nice and fluffy inside and crispy outside thanks to being double fried and they had a proper kick to them courtesy of the Jalapenos and the Sriracha content.

The Man Bird had the Denver chips with their low n slow 6 hour cooked marinated pulled Pork, melted cheese and HBC BBQ pit sauce topping. The pulled pork was as tender as you would expect from proper slow cooking, and there was plenty of it too, gorgeously smothered in cheese and smoky sauce which His Nibs deemed to be extremely enjoyable.

Our bellies were comfortably stuffed at this point so we had a bit of a breather before having a peek at the Sundae section. Luckily all the options come as sharer desserts too, so we had the Brownie and Waffle sundae between us.
This wicked morsel is Vanilla Ice Cream, Chocolate sauce, Brownie chunks, Waffle pieces, and Toffee sauce all topped with a sinful amount of whipped Cream. The Brownie was very rich and the waffle was nice and chewy which when combined with all the other components made for a really indulgent pudding.

Just as we were sipping our Lattes a text came through from the Chick to say they were finished at Bounce Nation and were walking up to the Intu centre to meet us.

I can heartily recommend you pay a visit to the Handmade Burger Company if you haven't already been; the food is great and the service is good too so you'll have a most enjoyable experience.
No incentive was provided to visit this venue
read more