New Menu At Revolution, Derby
---
Published On Tuesday 3 May 2016 by Sticky Beak
See Recent Dining Out Reviews | See All Recent Reviews


Last time The Boy Wonder and I ate at Revolution we thoroughly enjoyed ourselves so when we were asked back to try the new menu we jumped at the chance. It was a Friday evening when we visited this time and the atmosphere was great with people kicking back after finishing their working week and gearing up for an extra day off for the Bank Holiday.
Happy Hour was in full swing (Sunday-Friday 5-9pm, 2-4-1 on selected Cocktails) and cocktails were in evidence at every place I looked in the room. The Man and I indulged in a Fruit Burst Frappe, purely for research purposes you understand, and to better fit in with the crowd. This little monkey is absolutely lethal because it tastes so great and innocent, I could drink this by the bucket load - but I bet I would be seeing double of everything fairly quickly.


Our server, the exceptionally lovely Bex, came and had a chat to us about the new items on the menu and left us to decide what we fancied for a short while.

We opted to have the Mezze Board to share as a starter, and this gem is included (along with the Sharing Nachos Platter) in the Happy Hour promotion, meaning it would cost a measly fiver. With its Tortilla chips, Chicken skewers, Chorizo, Hummus, Goats Cheese bonbons, Garlic dough sticks, Guacamole and raw pepper crudités it is great value at its normal price of a tenner, but during happy hour it is an absolute feast for those on a budget.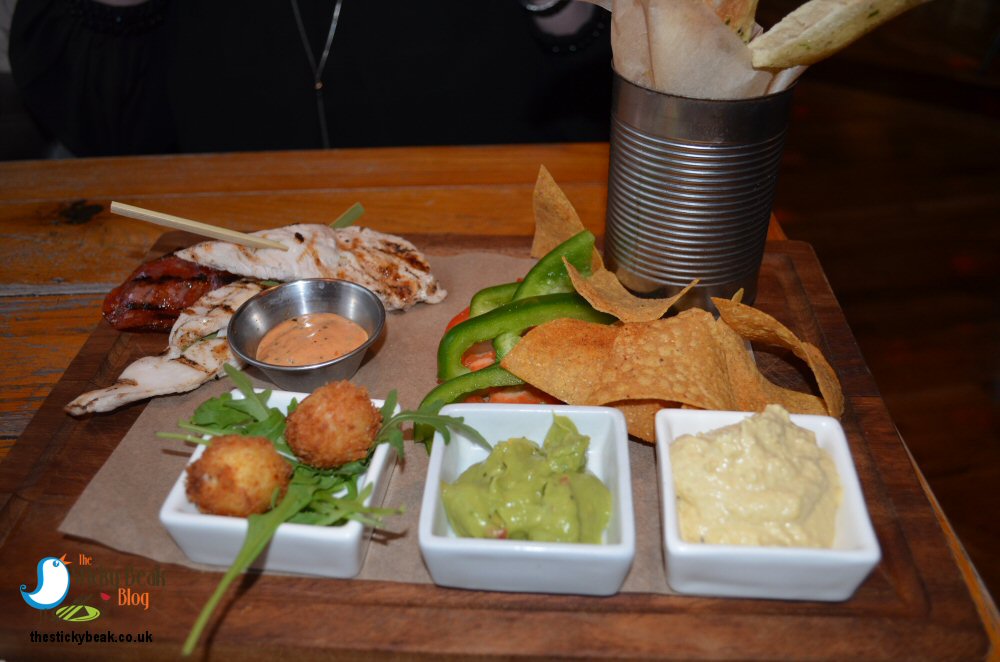 Bex came over and checked that we were enjoying our starter, which we most definitely were. Every single item on the Mezze board was delicious and we soon cleared the board; I especially liked the Goats cheese bonbons with their crispy outers and gorgeously creamy inners and His Nibs was mad about the Chorizo and the Skewers.
For our mains I had the San Fran special burger and The Man had the full rack of Slow cooked Ribs. My burger is grilled Chicken, Avocado, Beetroot and Sun blush Tomatoes served in a Pretzel bun with Skin on Fries and I also ordered a side of Fried Pickles.

His Nibs ribs are Pork ribs with a Chipotle BBQ sauce, Fries and Caulislaw and he ordered a side of Onion rings. The ribs just absolutely dropped off the bone they were so tender; there wasn't a single piece of fat or gristle on them, it was just meat central. The Boy loved the tangy Chipotle sauce too and there was enough to give a lovely covering to the rack of ribs without drowning them unnecessarily.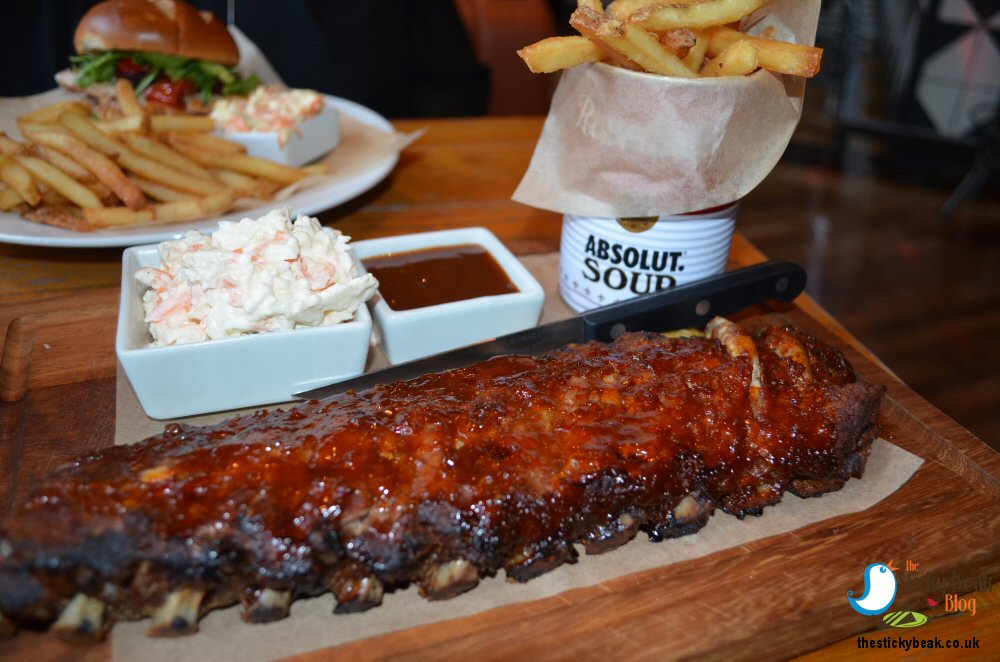 My own burger was gorgeous with its juicy chicken and lots of fresh flavours from the vegetables; I especially liked the sweetness of the Beetroot. Our fries were delicious, not greasy at all just really flavoursome and fluffy inside; and of course because the skin is left on you get the natural fibre content of this vegetable, so you can enjoy them guilt-free.




I realise that Pickles are very much a "Marmite" vegetable, you either love them or hate them, and I personally love them. His Nibs would rather stick hot pins in his eyes than touch them, but I did manage to convince him to try a little nibble because when they're served like this they have a much mellower taste than how they're normally served in burgers. Although he still isn't going to eat them voluntarily in future he did agree that they are a lot nicer than raw pickles.

Bex came over to do a check back on us and she sided with The Boy Wonder in the Great Pickle Debate and I have to say that I don't mind this state of affairs as it meant my pickles weren't going to get pinched any time soon.
By this point we were more than stuffed thanks to the generous portion size at Revolution, so we asked Bex to give us a 10 minute breather before we had our puddings. Him Indoors had the Choc-fest that is the Salted Caramel Chocolate Fondue with its Strawberries, Banana, Marshmallows and Dough sticks that just beg to be smothered in the fondue from its Pool size pot.

I had the Chocoberry Sundae, a glorious affair with fresh Blackberries, warm Chocolate Brownie, Salted Caramel Chocolate, Vanilla Ice Cream, Blackberry sauce and Creme Fraiche. Needless to say, there wasn't any left in the sundae glass.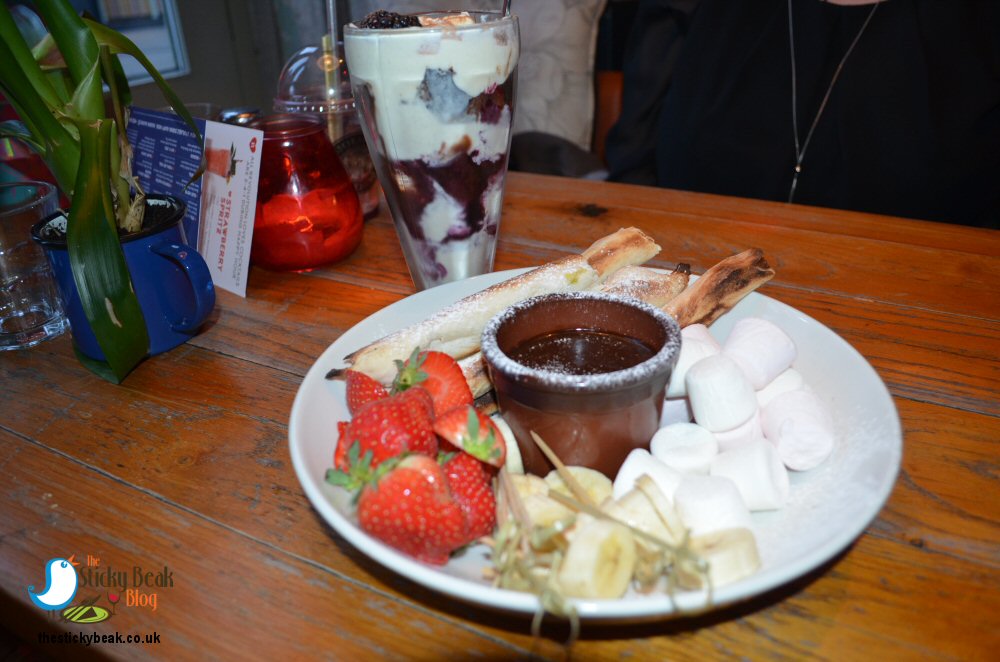 We finished our meal with a couple of very nice, mellow Lattes before we thanked the beautiful Bex and headed back to our little nest.
As well as the great Happy Hour promotion that includes the selected Cocktails and sharing platters mentioned, Revolution also run a fantastic 2-4-1 Burger promotion every Tuesday. The Burger promotion is on all day, every Tuesday, and includes all the Burgers on its Menu, so if you're very savvy you can enjoy a brilliant burger and a couple of Cocktails with a friend without needing to schmooze your bank manager; win-win in my opinion.
Hot Wings to the team at Revolution, Derby, you thoroughly deserve them.
Some form of incentive was provided to visit this venue
read more