New Menu At The Pitcher & Piano, Derby
---
Published On Monday 25 Apr 2016 by Sticky Beak
See Recent Dining Out Reviews | See All Recent Reviews


One of the hazards/joys of Twitter is that I am constantly tempted by photos of extremely yummy food, and as you know dear reader will power is not my strong point. The talented team at Pitcher and Piano in Derby were very proud of their new Flatbread creations and posted them on Twitter, and I was drooling just at the sight of them, never mind actually tasting and smelling them.
Anyhow, Harry (the manager) saw my drooling reply and took pity on me and invited myself and His Nibs over to try the morsels for ourselves. Only the freshest ingredients are used in the kitchens at Pitcher and Piano to prepare the imaginative new menu.

There is now a dedicated seating area for diners at Pitcher and Piano, so no worries about finding somewhere suitable to munch. Even on the Thursday evening all the tables had been booked, so we were very confident that the food was going to be rather scrummy.

Thanks to the Trent Barton buses we hopped into Derby fairly quickly, which meant we could have a few tipples together as a couple, so it was a cheeky Gin and Tonic for me and a pint of Peroni for The Boy Wonder.

Before long Harry brought out a trio of breads for us to try: Pulled Chicken and Chorizo, Crispy Lamb, and Mozzarella and Pesto. They all looked really nice, full of colour and they smelled so tempting that we tucked right in.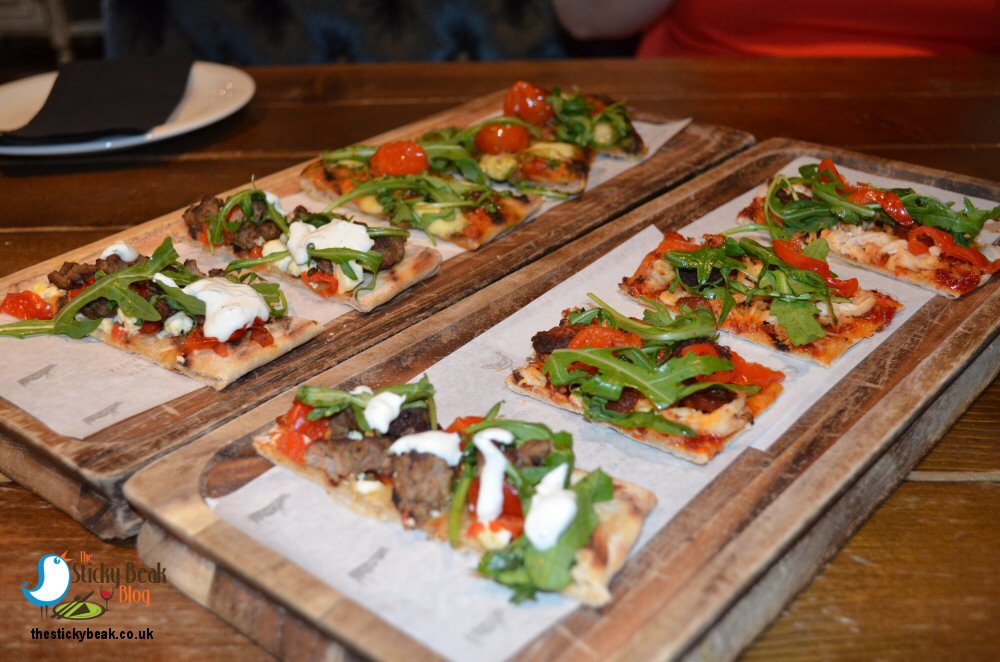 The Chicken and Chorizo one was gorgeous, it had just the right amount of zing from the Chorizo and Chilli jam to wake the taste buds up without zapping them, and the same applied to the Lamb bread too; it was spicy enough to give it some oomph, but not so much that it was going to repeat on you again and again. This variety came with Garlic Mayonnaise and again it was done so that you got a nice hint of the garlic without sending vampires within a 100 mile radius running.

In contrast to the meat and spices, the Mozzarella and Pesto version was very fresh on the palate, much lighter in taste; a bit like a full bodied red wine lingers longer on the palate than a young white wine does. I should just mention that the breads themselves were lovely and thin and crispy, and they weren't stupidly overloaded with topping so that they dropped off when you picked the breads up, which makes eating a lot easier.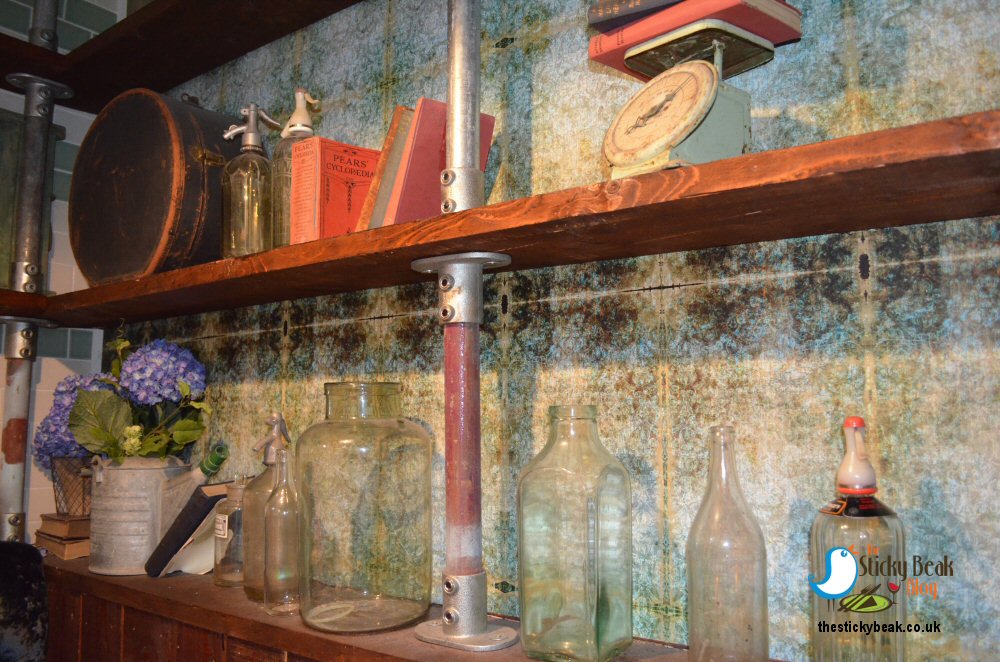 A lovely female server came and asked if we were enjoying our Flatbreads and we said we loved all of them. . Between the two of us we couldn't come up with a clear favourite either, they were all very tasty in their own way, which is high praise for the culinary team.
With our drinks refreshed, Harry came to enquire what we thought of the breads and recommend some items on the mains section of the menu.

We decided to try the Lamb and Coriander burger, the Chargrilled Salmon and the Confit Duck leg. Again, it didn't take too long before the meals were brought to us by a young male member of the team and we tucked in with our customary gusto. I bagsied the Salmon for myself and The Man Bird snaffled the burger, although I did manage to sneak a bite from it.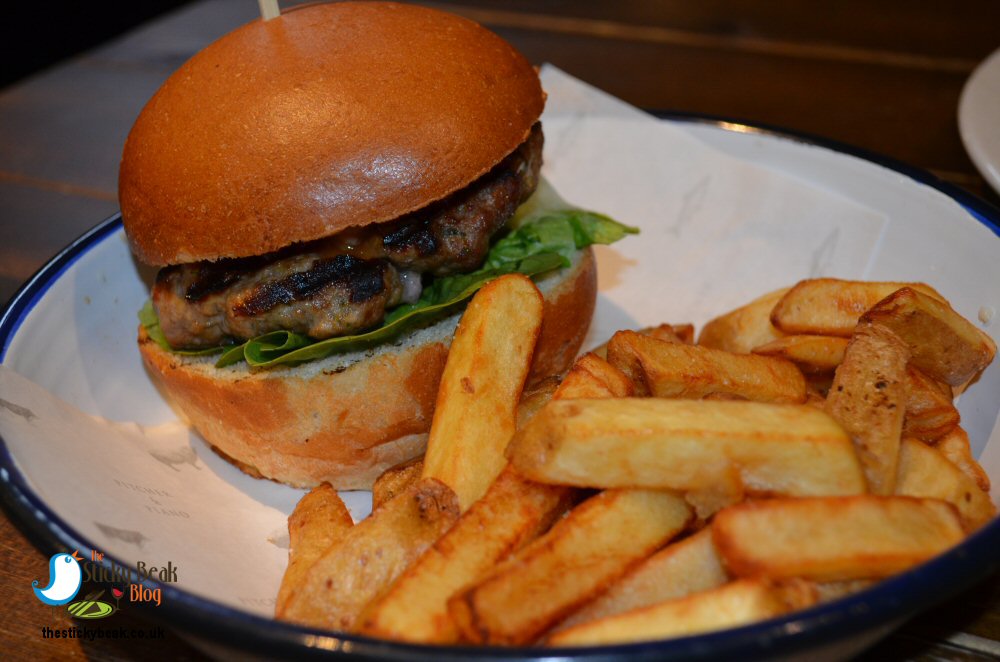 My Salmon was beautifully done, still nice and moist, with a great Chargrilled taste to it and the Chilli Green beans that came with it were pleasingly crunchy too. Crushed New potatoes provided the perfect pillow on which to lay the Salmon steak and they had been nicely seasoned and were full of taste.

His Nibs burger was a meaty 7oz patty and again the seasoning of the Lamb was balanced perfectly to enhance its natural flavour without being overpowering. The burger was nice and moist with a great hint of Coriander to it that married really well with the homemade Tzatziki that topped it. Homemade, skin on Chips finished the meal off brilliantly thanks to their great taste and fluffy inners.

Both of us dived into the Confit Duck with abandon, piling our forks high with the meat, as well as the Potato rosti and soft yolked egg. The combination of these flavours was an absolute joy on the tongue; the seasoned rosti was superb and the rich yolk went really well with the fuller flavour of the duck. When our server came to check how things were, we said that it was all marvellous.




Another round of drinks found their way to our table as we deliberated over the pudding selection. I am a complete sucker for Peanut Butter (much to the revulsion of His Nibs) so I was doing a little "Happy Dance" when I spotted the Chocolate and Peanut Butter Sundae.

This absolute beaut has Chocolate Brownie chunks in, as well as Chocolate and Vanilla Ice Creams that are interspersed with dollops of the nutty stuff and Chocolate sauce, with it all being smothered with whipped cream.

The Boy Wonder decided to be brave and try the Flourless Brownie, much to my amazement, and this is a Chocolate Brownie that contains Almonds to replace the flour component. Salted Caramel sauce and Vanilla Ice Cream complete the dish, and Him Indoors really rated it.

The Brownie was lovely and gooey in the middle and very chocolatey, and The Man was really pleasantly surprised by the lovely texture the Almonds imparted. It wasn't at all Claggy (which I must admit was my big concern) and having tried a mouthful myself, I can honestly say that I would have this as my own dessert in future.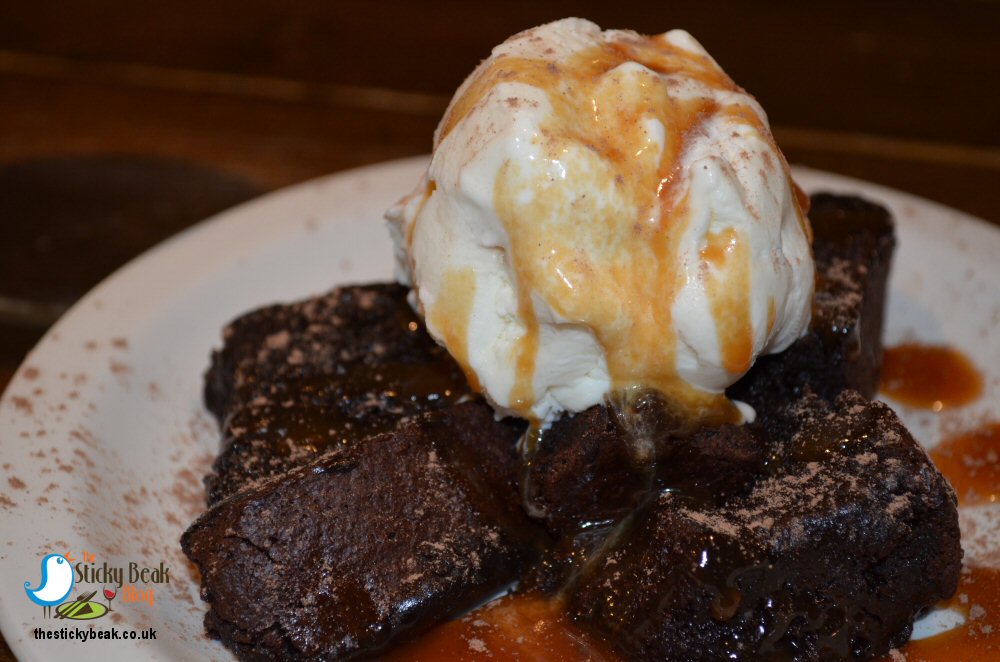 Normally after our puddings we like to finish things off with a coffee, but Harry persuaded us to have a cocktail instead seeing as we weren't driving.

I had a Sweet Tart and His Nibs had an Elderflower Daiquiri, both of which were lovely and I loved the Cinnamon twang that my drink had.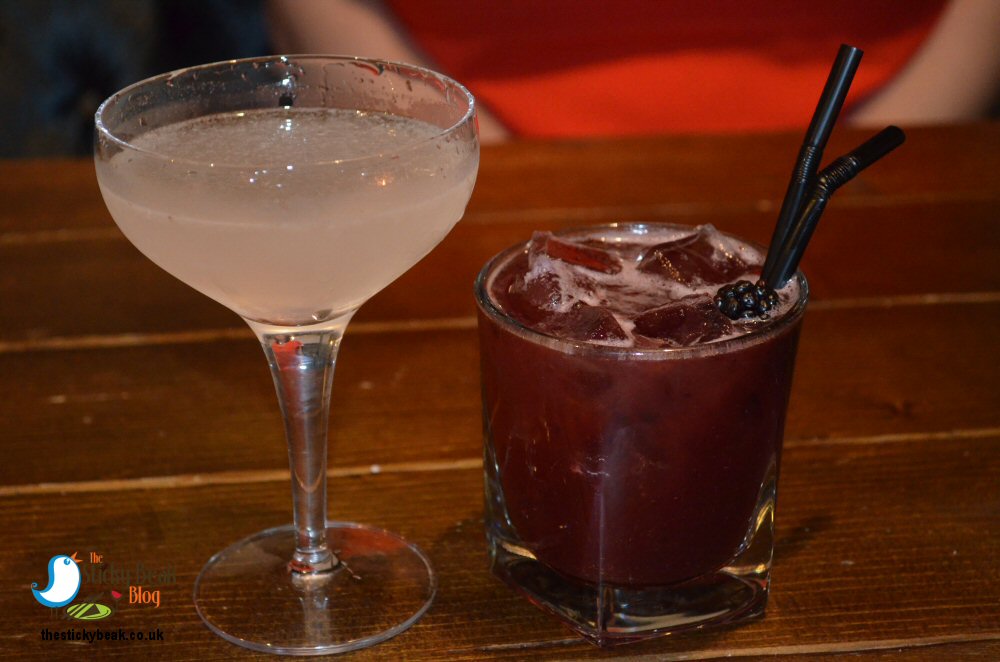 By my own admission I am fairly easy to lead astray when it comes to alcohol, and Harry is a very cheeky chap that has oodles of charm, so when he suggested one for the road I didn't take much persuading. Harry is a fantastic mixologist so I told him to make me his choice (but not Whisky based), and The Man Bird had his favourite, Long Island Iced Tea. After a few moments a gorgeous Rose hued drink was placed before me, and it was one of those amazing tipples that take you to sun kissed beaches with white sand on them.

As things stand, this beautiful drink remains nameless, but I have no doubt that Harry will come up with something suitable for it; Pink Paradiso springs to my mind.
Please do go and check out the new menu, there are some great mains, as well as the Flat breads if you don't fancy a full on meal, and there are plenty of starters and desserts if you want to go all out and have three courses in a great venue. Hot Wings well deserved for Harry and his incredible team. :)
Some form of incentive was provided to visit this venue
read more