Dinner At Chandlers Bar in Chesterfield
---
Published On Wednesday 13 Apr 2016 by Sticky Beak
See Recent Dining Out Reviews | See All Recent Reviews


As a lot of you will know, Chandlers is one of Chesterfields original venues that's always kind of just been there and you can't imagine a time when it wasn't; a bit like the Rolling Stones of the Bar world if you will. I think the present owners have had it for about 16 years and now have a manager (Luke) and his partner running it day-to-day, which allows the owner to indulge in his hobby of making the utterly unique lighting features from empty spirit bottles and piping that grace the interior.
The Boy Wonder was particularly impressed by the Star ship Enterprise inspired light just to the right of our table. As you walk in through the front door there is a lovely spacious main bar area that has three tables with tall chairs in it, as well as the main eating area and a further seating area with lovely squashy sofas to lounge on for nibbles or to retire to and have a few cocktails after your meal.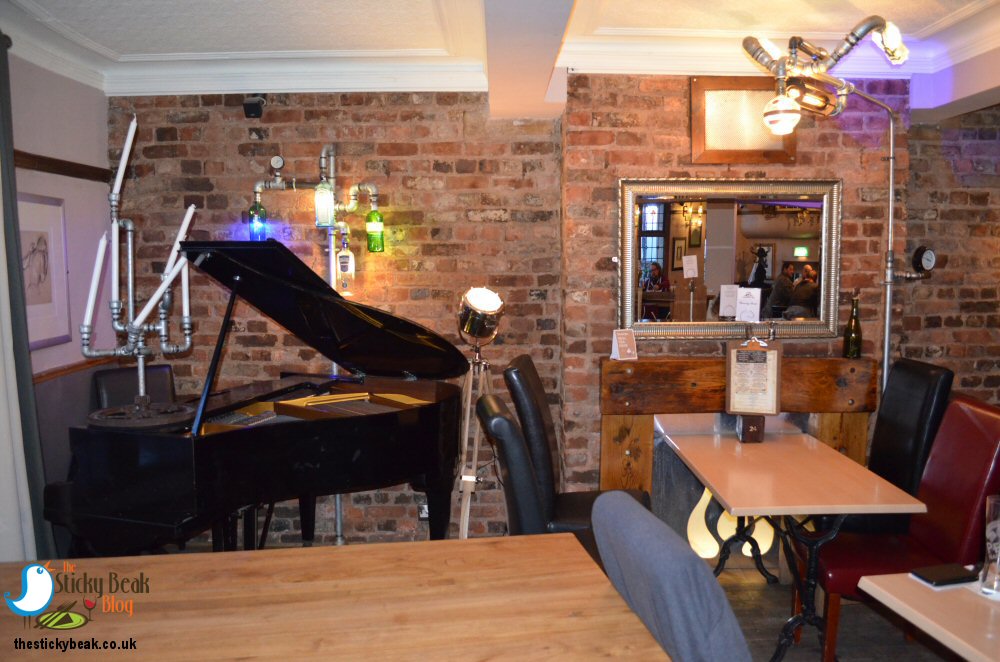 There are a couple of menus to order from, a specials menu that changes every month and the burger menu that Carl the Chef updates every quarter.

For our starters we ordered from the regular menu, I had the Duck and Orange salad and His Nibs had the Thai Bites. Both dishes were superbly presented and tasted equally great. The Thai bites had a subtle Chilli kick to them and came with a superb zingy Salsa which got the taste buds tingling with delight; visually they were very pleasing to with their riot of colours bursting from the plate.

My duck had a lovely smoky taste to it and the slices of breast meat were perfectly uniform in size which I thought was great attention to detail on the Chefs part. The addition of fresh Orange segments and crunchy mixed salad gave the dish plenty of tastes and textures on the palate.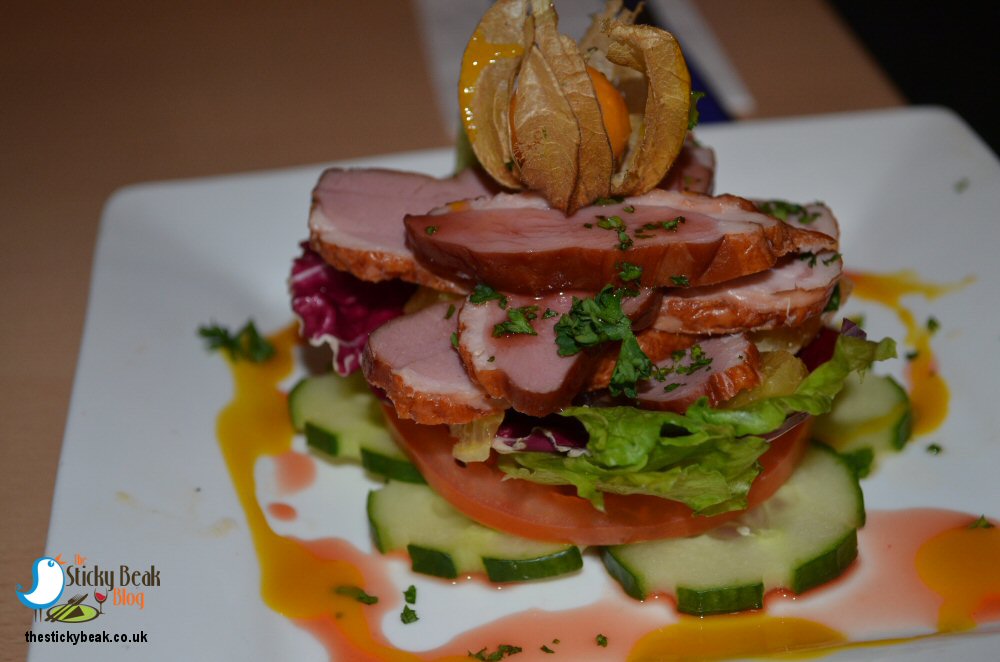 Luke came over and asked if we were enjoying our starters and if he could get us any more drinks, we said that the food was excellent and that we were fine for drinks at the moment. Several other tables had diners at them and everyone was treated the same, and the opinion was that the food was lovely.
For my main course I ordered off the regular menu with my choice of Lemon Pepper Trio of Fish, whilst The Man Bird had one of the Burgers, The Godfather Part 2. Again the dishes were presented very nicely, and the look of astonishment on The Man's face when he saw the size of his burger was priceless.

The burger patty is a whopping 8oz and is topped with sliced Meatballs, Melted Cheese, Salad and sauce and comes with Onion rings, Mushrooms and proper Homemade Chips.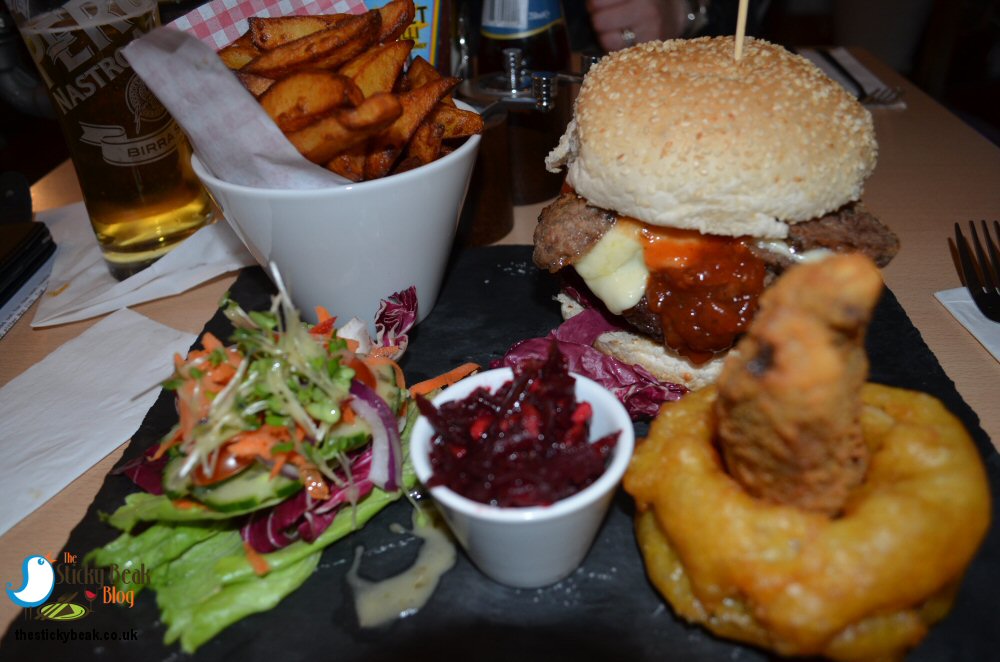 When my dish was placed in front of me, the smirk was wiped off my chops as my meal was every bit as generous; there were two skewers absolutely chocka with chunks of Haddock, Salmon and Tuna laid on a deep bed of Mussel and King Prawn strewn Tagliatelle, with Mussels in their shells and two Jumbo King Prawns decorating the top.

The fish was cooked perfectly and I thoroughly enjoyed every moist chunk, and the lovely Lemon and Pepper sauce was a genius accompaniment. One of my (many) peeves is overcooked pasta and the Tagliatelle was just Al Dente, so I was a very happy little birdie that all components of my meal had been done extremely well. Try as I might, I couldn't finish the entire dish, so I had to disgrace myself and leave some of the pasta untouched.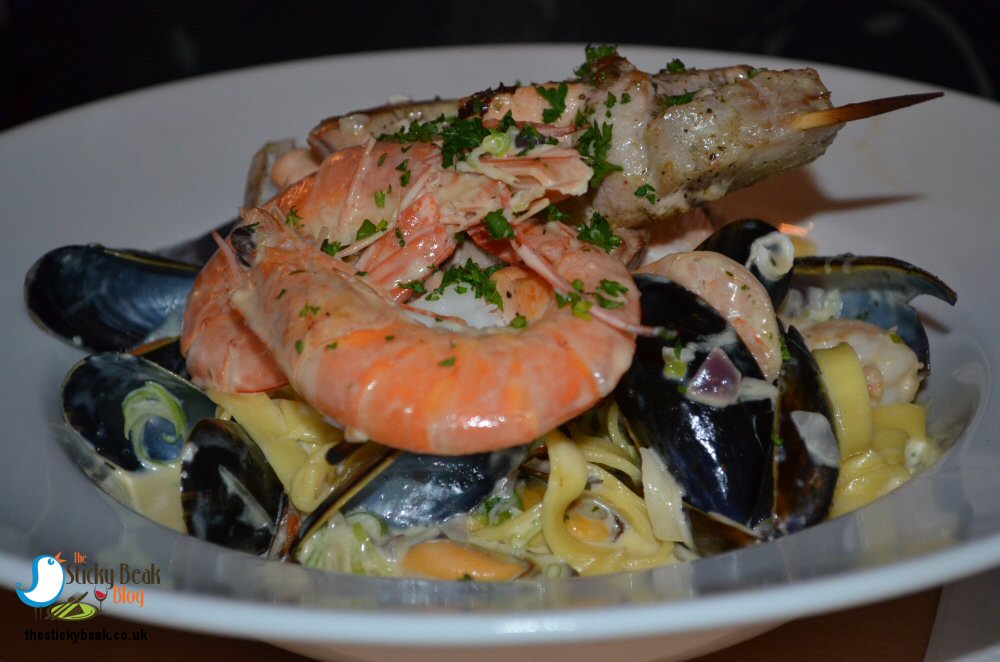 Chef Carl is definitely what you can call a "feeder", so when you come to Chandlers for food bring your appetite and a bit of space on the side! Luke again came and checked that everything was to our liking, which it was. All the food had been piping hot where applicable and of very good quality and quantity.

For pudding there was a choice of Baileys Arctic Roll or a rather intriguing sounding Treacle Ice Cream tart, as well as a selection of Ice Creams or Sorbets. However, because Chandlers is renowned for its amazing Cocktails and because Luke had been tempting us, we decided to have an Ice Cream Cocktail each for our desserts.

I had a "Barnamint Baileys" which is a blend of Baileys, Creme de Menthe, Oreo cookies and Ice Cream, and Him Indoors had a "Chocolate Monkey" which is Creme de Banane, Ice Cream, fresh Banana and Chocolate Sauce blended together. Crikey, these little beauties were gorgeous and not quite as belly heavy as a conventional Pud.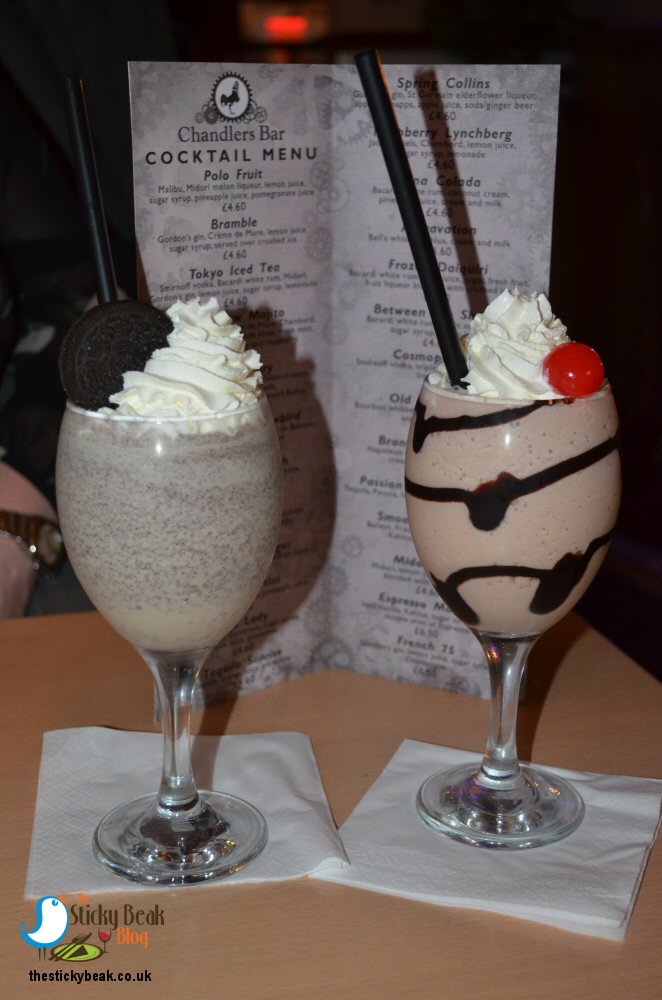 After our meal Luke very kindly gave us a quick tour of the rest of Chandlers, so we got to see the outdoor patio area with its seating and Canopy, then it was upstairs for a gander at the rooftop terrace. Hopefully we're in for a Warm, dry summer as the Chandlers team have got some fantastic ideas for Summer Living.

Currently Chandlers is only open in the evenings, and closed Sundays and Mondays, but watch their Facebook page for any changes.

If you haven't been before I can totally recommend trying the food on offer at Chandlers, they do some great sharing platters too if you don't fancy a full-on pig out, which would be great for having a few cocktails with. Hot Wings well deserved here. Chezza, you have some amazing places to eat and drink at, I hope your residents appreciate what they've got :)
Some form of incentive was provided to visit this venue
read more