Easter Sunday Lunch at The Three Horseshoes, Long Lane Village
---
Published On Monday 28 Mar 2016 by Sticky Beak
See Recent Dining Out Reviews | See All Recent Reviews


The Man and I first visited The Three Horseshoes in October 2015, not long after it opened and absolutely loved it, in fact at the time I said that the Tribal Elders would love it too and that we would bring them over. As is often the case, time ran away with us and Christmas came and went, as did New Year and then Easter was quickly closing in.

The Chick has flown off to Italy with school on a skiing trip so we decided to make the most of Easter and booked a table for Sunday with Howard and his team.
We pulled into the more than ample car park and made our way through the door into the cosy bar area; first impressions are very important as you know dear reader, and The Elders were very smitten with the traditional feel and the roaring log burner. After checking in with the Hostess we sat down to savour a cheeky pre-lunch tipple, as you do.
At 1pm our drinks were placed on a tray and taken to our table and we duly sat down at the beautifully arranged places. I had got it in mind that this time I was going to sample the many delights on the Cheese Board (which could have its own postcode, such is its size) so I passed on a starter, as did His Nibs.

For a brief while I thought the Elders might go for a starter but they too decided to save themselves for pudding; they said that due to no Chocolate Eggs having been forthcoming from yours truly that they were desperate for something sweet. Can you hear those Violins being played, reader?


As you know, I really rated the premises on my last review, and my opinion was enthusiastically agreed with by my Mummy and Daddy Birds. Every single thing oozes quality and class from the feature lights that originally graced Blackpool Pier right down to the wine glasses, but my favourite thing is the dining chairs; I have eaten in some fantastic places all over the world but never perched my little feathers in comfier seating.

The Boys both decided to have the Roast Sirloin of 28 day Black Angus beef with Yorkshire pudding and red wine gravy, whilst us Ladies chose the Braised Shank of Derbyshire Lamb with roasted Root Vegetables and Mint and Caper Jus. Our server also brought dishes of Broccoli- and Cauliflower Cheese and Fine Green beans, Mange Tout and Whole Baby Carrots to accompany the meats.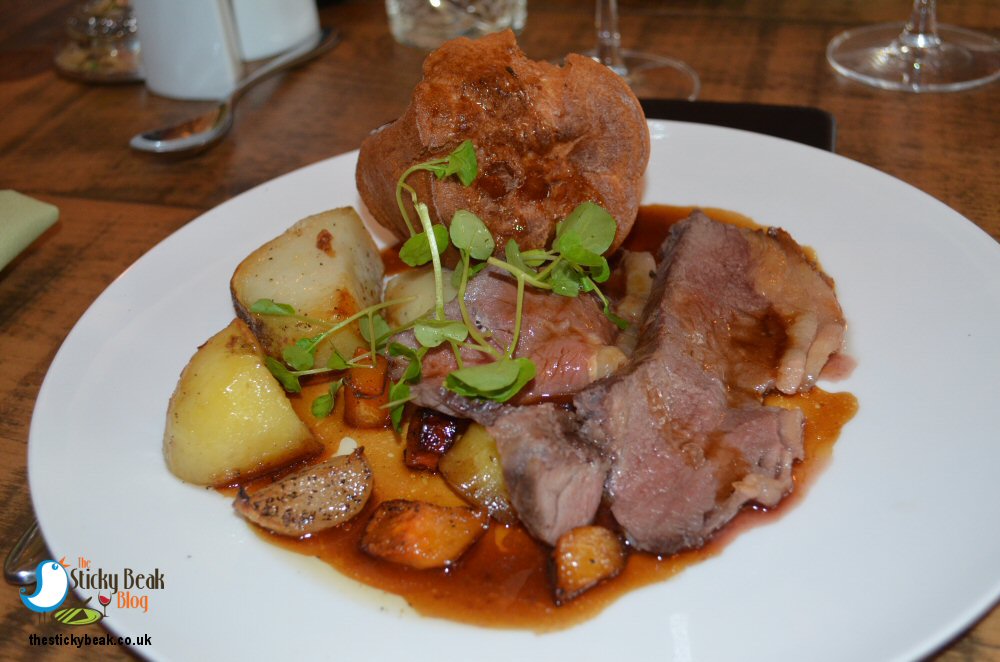 A bottle of Claret from the Bordeaux region with its lovely deep, rounded bouquet finished things off splendidly, and we tucked in with our customary gusto.

The Lamb just fell away from the bone and was frankly so blooming tender that cutlery was surplus to requirements, and what incredible flavour it had too; Mummy Bird and I were thrilled with our choice. Daddy Bird and The Boy Wonder were equally chuffed with their beef; it was (and I quote His Nibs) "ridiculously good", and I must say that the little morsel I sampled was gorgeous.




The aforementioned vegetables were all cooked perfectly and the portion size was more than ample.
One of my favourite things is people watching and I was rewarded with every permutation of dining groups; there were ladies lunching together, couples, families with teeny tiny members tucking in, families with older children and groups made of couples as well. Howard came and chatted to each table and was his usual charming self with everybody, and his team were a master class in efficiency; every member knew what their co-workers were doing and slotted in to look after each table perfectly. All staff were immaculately dressed and nothing was too much trouble for them, they really are superb with their customer care.
For pudding Mummy Bird had the Apple and Plum Crumble with creamy custard, Him Indoors had the Chocolate and Coffee Tart with Clotted Cream Ice Cream, and Daddy Bird and I decided to share the wonders of the Cheese Board with Artisan Breads and Cracker selection.

Huge pillows of steam were rising from the Crumble and it was crammed full with ripe, fragrant fruit; Mummy Bird was again delighted with her choice and said that the homemade custard was beautiful.

The Mans tart was served warm which contrasted with the Ice Cream wonderfully, and the dish was decadently rich and satisfying.




My Daddy is a fellow lover of Cheese, so I said I would trust his selection and he didn't let me down; our taste buds luxuriated in Cornish Jarg, Goats Cheese and wallowed unashamedly in the wonderful Blue Murder variety of Blue veined cheese amongst other delights. There was a nice variety of crackers too and some beautifully seasoned Bruschetta; Celery, Grapes and Homemade Chutneys provided the perfect finale to this mesmerising smorgasbord.




As we finished our desserts the unanimous verdict was that this had been a soul stirring success of a meal, the perfect family occasion. Coffees were ordered and we sat back chatting away and just basking in the warm glow that such a meal produces.
I hardly think it needs saying, but just in case you were in any doubt, Hot Wings absolutely earned at The Three Horseshoes. If you haven't been before, you most certainly won't be disappointed.
No incentive was provided to visit this venue
read more