Trying Out The New Menu At YO! Sushi, Derby INTU
---
Published On Thursday 17 Mar 2016 by Sticky Beak
See Recent Dining Out Reviews | See All Recent Reviews


The team at Yo!Sushi know how much we enjoyed their food on our last visits (both as a couple and as part of the Healthy Eating evening for Bloggers in January), so when they invited us to try their latest dishes we rushed over, full of excitement.
We nestled into our little booth table and as we watched the dishes of delightfulness glide by on the belt our taste buds started tingling in anticipation. First up, we ordered Spicy Pepper Squid for His Nibs and Takoyaki for me. The Squid is crispy fried and served with Red Chilli slices and Spring Onions;

The Man loved how light and crispy the batter was, not greasy at all and the Squid was cooked perfectly so that it was a nice texture rather than being overdone and rubbery. The zing from the chillies and onions went really well with the seafood and the batter, so it was a thumbs up from him.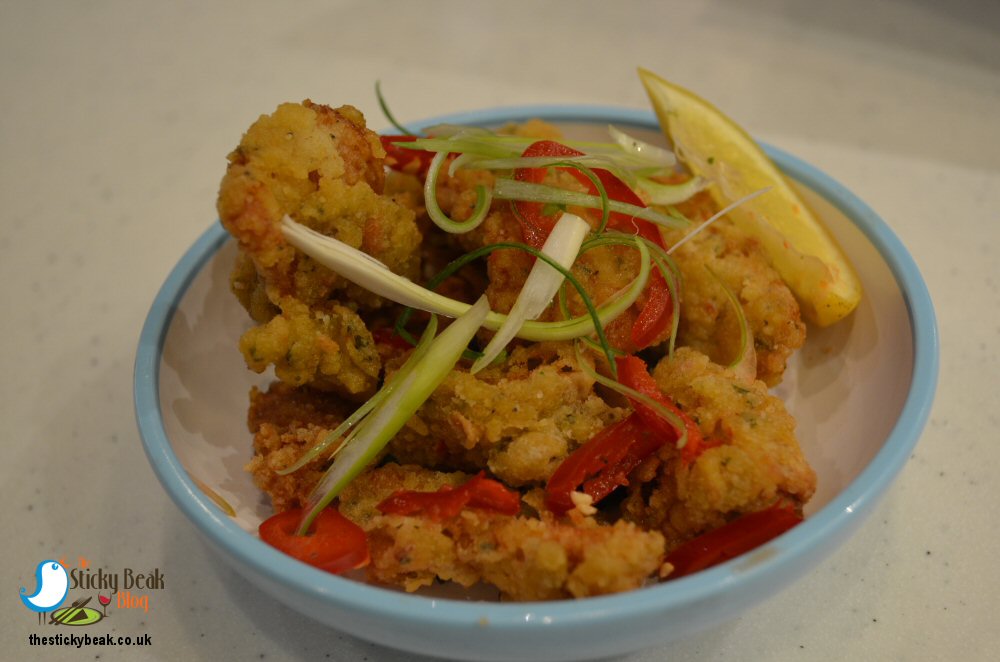 My own Takoyaki is lightly battered dough balls with Octopus then topped with Mayonnaise and Bonito (dried tuna) flakes. Again, this is a warm starter and the dough balls were nice and light and cooked through so they weren't soggy at all, and the octopus was nice and tasty as well. The Bonito just gave a hint of texture to the dish, and I really enjoyed this dish.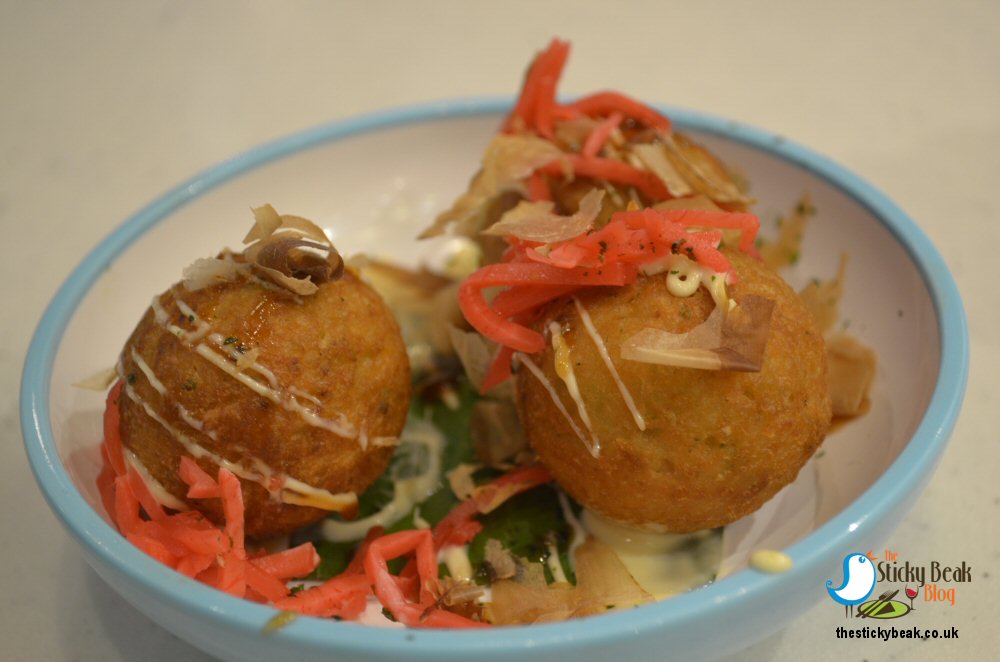 Next we ordered Beef Teriyaki for The Boy Wonder and Okonomiyaki for me, which is one of Yo!Sushi's new dishes. Okonomiyaki is a cabbage filled pancake topped with smoked Bonito Tuna flakes and slices of pickled vegetables. It was really tasty actually, although no doubt a lot of readers are thinking "cabbage in a pancake - yuk!".

Us Brits remember the stewed insipid cabbage from our school dinner experiences, and this offering couldn't be further from that believe me. In fact, I would liken it more to the bubble and squeak patties that are the favourite tea time dish on Mondays in many households.

The Okonomiyaki had a lovely texture and taste to it, even The Man Bird liked his sample of it. It isn't a strong tasting dish, apart from the slivers of pickled Ginger that garnished the top, so it would be a great choice for those that aren't keen on spicier tastes.




The Beef Teriyaki was superb with its sticky Garlic and Soy glaze that packs a great punch on your taste buds, and that's before the fresh Chilli introduces itself to your tongue. The beef slices are very much in evidence so that you actually can taste the meat too. I absolutely love Beef Teriyaki, so I was a very happy bird when some morsels were offered to me on His Nibs chopsticks J
We were feeling particularly hungry on Monday so we decided to order another savoury dish each; I had Chazuke, another new dish, and Him Indoors had one of his perennial favourites, Chicken Katsu Curry.

I would imagine that Yo!Sushi's Chicken Katsu is among its top sellers as the Crispy Chicken is accompanied by a mild curry sauce, so again it provides a good entry point for those who don't enjoy stronger, hotter curry flavours. The pickles add an extra taste dimension for the palate as well as providing texture and there is plenty of fluffy steamed rice to accompany the meat.

My Chazuke has both Salmon and Seabass in it, and they were presented as nice chunks in this dish that also has Shiso leaf, Yuzu Koshu, rice and Nori in it. I loved it when our server brought it to me and poured the fragrant Umami broth into the bowl from a traditional kettle at the table; I think little touches like this just elevate a dining experience into something that stays in the memory. Anyhow, the dish itself was lovely, I would definitely have it again.


By now, our waistlines were straining against the belts that encircled them but we decided what the heck, pudding is non-negotiable. Originally The Man was going to have one of the new desserts, Japanese Soufflé Cheesecake, but they had sold out ( I guess that it is as tasty as it sounds) so he opted for Apple Gyoza whilst I had the other new dessert, Matcha Roll.

The Matcha roll is a Green Tea sponge swirled with fresh cream and Azuki beans, and I have to say that I really enjoyed it. The Azuki beans are light and creamy in texture in this dish and don't have a strong taste particularly, which allows the subtle Green Tea flavour from the Springy sponge to filter through. There was a nice amount of fresh cream in the dish too, so another success from the kitchens at Yo!Sushi.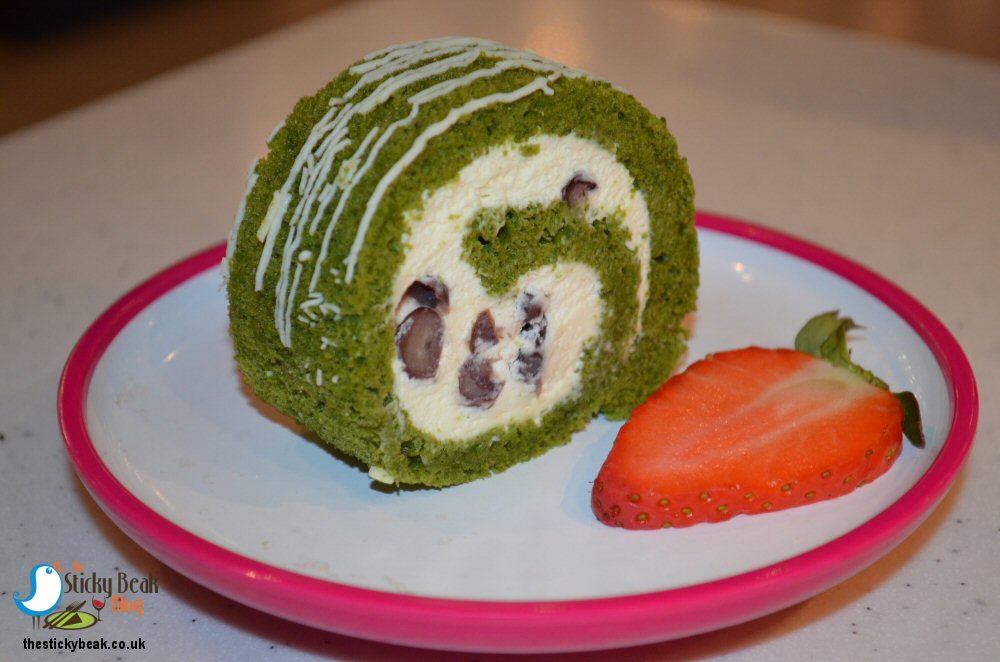 The Apple Gyoza were piping hot and crispy on the outside, revealing their yummy apple filling when bitten into. His Nibs was busy dunking them into the pot of Salted Miso Caramel, as he loves the Caramel and Apple combination on his palate.
We had a fantastic evening with the team at Yo!Sushi in the food court at Derby's Intu Centre, and there were plenty of equally enthusiastic diners throughout the evening too, ranging from couples, to groups of friends, to families with young children. Hot Wings again to the team at Yo!Sushi :)
Some form of incentive was provided to visit this venue
read more