Dinner At Pizza Express in Buxton
---
Published On Sunday 21 Feb 2016 by Sticky Beak
See Recent Dining Out Reviews | See All Recent Reviews


No family day out is complete without a good feast at the end, so when Pizza Express invited us to try out their refurbished venue in Buxton we jumped at the chance to do a bit of touristy stuff and finish it off with them.
The premises themselves are located on the edge of a fantastic looking shopping arcade complete with overhead canopy to one side, in keeping with the beautiful architecture to be found throughout the Historic town of Buxton. Inside continues the local theme with several landmarks featured on the walls in paintings and prints, and I really liked the storm porch entrance from the main road which allows you to enter the restaurant without the diners getting a draught from outside.

There are lovely big windows down one side, but you can't hear the traffic on the main road outside thanks to the thoughtful addition of some serious glazing. As is the theme in Pizza Express venues the interior has a great roomy feel to it with pendant lights above the tables and in the Buxton restaurant there are some gorgeous large lights in the lower area of the venue.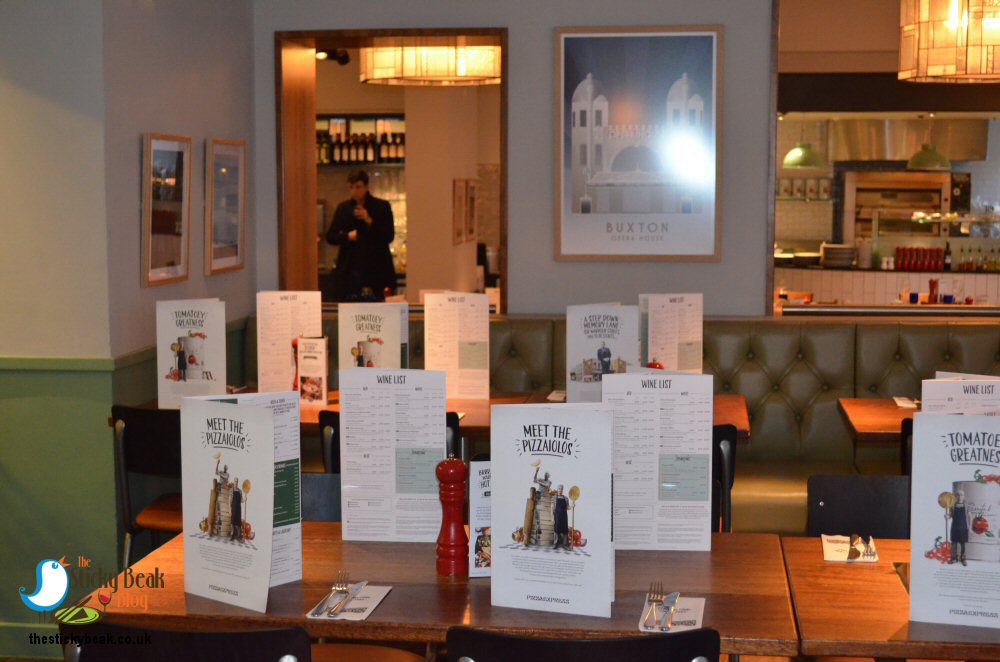 The staff are all very polite and welcoming and nothing is too much trouble for them.
After having had a busy time visiting Poole's Cavern and then indulging in some retail therapy we were all ready for a drink, so I had a glass of Malbec wine, His Nibs had a large Peroni and The Chick just wanted some iced water.

The Boy Wonder and I shared the Italian Antipasto platter to start and Chickadee had the Risotto Mio, and they were both absolutely superb. The Risotto was lovely and creamy with plenty of Mushrooms in and it was seasoned perfectly as well. Our server came and checked that everything was to our liking, which it most certainly was, and asked if we were ok for drinks.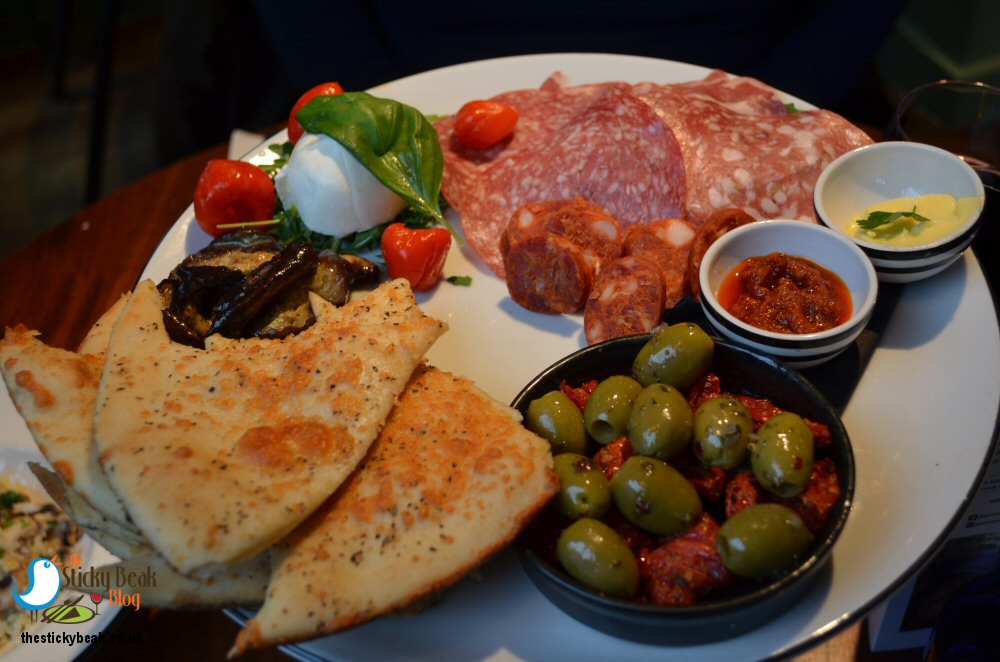 Before long our mains were being brought to our table; Chick had her usual Carbonara Romano pizza, Him Indoors had the Pollo Forza Romano pizza and I decided to be completely different and have the Bosco salad with the additional warm Chicken on it.

What we love about Pizza Express Pizzas is that they always have the lightest, crispiest bases you could wish for, just how they make them in Italy and there is always an abundance of fresh toppings too, so your taste buds really do do a dance of delight.

My salad was beautifully arranged in the bowl and had only the freshest produce in it, so that you really could get all the flavours on your tongue; the Avocado was firm and creamy, the roasted Tomatoes were bursting with flavour, the Spinach and Rocket were nice and crunchy and the warm Garlic Chestnut mushrooms were delightful. Add light Mozzarella, the warm Chicken, Balsamic syrup, Honey and Mustard dressing and Dough sticks into the equation and you get an idea of just how yummy it was.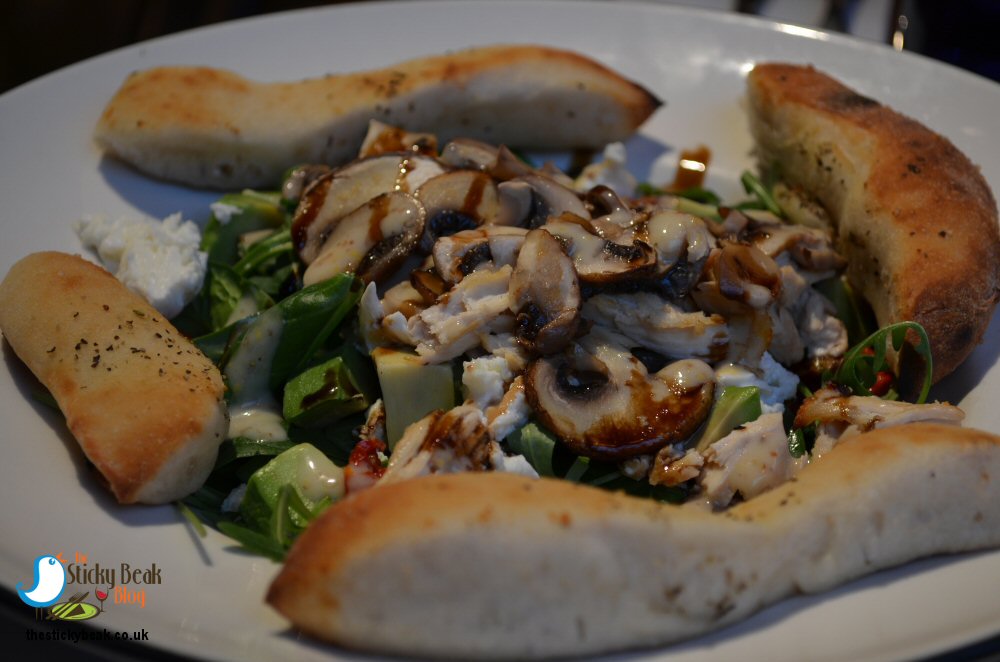 The Boy Wonders pizza had plenty of Chicken on it, as well as red, yellow and Roquito peppers and smoked Chilli on that gave it a great heat without it being too fiery. This was the first time he'd had this pizza and said that he had really enjoyed it.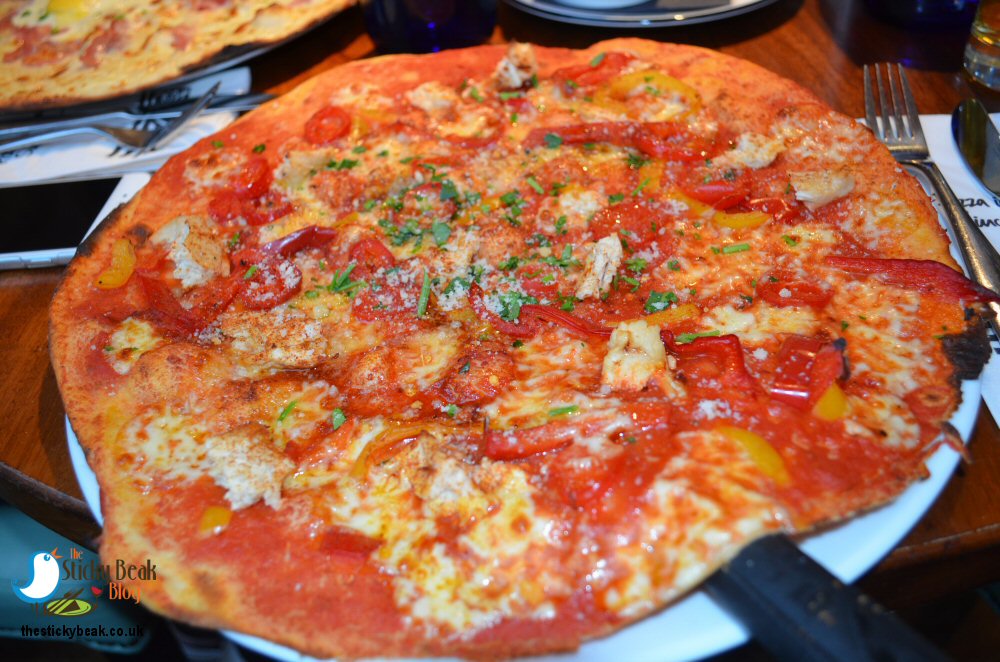 Both the pizzas looked very tempting from where I was sat, and given how much I had enjoyed my main, we were all more than happy with the quality of the food and told our server this when she came to check everything was ok again. We all cleared our plates and our little tummies were very satisfied so we had a short interlude before ordering desserts.

Nicky came over to see how we were liking the meal and surroundings and was telling us a bit about the refurbishment process; I was amazed when she said that the whole refurbishment only took a week. Apparently a team of about 40 workmen worked around the clock to get it finished, and they did a jolly good job too.
As we perused the menu at the desserts section we noticed there had been a few new additions since our last visit so we decided to check them out - purely in the name of research you understand dear reader .

I went for the Bombolini; mini strawberry jam-filled, icing sugar dusted doughnuts served with ice cream, and they had wonderfully crispy outers that revealed lovely oozy jam centres. They weren't at all greasy, and the ice cream accompanied them really well.




The Man Bird and Chick had the Trio sharing platter which comprised Chocolate Brownie, Lemon Posset Crunch and two scoops of specialty gelato, so they chose the Salted Caramel and Brownie varieties. All of the components were delicious and they couldn't choose a favourite; apparently the brownie was very rich, the Posset had a fantastic citrus zip to it and the ice creams were wonderfully creamy. As they cleared the last morsel, the happy smiles on their faces said it all.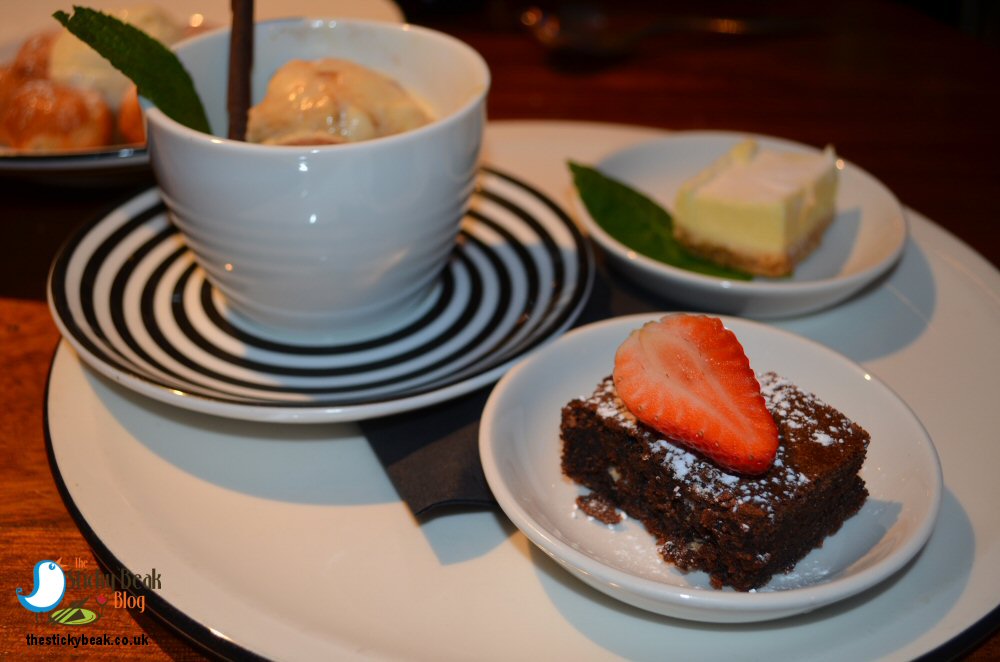 We rounded things off with our usual Lattes and Hot Chocolate, and sat nattering about what a marvellous place the Buxton branch of Pizza Express is. The team were working together very well and the premises were kept absolutely spotless at all times. Hot Wings deserved in Buxton, so that makes it a Hat-Trick for the Pizza Express venues we have had the pleasure to review :)
Some form of incentive was provided to visit this venue
read more