Family Dinner At Papaya Thai in Derby
---
Published On Sunday 14 Feb 2016 by Sticky Beak
See Recent Dining Out Reviews | See All Recent Reviews


My Daddy Bird had gone to visit friends for the weekend and we were all at a bit of a loose end, so we decided to take my Mummy Bird into the bright lights of the city for a change. All we said was to dress smart casual, the rest of the details were a surprise.

We decided to park at the Intu Centre and have a leisurely stroll to the restaurant, and it wasn't long before we arrived at Papaya Thai to be greeted by a lady in traditional Thai dress.
The restaurant is the usual style of decor that you find in most Eastern restaurants; it had very smartly dressed tables and artwork on each of the walls, but what caught my eye was the bank of four chandeliers above the bar area that had smoky drapes surrounding them to mute the light effect.

Our coats were taken to be hung up and we were seated and had the napkins placed in our laps with lots of "thank you's" and smiles from our server.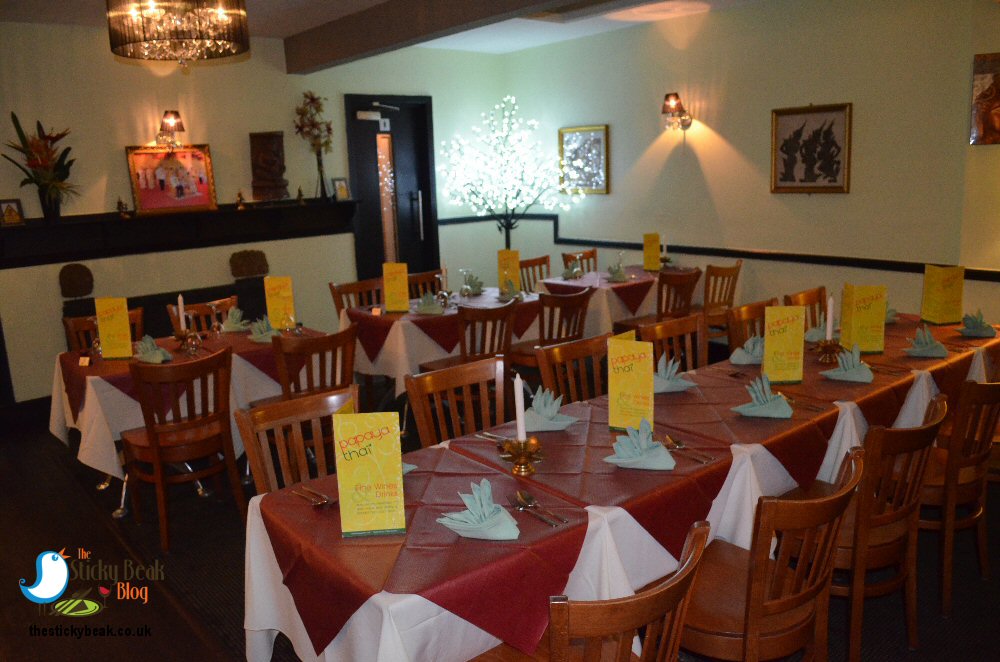 Having ordered our drinks we studied the plethora of dishes on the menu, and we all chose something different: Tempura Squid for The Man, Steamed Lemongrass Mussels for me, Thai Fish Cakes for my Mummy Bird and Crispy Golden Bags for The Chick.

It wasn't long before all our starters were placed before us and I have to say the presentation was absolutely stunning, the shapes and flowers made from various vegetables really looked beautiful and colourful. I had a little hand bowl with warm water placed near me so that I could dip my fingers in to clean them.

My Mussels were very large, meaty beasts and had a wonderful aroma to them that was matched by their taste, and His Nibs was equally pleased with his Squid; it hadn't been overcooked so it wasn't at all rubbery, and the batter was wonderfully light and crispy.

My Mummies fishcakes had red curry paste in and were served with a Sweet Chilli sauce, but she said that they weren't too spicy and she really enjoyed them. The Chicks Golden Bags were filled with minced Prawn and Chicken and the Filo pastry was lovely and crispy, not greasy at all, and they soon disappeared into the endless pit (also known as her tummy).




As we had been choosing our starters the Chick and I also decided to have a soup course before our main dish, and we both opted for the King Prawn Coconut soup. It was a beautifully creamy tasting soup, but the inclusion of red chilli also gave it a very pleasing bite on the Palate so that the sweet coconut wasn't cloying in the least.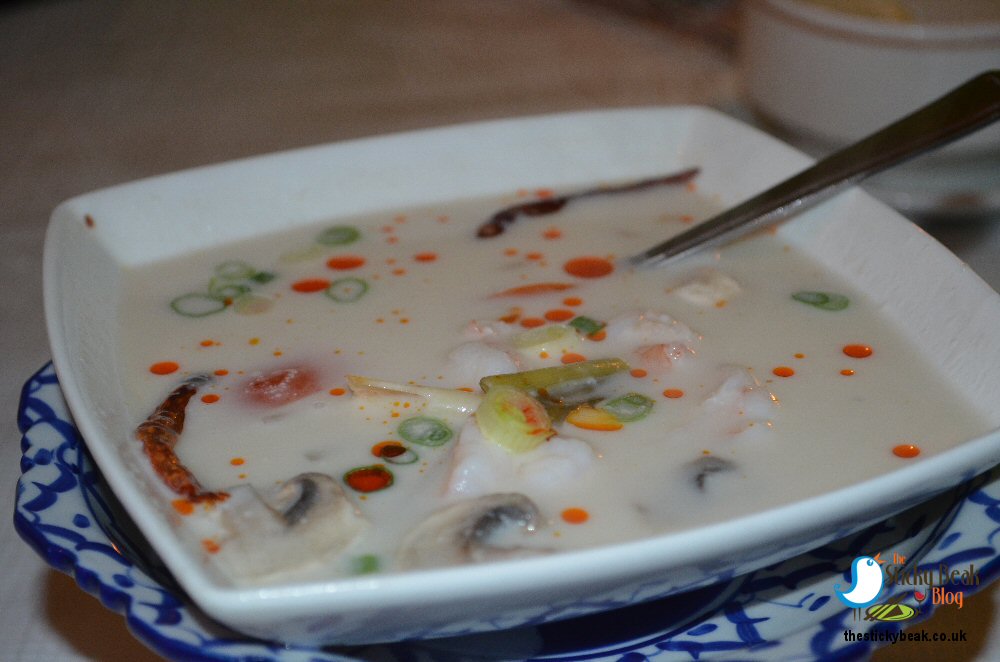 We had all enjoyed our food so far and were very much looking forward to the delights of our main courses. Like my Daddy Bird, Mummy doesn't mind a bit of spiciness but doesn't enjoy anything too hot, so she asked our server if her Sweet Basil Thai Chicken could be done at a mild/medium strength and as she tucked in she said that it was superb and that there was plenty of chicken in the dish. Her Egg fried rice was a good size portion and was lovely and fluffy, but she couldn't finish it all.

I had the Steamed Whole Sea Bass with Lemongrass and spicy herbs served with fresh Garlic, Chilli and Lemon sauce, and it was cooked beautifully so that the flavour and moistness of the fish was shining through. The sauce had a superb kick to it and the Coconut rice I ordered to go with it was the perfect accompaniment as it balanced the sweet and spice elements marvellously. It came in its own fish kettle with a burner underneath to keep it warm until the last mouthful.




The Boy Wonder chose Flaming Weeping Tiger which is Marinated Sirloin steak cooked to your preference in a sauce made with Oyster sauce, Sesame oil, Soy sauce, Garlic, Mushrooms, Spring Onion and Thai Whisky, and when it came it smelled incredibly good.

He said the steak itself was beautifully tender and the chef had cooked it perfectly medium; the sauce was a multi-layered taste sensation with every aspect of flavour you could want: sweet, spicy, tangy and just a hint of smokiness. Papaya Thai recommend their sticky rice with this dish, and The Man said it was indeed a great partner to the dish.




The Chicks grilled Thai Style King Prawns had been cooked with Thai herbs and vegetables and she said that the house made Chilli sauce was really good, not too hot but plenty of flavour to it. Again, the coconut rice assuaged any excess heat on the palate and added another element to the flavour in the dish. Needless to say, they also went into the endless pit at a steady rate.

The portion sizes are on the generous side so we were in two minds whether to have pudding or not as our tummies were fairly full at this point.

After a little pause we did order desserts; Malteaser Cheesecake was the choice for my Chick, Rockslide Brownie was (unsurprisingly) His Nibs pick with all its chocolatey loveliness, I ordered the Mango Ice Cream and Mummy Bird had the deep fried Banana with Ice Cream.

Both the Cheesecake and Brownie had been devoured at breakneck speed and declared to be absolutely delicious, and I have to say that my ice cream was equally lovely. Unusually, it had been made with Mango flesh in it so it had a rather more subtle flavour than artificial versions, and I also found it to be less cloyingly sweet which I much prefer. The serving comprised two large scoops of said ice cream with a mound of cream nestled in the middle of them, which was simple but visually pleasing.




Mummy bird hardly ever has pudding and most definitely does not choose fried or fritter variants as the norm, but she tucked in with much gusto and was completely satisfied with her choice; the batter was light and crispy and had a hint of spice to it which complimented the sweet banana really well, and there was a nice amount of ice cream too. The contrast between the hot banana and the cold ice cream further added to the sensations on the tongue.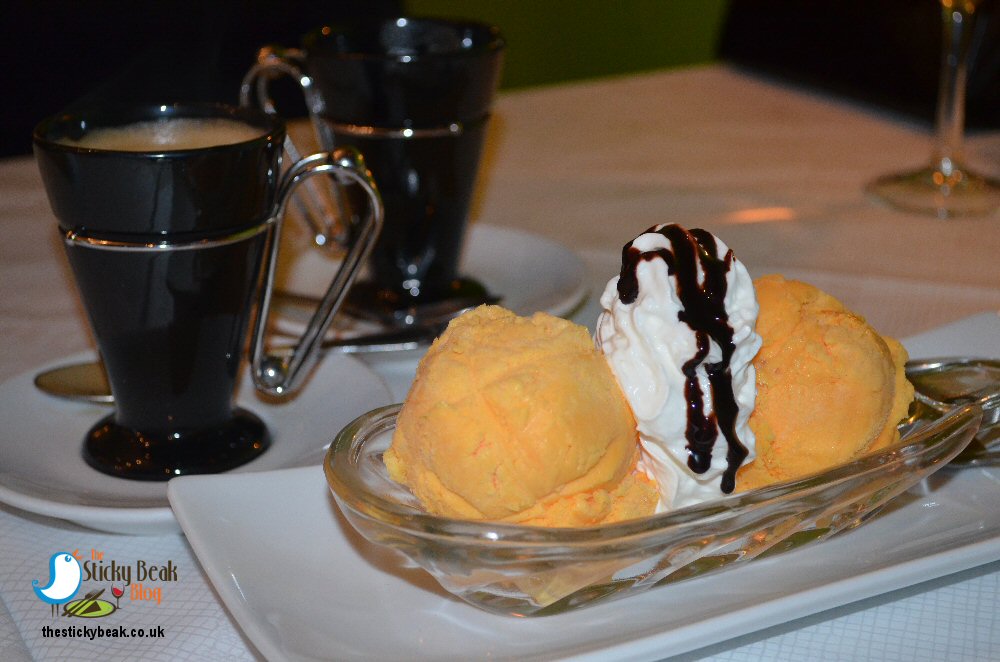 To conclude our experience we had our usual coffees, although the Chick didn't want anything else to drink. The Boy Wonder and my Mummy bird both took theirs black as it was such a nice blend, I just had a dash of milk in mine.

There were After Eight mints to savour as well and they might not be the most sophisticated mint on the market but to my mind you can't beat them, so it was a great end to a most pleasant evening.

Our servers may not have the most comprehensive language skills (and that isn't to say they can't speak English, more that their accent is quite strong) but they most certainly have fantastic customer service skills; nothing was too much trouble for them and they kept our glasses filled nicely all evening.
If you haven't been to Papaya Thai before and you enjoy Thai food, then you definitely need to pay this team a visit as the food was very flavoursome and authentic. Hot Wings deserved here, without a doubt. :)
No incentive was provided to visit this venue
read more