Dinner At Oscars, Calverton, Nottingham
---
Published On Thursday 4 Feb 2016 by Sticky Beak
See Recent Dining Out Reviews | See All Recent Reviews


There's nothing quite having a jaunt over the county border into Nottinghamshire to lift you out of the "hump day" doldrums, and when we walked into the bar/lounge area of Oscars our mood lifted even higher. For a start, it's really not far at all, approximately 15 miles from J28 M1 and it's easy to find and has ample parking.
Anyhow, back to the interior; the lounge area has an array of gorgeous chandeliers and plenty of taupe banquette seating adorned with assorted scatter cushions and the loose chairs are upholstered in tactile flock material in shades of grey and black. There is subtle grey stripe feature wallpaper and also a checked paper that together create a trendy but welcoming feel to this area.
Going through to the restaurant area itself you again see chandelier lighting, but this is a little more subdued than in the lounge area and there is a nice level of background music that you are vaguely aware of without it distracting you in any way. The calm ambience is enhanced by the duck egg blue walls and white painted panels on the lower half, and the grey and burgundy velvet, high backed chairs means you are very comfortably seated whilst dining.

A mixture of voiles and curtain drapes at various points mean that there is an intimate feel to the restaurant but the tables are very pleasingly spaced to allow you privacy from other diners.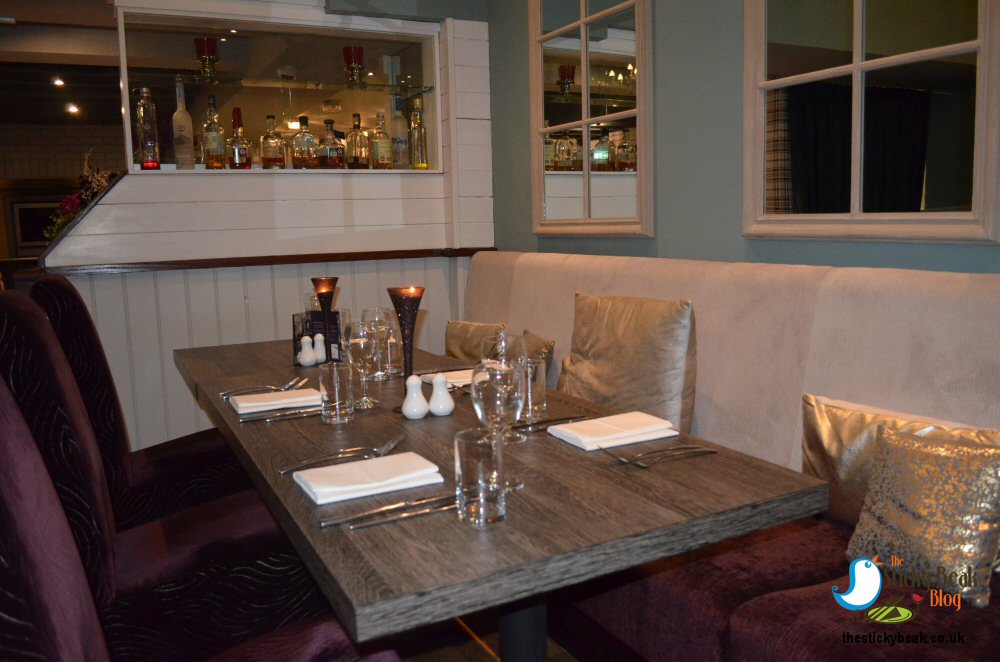 The menu itself is an absolute marvel in that it literally does cater for all tastes and age groups, when we arrived there was a couple of groups of female friends already dining, and then a family group of three different generations arrived. The food ordered ranged from burgers through to steaks on that table, and I did also spy a few high chair seats for really young tots, so Oscars welcomes that age group too.

For my starter I ordered the Devilled Whitebait, which came with a pot of spicy Harissa Mayonnaise garnished beautifully with some Lambs Lettuce leaves and a generous sized Lemon wedge. It was a nice size portion that satisfied my initial hunger but meant I was still going to fully enjoy my main course; sometimes places can be overly generous with their starters which inevitably means you get full halfway through your main and end up leaving food on your plate.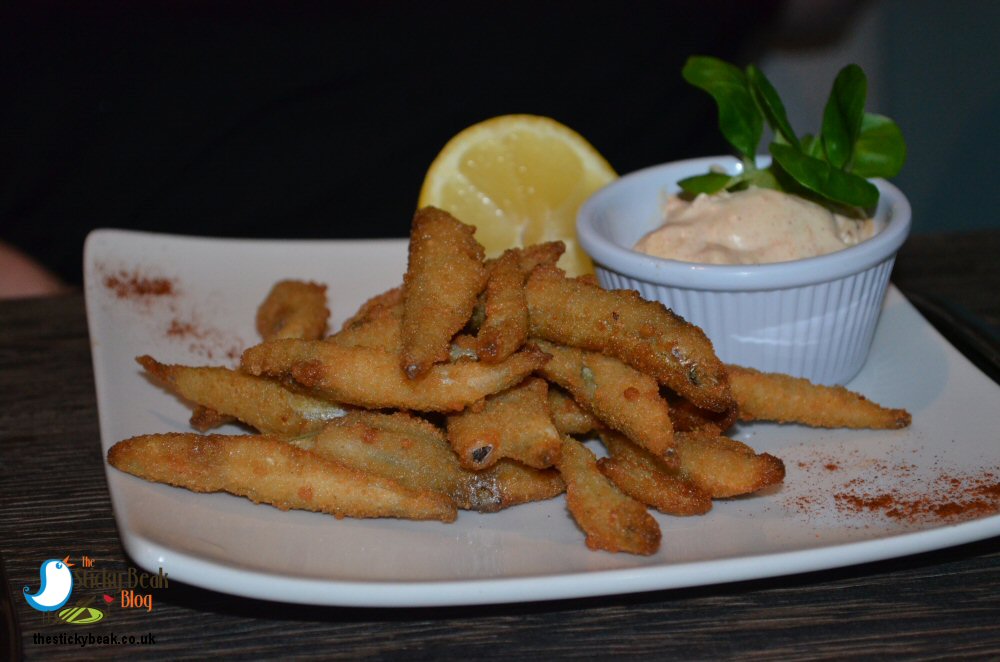 The Man Bird ordered the Chicken Liver and Brandy Parfait for his starter and it was lovely; very rich and flavoursome with a really smooth texture. This was served with a tangy Onion marmalade, crunchy Ciabatta slices and dressed salad leaves and was again of a pleasing portion size.
My main course was a more than generous portion of Seafood Linguine, which also had peas and a scattering of fresh red chilli in to give it a nice edge. It was very tasty, and the pasta was cooked perfectly I must say. The fine shavings of Parmesan and the lemon garnish made it very pleasing to the eye presentation wise as well, and our server came and ground me some fresh Black Pepper on top to season it to my personal taste.

I thoroughly enjoyed every morsel, and from the sounds of delight coming from across the table, His Nibs was enjoying his main too.

The Boy Wonder had chosen the Classic Indian Thali for his main and this visual delight contained a plethora of dips, vegetable and meat curries, Naan bread, Poppadoms and rice. Each component was served in a little dish of its own then arranged on a large serving platter, and it looked beautiful when placed in front of him. What he liked the most was the different rate at which the spice/heat of each dish registered on the palate; the spinach dish had a spiciness that was immediately on the palate, whilst the Okra curry took a few seconds for its secrets to be revealed.




The Dahl (lentils) was a medium sweet dish with a nice texture to it, the version I make at home includes more chillies and I blend it smooth, so it was nice for him to sample something different. Another medium dish was the chicken curry which came in a tomato based sauce, and was very tasty according to His Nibs. The timbale of light, fluffy rice was just enough to fill you, but giving you room to dip the pillowey Naan bread and crispy Poppadoms in to the Sweet Chilli, Mango Chutney and Raita dips.
By now our little bellies were fairly stuffed, but we had a little breather and then ordered Bread and Butter Pudding for me and Rich Chocolate Brownie for Him Indoors. My pudding was glazed with Apricot and came with Vanilla Ice Cream and Candied Orange, and it really was superb; the pudding itself had plenty of juicy currants in, the custard was nice and light and the Apricot and Orange just married beautifully with the other flavours.

The Mans brownie came with Sweet Vanilla Mascarpone and Blueberry Jus, and he was totally smitten with the rich gooey brownie itself saying it was one of the nicest he'd had. The Mascarpone gave a creamy decadence to the dish which was counter-balanced exquisitely by the Blueberry Jus and the fresh Blackberries that provided an artful garnish.


There were so many nice dishes available for each course that we could easily have had four of each course if only our tummies would allow it; the gourmet burger that the next table ordered looked mouth-wateringly good and smelled just as tempting. I was seriously tempted to have the Sea Bass fillet I must admit, but that is my usual choice and I wanted to have something a bit different. The Boy Wonder nearly plumped for a steak, but his curiosity had been piqued too much by the Thali.
In addition to "normal" Sunday lunch Carvery options, Oscars also do a whole meat joint or chicken option for families, allowing you to carve the meat as you like it, which I think is a great idea, as well as a selection of accompanying vegetables.
We finished off with a couple of wonderfully fragrant lattes, and both remarked what a lovely coffee it was.
At Oscar's starters range from £4.25 to £5.95, main courses from £9.95 to £19.99 (Fillet Steak) and desserts from £4.95 to £5.95 (£7.95 for the cheese board)
Oscars has also recently been licensed for Civil Wedding Ceremonies, and the newly added extension contains tables with ornate candelabra and fine cloths on. There are also marvellous chandeliers and mini colonnades in this room to really give it the wow factor, and having seen the photographs of the space dressed for a ceremony I can say that it would provide a breath-taking venue for any bride-to-be.




You can hire out Oscars in its entirety for your nuptials which gives exclusivity to your event and there are wedding breakfast and buffet options for every budget. In addition, there is a beautiful private garden space that provides the ideal backdrop for wedding photographs.
Unsurprisingly, Hot Wings are awarded to the Oscars team. We had a lovely meal with you, nothing was too much trouble, and the restaurant was a pleasure to relax in. I would recommend booking to ensure you can eat at a time of your choosing, and especially on Fridays as they have live music in the Lounge area which is very popular.
Some form of incentive was provided to visit this venue
read more