A Tour And Tasting At Derventio Brewery, Derby
---
Published On Sunday 31 Jan 2016 by Sticky Beak
See Recent Food Producer Reviews | See All Recent Reviews


Before I start this blog, I just want to say that have never been a beer drinker. In fact the only time I drink lager even is on a hot day in summer, so I think it fair to say I'm more of a wine girl. When Derventio Brewery invited me along to their tour I was a bit surprised, but figured if I can appreciate beer then anyone can. The brewery is located at Darley Mills so it's really easy to find but I would advise you to wrap up slightly warmer than usual as the premises are on the cool side and the floor is concrete (easy to clean, but cold under foot).

This year sees the brewery celebrating their first decade, so it is getting quite nicely established locally and now a bit farther afield too. John and Pete were in the office when we arrived chatting to the 3 gentlemen that were brewing with them for the day, before the other tour guests arrived.
They were just having a quick lunch break so they offered us a glass of "Cleopatra", which is 5% abv and has a lovely apricot hint (as you would expect, with it being beer with apricot in). I found it to be really drinkable as it is quite sweet, and apparently it goes very well with Pork; we put this to the test on Sunday at The Elders nest as it was a roast Pork lunch.

I have to say that it does indeed go beautifully with Pork, and I would be tempted to try it with a nice Tagine that has apricot and a hint of mixed spice in as well. It also has all UK sourced ingredients in it, so it supports other British businesses too.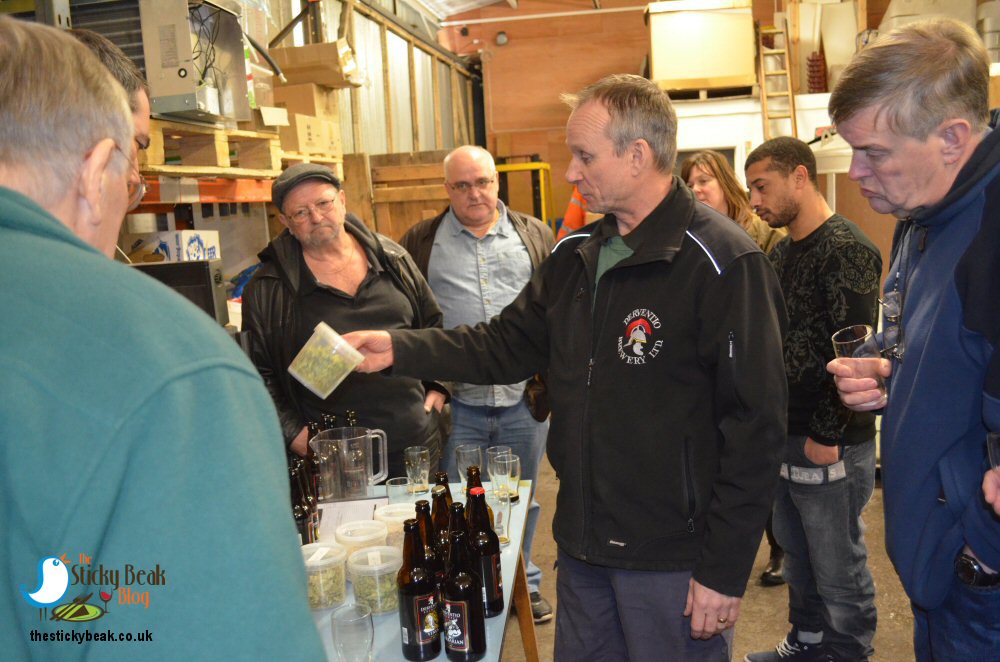 We just had time to sneak in a quick tipple of Barbarian stout (5.5% abv) before the tour started and this little number had a great taste to it; a bit treacly, smoky and with coffee hints to it. There are 4 different Malts in it which gives it the complex flavour. I haven't had stout for many a year, my Granddad used to like the odd bottle and I would sometimes be offered a little taste of it. Again, I was surprised by how "drinkable" I found this to be.
It was just about 2 o'clock and the tour was about to begin so The Boy Wonder and I went onto the brewery floor to join the other guests that had assembled. This group comprised of real beer appreciators and they were looking forward to hearing about the brewing process at Derventio and also to sampling some of the current beers in production.

Due to Derventio being a micro brewery they can only brew so much and have to take certain beers off occasionally if demand for another variety occurs.
The tour started with a bit of the science behind beer making and some of the different Hop varieties: Cascade, Czar, Whitbread Golden Hops, Citra and Aurora to name a few. The Cascade Hop in particular is now mainly grown in America, particularly in the state of Oregon, although it was originally grown in this country; however it is susceptible to Mildew and struggles to thrive in our climate, but some is still grown in Kent and Sussex.

Certain beers contain certain Hops varieties to give them their characteristic tastes; for example Emperors Whim (4.2% abv) has the Cascade and Whitbread Golden Variety Hops in, making it drier in taste and also a bit hoppier. This Golden Ale (4.2% abv) was surprisingly drinkable too, maybe I'm more of an ale appreciator than I first thought! :)




One of the crucial things to get right is the temperature when making the mash to produce the "Wort". At Derventio they mash at 72 degrees C which allows the magic to happen; if you increase the temperature too much it allows the proliferation of Bacteria which would obviously spoil the beer. One obvious sign of a beer not mashed at the right temperature is that it becomes cloudy to the eye and sometimes you can actually see particulate matter floating in the liquid too.

There is also a correct order in which the Hops are added; the "bittering" hops go in first, followed by the addition of the "aroma" hops right at the end of the process. Apparently getting this order wrong really does have a significant impact on the taste of the end product. They have their own independent electricity supply at Derventio now which is more consistent in flow, and this allows them to get a more stable temperature when doing the first boil (Wort).

In the first instance, beer strength was measured by its Original Gravity (O.G) rather than the current ABV system. When John and Pete go to measure the strength of the beer fermenting if it is too weak the mixture is simply boiled again to reduce its water content; if it is too strong then they liquor it back with hot water.
So with the science bit behind us, the fun now started in earnest, and faces were full of anticipation as the first bottle was cracked open. We started with the delightfully named "Venus", a cheeky Pale Ale that comes in at 5% abv. I thought this was quite honeyed on the taste buds and could happily have supped this all day long; it is a great drink for BBQs as it is quite light in taste and goes with a variety of meats.

John did utter a word of caution though, saying that it is one of those drinks that slip down easily and then the sting in the tail becomes evident when you stand up, and having fallen under its spell I can say that this would be the case.




Before we sampled the second offering John was telling us about the Czech grown hop, Czar, that went in the original Budweiser beers (not the American version), which led him nicely to the introduction of "Gold"; this is a Golden Bitter that Derventio produce with an abv of 4.2%. This has a quite citrus edge to it thanks to the inclusion of the "Citra" hop variety and the Slovenian "Aurora" hop.

Personally I think that this would go nicely with spicy fish dishes, maybe a curry or a spicy crusted pan fried fillet? I may have to go and have some experimentation in the kitchen at some point in the future to try my theory out.

The next two bottles we tried were Cleopatra and Barbarian, which I have already mentioned, and the Stout was garnering a few murmurs of appreciation from the more "traditional" crowd.

Although we didn't taste the next two beers I'm going to mention as they weren't being brewed at this point they are both popular Derventio products: both "Centurion" (a 4.3% abv traditional bitter) and "Brutus" (a 4.5% abv chestnut beer with a malty taste) were a couple of the first beers produced by the brewery and are still brewed about twice a year.
We were treated to some beer from the cask the "King Arthur" which is a Traditional Dark Bitter with a 4.3% abv. To me it had quite a smoky taste to it, not as strong as I was expecting so I was pleasantly surprised. I couldn't drink too much of this as my palate preferred the lighter notes, but I can see why it is so popular. The high grade crystal Malt used in its production is what imparts the chocolatey, liquorice, smoky notes to it. This is the one I can imagine traditional bitter drinkers to enjoy.
Derventio also do the Food fair/ shows/wedding circuit in spring and summer, so if you happen to come across them at all please do go and try their products, there really is something for all palates.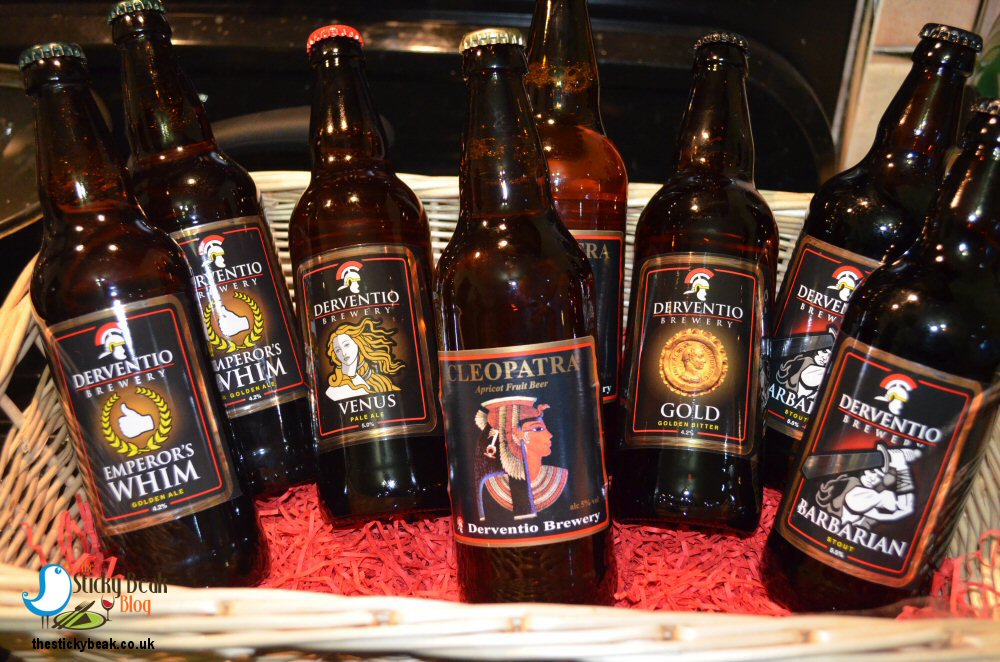 John and Pete are so personable that if you're not sure what to have they will be more than happy to guide you in the right direction. After all, if they can educate a complete beer novice like me then there is hope for everybody! If you have someone in your family or circle of friends that enjoys beer then why not treat them to a tour of the brewery for a birthday/anniversary or Christmas present?
Lastly, I just want to thank John and Pete very much for their hospitality, we had a thoroughly great time; not only was the tour informative but the sampling was very pleasant too :)