Dinner At Mewar Haveli Indian near Nottingham
---
Published On Sunday 24 Jan 2016 by Sticky Beak
See Recent Dining Out Reviews | See All Recent Reviews


The Man Bird and I flew a little further afield for our latest review dear reader, but it was well worth it. The description of "Indian Fine Dining" had piqued our curiosity and we wanted to find out what that meant exactly. We ended up over the border into the foreign territory of Nottinghamshire; Radcliffe on Trent to be precise. Bizarrely though, it actually wasn't that far away and we've travelled longer distances within the county to go and eat before.

Due to our table being booked at 6.30pm and it being Friday evening rush hour we left a little longer than usual to get to Mewar Haveli; unnecessary as it turns out, it is a far easier run than we expected. The premises themselves are very easy to find, being located on the main A52 and there is plenty of parking too.
At the door we were warmly greeted by one of the exceptionally smartly dressed staff in traditional dress and led into the restaurant. Another member of staff took our coats and we were shown to our beautifully dressed table, where the chairs are pulled in and out for you and the napkin placed gently in your lap.

As we sipped our drinks, (Fruit punch for His Nibs and a cheeky glass of Merlot for me) and nibbled on the complimentary Poppadoms and pickle tray, we had a closer look at the restaurant. Mewar Haveli is a lovely light airy restaurant, with the tables nicely spaced to give diners privacy. There is a gorgeous Crystal chandelier in the centre of the restaurant and this is then subtly carried on with smaller individual lighting above each table, and recessed spotlights alongside the White feature pillars.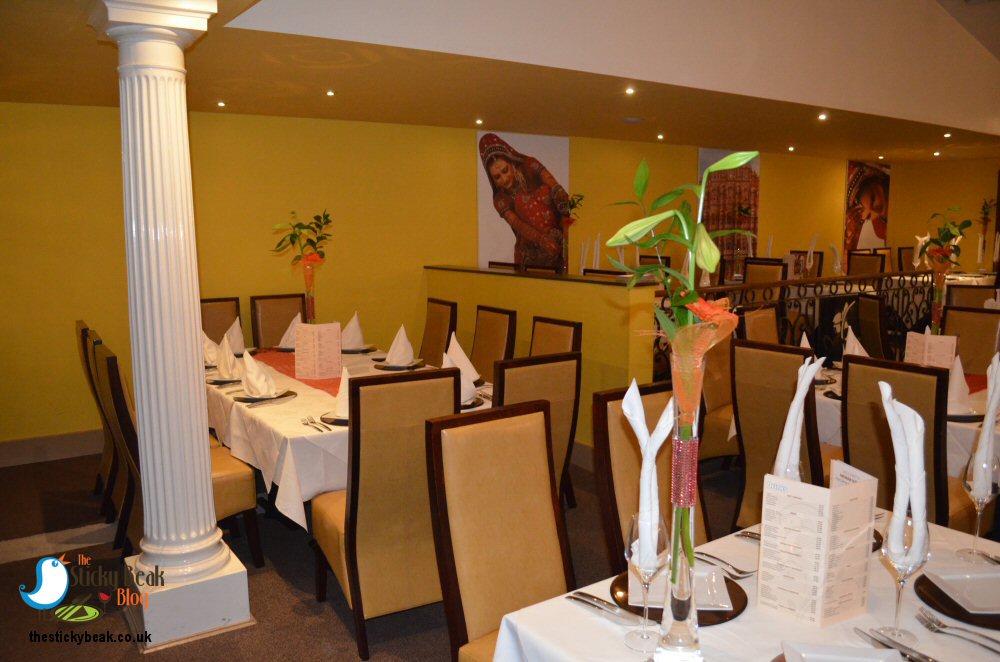 The decor is based around spice colours, so you have warm turmeric yellow on one wall and the chairs, orange on the runners of the larger tables and a Paprika-ish red on the curtain details. Art work on the walls accents these colours further, and the fresh flower arrangements on the tables pick these vibrant colours out too.

The flowers themselves deserve a mention as the attention to detail did not go unnoticed by myself; the orange Gerbera on our table had been supported by a spiral of green florist wire to stop its beautiful head drooping. I think that small things like this can give a good indication to the overall standard and ethos of an establishment, so I was filled with hope as to the level of cuisine we could expect from Suraj and his team.
Initially I had decided on the Lassooni Khumb for my starter, which is whole fresh Mushrooms coated in a special spicy Garlic mix and cooked with Cheese, Peppers and Onions. The Boy Wonder was going to have the Malai Tikka – pieces of Chicken in light spices with fresh ground White Peppercorns and fresh Coriander. Suraj came over and, Poof! the plan all changed. Based on our choice of main courses he felt we would be better suited to the Mixed Grill with some Chilli Cod Loin too, so we went with his recommendation.
When the starter arrived it was beautifully presented as a colourful stack; the bottom was half a lemon wrapped in a fine cloth (you could squeeze the juice and the pips were left in the cloth - genius), then the lamb chop was perched atop of this. The next morsel was the colourful Chicken Tikka, followed by the Malai Tikka and finished with the Onion Bhaji. In the opposite corner was the piece of Cod Loin that was arranged on a circle of green, and various fancy vegetable garnish shapes completed the artful arrangement.

The Cod Loin was just incredibly moist and the coating was gorgeous, not too hot on the tongue but with the flavour of chilli; the Lamb chop was also beautiful with its subtle mustard hint that didn't overwhelm the taste of the meat itself. The Chicken Tikka was not as sweet as most town restaurants do it, and less cloying on the palate and it was all the better for it because you appreciate the delicate spices more.

The Malai Tikka was beautifully moist and flavoursome, the white pepper has a subtler hint than its black counterpart and this partnered with the coriander really well. Onion Bhajis can be hit-and-miss affairs but the ones at Mewar Haveli are definitely to be enjoyed with their nice firm onions and non greasy taste. This mixed platter was served with an assortment of dips: Tamarind, Fresh Mint and Chilli, and they were all delicious in their own way.
His Nibs decided to avail himself of a bottle of Mongoose beer, and this is where yet another small, but significant, detail came into play. Alongside the beer and the glass came a beer chiller that sat on the table, into which the bottle could be placed when not in use to keep the contents cool. This means that whenever the glass is refreshed you get a perfectly chilled beverage all over again. As I said, a small but important detail.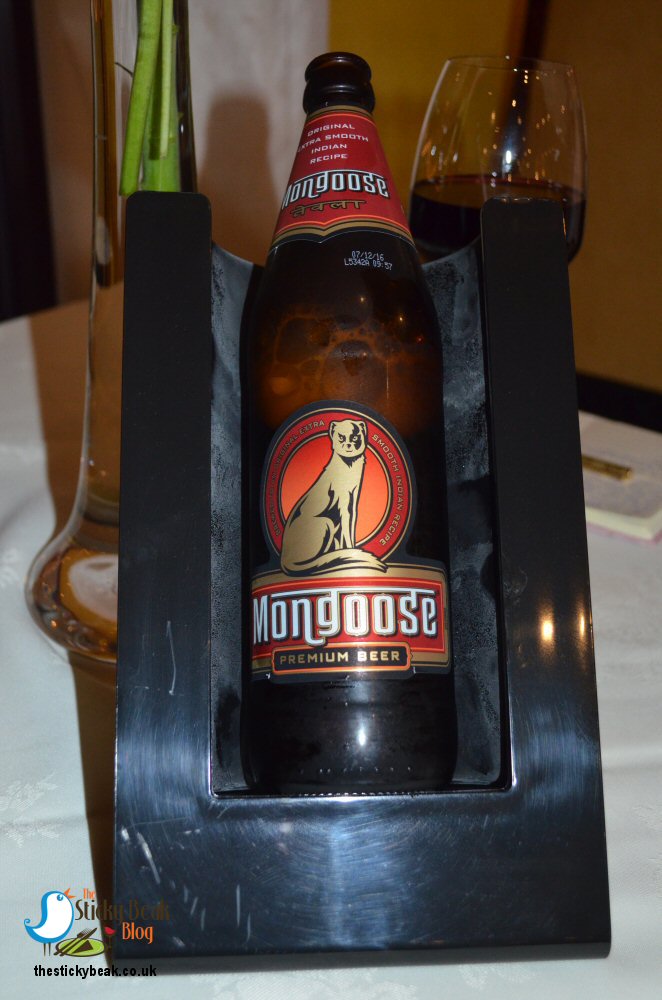 For our mains we had the Murgh Mewar Special (The Man) and the Goan Sea Bass Curry (me), and we decided to have a portion of Pilau rice, a Peshwari Naan and a portion of mixed vegetables. My curry is a fresh Sea bass fillet in a blend of Green chillies, Cumin, Ginger paste, Tamarind and Coconut milk, and it proved to be a riot of flavours on the tongue. The plentiful fish is cocooned in a rich creamy sauce, thanks to the coconut milk, but then you get the hint of sweet/sour tamarind and a gentle heat from the Ginger and Chillies. I thoroughly enjoyed every morsel, and the rice was nice and fluffy too.

The Man Birds dish is a unique Rajasthani speciality that the chef was taught by his Mum and includes 12 different spices as well as baby Sweetcorn and Cashew nuts. Plentiful pieces of tender, moist Chicken were complimented by a textural sauce that was sublimely tasty; thanks to the skilful fusion of the spices that combined to give a medium heat dish with no one single spice overpowering the other.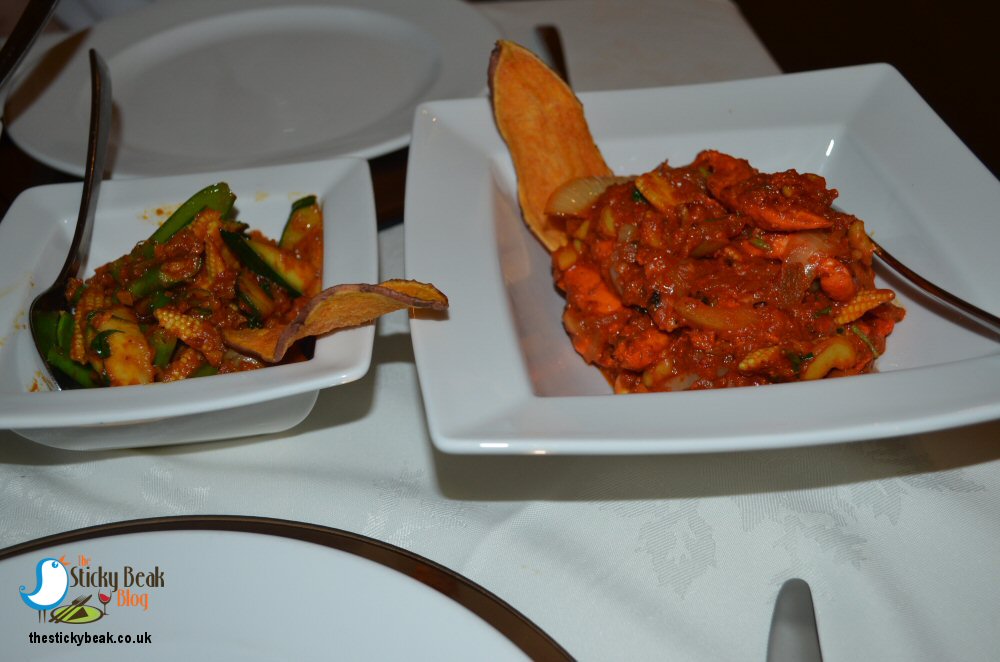 The Peshwari Naan was another joy to eat; I have honestly never eaten a finer bread than this little gem. Absolute bread heaven is the only way to describe it with its pillow like texture that was soft but not soggy and a lovely hint of coconut to it. Mixed vegetables again are a side dish that can be mediocre sometimes but the imaginative mix of Snow peas, asparagus, baby Sweetcorn and courgette with an onion sauce coating them ensured that this was another taste sensation.
Our mains were cleared away and we girded our loins to face pudding, which could also be called "temptations ago-go". I went for the Tiramisu a la India, which is made pretty much in the same way as its Italian counterpart but has the inclusion of Cinnamon. As I tucked in I thought that Mewar Haveli's version was lighter on the tummy than the original and I loved the hint of Cinnamon to it too. The presentation was really pretty; a little circle of multi hued layers surrounded by cocoa dusting and two little pillars of Mango gel garnished with a sprig of fresh Mint.




The Boy Wonder had a real show-stopper of a dessert - the Banana Flambé. This dessert is cooked at the table for maximum impact and it was superb to see your pudding being cooked fresh in front of you. Butter and brown sugar are first put into a heavy bottomed pan to caramelise and slugs of Grand Marnier and Banana liqueur added.

Basu then flames the alcohol off with amazing theatricality and skill, producing an impressive sized flame. Some fresh orange juice is added, and then slices of banana are added and combined together for a couple of minutes which softens the banana nicely. A little more orange is added until Basu is satisfied with the consistency, at which time the banana is removed from the sauce and arranged artfully in a fancy glass.




Next, a scoop of fresh vanilla ice cream is placed on top of the banana before the hot caramel is spooned over these to complete the picture. I have it on His Nibs authority that it tasted as good as it looked and smelled; there was no way he was sharing even a tiny morsel with me, it was that moreish.
We always finish our meals with a coffee and Basu told me he makes a special liqueur coffee that is liquid heaven; now with that description I was hardly going to have plain coffee was I? To call this coffee does it absolutely no justice whatsoever; true, it is coffee and it does have Cointreau in it, but the process of it being made was yet another magical moment we enjoyed at Mewar Haveli.

This particular coffee required the use of the flambé trolley again. Firstly the Cointreau was warmed gently in the coffee glass then it was poured into a metal sauce boat and set alight. A second sauce boat was produced and the flaming liquid was poured between the two vessels several times, producing a stream of beautiful blue fire that was completely captivating.

A whole orange had been carefully peeled in one piece and the peel studded with Cloves, and this was then the recipient of the snaking flames. The aroma produced was gorgeous and the whole spectacle was mesmerising to watch. Freshly brewed coffee was then poured into the glass with the liqueur, whipped cream carefully spooned on top and then a sugar rim put on the glass to complete the drink.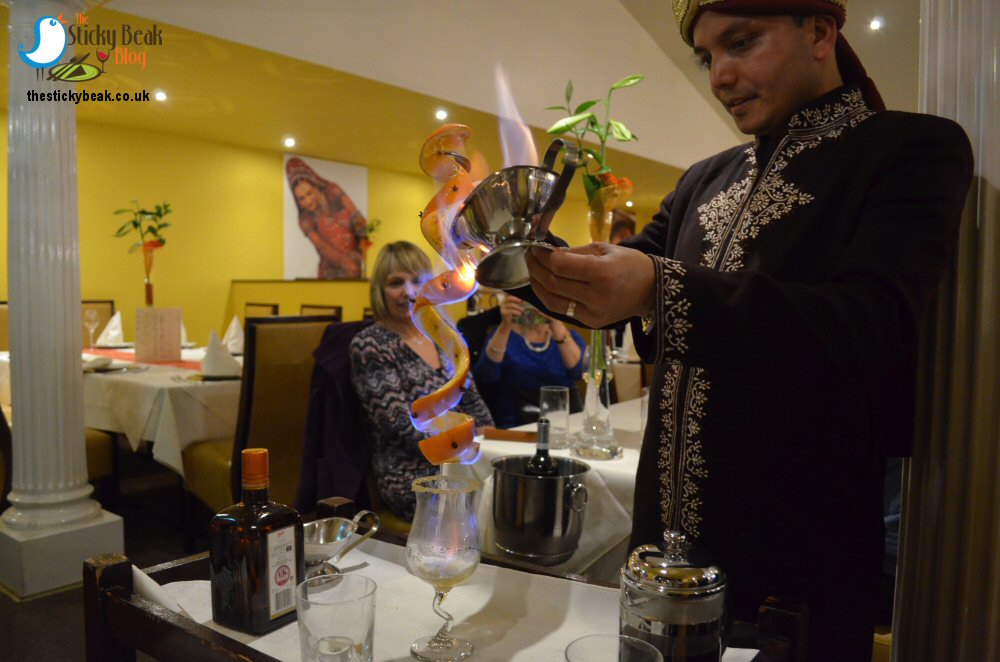 Gastro theatre at its finest it certainly was, and now the penny had dropped as to why the description "Indian fine dining" had been touted. All the little details from coats being taken and napkins placed in laps, through to impeccable service and skilful cooking really have elevated Mewar Haveli into something extraordinary.

Obviously you know that I am going to award "Hot Wings" to Suraj and his marvellous team, how could I not when the food, service and surroundings were so good? It really isn't far to travel at all, approximately 20 miles from J28 M1 and the same from Derby and I cannot recommend strongly enough that you go and have this experience for yourselves.

On Sunday evenings they do a fixed price buffet with a pianist playing from 5.30-8.30 pm and I can't think of a nicer way to end the weekend :)
Some form of incentive was provided to visit this venue
read more