Dinner And Cocktails At Revolucion De Cuba, Nottingham
---
Published On Thursday 17 Sep 2020 by Sticky Beak
See Recent Dining Out Reviews | See All Recent Reviews


Thanks to the havoc Covid-19 has wreaked on everybody's travel plans for 2020, His Nibs and I weren't going to make it to actual Cuba so we headed out to the next best thing: Revolucion De Cuba (RDC) in Nottingham. There was a lovely security chap outside the entrance who asked if we'd reserved our table (we had) and then directed us inside to another super friendly team member at the entry desk. Whilst she checked our details, we helped ourselves to the hand sanitiser and then followed her to our table in the far corner of the venue.
Apart from there being screens between each of the tables that have continuous banquette seats and the free standing tables being more spaced apart than usual, RDC is still the same lively, vibrant place we all know and love. The upbeat music was setting the tone for kicking the weekend off in style and plenty of Nottingham's folk were out after-work to take advantage of the happy hour and have some tasty nibbles.

Our lovely server, Lyola, told us about the current payment options at RDC (no cash is taken during the ongoing pandemic situation) so you just need to scan the QR code with your phone camera although you can still order and pay with the usual cashless options too. Whilst she was with us, Lyola took our drinks orders: Reggae Rum Punch for Him, and the *NEW* Mojito Royale for me which is a Prosecco-pimped take on the superb RDC classic Mojito. It's absolutely amazing btw!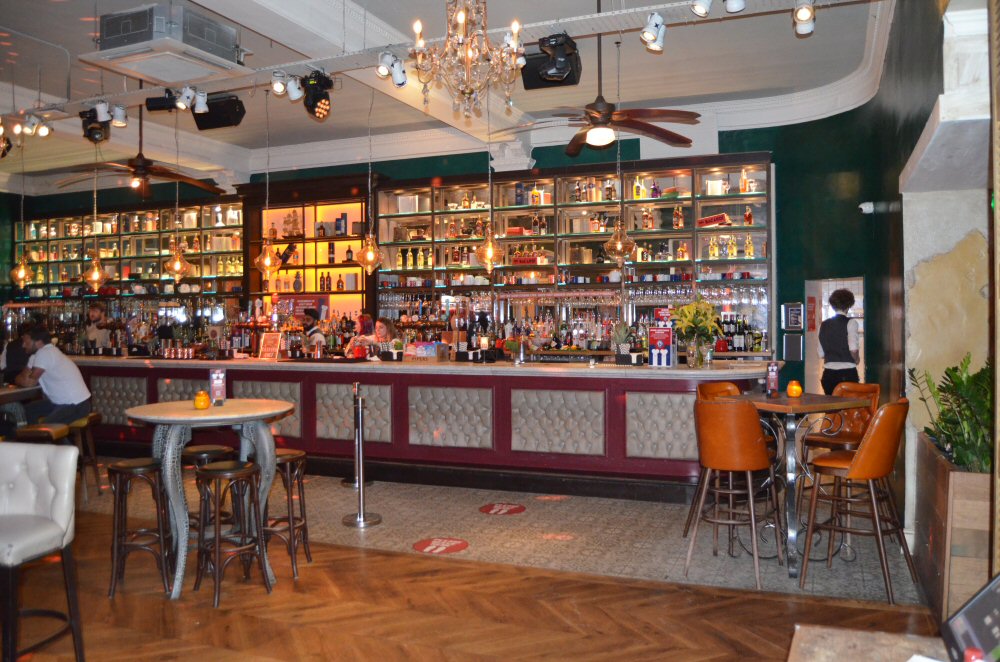 After giving us a bit of time to get settled and cast our beady eyes over the menu, Lyola returned to take our food requests. We decided that we'd share a trio of Tapas for starters: Pulpo and Chorizo, Lambondigas and Pork Belly Skewers, then have Beef Fillet Skewers (me) and the Burger Royale (Him) with a side of Mojito Onion Rings for our main courses.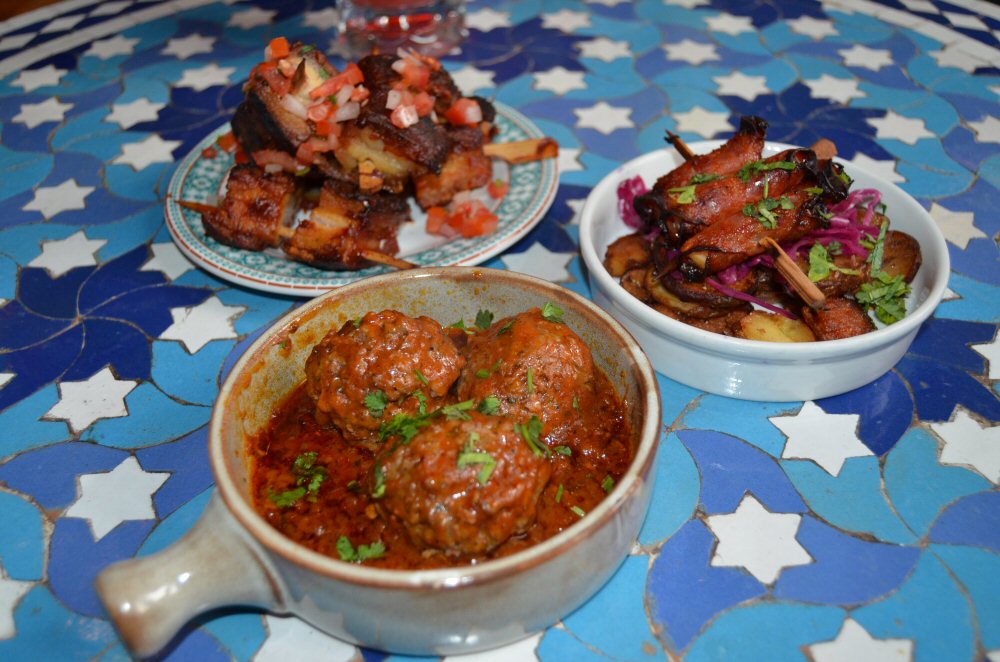 One thing you can rely on at Revolucion De Cuba is that the plates will be filled with colour – and the Nottingham team didn't disappoint! The Pulpo and Chorizo is comprised of Octopus wrapped in Chorizo - the Cuban take on Pigs in Blankets, if you will, - and the cocktail stick-skewered morsels were paired with slices of sautéed Potato, bright-toned pickled Red Cabbage and contrasting verdant, fresh herbs. Both The Man Bird and I were impressed with the tenderness of the Octopus pieces; when you have smaller seafood items, it's so easy to overcook them and make them tough and rubbery but Chef and his team weren't making that rookie mistake – no sirree. The Chorizo was smoky and spicy, which made the Octopus' sweetness pop all the more, and the crunchy Red Cabbage contrasted well against the softness of the sautéed Potatoes.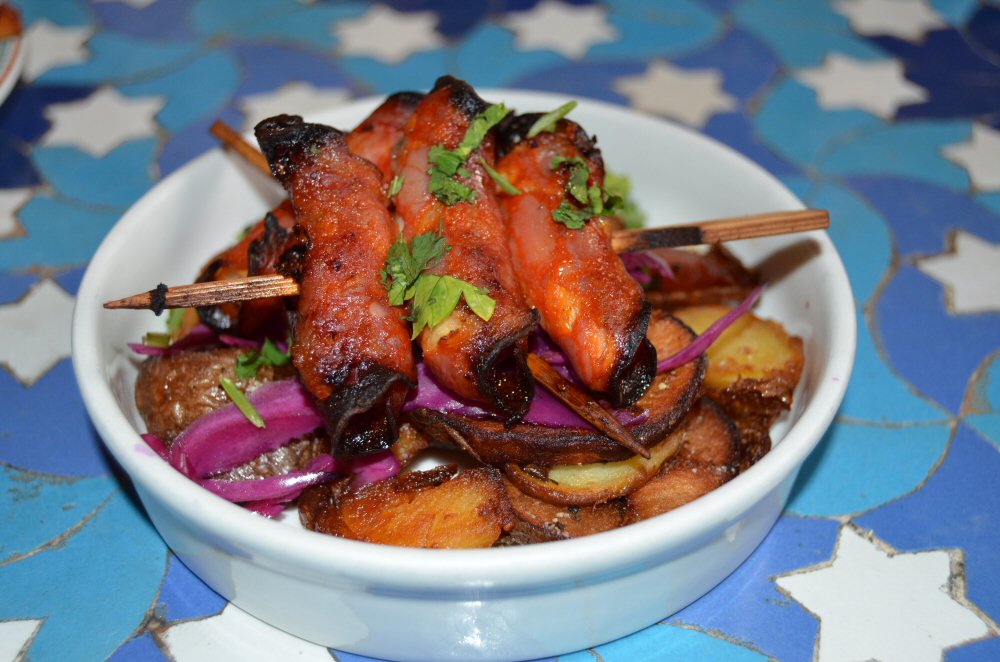 We've had the Albondigas (Meatballs made with Lamb) before, and love them, so we liked the play on words with their new name "Lambondigas". These tasty spheres of yumminess had a fab depth of flavour to them, which they need to be able to stand up to the punchy Cuban-style Tomato sauce and its fiery tail! Sometimes meatballs can be a bit on the small side, but in all the times we've had them at RDC they've never been anything but generous in size and once again they were very satiating.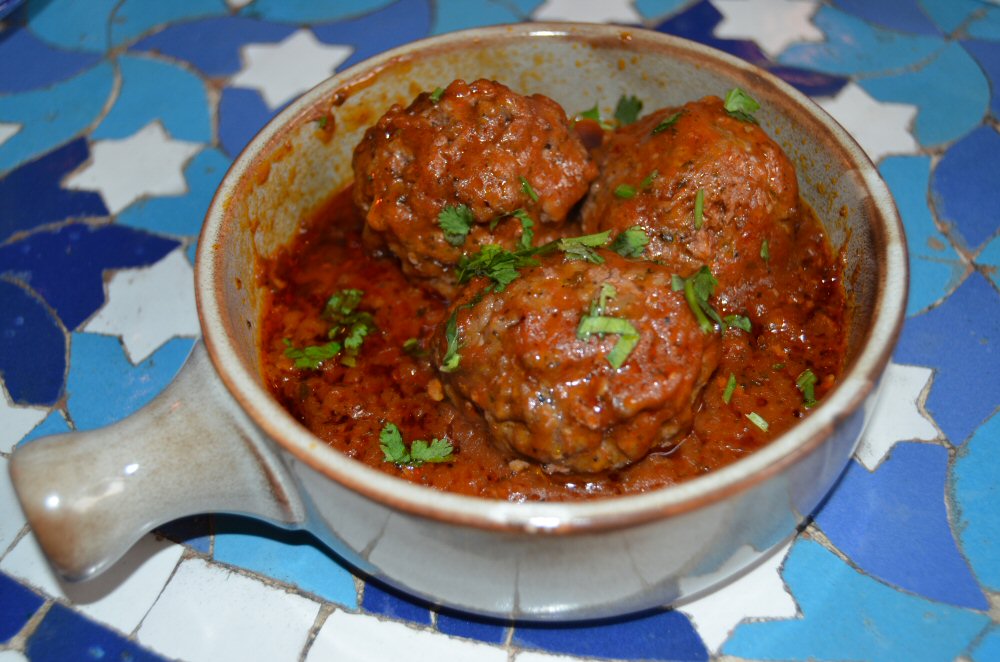 Our final Tapas dish was the Pork Belly Skewers and we grabbed two sticks each, prising the spicy rum sauce soaked meat chunks off the wooden sticks and dunking them into the pots (no bottles at this covid time) of Rum Sauce we'd asked for, just to really savour the spice on our palates. God, I have SO missed this incredible condiment!! Honestly, I could slather just about everything in this!! This sauce is only for spice lovers, but if you do like heat, try it; I can guarantee that there will never be another that equals it for you! The Pork itself was delicately creamy in taste and Chef had charred and crisped the skin to give it a bit of a crackling vibe and add some texture in the mouth. Fresh, vibrant Pico de Gallo topped it all off and our faces said it all; this was a superb, tasty Tapas treat.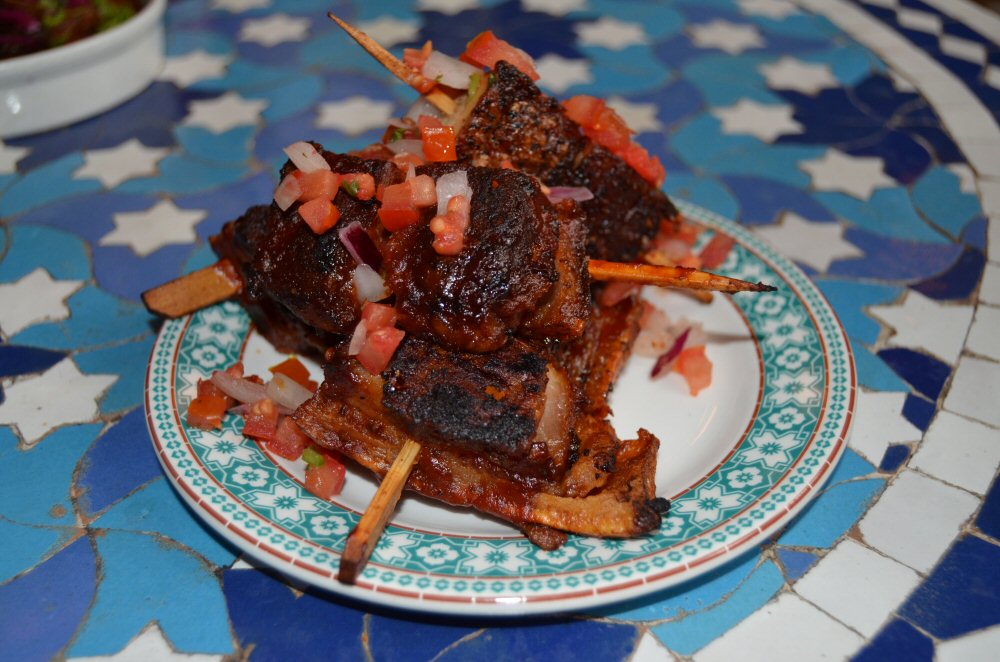 Lyola had checked we were enjoying our Tapas, and as she came to clear the empty dishes and side plates away, she noticed our drinks were running low and asked if we'd like more. I duly ordered the Patron Punch and His Nibs opted for the non-alcoholic (he was driving!) Caleno and Tonic as his second drink. My tipple came in an adorable mini Patron bottle shaped glass, complete with pale stopper and hole for a straw.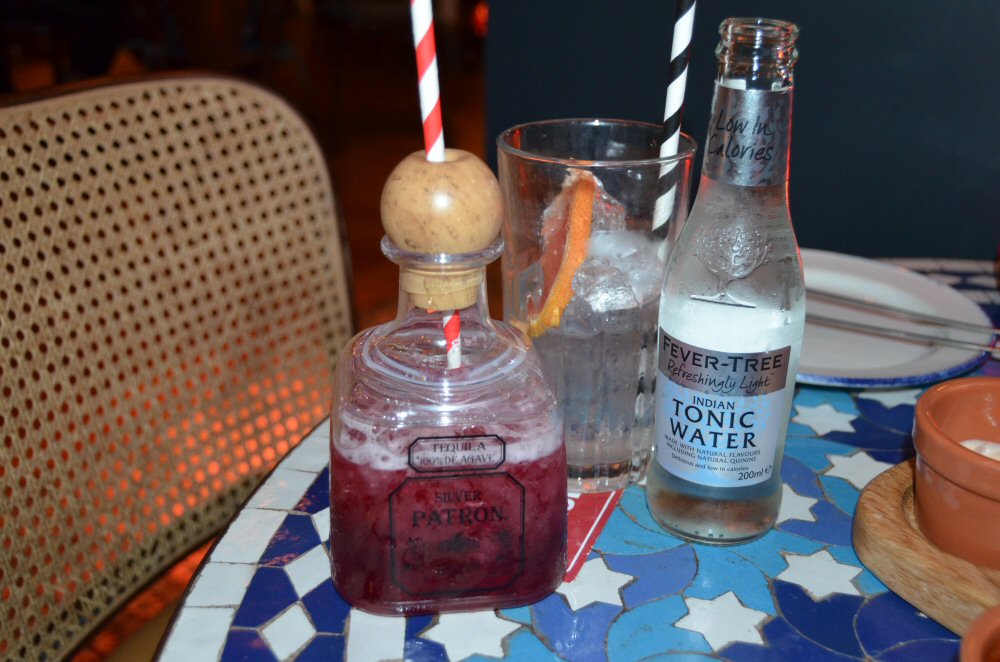 The Hibiscus flavour came through really strongly, its floral tones lending the cocktail a taste not too far-removed from my beloved favourite childhood sweet, Floral Gums – a bit sweeter though (and not 'soapy'!). Made with Juniper and Inca Berry, the Caleno has a definite Gin vibe to it, just a bit sweeter in taste and made a great alternative to a traditional alcohol containing G&T.




It wasn't long before our mains were being placed on the table for us and we wasted no time at all to try them. His Nibs loves the RDC Cuban Cheeseburger and I had been fully expecting him to go for this again, but he decided to try its cousin, the Burger Royale instead. The Royale has the same superbly gooey melted Manchego cheese sauce as the Cuban Burger, but not the other two cheeses – crispy Onions and fresh Pickles replace these within the snug confines of the toasted bun. The 6oz Beef Patty is also topped with a generous pile of succulent, smoky BBQ pulled Beef, making the whole thing one massive taste sensation! Thin crunchy fries were lovely and crisp on the outside and revealed soft inners – perfect for dipping into the creamy-but-spicy Rum Mayo.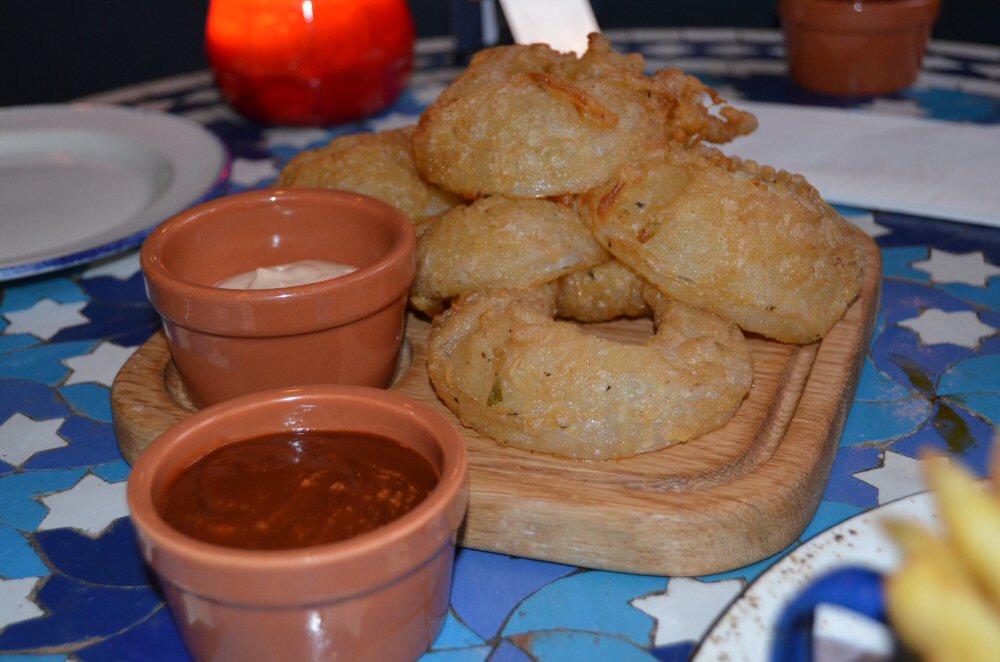 My Beef Fillet Skewers were really filling – more so than I thought they were going to be when I first looked at them. The chunks of Beef were beautifully tender and were interspersed with lots of Chargrilled Onions and Peppers. All the skewer components are covered in a Chilli jam glaze and this gives a wonderful spicy edge when bitten into. As well as fluffy, herbed white rice there was a serving of sliced Peppers in a robust, flavoursome Tomato-based sauce which was incredibly tasty; I would've preferred more of this than the rice if I'm being honest, but that's my personal inclination.




The Mojito Onion Rings were just as large as I remembered them to be; they are proper vegetable behemoths! By the time we'd got around to eating them the batter had lost a bit of its crispiness, but we still enjoyed them. They do go rather well with the spicy Rum sauce too – any excuse to have more of this wondrous, liquid minx!

Our tummies were suitably stuffed and although we were tempted, we skipped desserts in favour of our customary black coffees. Revolucion De Cuba serve their coffees with a bite-sized piece of their ridiculously good Chocolate Brownie though, so we did kind of get a dessert (albeit a dinky one!).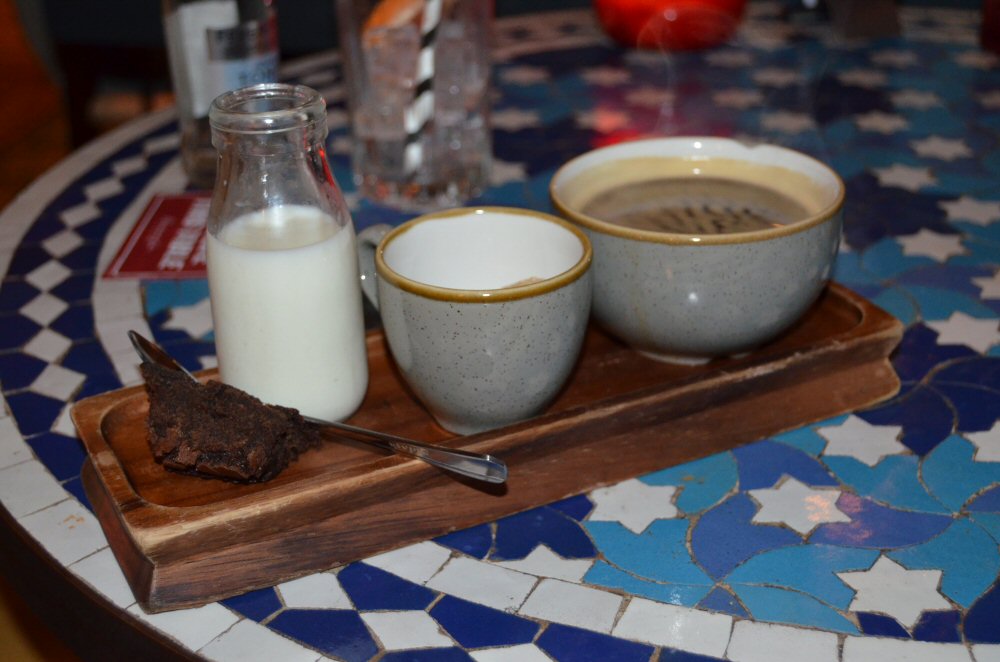 It had been another fab evening in the bosom of RDC's Nottingham team, and given the recent doom and gloom was very much needed. Who couldn't do with a little bit of Cuban flair in their lives right now? Hot Wings happily given again here – and thank you to Lyola for being our hostess with the mostess, and to Hannah for inviting us.
Some form of incentive was provided to visit this venue
read more