A Family Visit To Mowgli Street Food in Sheffield
---
Published On Tuesday 18 Aug 2020 by Sticky Beak
See Recent Dining Out Reviews | See All Recent Reviews


Back in 2018 His Nibs and I were invited to the opening of Mowgli in Nottingham and absolutely loved the buzz of the venue, not to mention the super-tasty Indian food served up from the kitchen there. Mowgli founder Nisha Katona wanted to bring the flavoursome food eaten in Indian homes and on the streets to the wider public; food that might be simple in terms of presentation, but bursts with freshness, taste and quality. Since our first experience we have always planned to take Mummy Bird and Chickadee to sample the vibrancy that Mowgli offers, but time simply ran away with us. Until now.
Our Chick has become a Fledgling, moving out of the family nest to spread her student wings and enjoy everything that city living (in Sheffield)has to offer. Having got her settled into her new student home (with some help from my Mummy Bird), our attention turned to food; we'd planned ahead and booked a table so we had a leisurely stroll down Ecclesall Road, getting to Mowgli just a little ahead of our time.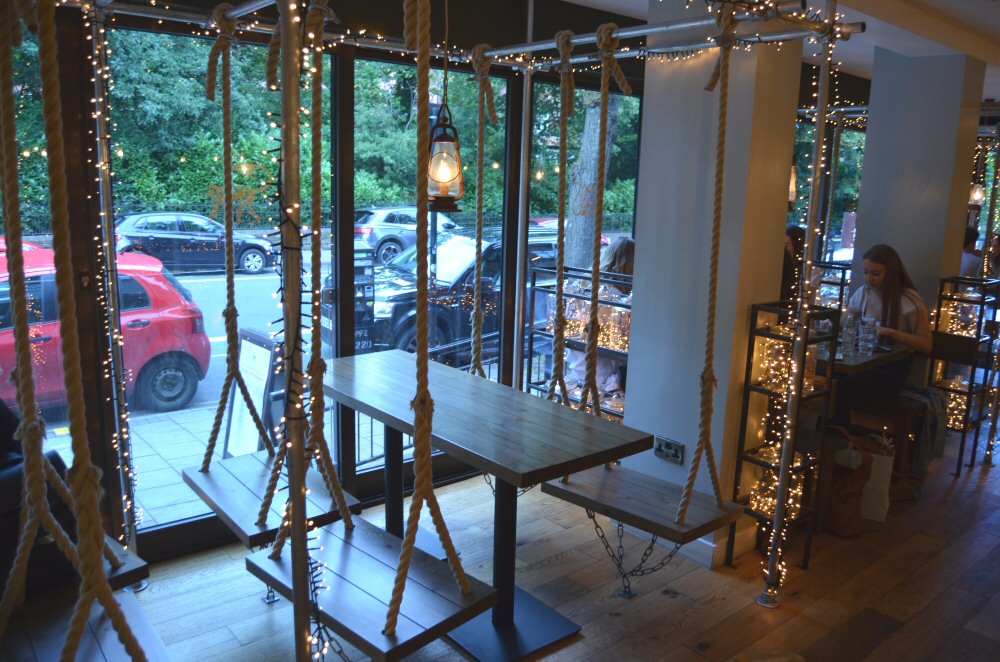 In common with most other venues, there is a nifty one-way system in and out of Mowgli. Unfortunately we didn't spot the hand sanitiser (it was tucked away near the till at the entrance, Chick told us afterwards!) but we're a clean bunch and had washed our hands before coming out anyway. Our server showed us to the table and gave us a quick run-through of how many dishes roughly to order, and then she took our drinks order and left us to peruse the menu in more depth.




The Man Bird and I remembered a couple of the Street Chat items from Nottingham, so we ordered the Yoghurt Chat Bombs and Treacle Tamarind Fries. Chickadee fancied the Ruby Wrap and Mummy Bird opted for the Bhel Puri (a sexed –up Bombay Mix type offering with a fab spicy sweet and sour dressing) which turned out to be an inspired choice that no-one could resist picking at!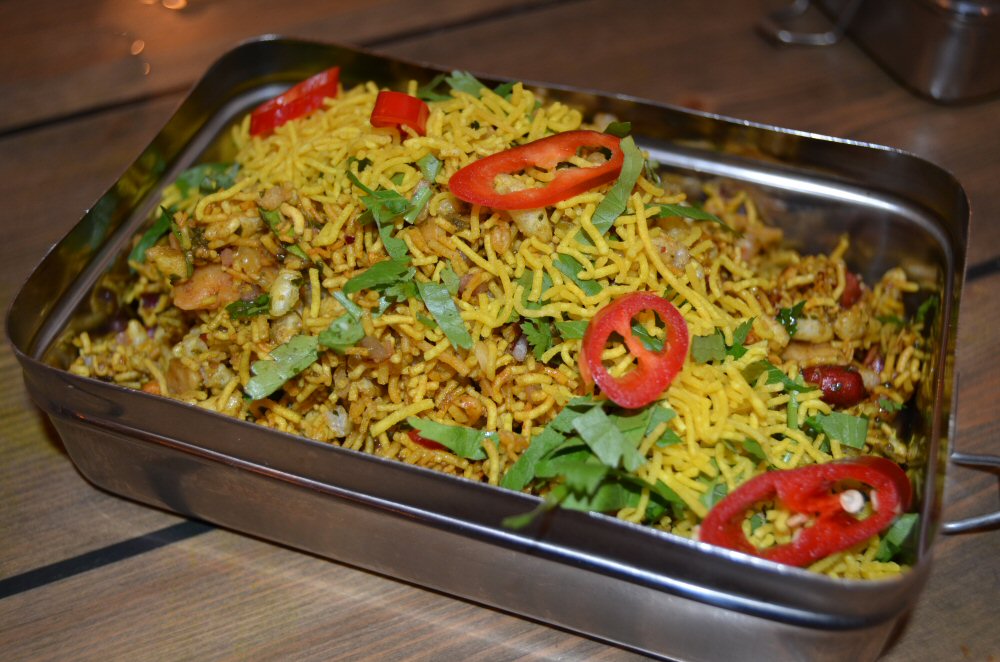 The Beauty of having Tapas-style Indian food is that there is a steady stream of food coming to the table – perfect for grazing at between conversations and drinking. All the dishes come with beautiful attention to their presentation; the use of colour is paramount, and verdant chopped fresh herbs and jewel-coloured Pomegranate seeds certainly caught our eyes. All our choices were bursting with taste and texture, and Mummy Bird and Fledge both loved how the Chat Bombs exploded on their tongues for a multi-sensorial experience.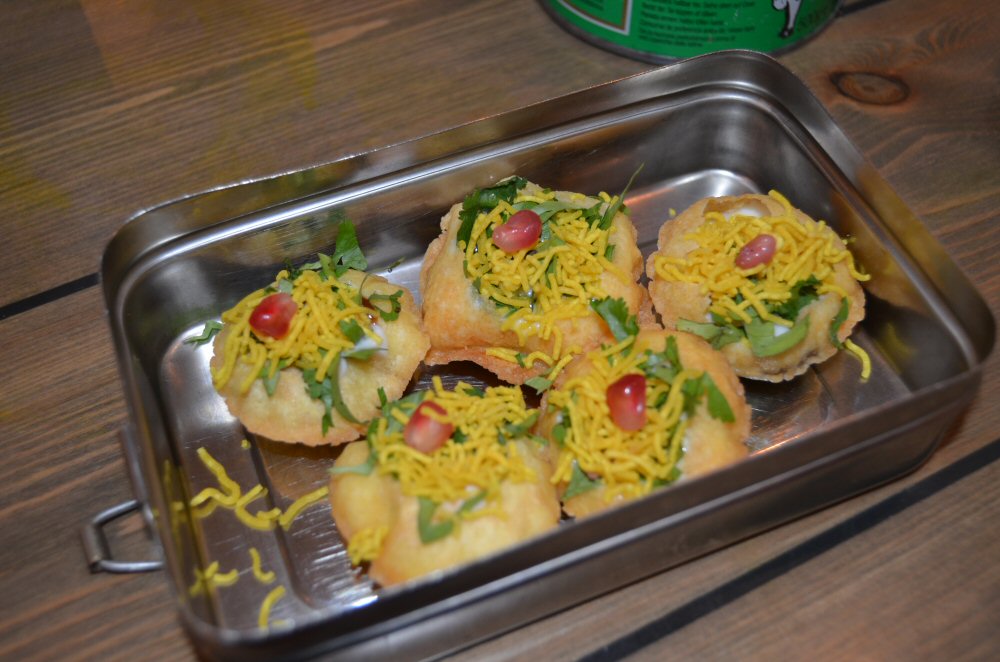 The Treacle Tamarind fries were beautifully sticky with a fab contrast between the sweet treacle and sour Tamarind – these were sure-fire winners with everyone too.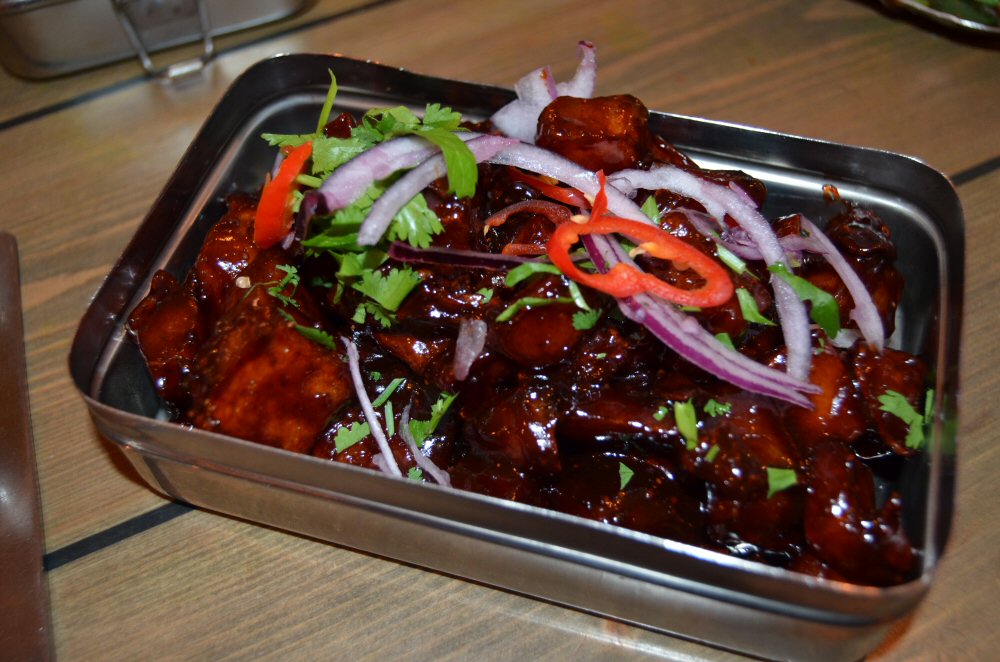 Fledge's Ruby Wrap was gorgeous both to behold and to devour; the base Roti was nice and soft and generously topped with chopped Spinach and fresh Mint leaves and slices of Chargrilled Paneer cheese. Pomegranate seeds added crunch and the Mowgli Chutneys topping everything kept the taste buds tingling.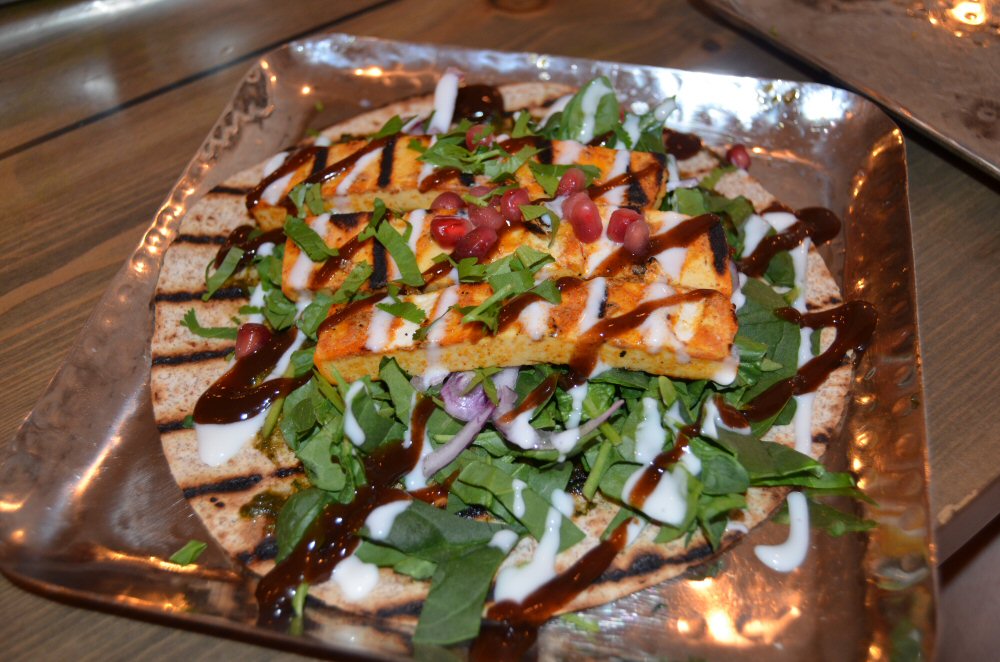 From the 'House Kitchen' we ordered Agra Ginger Chicken, Mother Butter Chicken (a milder dish for Mummy Bird), Aunty Geeta's Prawn Curry and Goan Fish Curry; all of us have our favourite, personal spice and meat slants and we figured we'd got a good spread of meats and fish covered. Mowgli clearly love using Red and Green Chillies (there were splashes of colour from them) and the Goan Curry had dried smoky Kashmiri Red Chillies as an extra whammy of heat – I didn't eat it, it was whole! All the meats and fish were succulent and moist, and the prawns were large, juicy and sweet. There was a massive range of herbs and spices across the four main dishes, bringing a rainbow of flavour to our greedy palates. Mummy Bird tried all the dishes (avoiding the sliced Chillies in them) and was impressed with them all, although she was glad that she had opted for the Butter Chicken as her own dish.




To go with our mains, we ordered Puri, Basmati Rice and Mowgli 'Slaw. For crunch you can't beat the Red Cabbage 'slaw that Mowgli produces and they always manage to coat it with the perfect amount of popped Mustard Seed dressing: not too dry but not too soggy and creamy either. This is simply delicious! The soft, fried Puri flatbreads were perfect for scooping up the last remnants of sauce and are the ultimate 'tear-n-share' breads; perfect for informal eating with friends and family. Mowgli pimp up their soft, steamed Basmati rice with fragrant Black Cardamom and Cumin spices to give this classic accompaniment something extra.




Eventually we had cleaned all the dishes and plates of their contents and we sat back to relax and enjoy the feeling of full tummies; chatting about what our personal favourites had been and finishing our drinks. Having paid the bill, it was time to make our exit through the other door and I was a little sad to see no hand sanitiser there. Having not been to the lavatory, I can't say what hygiene measures were in place (in addition to the usual provisions), but I would've liked to have seen more bottles of sanitiser and signs around the venue in general.




Hot Wings unreservedly given for the food and the service, but I'm not so impressed by the Covid-19 measures in place, especially given that the latest figures show a rise in positive tests among young adults who had been the over-whelming majority of diners when we went.
No incentive was provided to visit this venue
read more