Trying Out The New Menu At The Five Lamps Pub, Derby
---
Published On Thursday 6 Aug 2020 by Sticky Beak
See Recent Dining Out Reviews | See All Recent Reviews


The first day of the government's "Eat Out to Help Out" scheme saw The Man Bird and me visiting The Five Lamps pub in Derby, thanks to Head Chef Alex Fletcher (aka Chunki Chef)'s kind invitation to try his new menu. We pulled the jalopy into the car park and made our way over to the clearly signed entrance: except it wasn't the entrance presently, it was the exit on a covid-safe one way system that was in place!
We found our way round to the front and into the current entrance and used the hand sanitiser placed there. A screen surrounds the beautiful wood panelled bar and to one side is the signing in book for 'track and trace' purposes. The lovely, friendly lady behind the bar showed us where our table was and said that menus were already laid out for us.




A lovely booth table at the window complete with generously padded seats and backrests was ours for the evening and the late afternoon/early evening sun was still lovely and warm as we settled ourselves in. Whilst The Man went back to the bar (social distancing markers were on the floor in front of it) to get our drinks, I busied myself with taking in the surroundings.

The Five Lamps is owned by Graham and Janette Browett and is a proper traditional local boozer of the kind I remember as a child. It has a fantastic relaxed feel to it and there were a couple of regulars in enjoying a quiet pint as well as diners which comprised groups of friends (well within guideline limits of 6), solo diners, families and couples. This venue offers up to eleven cask ales (on hand pulls), a single craft keg IPA, a trio of lagers and three hand-pulled ciders; I had a glass of Merlot though and it was a beautiful rounded example of this type of wine.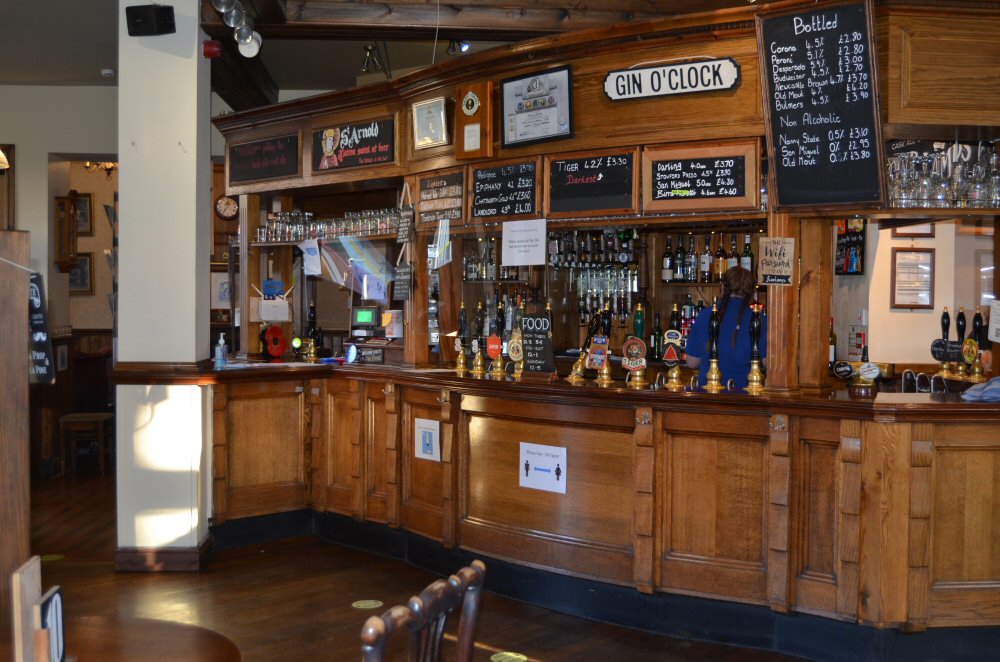 I loved the variety of ale tankards and Toby jugs that were on display all around the pub; some were displayed on shelves, others were hanging from hooks on the ceiling beams. The upper sills above the windows served as shallow shelves on which to perch differing sets of glasses; we had a gorgeous set of pheasant decorated amber-hued glasses at our booth. There was more wood panelling on the back wall of what I would class as the 'drinking area', and this is where a television screen was too.

Chunki has been honing his craft over the years, working all over England to gain appreciation of regional produce and dishes and fine-tuning his own style. Alex believes in using top quality produce and not messing with it too much; he prefers to 'keep it real' in a rustic style that retains the natural character of each ingredient and pairs together those elements that have an affinity for one another. Celebrity forager Mark Lloyd has also collaborated with Alex, so he has a great knowledge of how to balance wild and 'domesticated' ingredients in his meals. Chunki is a man after my own heart, believing that when it comes to a local pub and great food it shouldn't be a case of "Never the twain shall meet" and he's set out to prove this at The Five Lamps.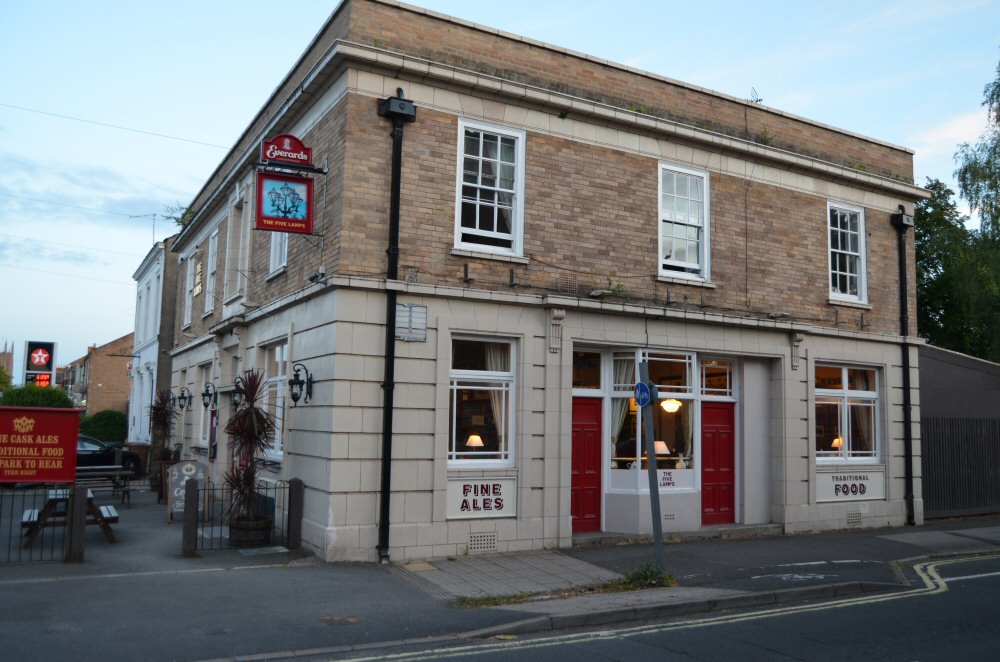 You go up to the bar area to place your food order, so once we'd decided on our choices of starter/ light bites (Scotch Egg for Him Indoors, Duck Breast for moi) The Man duly went and say what we'd like. This was the first day of this particular menu as Chunki changes it regularly to make the most of seasonal and fresh produce, so we were looking forward to trying it.

It wasn't long before a lovely face mask wearing server brought out the starters for us on a tray and we took our respective plates off it. I have to say that the covid hygiene measures in place here are among the best we've encountered, and we both said how reassured and safe we felt.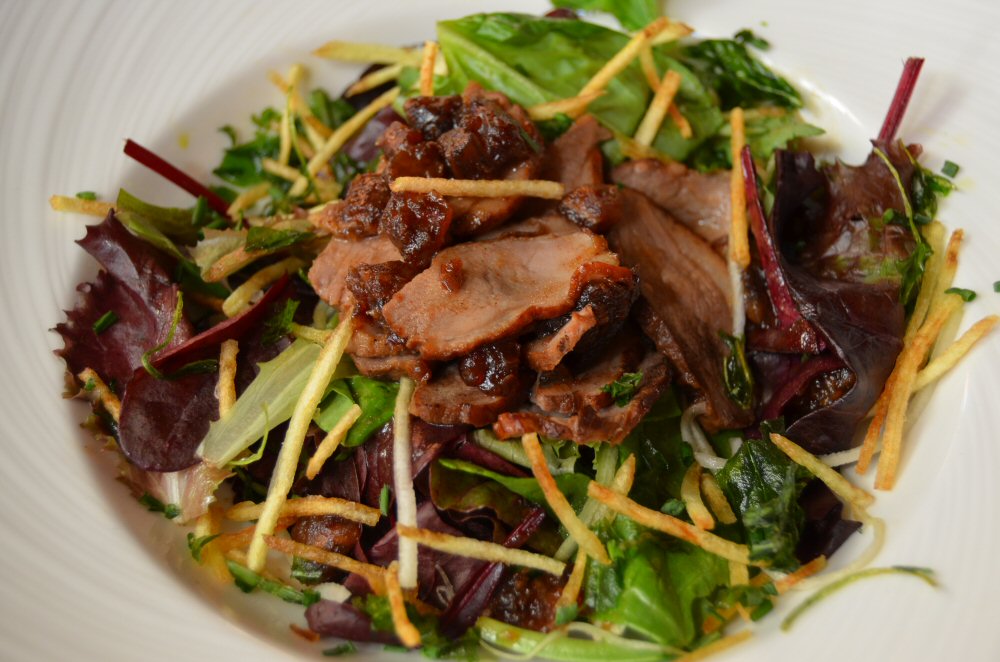 My starter of in-house Maple smoked Duck Breast with Salad Leaves, Caramelised Dates and Sherry reduction (£8) looked extremely tempting thanks to careful presentation, as did His Nibs' choice of Pork and Black Pudding Scotch Egg with Tangy Tomato Relish and Crispy Rocket (7.50). After the obligatory piccies we began to dig in and we soon smiled at each other with happiness as that first taste hit the tongue.

Lovely thin slices of Duck breast had a superb light, aromatic smoke edge to them that just flirted with my taste buds rather than overwhelming them. The meat itself was wonderfully moist too, not at all dry, and it had a deep gamey note to it that made me sigh with joy. Underneath the sliced Duck was a deep bed of colourful mixed salad leaves that added a light texture to the dish; some real crunch though came via the uber-crispy fried, seasoned shoestring Potato shreds, and these were blooming gorgeous!. I love Dates, so when the sticky, fragrant treats hit my palate I inwardly did a happy dance; Caramelisation had served only to make them even more intense in flavour and paired with the Sherry reduction this was sublime to enjoy. As a light bite, this would be perfect as an after-work nibble as it doesn't sit heavy on your tum and isn't spiced either.




The Man Bird was heartily enjoying the large Scotch Egg with its thin, super-crisp outer that crunched when cut and bitten into. Another thing he loved was that the rich, creamy yolk was just softly set so that it didn't run but wasn't solid either, which meant that it coated the tongue with its unctuousness. The mix of Pork Sausage meat and Black Pudding made an earthy/sweet combination of flavours that popped against the wonderfully tangy, chunky Tomato Relish that was bouncing like Tigger in His Nibs' mouth! Chunki Chef had fried the Rocket leaves to make them crispy and they'd shrunk in size, making them more akin to crispy seaweed than a salad leaf in appearance; their distinct peppery taste remained undiminished though.

Our really friendly server came to collect our empty plates from the end of the table where we'd put them, taking time for a little chat with us, which was nice. His Nibs was tempted to have the Cider braised Pork Belly (Alex's signature dish, £13) but the lady said that the 8 hour slow-braised Beef (£13) was to die for, so he decided to go with her recommendation. I fancied the pan cooked French-trimmed Guinea Fowl (posh chicken) with buttery Chive mashed Potatoes, rich Truffle cream sauce and crispy Rocket, priced at £13. With decisions made, The Man went back to the bar to place the order.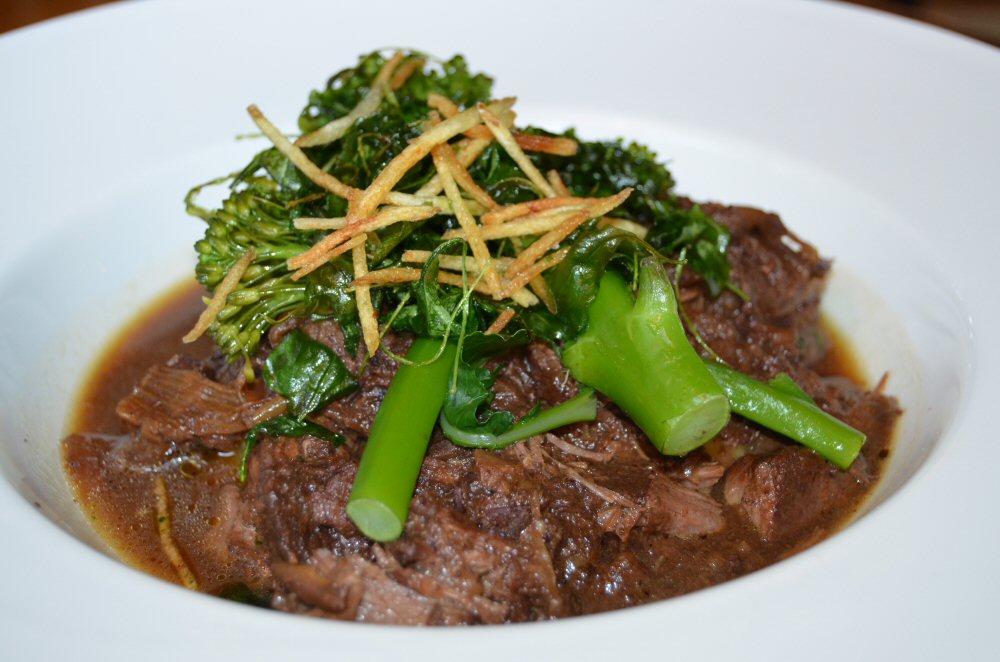 Chunki Chef and his team cook everything fresh to order, so you do have a little wait for your meals (and a little longer at busy times, so please be patient, it'll be worth the wait!) which never phases The Man and me. To be perfectly honest, I'd rather wait and have fresh, piping hot food of a good quality, than have 'ding' meals almost instantly. As we waited, we could see other tables' food being brought out to them and it all looked very scrummy – and if the smell was anything to go by, they were going to taste fab!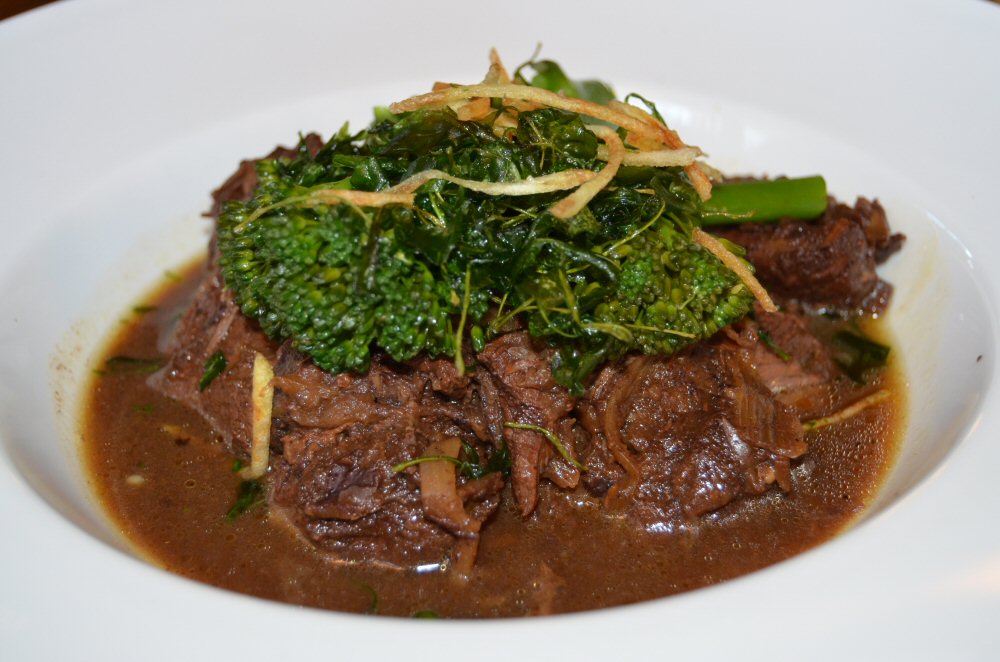 When our main courses were brought out it was clear that the wait had indeed been worth it; both plates were beautifully presented and the portions were very generous – Chunki is a feeder for sure. The Man Bird's Beef was cooked in a rich Shallot, Garlic and Date Nectar-rich sauce and the aroma made my mouth water. I was passed a morsel to try and I tell you what, I challenge anyone to find tenderer braised Beef than this! No pressure whatsoever was needed here – the meat literally was falling apart in ribbons and it just melted on the tongue. #swooncalicious

The accompanying sauce was fabulously dark toned, reminiscent of the rich earthy colour of the Dates within it. Garlic and Onion notes were at the forefront of this sauce on the palate, with that sublime rich Date sweetness coming through behind. To lighten the mood were al dente florets of Tenderstem Broccoli glossed with butter and then creamed Potatoes and their smoothness completed the dish. His Nibs had more of that fantastic crispy Rocket to enjoy, and this added a great bit of texture to this classic dish.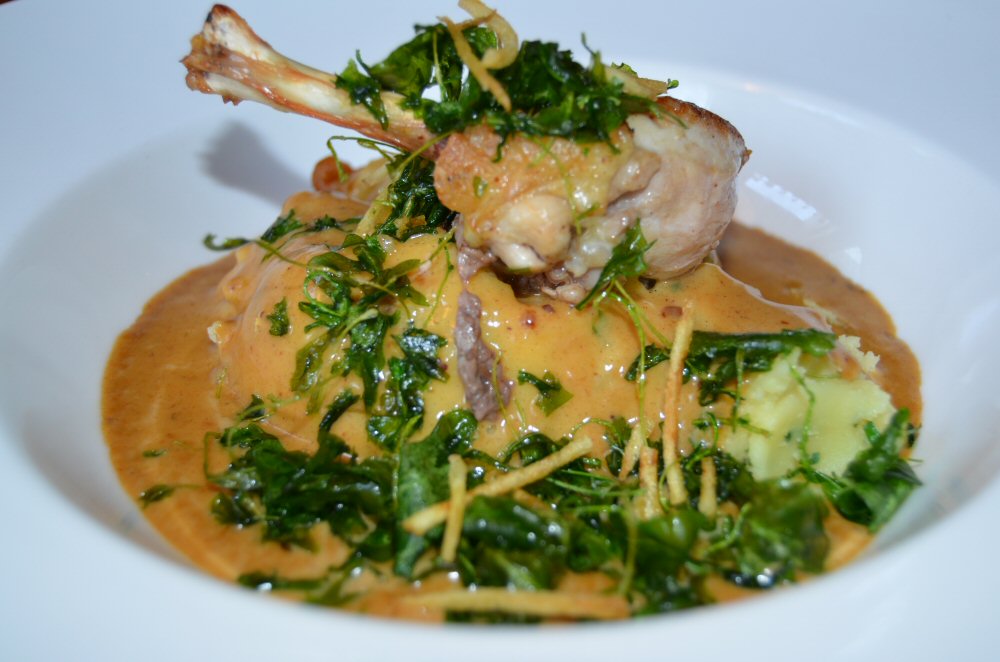 My Guinea Fowl was wonderfully moist in my mouth and I liked the presentation; Chunki had carefully trimmed the thigh meat away to reveal the bird's delicate, slender leg. The Guinea Fowl was partnered with a cream-based sauce that Alex had wickedly zhuzhed up with indulgent Truffle, and the sweet, creamy and earthy elements all worked together in harmony. Same as The Man's mash, mine was super-smooth and flecked with verdant flashes of fresh, finely chopped Chives and the herbs light oniony taste was complimented by the peppery heat of the crispy fried Rocket. This was an absolute stonker of a dish; not heavy at all despite the richness of the sauce (which I was sorely tempted to ask for some bread to dunk into it!). I could eat this again and again and again!!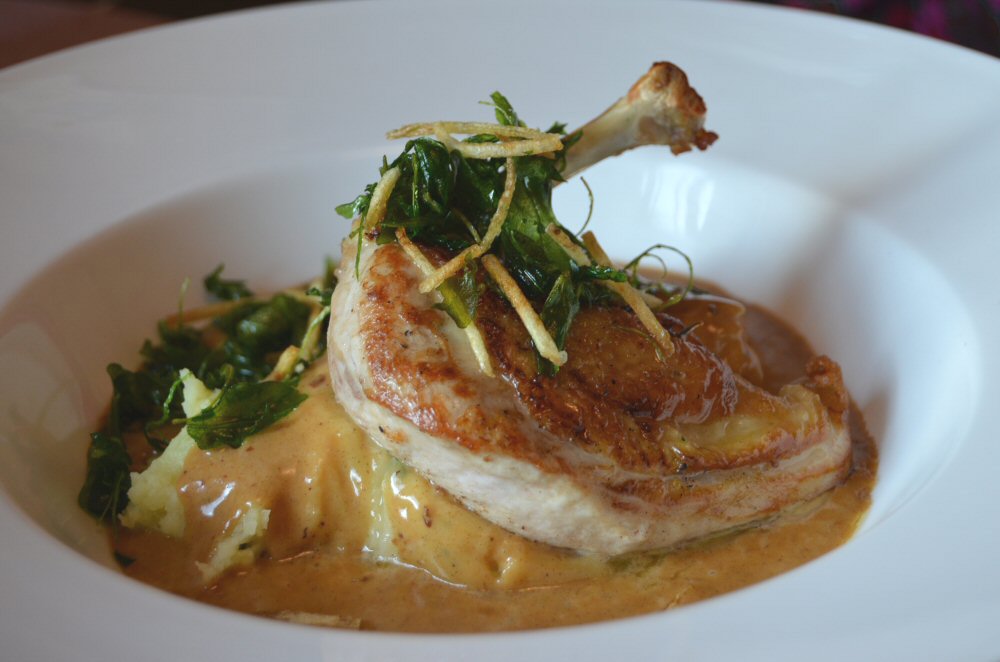 Our server had come over to check how we were getting on with our mains and was dead chuffed that His Maj loved the braised Beef – it's always nice to know that your recommendation hits the mark with someone. Our clean plates were taken away and His Nibs asked her advice as to what dessert to go for because he really couldn't decide between the Brownie and the Sticky Toffee Pudding. After a brief conversation, it was the indulgent Chocolate Brownie that emerged victorious and I had chosen Chunki's own Raspberry Bakewell Tart served with locally sourced Vanilla Ice Cream, Fruit Compote and fresh Berries.

A short while after the order had been placed we were informed that there was a typo on the menu: instead of the Brownie coming with homemade rustic custard (as printed) it came with Brandy Cream. Cream really sets His Nibs' tummy off, so he did end up having custard, but I cheekily said (as a joke) that I'd have the cream as an extra for me – and out it duly came with the desserts!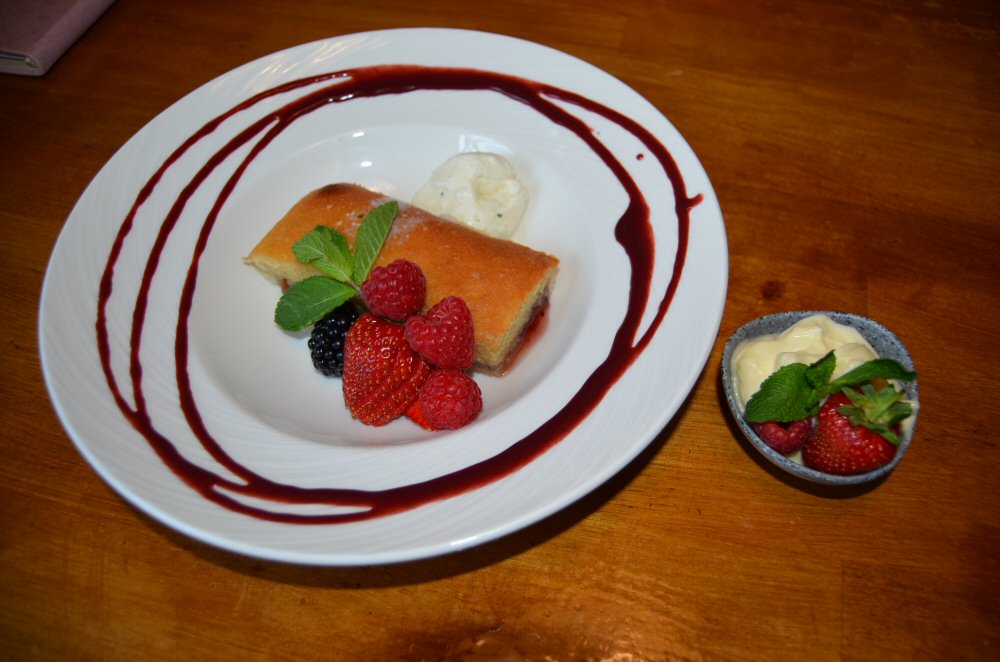 I was a massive fan of Chunki's sponge top layer; it was as light as a cloud with a gentle vanilla note to it. Chef didn't hold back on the Raspberry layer either, meaning that you could actually taste it – unlike some places that just waft the jam over the base layer! The thin pastry base wasn't soggy in the least and I enjoyed every last bit of this iconic Derbyshire treat. I have to say that I wasn't overly enamoured with the Ice Cream; don't get me wrong, it had a lovely taste to it, but it was just too grainy for my personal liking. The fruit compote however was amazing and its intense fruity tartness barrelled over my taste buds like a Tasmanian devil. Fresh Raspberries, Strawberry and Blackberry completed the ensemble and left my palate nicely refreshed.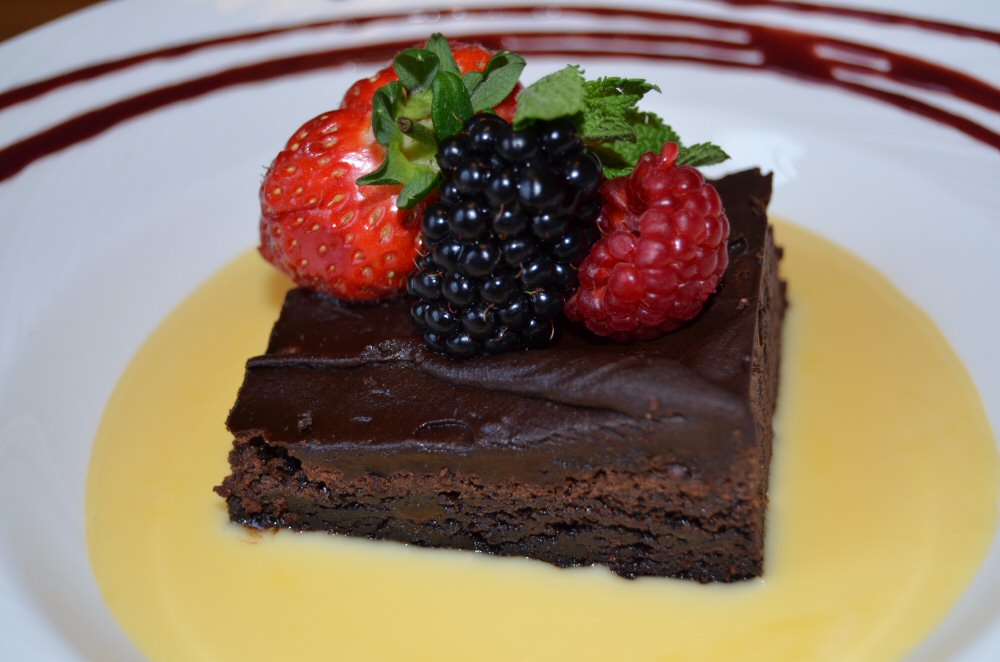 The Man Bird was impressed by the gooey Brownie's magnificently robust cocoa hit, and when I tried a bit I had to agree that it was indeed rather good; it was even better when I paired it with some of Alex's Brandy Cream! However I must concede that it was jolly good as well with the creamy custard that His Nibs had gone with. The same trio of fresh berries that I had was decorating the Brownie and their natural intensity cut through the rich and creamy components of this dessert, complimenting it very nicely.

Hot Wings happily awarded to this talented Chef and the kitchen team. Thanks also go to Graham and Janette, the Landlord and Landlady of The Five Lamps pub, and their various family members that make up the bar and serving team; all of you made us feel very welcome.

Chunki Chef is planning on introducing Pie Night, Steak Night and Sunday Lunches at The Five Lamps in the near future, so keep your ears to the ground and your eyes peeled for more details. As soon as we hear anything we'll keep you informed – after we've booked our table, that is!
Some form of incentive was provided to visit this venue
read more